This easy small-batch guava jam recipe is made with two ingredients and doesn't require pectin. All the fresh, sweet, tropical flavor of Hawaiian pink guava is intensified by using a no-cook method.
Instead of guessing whether your jam will gel to the thickness you want, you can let nature do the work for you with a dehydrator.
That way, you won't be disappointed by the wrong ratio of pectin, acid, and sugar, or other problems encountered with cooked jam.
Jump to:
⭐ Why it works
Exotic - flavor and color from pink guava.
Simple - all-natural, 2-ingredient recipe.
No cook - method for the freshest taste.
No pectin - easy recipe with adjustable sugar.
Dehydrator - for foolproof consistency.
🌈 Hawaiian guava
Here on Maui, with so many microclimates, Hawaiian pink guava is available several times a year. We are certainly spoiled finding it in farmers' markets, on neighborhood trees, and even in the wild.
Wherever you live, choosing the sweetest, ripest fruit will give you a jump start on swoon-worthy preserves.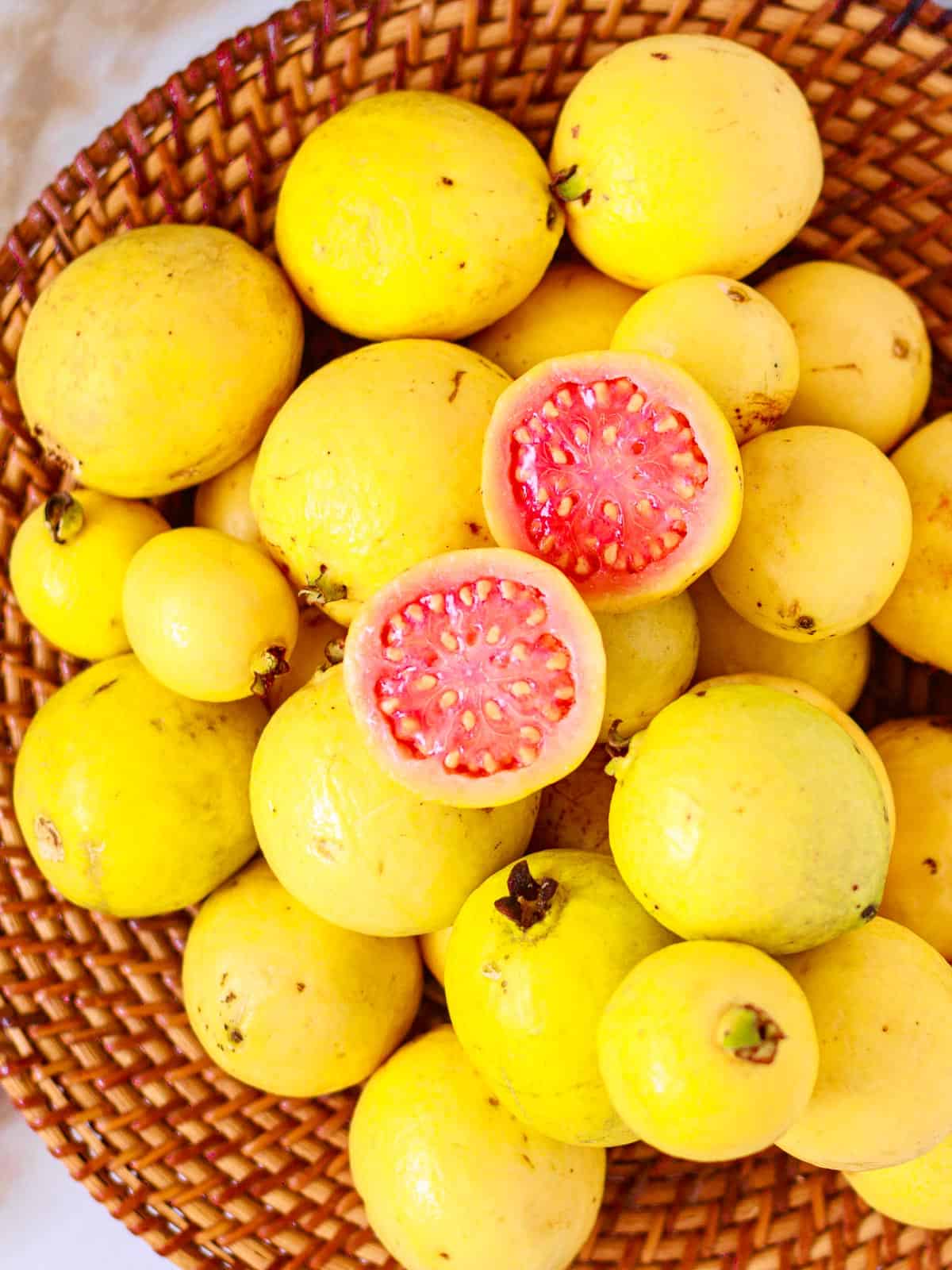 📋 Ingredients
This guava jam recipe starts with fresh guava puree. The only other ingredient you need is sugar. Why if the list were any shorter, I would be hard-pressed to call it a recipe!
Guava puree - Homemade is best, but you can buy guava pulp without additives online. Supplier links are in the FAQ below.
Organic sugar - I like Costco's friendly price on raw cane sugar.
I can't remember when I discovered that a dehydrator is a perfect tool for making thick jams without pectin or cooking. I do know we have enjoyed countless batches of unique, sweet spreads over the years, including our Strawberry Roselle .
It's so helpful not to cook over a hot stove, guess at consistency, and compromise the delicacy of exotic fruit. Instead, you concentrate its lovely color and fresh flavor. That's because a dehydrator simply removes water leaving pure, healthy jam.
Dehydrator - If you're shopping around, you might be interested in the Nesco Snackmaster. This affordable and compact model has served me well for 5 years.
Dehydrator liner sheets - Fruit roll sheets are designed with a non-stick surface and have a no-spill lip ideal for making Hawaiian guava jam.
🔪 Steps
Start by stirring together your guava puree and sugar in a proportion of two parts fruit to one part sugar. This is one recipe you can remember without any notes!
Mix guava and sugar.
Spread the mixture on a dehydrator liner sheet.
Dehydrate to desired consistency.
Guava jam is ready!
Hawaiian guava jam is utterly delicious on crumpets, toast, biscuits, and the like. Thus, your batch may never make it to the list of recipe ideas below.
However, if you are looking for some other ways to enjoy this delightful recipe, here are some suggestions:
👩🏻‍🍳 Expert tips
Select homemade or purchased puree made from high-quality, fully-ripened guavas.
Dehydrate at a low temperature.
Stir jam every hour or so.
Note that dehydrators vary, and guava jam will be ready anywhere from 2 to 5 hours.
Remove your jam from dehydrator liners when it's slightly softer than you want the finished preserve to be. It will thicken more in the refrigerator.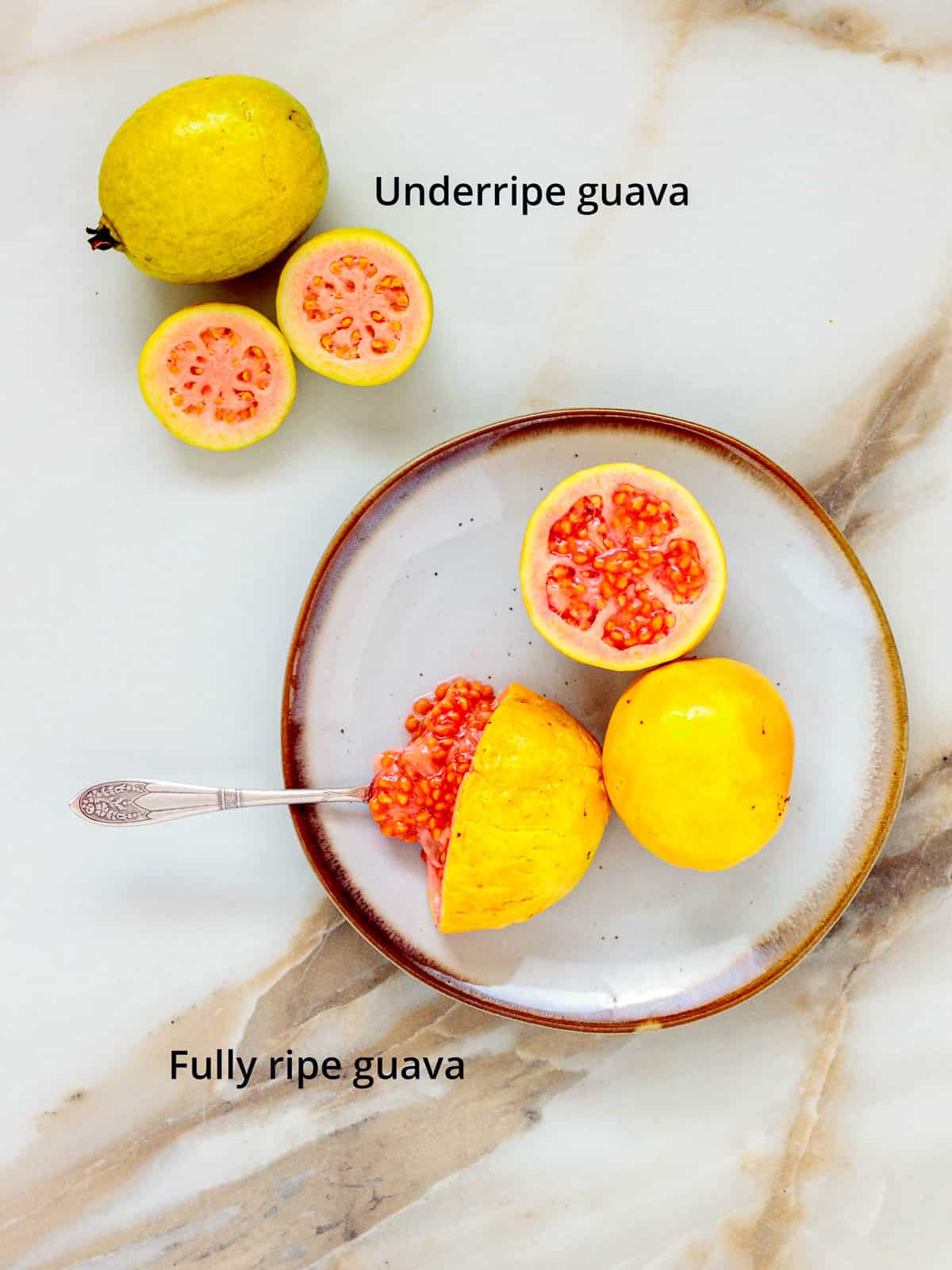 💭 FAQ
Where can I buy guava puree without sugar?
Online is your best source if you don't make your own homemade guava puree. Look for aseptically packaged, 100 percent pure fruit pulp without additives. Fierce Fruit is dedicated to using non-GMO fruit, pressed at the peak of ripeness. More suppliers like The Fruit Dept are available on Amazon.
Can I make a large batch?
Yes absolutely. Just keep the proportion of two parts fruit puree to one part sugar and make as much as you like. Dehydrator trays can be stacked, and each average-sized dehydrator liner and tray will hold about 2 cups of jam.
Can I use less sugar and still make jam?
Yes. Because this recipe doesn't require pectin, you can reduce the amount of sugar or even leave it out entirely for an unsweetened, tart, and wholesome fruit spread.
🍹Related posts
Let us know if you try this recipe! Leave a ⭐⭐⭐⭐⭐ rating in the recipe card below, and don't forget to tag a photo #poppyswildkitchenrecipes on Instagram @poppyswildkitchen Aloha!
📖 Recipe
Hawaiian Guava Jam Recipe Without Pectin
Easy, small-batch Hawaiian guava jam recipe made with 2 ingredients. No pectin or cooking required. Preserve your exotic fresh fruit flavor and natural color by letting a dehydrator do all the work for you. Makes 1 ½ cups jam per batch.
Print
Pin
Rate
Equipment
Dehydrator Liner Sheet

Dehydrator
Instructions
Blend fruit with sugar
Place guava puree and sugar in a bowl. Stir to blend until uniform.
Dehydrate jam
Place a fruit roll-up liner or non-stick sheet made to fit your dehydrator on the drying tray.

Pour the guava jam mixture onto the liner and spread it evenly.

Dehydrate at 135 degrees. Stir every 2 hours and let it thicken to desired consistency. I usually let mine go for about 4 hours.

You can remove dehydrated guava jam from the trays when it is slightly thinner than you want the finished spread to be. It will thicken more when it is refrigerated.
Store
Transfer thickened jam to jars. Refrigerate and keep for up to 3 months. Hawaiian guava jam may also be frozen for 6 months.
Notes
Equipment
Here are two links to affordable equipment that has served me well:
Nesco Snackmaster Pro Dehydrator
Non-stick Liner Sheets
Ingredients
Use homemade guava puree or purchased guava puree made from fully ripened fruit. It should be unsweetened and free from any additives.
Preparation
Dehydrate at a low temperature, no higher than 135 degrees, to preserve the beautiful color and flavor of Hawaiian guava jam.
Stir jam every hour or so to lift moister areas to the surface.
Take note that dehydrators vary, and guava jam will be ready anywhere from 2 to 5 hours.
Remove jam from dehydrator liners when it's slightly softer than you want the finished preserve to be. It will thicken more in the refrigerator.
Storage
Refrigerator - Up to 3 months.
Freezer - For 6 months.
Note - Sugar is a natural preservative. Jam made with less sugar won't last as long in the refrigerator. Jam made without sugar should be treated as fresh food and consumed in a week. Both can still be frozen for up to 6 months.
Nutrition
Calories:
48
kcal
|
Carbohydrates:
12
g
|
Protein:
1
g
|
Fat:
1
g
|
Sodium:
1
mg
|
Potassium:
2
mg
|
Fiber:
2
g
|
Sugar:
10
g
|
Vitamin A:
67
IU
|
Vitamin C:
52
mg
|
Calcium:
8
mg
|
Iron:
1
mg
|
Magnesium:
1
mg
|
Phosphorus:
1
mg