You can make guava syrup in just 10 minutes with only 3 ingredients! It's a fantastic way to keep that exotic tropical flavor going all year long.
Jump to:
Guava is a tasty seasonal fruit that can be hard to find at times, but when you freeze fresh guava puree and use it later to make guava syrup, you can enjoy that sweet and tart taste whenever you like.
🏆 Top tip
Feel free to use homemade guava puree or buy it packaged. Both should be seedless and made entirely from guava without any other ingredients.
⭐ Why it works
Fresh taste - Packed with real fruit, flash cooked to preserve flavor.
Vibrant color - The pretty hue of pink varieties is intensified.
Fast recipe - No chopping, straining, or long cooking times.
Ideal consistency - No thickeners are needed, and it doesn't separate when stored.
Healthy - No artificial additives, fillers, or preservatives like store-bought.
Versatile - Lasts 6 months refrigerated to use in all sorts of recipes.
📋 Ingredients
I use wild pink guava, often called common guava, because it's local, and the color is so pretty. However, you can use any variety you like for this recipe, including strawberry guava, lemon, pineapple, cherry, and white guava.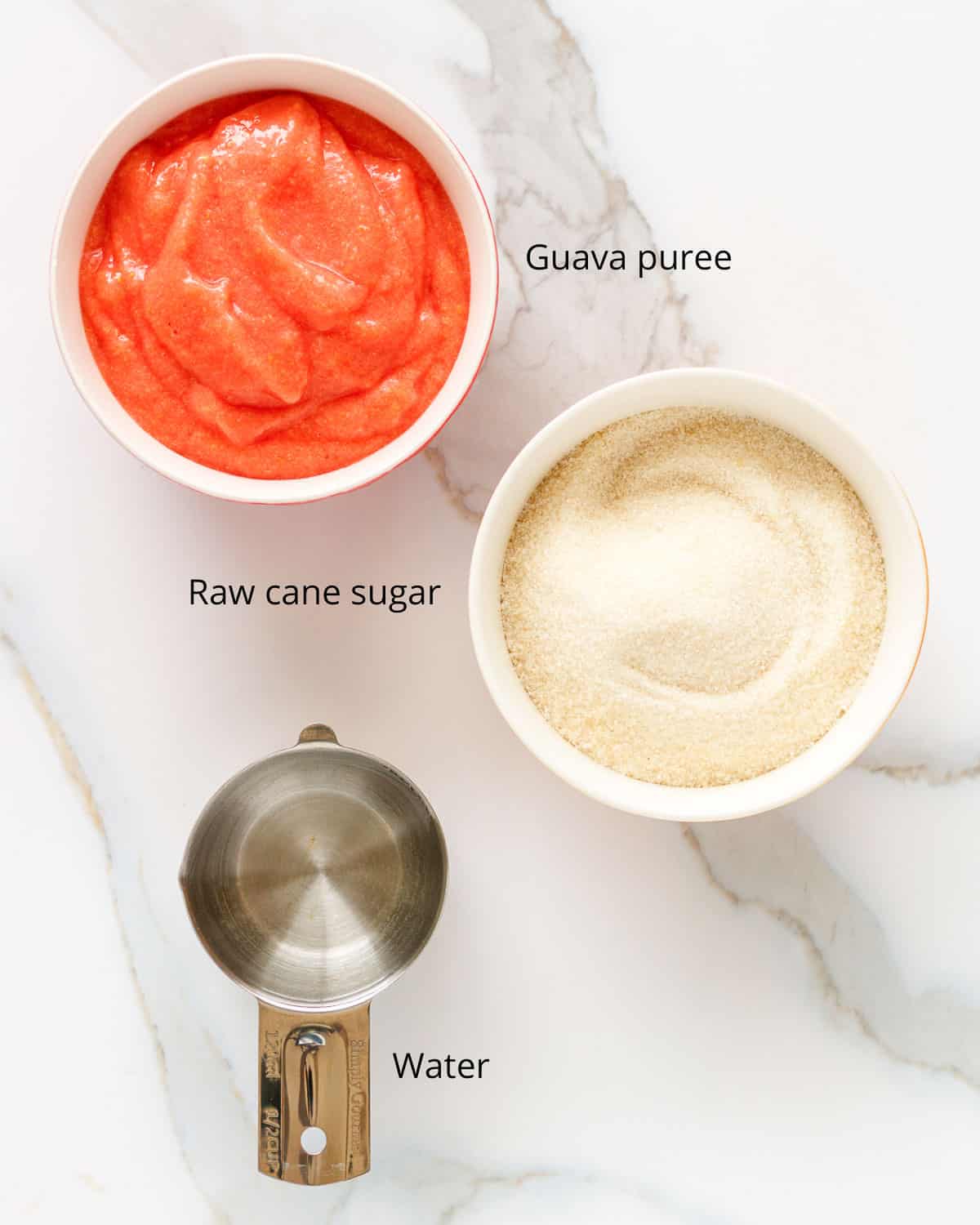 Guava puree - Use 100 percent fresh fruit puree. You can make it from scratch or purchase it in the freezer section of select Mexican, Asian, and gourmet markets or buy it online from suppliers like Fierce Fruit and The Fruit Dept.
Cane sugar - I like to use minimally processed, vegan, evaporated cane sugar.
Water - Filtered or bottled spring water.
🔪 Steps
You won't believe how simple the steps are and how little time it takes to make this heavenly syrup. Go ahead and double or triple the amounts if you have plenty of fruit.
Combine guava puree, sugar, and water in a saucepan.
Cook over medium-high heat while stirring until the mixture reaches a full boil.
Simmer for 5 minutes, stirring frequently until the mixture thickens and darkens in color.
Transfer the syrup to a vessel with a pouring spout. Fill bottles or jars.
🥣 Why make guava syrup?
The sweet and tangy flavor of fresh guava is absolutely irresistible, but it's not always easy to find or keep a supply of this delicious fruit on hand.
For example, I am often fooled by Mother Nature's unpredictability when I am foraging wild pink guava in the West Maui mountains. If you rely on a backyard tree or local farmer's market for your guava fix, you may have experienced the same feast-or-famine dilemma I have.
Fortunately, I've got an answer to this problem. By taking a few minutes to boil a batch of guava syrup, not only is your kitchen filled with the most amazing aroma, but you have two other great rewards.
First, you take advantage of a bumper crop to ensure that none of the deliciousness goes to waste. Second, you preserve the exquisite taste of fresh guava for all those times when it's not readily available.
🍧 How to use guava syrup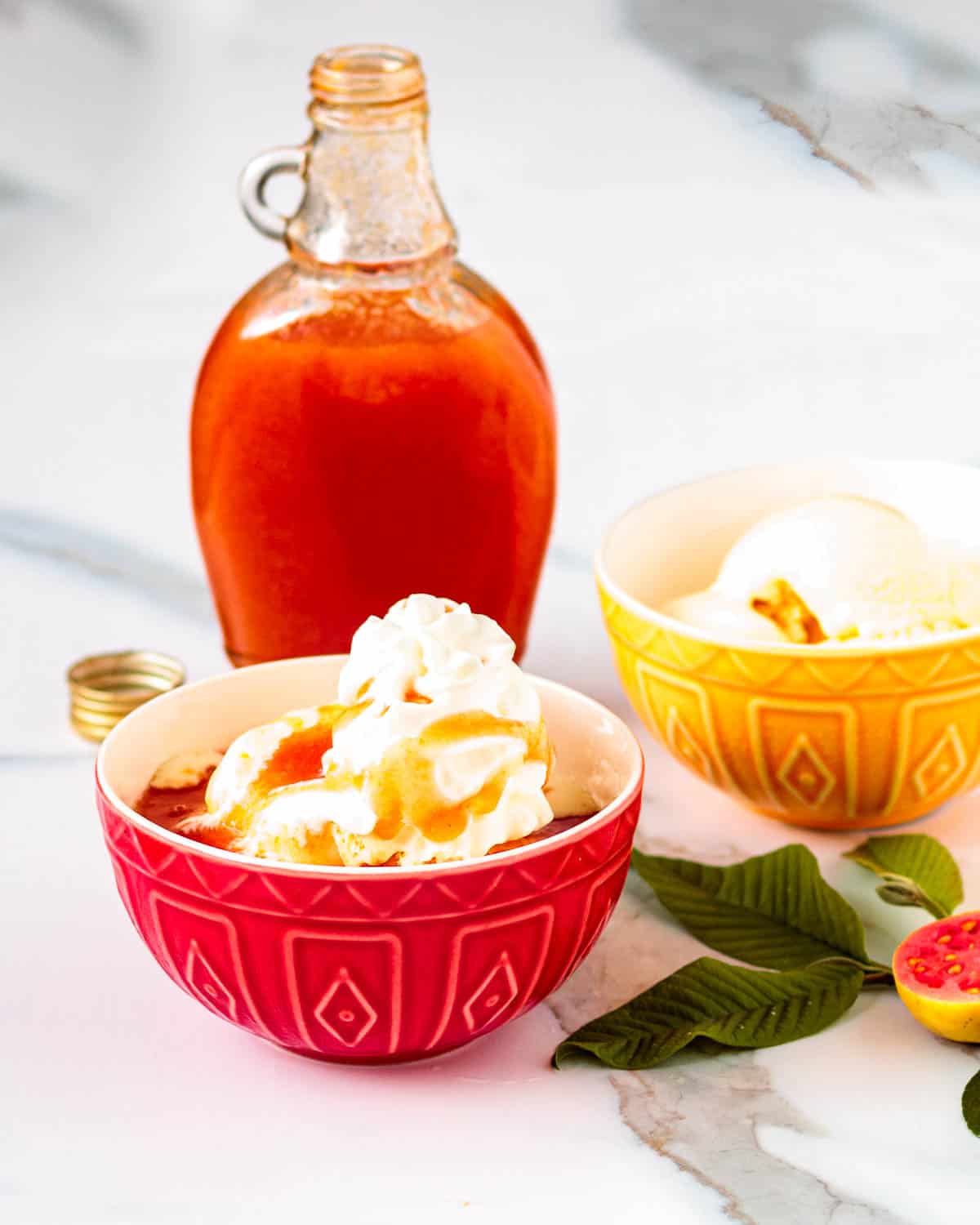 Drizzle it over desserts - it's a delicious topping for ice cream, sorbet, Vegan Vanilla Pudding, and cheesecake.
Make a tropical milkshake to die for - simply blend vegan vanilla or coconut ice cream with guava syrup, top with vegan whipped cream, and drizzle with more syrup.
Make shaved ice - pour it over shaved ice for a true Hawaiian treat.
Add tropical flavor to breakfasts - pour it over pancakes, waffles, french toast, yogurt, and Chia Pudding, or include it in a healthy smoothie bowl.
Use it in marinades or dressings - its sweet and tangy flavor enlivens marinades and green salads. Simply replace part of the vinegar or lemon juice in your recipe.
Add it to sauces - use it as a base for barbecue sauce for grilled veggie kabobs, or mix it with minced garlic and red chili paste for a spicy glaze over Tofu Mock Chicken.
Sweeten fruit smoothies - blend it with other tropical fruits and superfoods for awesome healthy shakes.
Mix it into drinks - use it like simple syrup. It's a great addition to cocktails, lemonade, iced tea, or sparkling water.
For a sensational mocktail - mix 1 part guava syrup with 2 parts freshly squeezed grapefruit juice and 4 parts club soda. Add a dash of orange blossom water. Pour over ice and garnish with a lime twist.
👩🏻‍🍳 Expert tips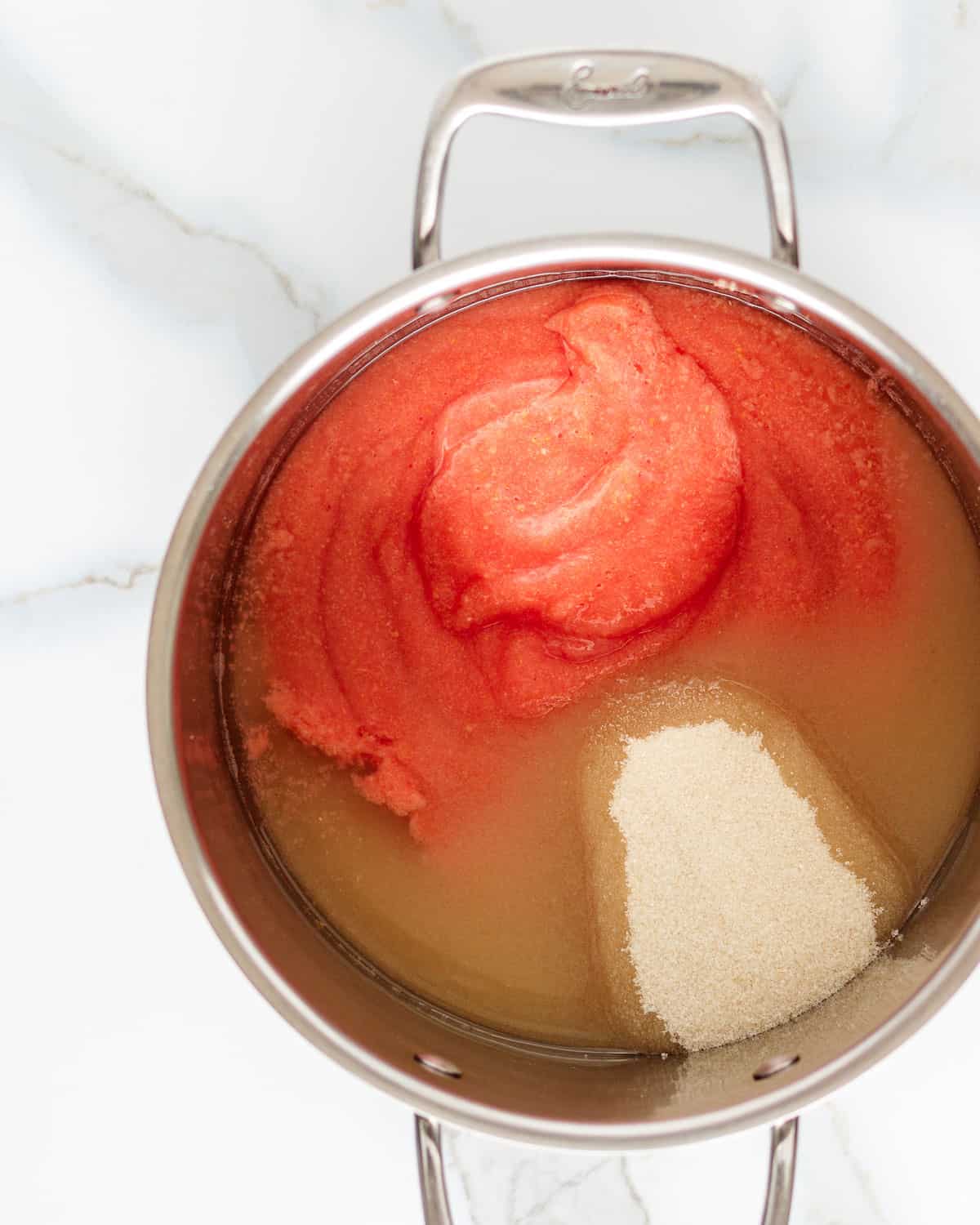 Use a deep pot when boiling your syrup to accommodate how it foams and rises.
Scrape the bottom of the pot frequently while the syrup cooks to prevent burning.
Let syrup cool for ten to fifteen minutes before transferring it to jars.
Use a funnel for easy transfer.
Store in glass containers. They won't react to the natural acids in fruit syrup, and you can appreciate the beautiful color of your homemade preserve.
💭 FAQ
What is guava syrup?
Guava syrup is a smooth, pourable, exotic fruit sweetener made with guava puree, sugar, and water. It can be spooned over foods but is thinner than guava jam or guava paste, which can be sliced. Its flavor is fragrant, sweet, slightly tangy, and decidedly tropical. When you make it from scratch at home, it's free from the artificial additives found in store-bought brands and has a fresher taste.
What does guava syrup taste like?
Guavas come in different varieties but are generally more sweet than tart with a fragrant aroma. Imagine the taste of juicy strawberry, ripe pear, and succulent melon, with a hint of tangy kiwi and the delightful fragrance of tropical flowers. That's the kind of flavor you can expect from homemade syrup made from fresh guava puree, sugar, and water- a taste that's just like the tropical fruit itself, only sweeter.
Can I use other varieties of guava?
Yes, you can use any variety of guava you like, including common pink, strawberry, pineapple, lemon, cherry, and white guava, to make syrup. Start with pure, seedless puree made from the ripest fruit you can find; add only sugar and water, and keep the cooking time brief for the freshest flavor.
🍹More recipes with guava
Enjoyed this post? Leave a comment, rate ⭐⭐⭐⭐⭐ it, and follow @poppyswildkitchen on Instagram. Aloha!
📖 Recipe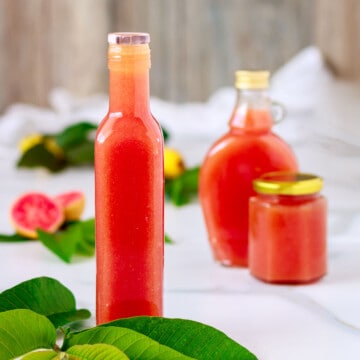 10-Minute Guava Syrup
Make guava syrup in 10 minutes with 3 ingredients! Use it year-round to add sweet tropical flavor to ice cream, waffles, barbecue sauce, spicy glazes, iced tea, smoothies, mocktails and more.
Print
Pin
Rate
Ingredients
1

cup

guava puree

seedless, unsweetened pure fruit

1

cup

evaporated cane sugar

organic preferred

½

cup

water
Instructions
Make syrup
Place

1 cup guava puree

in an extra deep saucepan. Add

1 cup evaporated cane sugar

and

½ cup water

.

Heat, stirring frequently, until the sugar melts and the mixture comes to a full, rolling boil. Take care, as the mixture foams and boils over easily.

Reduce heat and cook at a simmer for 5 minutes. Scrape the bottom of the pot with a flat-edged spatula to prevent the syrup from burning.

Remove syrup from heat and let cool. Pour the mixture into jars or bottles with a funnel.
How to use
You can mix it into drinks, drizzle it over desserts, use it in marinades or dressings, add it to barbecue sauces or glazes, pour it over waffles and pancakes, in breakfast bowls, or simply enjoy it as a dipping sauce on its own.
Store
This tasty, exotic treat lasts six months refrigerated. It will be hard to keep it around that long, though!
Notes
Preparation
Use a deep pot when boiling syrup to accommodate how it foams and rises.
Scrape the bottom of the pot frequently while the syrup cooks to prevent burning.
Let syrup cool for ten to fifteen minutes before transferring it to jars.
Use a funnel for easy transfer.
Store in glass containers. They won't react to the natural acids in your preserve, and you can appreciate its beautiful color.
Nutrition