This sweet, no-fail roselle jam is made with just 2 ingredients; fresh fruit, and raw sugar. It's an easy recipe that's brightly colored, naturally thickened, and doesn't require pectin or cooking.
It makes the prettiest filling for Vegan Thumbprint Cookies at Christmas time.
Top Tip
Remove seed pods from roselle easily by slicing off the cap end. Then they'll pop right out.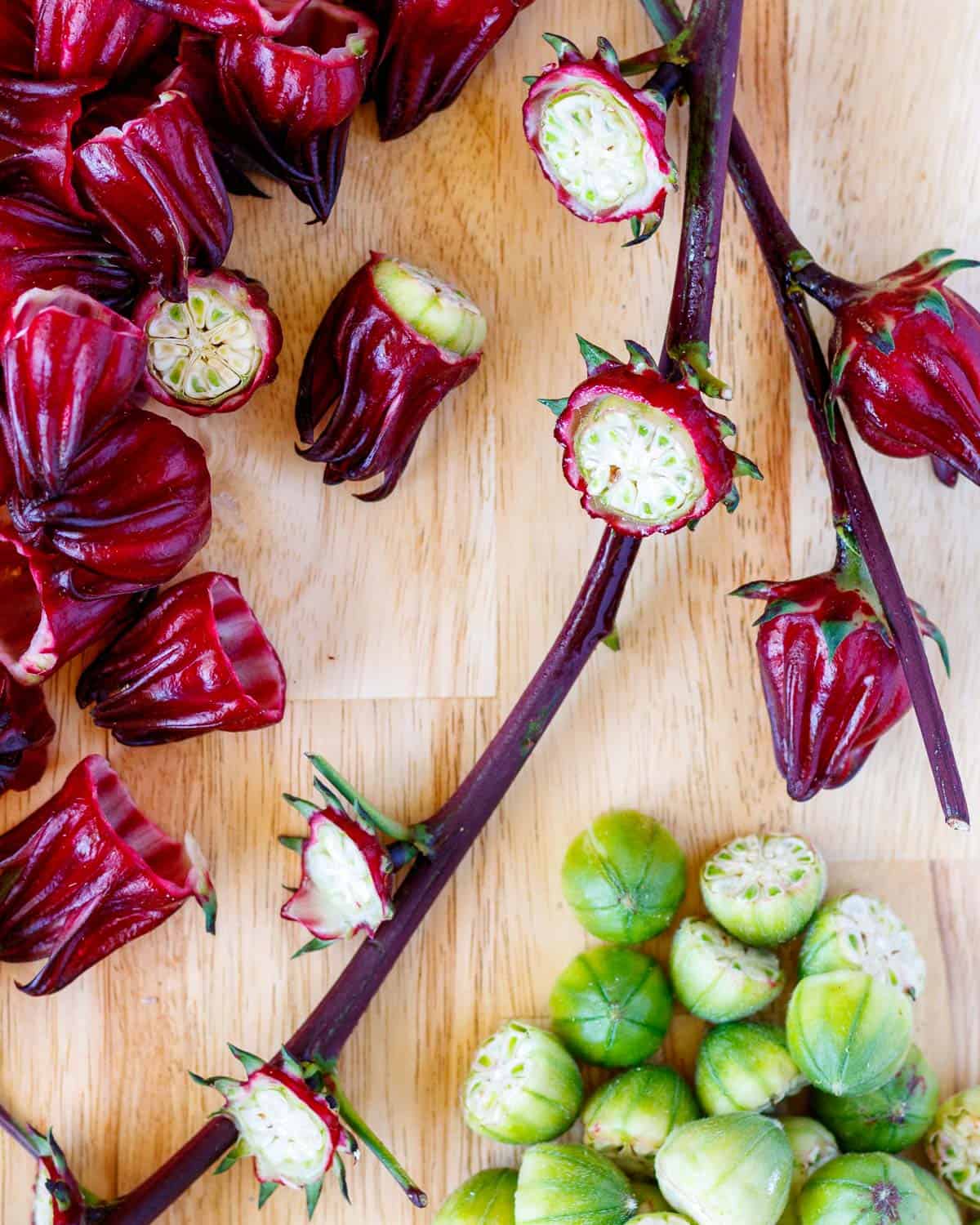 Jump to:
What is roselle?
Roselle, is just one of many names for hibiscus sabdariffa, a tropical to sub-tropical plant also called rosella, hibiscus flower, and flor de Jamaica to name a few.
It's known around the world for an array of ruby-red delicacies like Florida Cranberry Sauce and bissap, the national drink of Senegal.
Did you know that hibiscus fruit isn't really fruit or flowers, but calyces? If you'd like to read more, my post about hibiscus sabdariffa explains its fascinating botany.
No-fail recipe
There's nothing worse than spending the time to make jam only to find your choice fruit hasn't gelled and set after cooling. You might have even picked the fruit yourself.
With this recipe you won't have to boil, strain, skim foam, or guess at the amount of pectin in your jam. Not only is the finished jam stable, but it has the freshest taste and bright color because it hasn't been cooked.
Since the recipe doesn't require pectin, you can use half the sugar of typical jam recipes with excellent results.
Wondering how it's possible? Thickening jam in a dehydrator lets you control the thickness of your spread without guesswork.
Ingredients
Ripe strawberries are sweet but often lack the acidity needed for an exceptional preserve. That's where sour roselle fruit comes in.
Roselle fruit, a.k.a. calyces, have a wonderfully unique taste that compliments strawberries, while the sweetness of strawberries rounds out roselle's exceptional tartness.
Equipment
Blender or food processor - Any standard machine works fine to blend berries, roselle, and sugar.
Dehydrator - If you're shopping around, you might be interested in the Nesco Snackmaster. This affordable and compact model has served me well for 5 years.
Dehydrator liner sheets - Fruit roll sheets are designed with a non-stick surface and have a no-spill lip ideal for making jam.
How to make rosella jam without cooking
STEP 1
Prepare fruit - Wash and dry strawberries and roselle. Slice tops off roselle, remove seed and discard. Slice strawberries and chop roselle fine.
STEP 2
Blend - Combine sliced strawberries, raw sugar, and finely chopped roselle. Place in a blender and process briefly with pulses until mostly uniform.
STEP 3
Dehydrate - Pour blended jam onto a dehydrator liner and dehydrate until jam is desired consistency.
FAQ
Can I use dried roselle petals to make jam?
Dried roselle petals won't work with this recipe. They will have an unpleasant texture. However, dried roselle, also called Jamaica roselle, makes excellent brewed beverages for iced tea and cocktails.
Can I use frozen roselle to make jam?
Frozen calyces are just fine for making jam. Freeze them whole, thaw and then remove the seeds and chop them according to recipe instructions. Dried roselle petals won't have a pleasant texture in jam but make excellent brewed beverages for iced tea and cocktails.
How much jam does the recipe make?
The basic recipe makes one cup of jam and can be doubled, tripled, or quadrupled.
Can I use less sugar?
Yes, absolutely. The great thing about this dehydrator method is you can adjust sugar to your own taste and still have a beautifully thickened jam. If you use less sugar than the recipe instructions give, make note that the jam may have a shorter shelf life than three months.
More sweet jams and sauces
Let us know if you try this recipe! Leave a ⭐⭐⭐⭐⭐ rating in the recipe card below and don't forget to tag a photo #poppyswildkitchenrecipes on Instagram @poppyswildkitchen Aloha!
📖 Recipe
Strawberry Roselle Jam
Easy no-cook jam made with fresh strawberries and roselle fruit. Tart, sweet, and naturally thickened without pectin.
Print
Pin
Rate
Equipment
1 Dehydrator Liner Sheet

1 Dehydrator
Ingredients
1 ½

cups

sliced strawberries

½

cup

chopped roselle calyces

1

cup

organic raw sugar
Instructions
Blend fruit with sugar
Place strawberries, roselle, and sugar in a blender. Pulse on low speed until combined. Blend until uniform but still flecked with darker color from small pieces of roselle.
Dehydrate jam
Place a fruit roll-up liner or non-stick sheet made to fit your dehydrator on the drying tray.

Pour the mixture onto the liner and spread evenly.

Dehydrate at 135 degrees. Stir every hour or so and let jam thicken to desired consistency. I usually let mine go for about 4 hours.
Store
Transfer thickened jam to jars. Refrigerate and keep up to 3 months. Strawberry Roselle Jam can also be frozen for up to 6 months.
Notes
Equipment
Here are two links to affordable equipment that has served me well:
Ingredients
Use the ripest strawberries you can find.
Use fresh or frozen roselle calyces.
Preparation
Slice strawberries and chop roselle fine.
Dehydrate at a low temperature, no higher than 135 degrees, to preserve color and flavor.
Stir jam every hour or so to lift moister areas to the surface.
Take note that dehydrators vary and jam will be ready anywhere from 2 to 5 hours.
Remove jam from dehydrator liners when it's slightly softer than you want the finished preserve to be. It will thicken more in the refrigerator.
Storage
Refrigerator - Up to 3 months.
Freezer - For 6 months.
Note - Sugar is a natural preservative. Jam made with less sugar won't last as long in the refrigerator. Jam made without any sugar should be treated as fresh food and should be consumed in a week. Both can still be frozen for up to 6 months.
Nutrition
Calories:
53
kcal
|
Carbohydrates:
14
g
|
Protein:
1
g
|
Fat:
1
g
|
Sodium:
1
mg
|
Potassium:
25
mg
|
Fiber:
1
g
|
Sugar:
13
g
|
Vitamin A:
7
IU
|
Vitamin C:
8
mg
|
Calcium:
6
mg
|
Iron:
1
mg
|
Magnesium:
3
mg
|
Phosphorus:
4
mg
Let us know if you try this recipe! Leave a ⭐⭐⭐⭐⭐ rating in the recipe card below and don't forget to tag a photo #poppyswildkitchenrecipes on Instagram @poppyswildkitchen Aloha!