Hawaiian noni is a beautiful tree native to South East Asia and Northern Australia. A member of the coffee family, it has a history as one of the most healing plants in Polynesia.
You might be surprised to know this healing Hawaiian plant is the indispensable gourmet ingredient in my Vegan Goat Cheese Recipe, but reading on will explain why.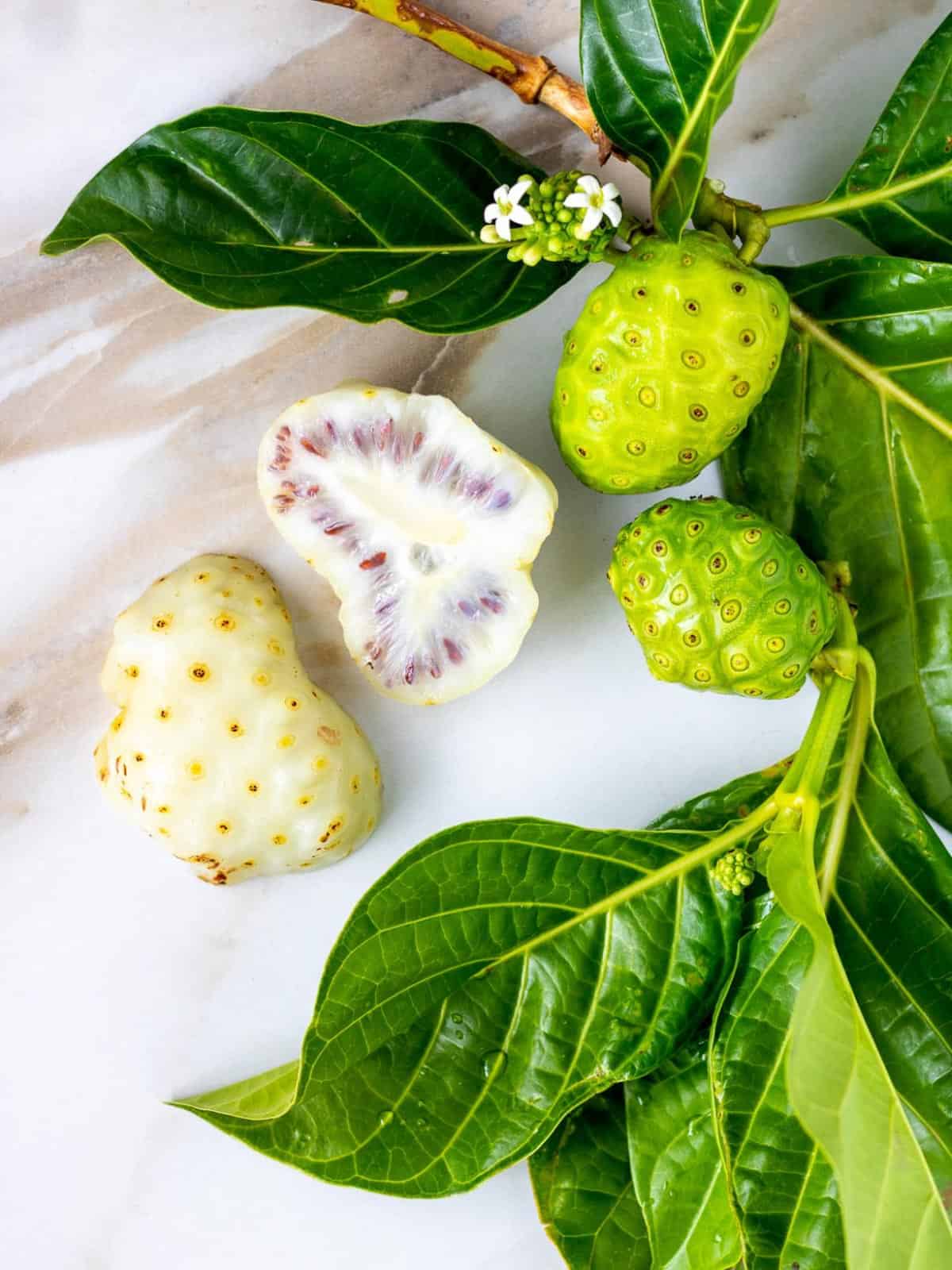 Jump to:
🌿 Botanical
FAMILY: Rubiaceae
GENUS: Morinda
SPECIES: Moringa citrifolia
TYPE: Perennial tree
NATIVE: South East Asia, Northern Australia
DISTRIBUTION: Pantropic
📋 Common names
HAWAIIAN - noni
ENGLISH - Indian mulberry, great morinda, rotten cheesefruit, canary wood, pain killer tree
INTERNATIONAL - bois douleur, mora de la India, al, achi, maddichettu, nuna, yaeyamaaoki, hai ba ji, mengkudu, pacel, kura, nano, nonu, lada and hundreds of names throughout Polynesia
🛶 Canoe crop
Noni came to Polynesia from Micronesia and was spread extensively by Ancient Polynesians. Today it is naturalized in tropical areas spanning a wide swath from South America to India and Australia.
Morinda citrifolia spread because Ancient Polynesians identified noni, along with taro and banana, as essential to life. Therefore, it was carried on canoe voyages throughout the Pacific.
To earn its spot on such a small sea vessel, noni had to qualify amongst a small group of extraordinary plants. These plants were used for food, medicine, building, clothing, and to ensure spiritual as well as physical survival.
Not only is every part of morinda citrifolia edible, but like the other plants, it has remarkable practical, medicinal, and ceremonial uses.
Thus, today Hawaiian noni has the important distinction of being called a canoe crop.
🧀 Noni smell
You have a great opportunity if you are a mischievous type with a devilish streak. You can lure an uninitiated innocent to take a deep whiff of a very ripe noni fruit.
There is sure to be plenty of laughter, although it may be one-sided. That's because the oft-used name "stinky cheese fruit" is probably an enormous understatement.
Guess what? That amazing aroma, so similar to blue cheese, is the very quality that makes my Vegan Goat Cheese Recipe possible.
🔎 Identification
Fruit
Overall, Hawaiian noni trees are lovely to look at and easy to harvest. Fruit is available year-round and has a fascinating bumpy appearance. The fruit starts out hard and deep green, maturing to yellow and finally nearly white, with fragile, thin skin covering its soft interior.
This is the stage of fruit I look for to squeeze the juice and make marvelous vegan cheese.
Flowers
The small, tubular flowers of morinda citrifolia are classified as perfect, having both male and female parts together.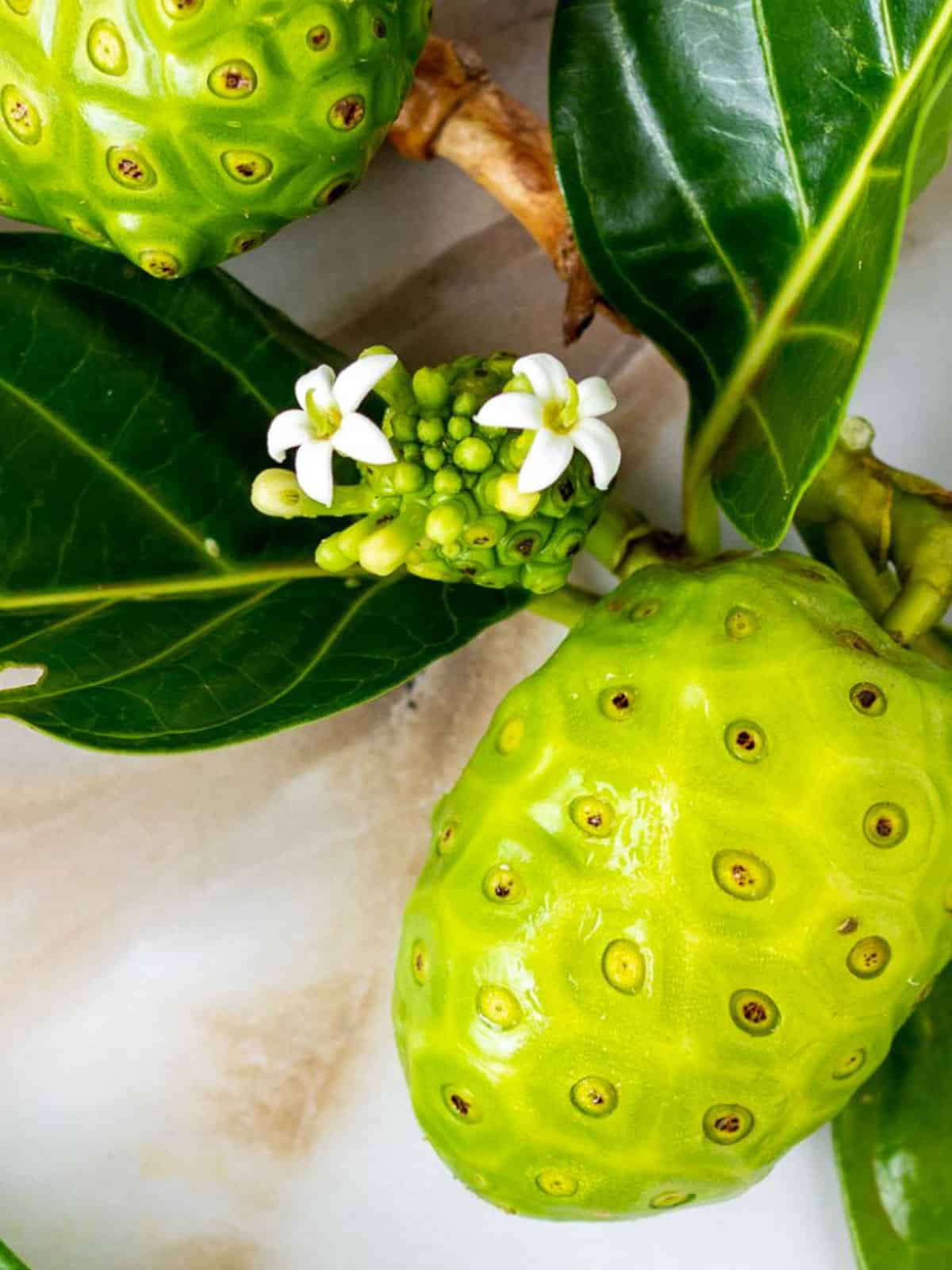 I think it's adorable how they poke forth from the hard immature fruits and cling until the fruit is almost ripe. Noni is unique because the flowers emerge after the fruit and not before, like most other plants.
Leaves
Noni leaves are shiny, dark green, and oval and grow as long as 12 inches here in Hawaii. The Latin name citrifolia comes from the fact that noni leaves are similar in appearance to citrus leaves.
Like the fruit, the leaves of Hawaiian noni trees are edible and have a very bitter taste. They can be used to wrap or steam food and in healing applications such as warm chest compresses.
Bark and Seeds
The bark of noni trees is brown to golden with lengthwise fissures and has a characteristic segmented design where rings repeat along branches.
Both the inner bark of branches and roots have historical use in dye-making. A red to purple dye is harvested from branches, and yellow dye comes from the roots.
Seeds are reddish-brown, plentiful, hard, and about the size of apple seeds. Dried seeds shrink and have a papery sheath.
🌟 Benefits
These days much emphasis is placed on Hawaiian noni for its medicinal qualities. Indeed more than 150 compounds having nutraceutical properties have been identified and studied.
However, it's interesting to note that the leaves, flowers, fruit, bark, and roots have been used by indigenous people even before Hawaiian and Polynesian cultures for everything from food and medicine to dyes and shampoo.
In our modern home, we have aged the juice and used it topically. Healing noni is the best natural antiseptic I have found.
We have used it to ward off wound infections and calm inflammation from insect bites and other allergic skin reactions.
🍵 How to eat noni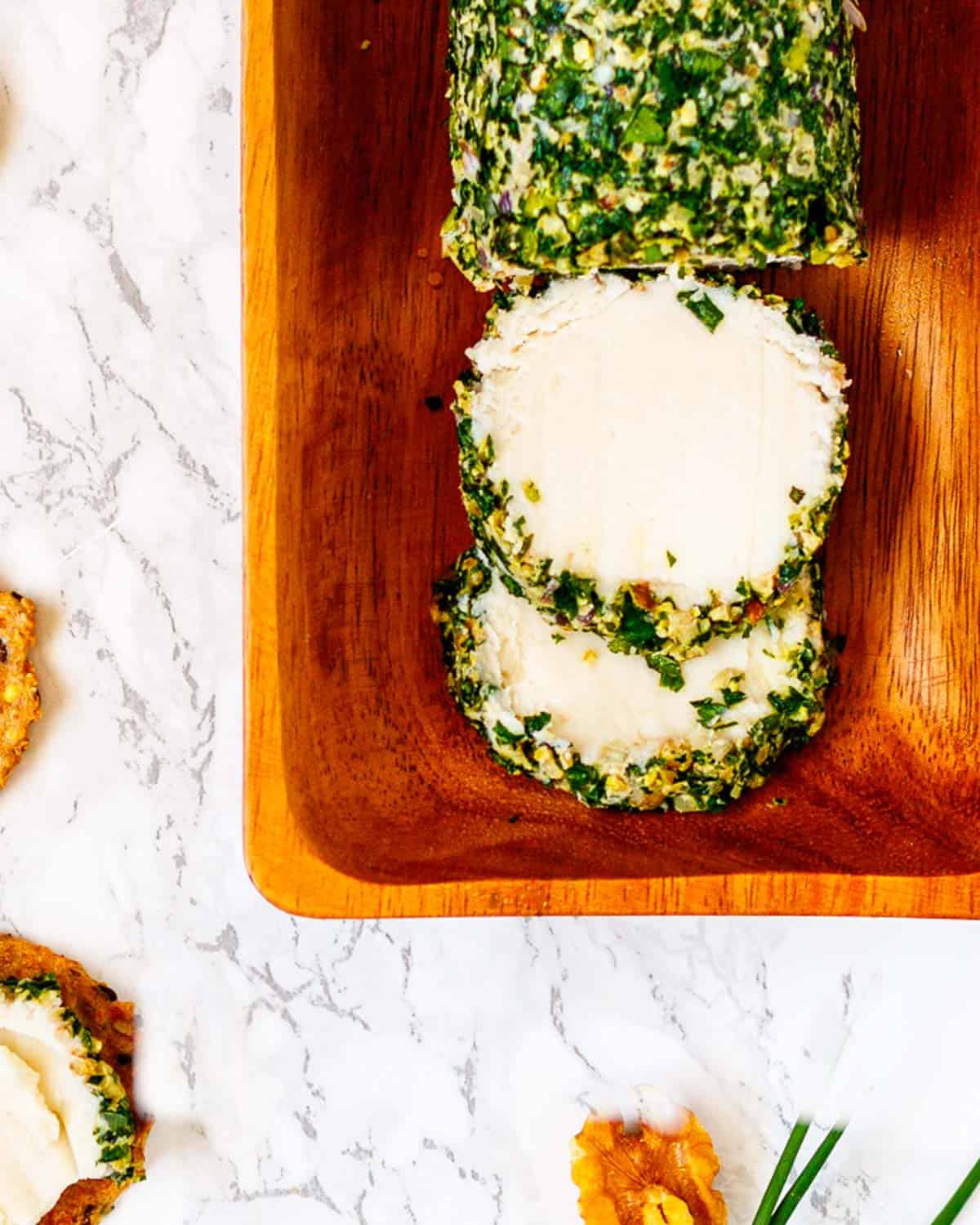 I think of noni, first and foremost, as a preventative and healing plant to be used as medicine more than food.
However, the more I learn about noni, the more I am enticed to find ways to cook with it despite its extremely bitter taste and off-putting smell.
Over time, I hope to expand my list of recipes beyond Vegan Goat Cheese. Here's a sampling of possibilities for the daring. Let me know if you create any recipes of your own from this list!
Chopped leaves cooked in coconut milk with spices.
Leaves cooked in stews or soup.
Thinly sliced leaves fried in pancakes or fritters.
Dried leaves brewed as tea.
Green fruit peeled, shredded, and used in salad.
Yellow fruit peeled and juiced with other fruits.
Ripe fruit seeded, mashed, and dried into fruit leather.
Juice from ripe fruit, strained and used to make a variety of vegan cheeses.
👩🏼‍⚕️ Safety
Always be one hundred percent sure of your plant identification if consuming foraged or wild plants. Finally, follow your doctor's advice when eating new or unfamiliar plants, especially if you are pregnant or taking any medications.
🥭 More exotic tropical fruit
Enjoyed this post? Leave a comment, rate ⭐⭐⭐⭐⭐ it, and follow @poppyswildkitchen on Instagram. Aloha!