Second Fermentation Kombucha flavored with fresh fruit is the most refreshing kombucha of all. Why? Because homemade, fruit-fermented kombucha is full of sweet, naturally effervescent bubbles.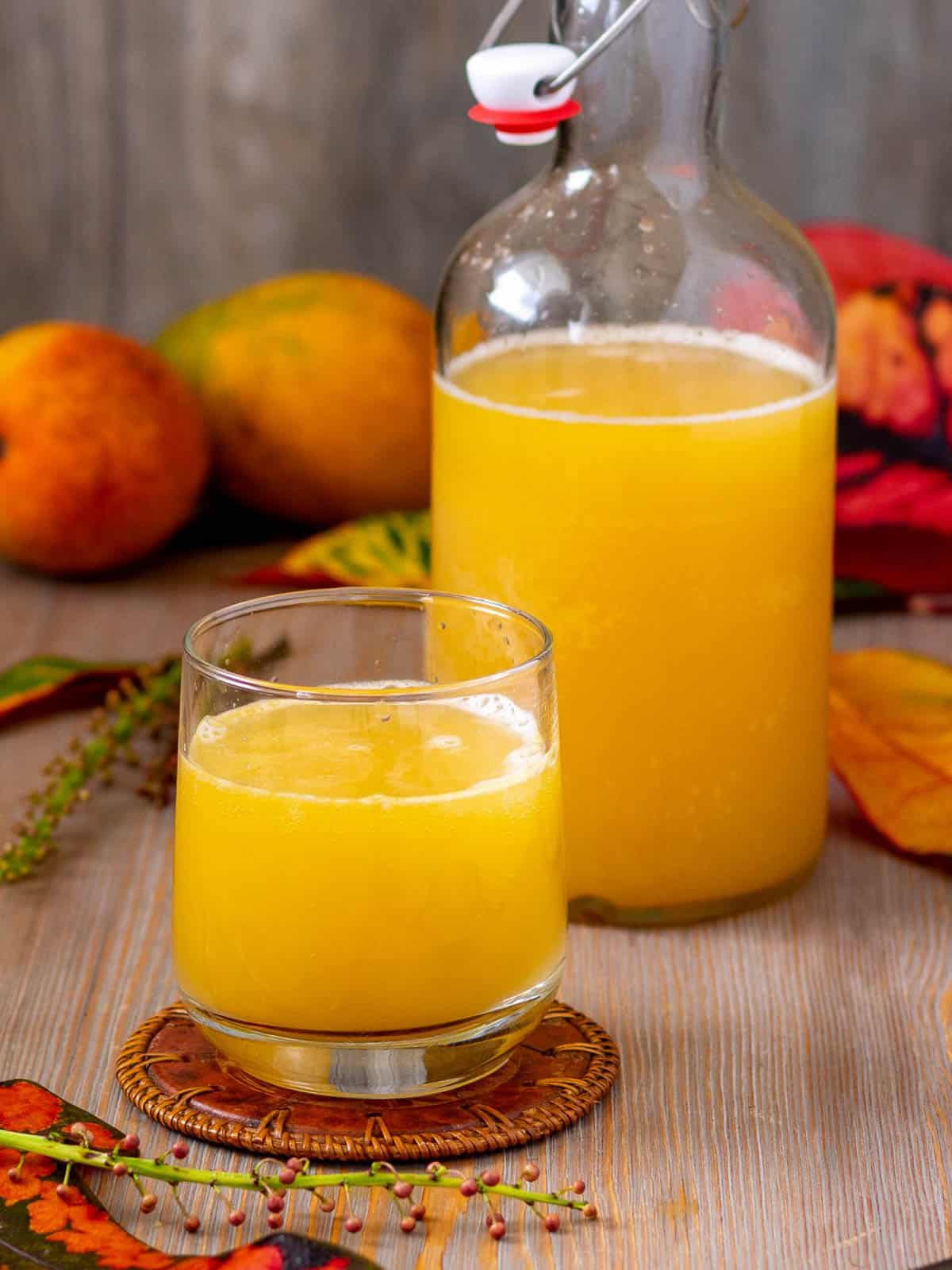 Kombucha that has been fed with fresh fruit and sealed in jars to create robust natural carbonation is magic compared to plain, ordinary kombucha.
You'll be amazed when you pop open your first swing-top bottle, and all that sparkling goodness rushes to the top. Plus, now that you know how to Make Kombucha Tea For Pennies, setting up a second fermentation will be easy.
Note- this method uses whole raw organic fruit and optional fresh herbs and spices. Thus, the technique and equipment are specific to a process that strains finished kombucha before bottling and storing. Let me break it down for you to illustrate the basics.
Equipment
Here's a little checklist of items you are likely to have on hand. You'll need a small bowl to reserve your scoby and starter liquid from a gallon of plain raw kombucha. You'll need a large mixing bowl, blender or juicer, funnel, and a fine-mesh strainer. Convenient, inexpensive models are fine should you need to pick up any of these items.
For every gallon of plain raw kombucha, you will need two half-gallon jars with fermenting caps. It's handy to have a pack of replacement caps in case one gets lost or broken. Good quality jars and lids intended for holding fermentation will minimize the possibility of explosions. That sounds scary, but it's a rare occurrence. I actually enjoy remembering the two times it happened to me. Mind you, it was over the course of brewing kombucha continuously for six years. Nevertheless, we got a thrill and a good laugh. Don't worry though, I give you safety tips in the recipe below if you don't want the extra fun and mess.
Once your second fermentation kombucha is filled with carbonation, you'll want to strain and transfer it to storage bottles. These swing-top bottles are ideal for keeping your sweet and tart kombucha fresh. They look handsome, hold all the carbonation in, and are fun to open and close.
If you want a savvy clean-up tool to keep your bottles pretty, treat yourself to this bottle brush.
Fresh fruit
Fresh organic raw fruit made into a puree or juice is all you need for this step. The quality of fruit you choose will make all the difference. Thus, make sure to use sweet, flavorful fruit for the best tasting kombucha. It's marvelous creating different whole-food combinations. You can even incorporate herbs and spices for nuance. The variations below give you a guide to creating winning flavors.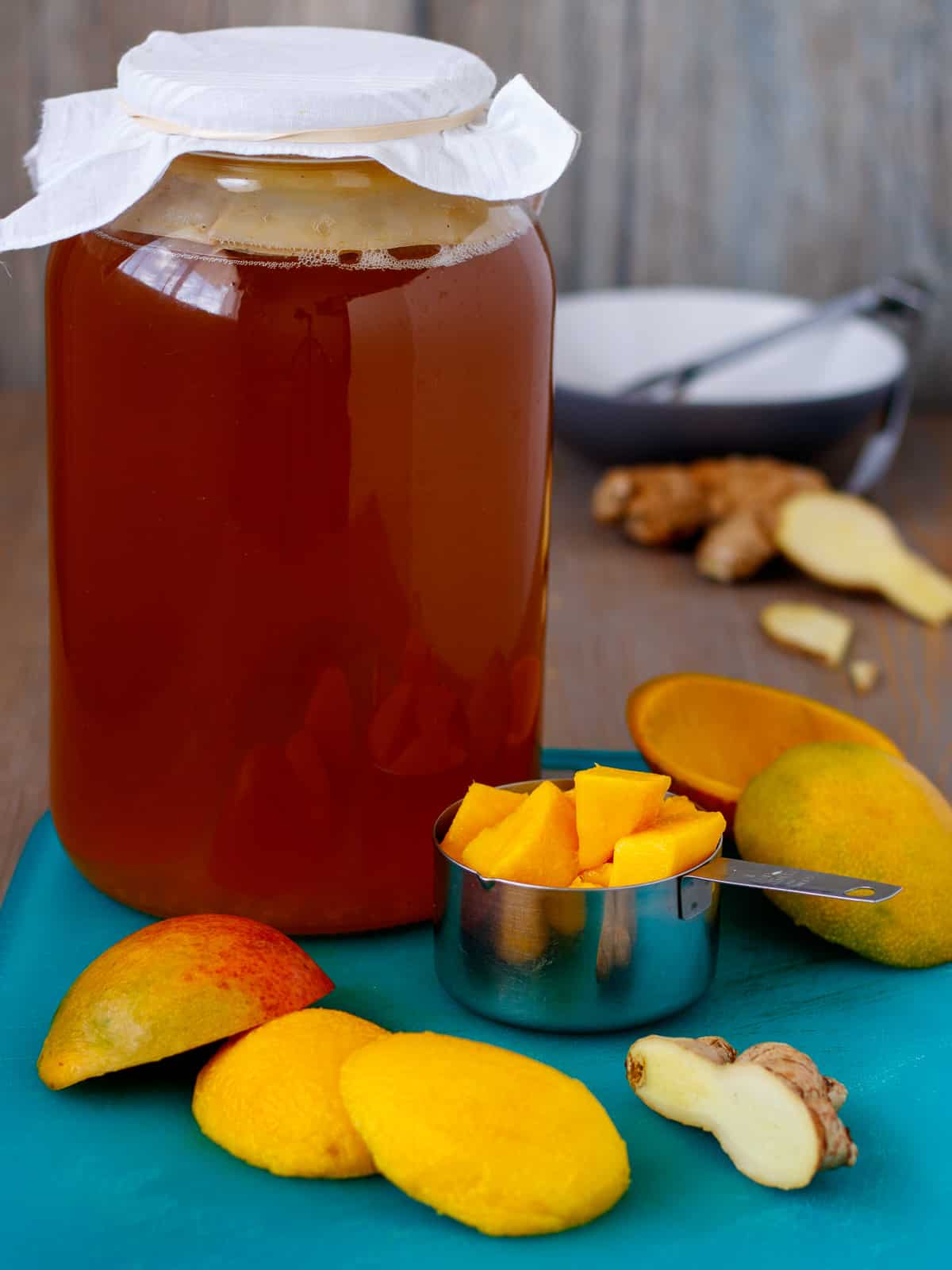 Flavoring raw kombucha with fruit serves two purposes. One, it transforms plain kombucha into a sweeter, super tasty kombucha. Two, it provides the living kombucha with more food once the sugars from brewing your original kombucha are mostly exhausted. The result of feeding kombucha a second time and sealing it in airtight jars is robust natural carbonation.
Did you know that most kombucha on the market has carbonation added to it by a machine during bottling? I certainly don't blame companies when you consider the practical concerns of manufacturing second fermentation kombucha. After all, kombucha is a living thing and variances are much easier to manage in small-scale productions. But isn't it cool you can take extra pride knowing there isn't anything artificial about your home-brewed bubbles?
Time
You are used to waiting for one to three weeks for your first batch of plain, raw kombucha, right? Well, I told you this was going to be easy. Guess what? A second fermentation happens as quickly as 2 days in a warm climate. There's just one important caveat to consider when opening your bubbly half-gallon jars. Make sure you chill them for 12 hours in a refrigerator before you open them. Otherwise, most of your prize kombucha will end up spewing onto the counter before you can strain it into your lovely swing-top bottles.
So there you have it. The basics of second fermentation kombucha are well within grasp. Once you dive in, you can make your kombucha brewing experience as unique and elaborate as you like. If you want a few more tips on this superb endeavor, the FAQ sections at TheKombuchaShop.com are a fantastic resource. The Kombucha Shop is a large, reliable supply business whose mission is to help people brew incredible kombucha at home. Here's a bubbly toast to successful missions!
More drink recipes
I would be thrilled to know if you tried this recipe! Leave me a ⭐ ⭐ ⭐ ⭐ ⭐ rating in the recipe card below and don't forget to tag a photo #poppyswildkitchenrecipes on Instagram @poppyswildkitchen Aloha!
Fizzy Second Fermentation Kombucha
Second Fermentation Kombucha is loaded with bubbles. Fresh organic fruit adds sweetness and creates natural carbonation for the most refreshing kombucha.
Print
Pin
Rate
Ingredients
Basic Ingredients
1

gallon

homemade plain raw kombucha

1-2

cups

raw organic fresh fruit puree or juice combination

Optional

fresh

herbs and spices
Pineapple Turmeric
1 ½

cups

pineapple chunks

½

cup

sliced fresh tumeric root
Pog (Passionfruit Orange Guava)
1

cup

diced ripe guava

½

cup

passion fruit scooped from shells

cup

½

cup

fresh squeezed orange juice
Honey Roselle
1

cup

fresh roselle hibiscus petals (Jamaica)

1

cup

water

2

TB

honey
Lavender Triple Berry
½

cup

blueberries

½

cup

strawberries

½

cup

raspberries

1

TB

culinary lavender
Purple Basil Strawberry
1 ½

cups

sliced strawberries

½

cup

sliced purple basil leaves
Instructions
Prepare Herbs and Spices
Wash and slice fresh herbs. You can leave the skins on turmeric or ginger. They help in fermentation. Measure herbs and spices and divide into two small bowls. This way you can add half the total amount to each half gallon jug for fermenting.
Prepare Fruit
Wash and cut organic fruit in chunks or scoop pulp from shells. You can include the seeds of fruit like passion fruit or guava. Citrus fruits should be juiced and seeds removed. Measure according to recipe.
Blend Fruit To Puree
Puree fruit chunks in a blender or food processor to a liquid texture. Pour into a very large bowl.
Reserve Starter Liquid and Scoby From Gallon of Raw Kombucha
Measure out and reserve 1 ½ cups of raw kombucha from your gallon jar brew. Place it in a bowl with the scoby. Set aside to brew a new batch of raw kombucha.
Mix Raw Kombucha With Fruit Puree
Pour remaining raw kombucha into large bowl with pureed fruit. You can use a little to rinse your blender to include all the puree. Whisk together.
Bottle Fruit Flavored Kombucha For Second Fermentation
Place a funnel over top of one half gallon jug. Pour half the fruited raw kombucha into jug. Repeat with second half gallon jug. Divide the reserved herbs and spices between your two half gallon jugs. Seal firmly with fermenting caps. A good hand twist is sufficient. I find using a damp wash cloth over top of cap helps to tighten the right amount.
Store 2-4 Days Until Well Carbonated
Place half gallon jugs in a dark cupboard for second fermentation. Experience will help you to judge how long to leave the jugs to build up carbonation. The next step is very important. Don't try to open warm jugs of carbonated kombucha!
Chill and Strain Carbonated Kombucha
Chill carbonated kombucha 12 hours before opening. Once kombucha is very cold, take jugs from refrigerator and strain out fruit pulp, herbs and spices. You can place a good sized fine-mesh strainer over a bowl to strain a large batch at once.
Pour Finished Kombucha into Swing Top Bottles
Use a funnel and pour strained kombucha into swing top bottles. Seal caps. Kombucha stores well and stays carbonated this way easily for a week. After that, kombucha will gradually turn more and more tart while losing sweetness.
Notes
This recipe has good results in a warm, tropical climate and times are approximate.  Experience will help you adjust times if needed to match your locale.
It can be difficult to judge carbonation levels when you are new to the process of secondary fermentation. Once you have made a couple batches in your own climate you'll get the knack. Over time it will be a breeze. Here is a little optional trick to help with starting out:
Fill a 16 ounce plastic bottle with a reserved portion of your fruited kombucha. When the bottle expands and becomes taut you have a visual cue that fermentation has taken place.
Nutrition
Calories:
58
kcal
|
Carbohydrates:
14
g
|
Protein:
1
g
|
Fat:
1
g
|
Sodium:
6
mg
|
Potassium:
485
mg
|
Fiber:
3
g
|
Sugar:
8
g
|
Vitamin A:
198
IU
|
Vitamin C:
101
mg
|
Calcium:
33
mg
|
Iron:
3
mg