This easy, homemade mesophilic yogurt made with coconut yields the ultimate, creamy, and gut-healthy vegan treat. No guesswork with probiotic capsules, different brands of canned coconut milk, or weird thickeners.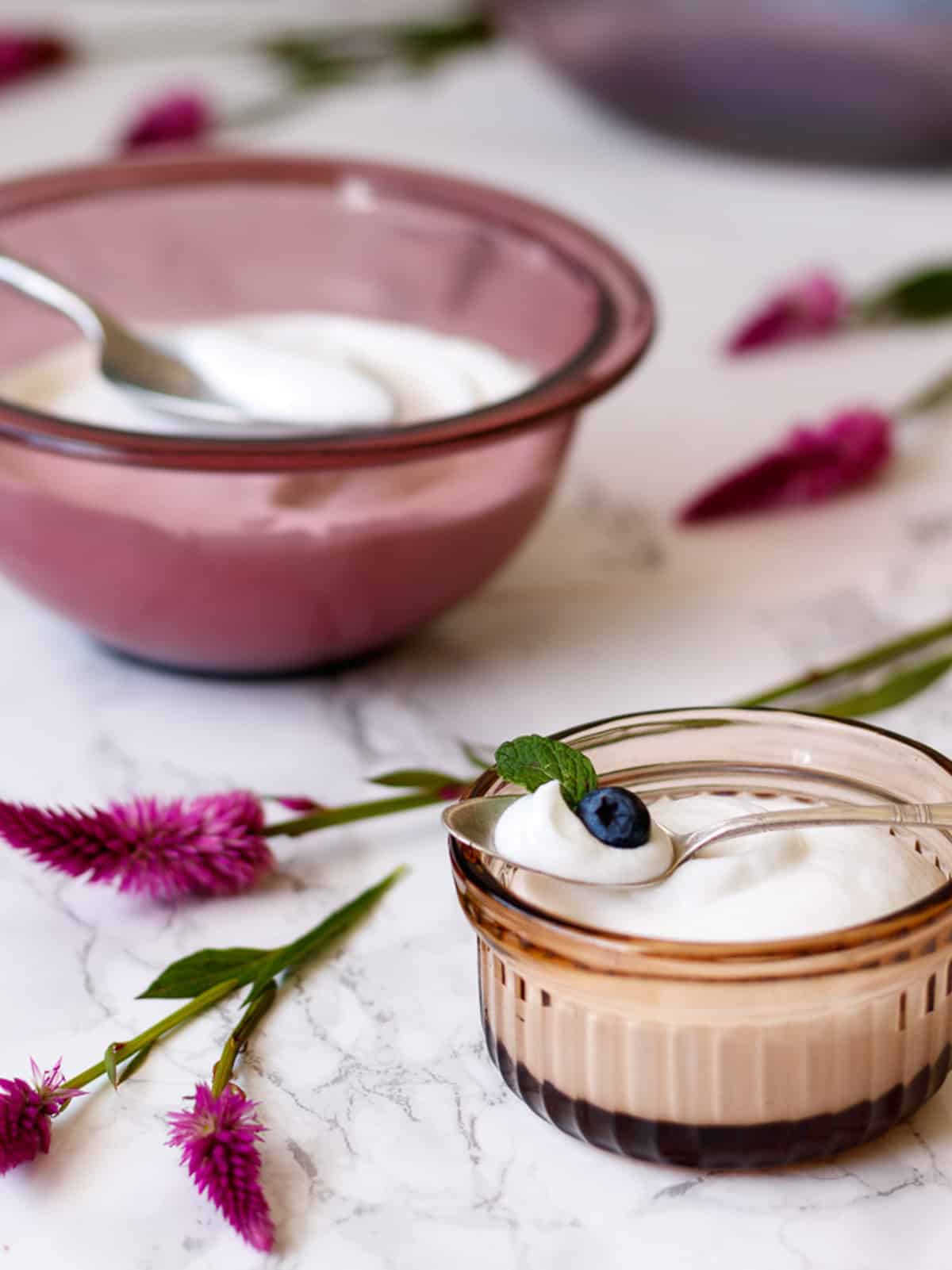 The best part is it cultures at room temperature with just a bowl and a cover. Plus, you can make endless future batches in as little as 8 hours.
You can even use a spoonful of your fresh mesophilic yogurt to make this smooth Cultured Cashew Cream Cheese, rich in probiotics.
Jump to:
🏆 Top tip
Refrigerate your mesophilic-cultured yogurt when it's slightly less tart than you want your finished product to be. It will continue to sour as it chills and thicken in the refrigerator.
⭐ Why it works
Clean taste from whole food, young coconut meat, and pure, frozen coconut milk.
Cultured with live heirloom mesophilic starter.
Naturally thick without gelatin, cornstarch, or straining.
No incubating equipment is needed.
Makes future batches in as little as 8 hours.
Customizable recipe for soft or extra thick Greek-style yogurt.
Lasts 2 weeks refrigerated.
Freezer friendly for up to 3 months.
📋 Ingredients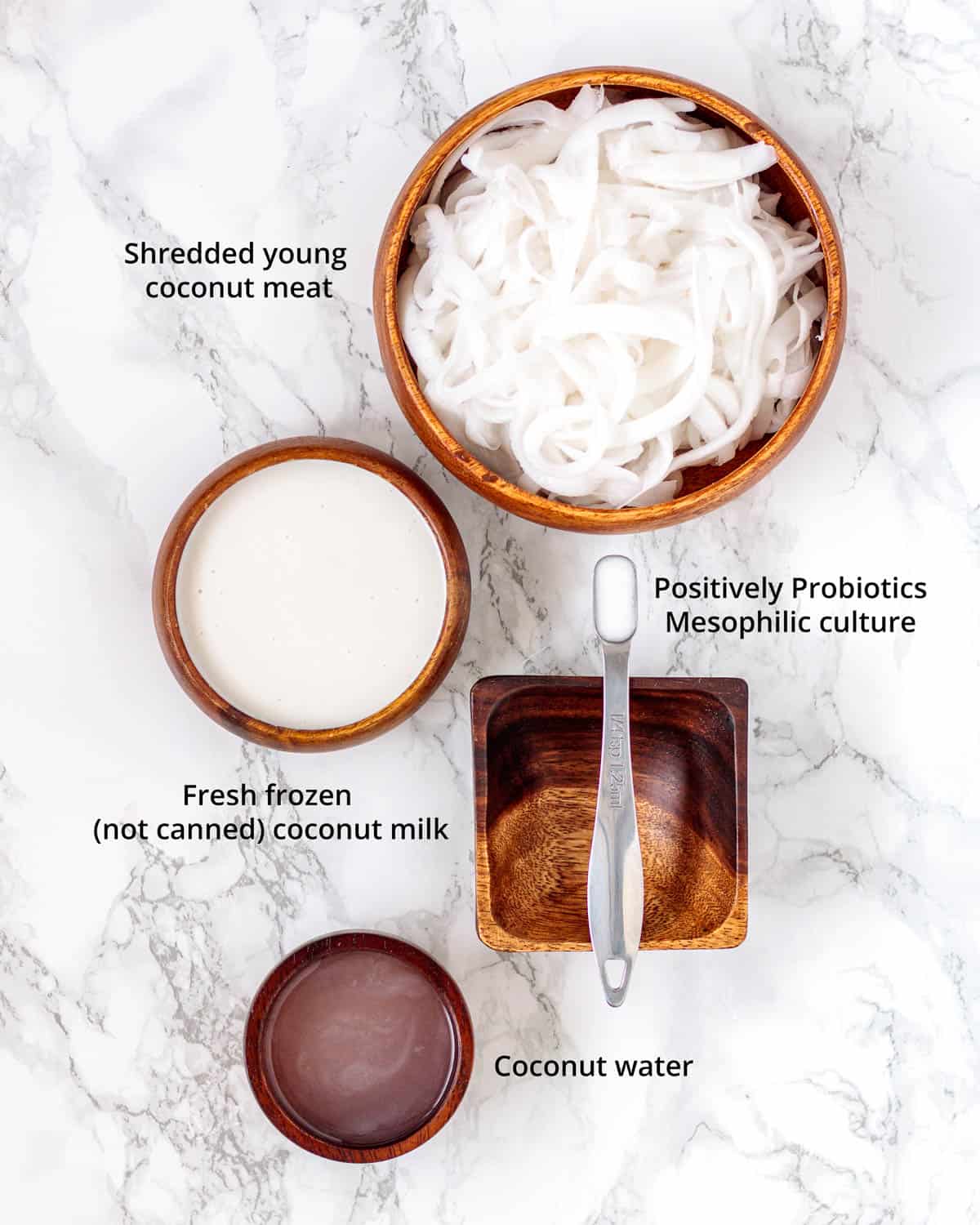 Young coconut meat - makes a thick yogurt because it's soft enough to blend.
Fresh frozen coconut milk - rich and creamy with zero additives.
Coconut water -use as needed to thin yogurt to desired consistency.
Vegan mesophilic culture - the miracle ingredient that makes it possible.
💊 Why no probiotic capsules?
Over the years, I experimented with trending ingredients like canned coconut milk and powdered capsules, hoping to come up with a truly delicious non-dairy yogurt.
Unfortunately, probiotic capsules were unreliable. Sometimes they worked to sour coconut milk, and other times not. But the real deal-breaker for me was the unpleasant taste they left.
🌟 Heirloom mesophilic starter
So, I went hunting for an alternative to probiotic capsules and found the long-awaited answer to making a rich, creamy, perfectly tangy dairy-free yogurt.
This recipe for homemade coconut yogurt uses Positively Probiotics pure vegan heirloom culture. It's made from a coconut cream base that beautifully complements coconut milk and young coconut meat.
But the really exciting part is you can put aside all the warming devices, yogurt makers, and incubator set-ups other yogurt starters require. That's because Positively Probiotic's coconut-based starter is mesophilic.
That's just a fancy way of saying it sours yogurt at room temperature in a covered bowl on the countertop. Isn't that a miracle?
Previously, other available starters were grown on mediums that were not 100 percent vegan and required incubation to ferment. It's a jump-for-joy day now that this culture has arrived.
🥣 How to make naturally thick coconut yogurt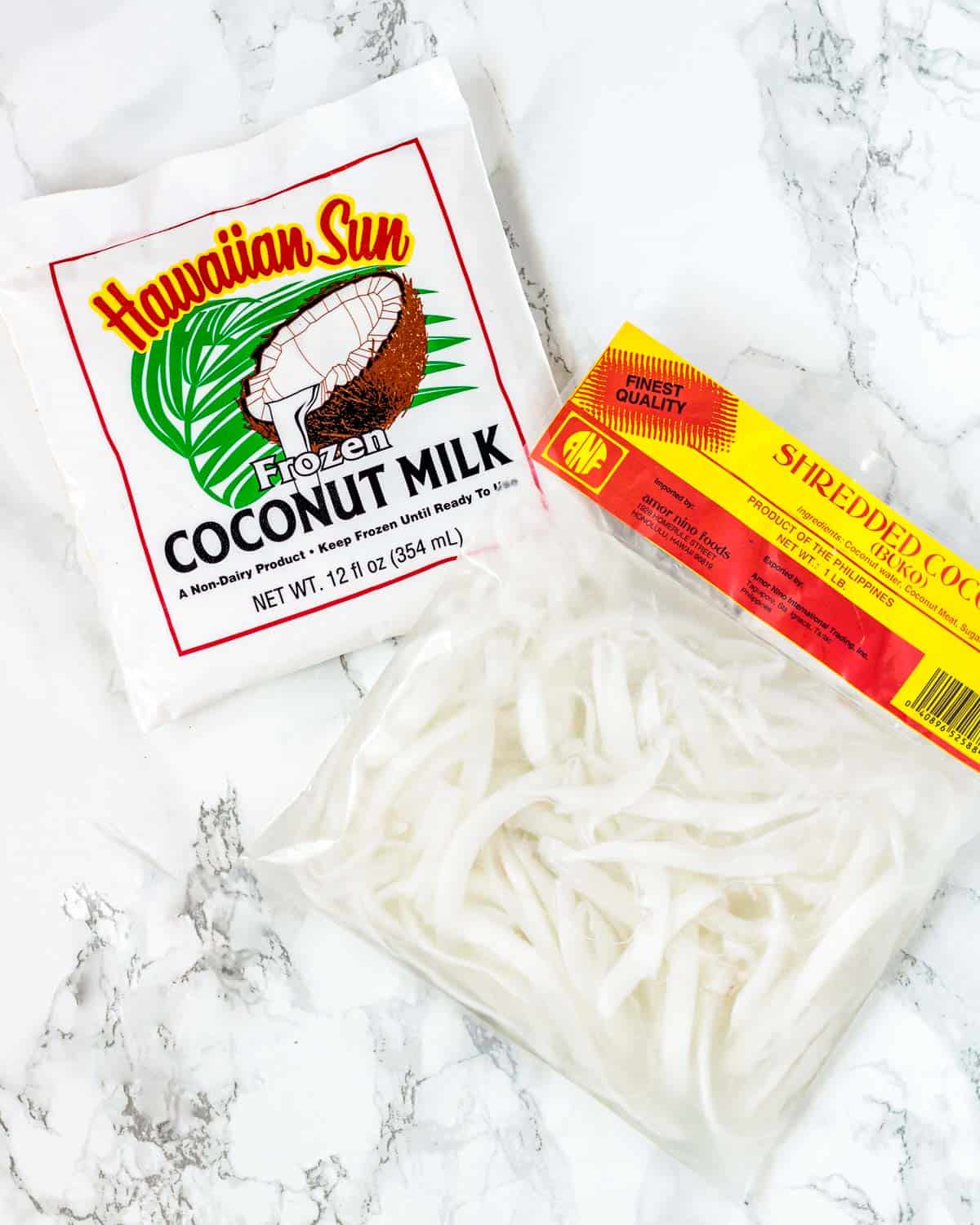 However, my dreams were fully realized when I discovered young coconut meat, also called buko, and pure coconut milk in the freezer section of our local market. These two clean-tasting ingredients eliminate the need for stabilizers and thickeners.
The beauty of young coconut meat is it is soft enough to blend. When you add pure, frozen coconut milk without additives, you end up with a lightly sweet, luscious yogurt that is plush on a spoon and doesn't separate in the refrigerator over time.
📆 Make future batches
Are you amazed yet? Hang on, there's more. Once you have made your first bowlful, you can use a small amount of your mesophilic yogurt to culture your next batch.
If you make yogurt regularly in this way, you won't have to repurchase the original mesophilic yogurt culture.
💭 FAQ
Ingredients
What is the difference between thermophilic and mesophilic starters?
Thermophilic starters require pre-heating milk for yogurt and consistent heat, typically between 105 and 115 degrees, to culture. Mesophilic starters can be added to cold milk and culture at room temperature without special equipment. Mesophilic starters thrive between 70 and 86 degrees.


Can I use store-bought yogurt for a starter?
If you don't want to order Positively Probiotic mesophilic yogurt culture online, you can use two tablespoons of store-bought vegan coconut yogurt as a substitution. I tested it out, and it does work.
Your yogurt won't have the same sublime flavor that Positively Probiotics heirloom culture gives. Nor can I guarantee the texture of your finished yogurt.
However, to my taste, it will still be heads above anything you can buy in the store when you use young coconut meat and fresh frozen coconut milk.
Process
What equipment do I need to blend young coconut meat?
A Vitamix or similar high-powered blender is ideal. Standard blenders will work if you don't mind small bits of coconut in your yogurt.
How long does it take to ferment mesophilic yogurt?
That depends on how warm your home is and varies by season. Also, the very first batch of mesophilic yogurt may take longer than subsequent batches made from the mother yogurt.
In our warm climate, the first batch of coconut mesophilic yogurt takes 12 hours, and subsequent batches take 8-9 hours.
When is vegan coconut yogurt ready?
Coconut yogurt made with young meat and coconut milk is ready when it smells mildly sour and has expanded slightly in the bowl. You may notice a rounded top or air bubbles when stirred. It will be fluffy, and you can stir it down before refrigerating.
How sour is it?
You can decide just how sour you want your homemade yogurt to be! I fancy very mild yogurt, so I stir and refrigerate mine as soon as it has a light, pleasant tang. However, you can let it ferment longer to just the tartness you desire.
Can I make Greek-style yogurt?
Absolutely. Leave out the optional coconut water. If you need a bit more liquid to move coconut meat in a blender, use rich, fresh frozen coconut milk. Once your fermented yogurt is chilled, it will thicken to a Greek yogurt consistency.
🧈 More Vegan Dairy
Enjoyed this post? Leave a comment, rate ⭐⭐⭐⭐⭐ it, and follow @poppyswildkitchen on Instagram. Aloha!
📖 Recipe
Mesophilic Yogurt - Creamy Coconut
Creamy Mesophilic Yogurt from young coconut meat, rich coconut milk, and heirloom starter. Room temp culture makes future batches. Dairy-free, gluten-free and vegan.
Print
Pin
Rate
Ingredients
2

1 lb.

packages frozen young coconut meat, (2-3 cups thawed and drained)

½

cup

rich frozen coconut milk

thawed

4

TB.

coconut water or more rich frozen coconut milk, (optional)

or

2

TB

coconut mesophilic yogurt, following batches
Instructions
Blend coconut yogurt
Drain thawed young coconut meat in a colander and save coconut water.

Place young coconut meat in a Vitamix (preferred) or high-speed blender. Add thawed, rich coconut milk and blend on high speed until very smooth.

If needed, add coconut water from drained coconut meat so that yogurt turns freely in the blades. Your mixture can be slightly thinner than you want your finished yogurt to be. I aim for a melted ice cream consistency. Coconut mesophilic yogurt will thicken after it is chilled.

For thicker, Greek-style yogurt, leave out the coconut water. Substitute rich coconut milk if necessary to blend young coconut meat.

Continue blending until very smooth. If the mixture gets warmer than 105 degrees, place it in the refrigerator to cool before adding Positively Probiotic culture. Temperatures above 105 can harm mesophilic cultures.

Once yogurt is the right consistency, turn the blender down to low speed. With blades moving, add

¼

tsp. of Positively Probiotic mesophilic coconut yogurt culture (for the first batch) or

2

tablespoons yogurt (for successive batches). Blend briefly to mix in culture.
Ferment
Pour yogurt into a glass bowl. Allow an inch at the top for expansion. Cover with a plate.

Set yogurt on the countertop out of direct sunlight. Leave undisturbed to culture.

The first batch of mesophilic yogurt may take up to 10- 24 hours to become tangy and rich with healthy probiotics. This varies a great deal with climate. Future batches finish in as little as 8 hours in a warm climate.

Before the yogurt becomes tangy, it will become fluffy and expand a little. That is a good sign. Use it as a signal to taste your yogurt to see if it is tart enough.

When it is a little milder than you want the finished recipe to be, stir it down and refrigerate. It will grow more sour and thicken as it chills.
Serve
Chill yogurt for 6 hours or overnight before using.
Store
Coconut mesophilic yogurt keeps well for two weeks and freezes for 3 months. For best results, take a small amount out and start a new batch of yogurt every week.
Notes
Ingredients
Coconut - Ethnic markets that carry Filipino foods are a good source for frozen young coconut meat and milk.
Mesophilic starter - Here is a link to order vegan coconut-based culture: PositivelyProbiotic.com. 
Equipment
A Vitamix or similar high-powered machine makes the smoothest yogurt, but a regular blender is fine if you don't mind a little coconut texture to your yogurt.
Preparation
Be sure to keep the mixture lukewarm at most while mixing. The ideal temperate for mesophilic cultures is 77-86 degrees. Temperatures lower than 50 degrees or higher than 108 will stop the growth of beneficial bacteria.
Coconut water to thin yogurt is optional. If you want Greek-style coconut yogurt, leave it out or use rich, fresh frozen coconut milk in its place.
Store unused mesophilic starter in the freezer. Warm the package at room temperature until the starter is pliable and can be scooped with a measuring spoon.
Nutrition
Calories:
128
kcal
|
Carbohydrates:
9
g
|
Protein:
2
g
|
Fat:
9
g
|
Sodium:
30
mg
|
Potassium:
77
mg
|
Fiber:
6
g
|
Sugar:
1
g
|
Vitamin C:
1
mg
|
Calcium:
6
mg
|
Iron:
1
mg