If you have your own vegetable garden or are on the lookout at your local farmer's market, you may spot some choice beets with tender, perky greens still attached. Then you absolutely must try this garlicky, oven-roasted vegan beet bruschetta with beet greens smothered in plant-based butter and sweet balsamic syrup.
Jump to:
🥖 Crostini vs. bruschetta
Crostini and bruschetta are very similar Italian side dishes with elements that overlap. So, I thought you might like to know what the differences are.
Bruschetta, in its most classic form, is made from larger pieces of bread that are grilled and show char marks. The hot toast is rubbed with raw garlic, drizzled with olive oil, and sprinkled with salt. At that point, it's so delicious it's often eaten plain without any topping at all. Then it's called fett'unta.
Crostini, on the other hand, is rarely eaten without toppings. It's made from smaller, thinner slices of bread that are baked or toasted. The toppings can be just about anything you dream up. I find combining three to four savory, juicy, and herbaceous ingredients that complement each other always makes a winning appetizer.
🔪 Make vegan beet bruschetta
As you can see below, I borrowed a tradition from making bruschetta by rubbing garlic cloves over the buttered toasts. It really is a brilliant way to flavor them.
I also trimmed the crusts from bread slices to make these adorable vegan beet bruschetta. Before you cry sin, consider how much easier these appetizers are to eat. After all, you want your teeth to sink into the buttered greens and lush beets dripping with sweet balsamic glaze in your first bite.
I used a loaf of homemade sourdough bread for this recipe. However, any round boule of country-style bread from the bakery would be fine. To keep things simple, I baked them in a toaster oven.
It's a great way to use sliced bread that's a little stale. Each large slice can yield two oval pieces if you trim the crust and cut the bruschetta as pictured here.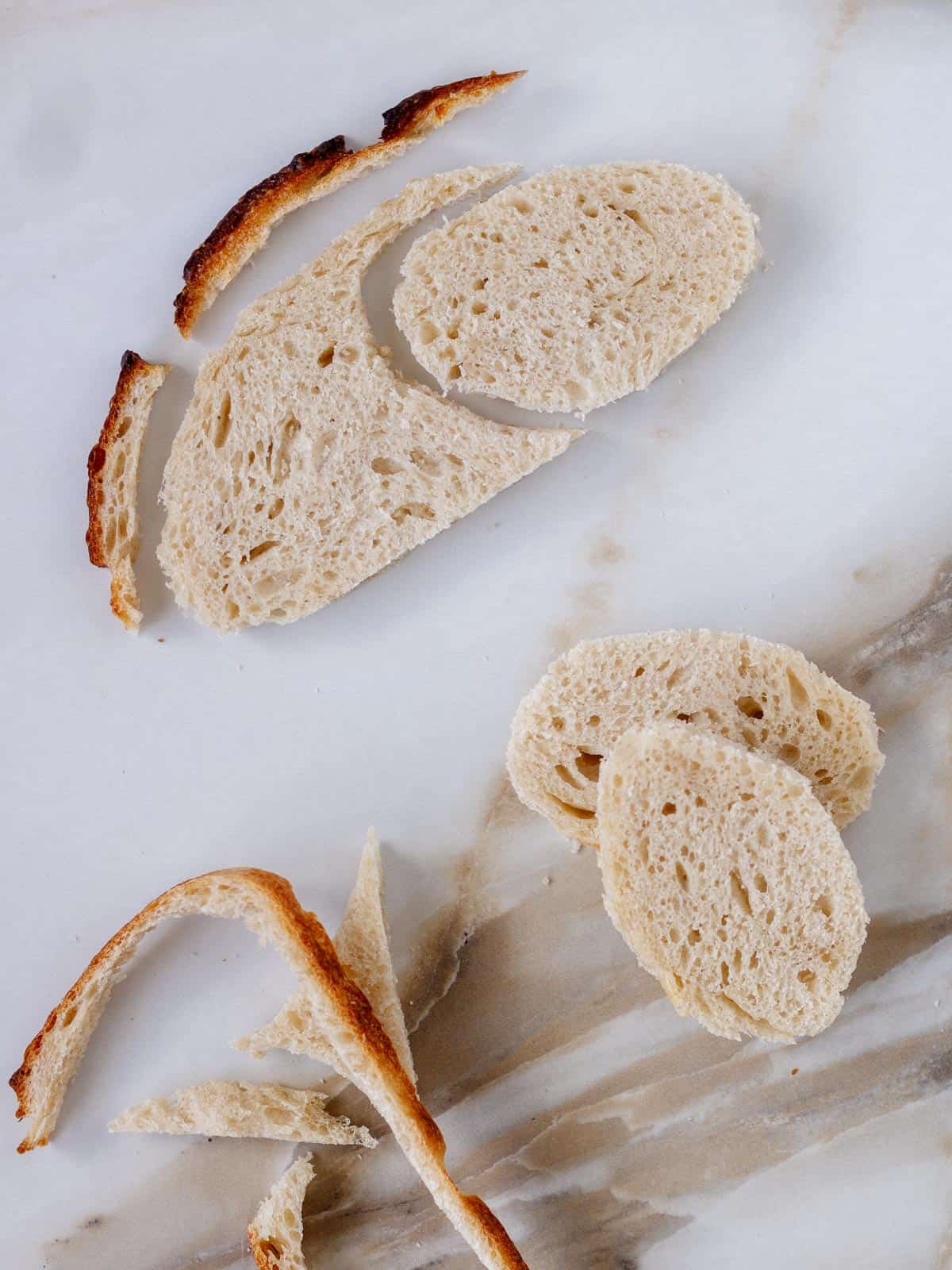 Brush the unbaked bruschetta with olive oil and toast until golden and very crispy. Then when you rub a raw garlic clove over the surface of the bread, the toast acts as a grater and takes up all the garlicky flavor.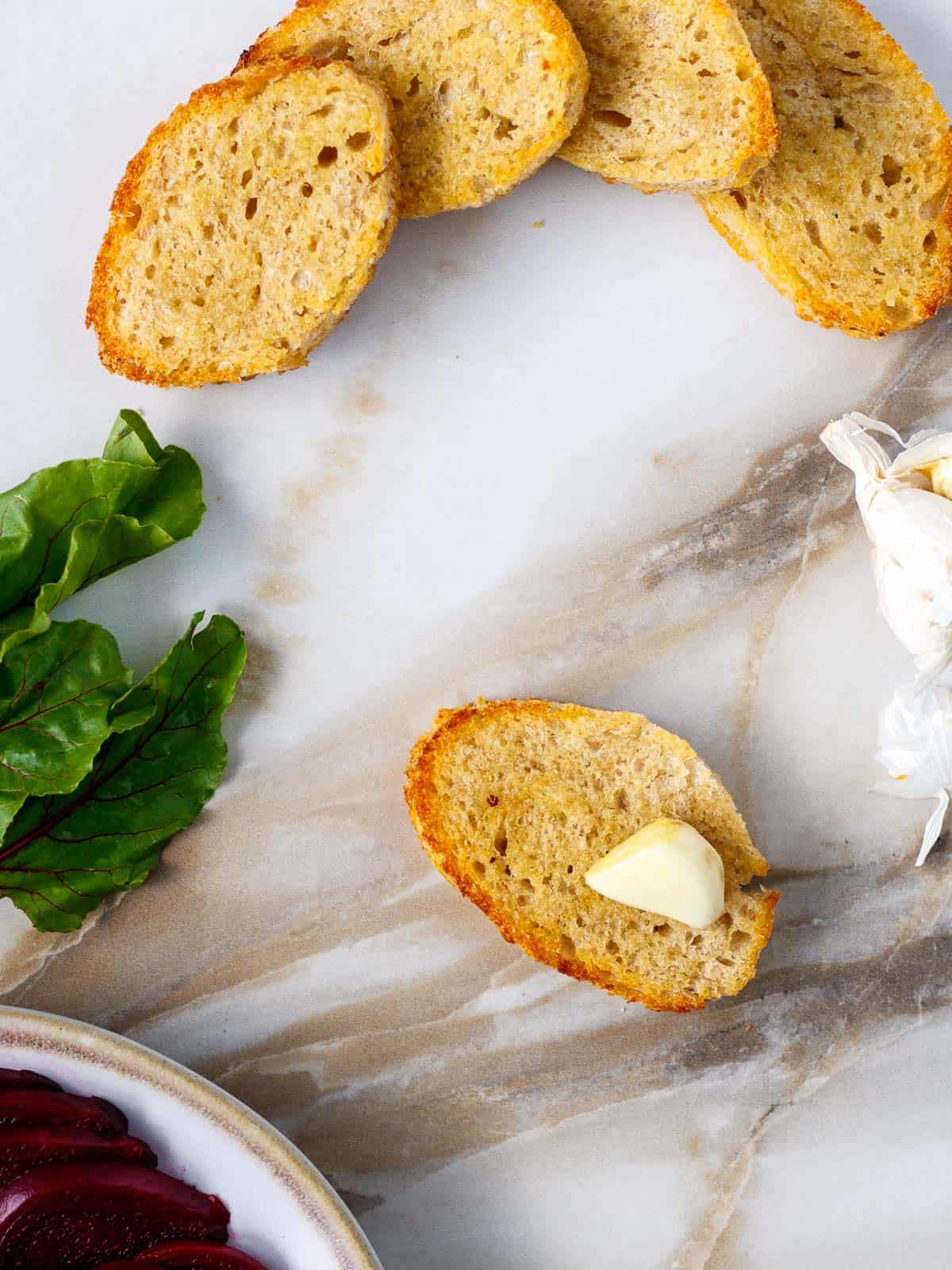 ♨️ Oven roast beets
Now we can discuss the next exciting ingredient for your vegan beet bruschetta, oven-roasted beets. They have a sweetness that just can't be captured when beets are steamed or boiled.
You don't have to wrap them in foil or add oil before baking. Instead, leave the skin on, quarter them, and toss them in an oven-proof baking dish. Add a half-inch of water, cover with a lid, and you're ready to go.
Bake the quartered beets until they are easy to pierce with a long-tine fork and the edges are caramelized. That takes about 45 minutes in a 400-degree oven.
When the beets are finished, the skins will slip off and they will have a much deeper color than when boiled or steamed.
Add that to the beets' smooth and succulent texture and I hope you are convinced it's worth oven-roasting beets ahead of time for your vegan beet bruschetta.
Extra roasted beets are scrumptious in salads and this recipe takes less than 30 minutes when they are ready-made.
💭 What is balsamic reduction?
Balsamic reduction is a sweet and tangy syrup made from one ingredient. It's a versatile pantry item that's great to have on hand.
The recipe notes include complete fuss-free instructions for making your own balsamic glaze. It's as straightforward as simmering fine balsamic vinegar on a stove until it's concentrated and thickened.
You can substitute store-bought balsamic glaze, but you may want to read the label to assess its purity. Some products contain corn syrup and other additives. Plus, homemade always tastes fresher!
👩🏻‍🍳 Homemade balsamic reduction
It's easy to make your own. The best starts with high-quality, balsamic vinegar aged at least 12 years.
Pour one cup of premium balsamic vinegar into a small saucepan
Simmer at a low boil for 20-30 minutes until the vinegar has reduced by half.
Watch carefully towards the end, as it can burn suddenly. I recommend using a measuring cup to determine when the mixture has been reduced by half.
Once you try this vegan beet bruschetta recipe, I'll bet some of you will want to grow your own beets just to have the greens. Would you like a gardener's tip? Lutz Green Leaf is an outstanding variety that won't disappoint.
🧆 More appetizers
Enjoyed this post? Leave a comment, rate ⭐⭐⭐⭐⭐ it, and follow @poppyswildkitchen on Instagram. Aloha!
📖 Recipe
Vegan Beet Bruschetta
Garlic-rubbed sourdough bruschetta topped with tender, buttered beet greens and succulent, oven-roasted beets. Glazed with a sweet balsamic reduction. Dairy-free.
Print
Pin
Rate
Ingredients
3

large

slices bread

country-style or sourdough

4

oz.

beet greens

1

cup

beets

oven-roasted and sliced

2

TB

plant-based butter

2

TB

olive oil

1

clove

garlic

peeled

sea salt and fresh pepper

to taste

2

TB

balsamic reduction
Instructions
Wash and remove any tough stems or leaves from the beet greens. Bring a pot of water to a boil and drop the beet greens in. Boil for 2-3 minutes and quickly transfer to a colander. Rinse with cool water and let drain while making bruschetta.

Cut two oval pieces of bread from each slice of country bread or sourdough to yield

6

crustless bruschetta. Brush the sides and tops of all the crostini with olive oil. Bake for about 15 minutes in a toaster oven or until nice and golden. You can also bake in a conventional oven at 375 degrees.

Remove the crispy baked bruschette and rub the top of each piece with a peeled, raw garlic clove. The rough surface of the toasted crostini will act as a fine grater for the garlic clove.

Gently melt vegan butter in a shallow sauce pan. Squeeze excess water from beet greens and add to pan with melted butter. Season beet greens lightly with salt and stir briefly until the tender greens are warm. Remove to a dish.

Add peeled and sliced roasted beets to same skillet used to season beet greens. Season lightly with salt and pepper and warm through.

Assemble bruschetta by topping each piece with buttered greens and seasoned beets. Drizzle with balsamic reduction. Serve at room temperature.
Notes
Make balsamic reduction
If you don't have a balsamic reduction on hand, you can easily make your own:
Purchase premium,  aged balsamic vinegar. Pour one cup into a small saucepan. Reduce to ½ cup by simmering at a low boil for 20-30 minutes.  Watch carefully towards the end, as it can burn suddenly. I recommend using a measuring cup to tell when your reduction has reduced by half.
The balsamic reduction will thicken slightly as it cools and stores safely for a week or two at room temperature. Refrigerate for longer periods of time.
Balsamic reduction is delicious drizzled over all sorts of dishes. You'll be happy you took the time to make it!
Nutrition
Calories:
137
kcal
|
Carbohydrates:
13
g
|
Protein:
2
g
|
Fat:
9
g
|
Sodium:
165
mg
|
Potassium:
238
mg
|
Fiber:
2
g
|
Sugar:
3
g
|
Vitamin A:
1203
IU
|
Vitamin C:
7
mg
|
Calcium:
66
mg
|
Iron:
1
mg