Our vegan cashew cream cheese recipe is cultured with yogurt for authentic traditional taste and healthy probiotics. Simply the best-tasting spreadable dairy cream cheese substitute, it's delicious in sweet or savory recipes alike.
Magically, it ferments at room temperature in a covered bowl with only two ingredients. It's so much simpler than the homemade dairy-free cream cheese that used to take several days to make.
Jump to:
This tried and true fermented vegan cream cheese recipe owes its spot-on flavor to the fact that it's cultured with Homemade Coconut Yogurt.
I always have my homemade coconut yogurt on hand because hubby can't live without it. Now because of it, I have delicious, rich-tasting, cashew cream cheese anytime I want, and so can you!
Top Tip
Start your cream cheese fermentation and set it out before bed. That way you get your first 12 hours in while sleeping. Then you can check your cream cheese for sourness throughout the day up to 36 hours total.
Ingredients
You only need cashews and yogurt to make this clean, whole food staple. Salt is added at the end along with optional lemon juice to preserve color.
Unlike recipes made with apple cider vinegar, miso, or nutritional yeast, this vegan cream cheese truly tastes like cheese and nothing else.
Whole organic raw cashews - Cashews are ideal because they are smooth, dense and skinless.
Homemade coconut yogurt - Live natural starter for uncompromising flavor and healthy probiotics.
Sea salt - For traditional cream cheese taste.
Lemon juice - Optional to preserve color of cream cheese.
We love cultured cashew cream cheese on Cinnamon Raisin Bagels and in pastries topped with fruit. Boy am I glad I don't have to go to all the work I used to just to have it on hand.
Rejuvelac
I've made plant-based cream cheese so many times over the years, that our refrigerator feels incomplete without it.
My first introduction to cultured cashew cream cheese was nearly 20 years ago. Back then, I made cream cheese with rejuvelac.
Rejuvelac is a mother culture you grow yourself from sprouted wheat berries. Making it is an art and generally a 4-5 day process. The reward is that cream cheese made from it has a convincing cheesy flavor and gut-friendly probiotics.
I hung in making rejuvelac for years and just skipped the cream cheese when I didn't have time to make the culture.
But as vegan foods became more popular, and a variety of ways to make plant-based cream cheese started popping up, it sparked a new interest for me.
I wasn't willing to give up that legitimate flavor. But maybe there was a more hassle-free and less time-consuming way than making rejuvelac from scratch?
Probiotic capsules
Since I read that probiotic capsules worked as a culture, I decided to give them a try. Well, that was a no-go. The capsules were unpredictable, slow to culture, and sometimes failed.
But worst of all, the flavor was just off to me. Somehow it seemed artificial anyway.
So I looked around my kitchen for fresh cultures in foods I made regularly and kept on hand. You know, something that was available and didn't take extra time or effort to make.
What about sauerkraut, kombucha, or coconut yogurt?
I found the live microflora in raw sauerkraut worked. However, guess what? If you guessed the cheese tasted like sauerkraut, you guessed right.
Kombucha wouldn't culture, likely because it needs more sugar. So that left yogurt.
Coconut yogurt starter
By this point, I finally understood that the flavor of the mother culture was critical for the best tasting finished product. I felt on safe ground with my homemade coconut yogurt.
The only question now was, would the cream cheese end up tasting like coconut? Surprisingly, those lovely coconut yogurt probiotics went to town and produced a tart and cheesy flavor without any coconut nuance.
It's truly amazing how the flavor of cashews transforms during fermentation to take on a crave-worthy tang.
Equipment
Vitamix - or equivalent machine with high power and a tamper to make the best, silky-smooth spread with real cream cheese consistency.
Slim spatula - A dear friend gifted me this one. It's genius for getting the last bit out of jars and blenders.
Glass bowl - Glass is recommended for fool-proof fermentation.
Plate - Choose a flat plate that provides an even seal over top of bowl.
Thermometer - Not required, but helpful to ensure cashew mixture is not too hot to add yogurt.
Make cream cheese
The technique for making this dairy-free cheese recipe is straightforward and involves three steps.
Blend soaked cashews until they're perfectly smooth. There shouldn't be any graininess left. This may take long enough that the mixture becomes warm. Transfer the blended cashews to a glass bowl.
Test the temperature and make sure the mixture isn't any warmer than 100 degrees. If you don't have a thermometer, you can place the bowl in the refrigerator until the mixture feels room temperature or cooler to your touch. Stir in yogurt and smooth the top of cream cheese.
3. Cover the bowl with a plate to seal out air and place it out of direct sunlight. Mark the time, it's easy to forget!
Wait 12-36 hours depending on the warmth of your room. If you wonder when your cheese is ready look for two signs.
First, there will be a faint, pleasant sour smell. Secondly, cultured cashew cheese will expand slightly with a domed top. It will be fluffy inside with air holes.
That's it. Your gut-healthy, rich and delicious cream cheese is cultured. Stir it down and mix in salt with a tiny bit of lemon juice to preserve color. Transfer to a container with a lid and refrigerate.
Whipped cream cheese
This recipe automatically results in a thick, whipped cream cheese consistency without any extra steps.
Thus, it's easy to spread and melts beautifully to make luscious sauces and creamy entrees like Saffron Chickpea Risotto.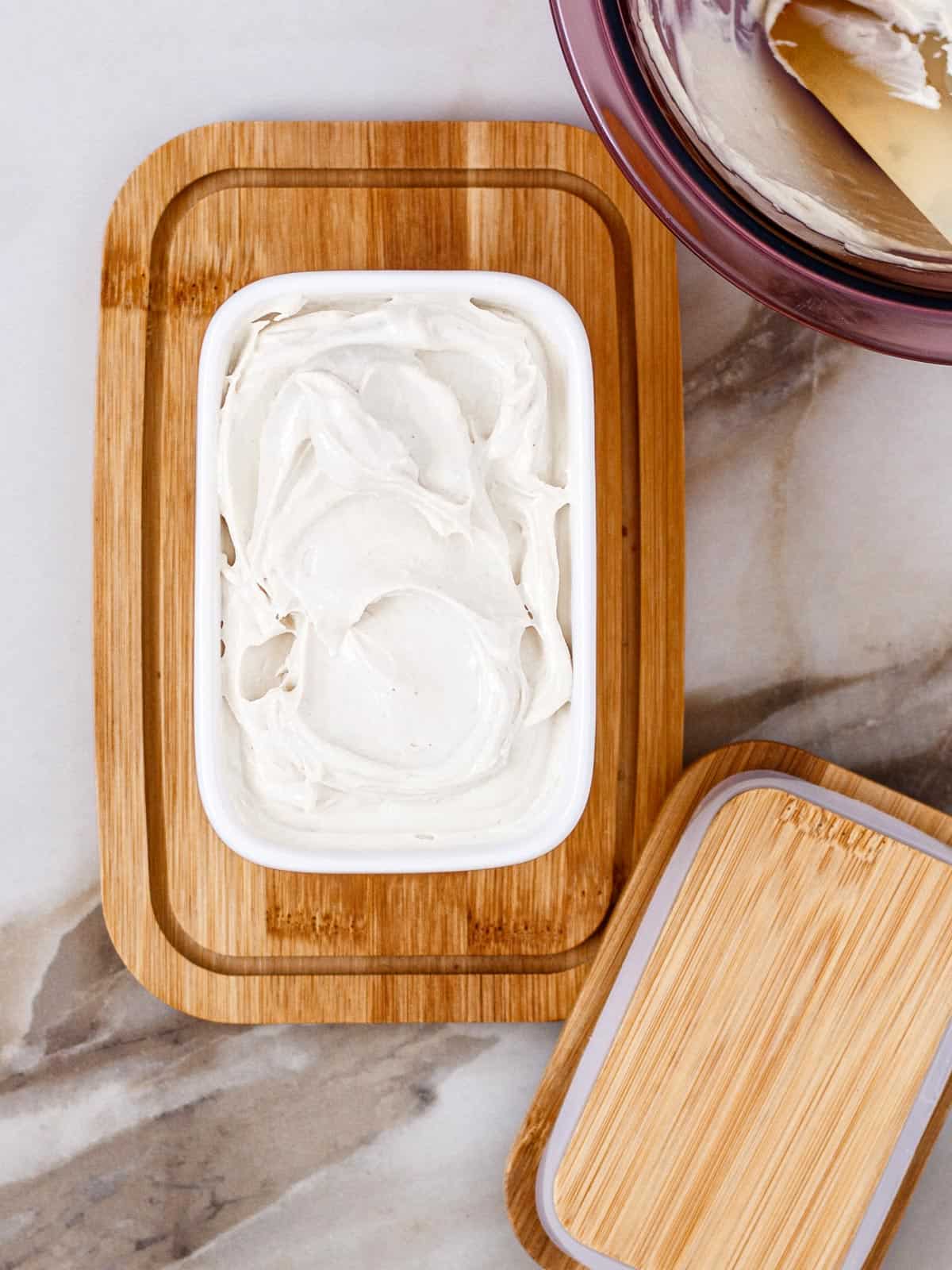 Firm style
Most of the time, we're more than happy dishing our bona fide, cultured cashew cream cheese straight from its container. However, now and then I like to take the trouble to firm homemade cream cheese so I can serve it on a plate.
When you want firmer-style cream cheese, simply spoon your cultured cheese onto a double layer of tight-weave cotton cloth, wrap and apply weight. My favorite is eco-friendly men's cotton handkerchiefs.
A tofu press is handy for cheese-making and other plant-based kitchen tasks, but a flat board or plate with a heavy can on top works as well.
Press for 4-8 hours in the refrigerator. Then transfer cream cheese to the freezer overnight. Leave it wrapped in cloth since it will still be too soft to unwrap.
After 8 hours, take your pressed cream cheese from the freezer and unwrap it. Now you can store it on a serving dish in the refrigerator until ready to eat.
When ready to serve, let it sit a few minutes at room temperature, then you can smooth the edges to make it even and pretty.
If it starts to soften too much, just place it back in the freezer briefly. Keep refrigerated or frozen until ready to serve, since it softens quickly in a warm room.
If you would like to see what a difference a mother culture can make, try this pure and simple plant-based cream cheese made with whole, raw cashews and coconut yogurt.
FAQ
What is store-bought vegan cream cheese made from?
Commercial vegan cream cheese is made from a variety of plant-based ingredients including tofu, nuts, and legumes. Most have one or several of the following: coconut oil, modified starches, soy or pea protein, sugar, and a long list of additives like xanthan gum, guar gum, maltodextrin, cellulose, lecithin, tri-calcium phosphate, and glucono-delta-lactone. Not only does homemade taste better, but you can rest assured your cream cheese is free of artificial ingredients when you make it yourself.
Why do I need to soak cashews?
Blending cashews that haven't been soaked first will turn them into nut butter. To get that characteristic, smooth texture of cream cheese, soak cashews in the refrigerator for at least 12 hours and up to 24 before making cheese.
Can I use roasted cashew nuts?
No. You need raw cashews to culture cream cheese and create a fresh, dairy-like flavor.
Can I make a half recipe or double the size?
It's not recommended to make this recipe with less than 2 cups of cashews. That's because most machines won't turn the cashews sufficiently in the blades to process into cream cheese. However, it is fine to double the recipe.
Can I use cultured vegan cream cheese in recipes that use regular cream cheese?
Yes! You can cook and bake with homemade cashew cream cheese in any recipe that calls for whipped consistency cream cheese. It's lovely for enriching sauces and great for appetizers and desserts.
Can I use store-bought coconut yogurt to make cream cheese?
I tested the recipe with coconut yogurt from the store and while it didn't produce the same lovely taste, it did ferment. However, I can't vouch for all brands of plant-based yogurt. If you want to try a store-bought yogurt, I recommend choosing the best tasting, additive-free product you can find.
What if I don't have a Vitamix?
As long as your machine is an equivalent high-powered blender you'll be fine. You will know your machine is adequate if it changes cashews in the last few minutes of processing from a fine-grained mixture to one with a silky, smooth cream cheese consistency. If your blender doesn't do this, you may still enjoy this recipe as a delicious probiotic spread, rather than cream cheese.
More cultured and fermented recipes
📖 Recipe
Cultured Cashew Cream Cheese
The best tasting Cashew Cream Cheese. Cultured with homemade yogurt for a rich and convincingly cheesy flavor. Dairy-free and oil-free.
Print
Pin
Rate
Ingredients
2

cups

soaked raw cashews

4

TB

water

½

tsp.

fine grained sea salt

½

tsp.

lemon juice, optional for preserving color
Instructions
Soak cashews 12-24 hours
Place cashews in a quart jar and cover with water. Soak in the refrigerator overnight for up to 24 hours. Rinse with cold water and drain well.
Blend cashews
Place cashews in Vitamix or equivalent high-powered blender. Add

4

tablespoons of water and blend briefly at medium speed until a uniform meal is achieved. Turn Vitamix up to the highest speed and process until perfectly smooth. Use a tamper to move the mixture around. After a while, scrape down the sides of the blender.

Keep blending until all the grainy bits are gone and a silky frosting-like consistency is achieved. The mixture is likely to be warm by the time it reaches a smooth consistency. Resist the temptation to add more water unless the mixture gets warm and isn't smooth yet. Then add water sparingly, a tablespoon at a time.
Add yogurt
Scrape cashew mixture into a glass bowl. Test temperature and make sure it's below 100 degrees. If unsure, place in refrigerator for 20 minutes. The temperature needs to be below 105 degrees so as not to kill yogurt culture.

Add coconut yogurt and stir well until completely blended in. Clean sides of the bowl with a spatula or damp paper towel. Smooth the top of the mixture. Cover bowl with a plate.
Ferment cheese
Place covered bowl out of direct sunlight and let sit at room temperature for 12-36 hours. Taste the cream cheese after 12 hours and periodically until it has the desired tart and cheesy flavor.

Culturing takes 12 hours in our tropical climate. However, don't worry if it takes up to 36 hours. Different climates create very different results. Also, the degree of sourness is your own personal taste.

As cheese develops, you can smell a faint pleasant sour aroma. One visual cue that your cream cheese is cultured is a domed top and fluffy interior. It is natural for cultured cashew cream cheese to expand as it sours.
Stir in Lemon juice and salt
When cream cheese is sour to your preference, stir it down. Dissolve salt in lemon juice. Stir lemon juice and salt mixture into cream cheese. Whip well with a spoon.
Refrigerate cheese
Transfer cream cheese to a container with a lid. Cashew cream cheese will firm slightly when fully chilled
Make firmer-style cream cheese
To make firmer cream cheese, scoop fermented cheese onto a large square of tight weave cotton fabric. Men's handkerchiefs are just the right size and weight. You can also use similar cotton fabric cut to 18-inch squares.

Roughly shape the cheese into a one-inch high block. Wrap cheese firmly in cloth. Place a second square of cloth on your work surface and wrap the bundle again so you have cheese wrapped twice.

Place bundled cream cheese inside a tofu press and tighten screws. Alternatively, you can use two flat plates or small cutting boards with a heavy weight on top.

Place weighted cheese in the refrigerator for 4-8 hours. Then, remove weight and transfer cream cheese to the freezer overnight. Leave it wrapped in cloth since it will still be too soft to unwrap.

After 8 hours in the freezer, you can take your pressed cream cheese out and unwrap it. Peel the fabric away from the block of cream cheese. Now you can store it on a serving dish in the refrigerator until ready to eat. 

When ready to serve, let the cashew cream cheese soften for a few minutes at room temperature, then you can smooth the edges to make it even for a pretty dish.

NOTE: Cultured cashew cheese will soften quickly in a warm room if left out. So, keep it refrigerated or frozen until just before serving.
Store
Cultured cashew cream cheese lasts easily 2 weeks in the refrigerator. It will keep frozen for 3 months.
Notes
RECIPE TIPS
A Vitamix or equivalent machine is essential for a silky smooth texture. Use a recipe with at least 2 cups of cashews so the mixture can turn in blades.
Salt makes the cream cheese taste like the "real" thing.  Adding it after fermentation helps shorten the time it takes to culture. 
Adding lemon juice preserves the white color of cashew cream cheese. You can dissolve salt in lemon juice before mixing it in the cultured cashew cheese.
Choose the best tasting, additive-free vegan yogurt if making a substitution for Homemade Coconut Yogurt.
This recipe makes cream cheese with a whipped consistency. 
Follow recipe instructions for making firmer cream cheese if desired.
If you are in a very warm climate and find your cream cheese ferments in 12 hours, start it early in the morning and it will be ready before bed. Otherwise, start it before bed to get your first 12 hours in while sleeping.
Cultured Cashew Cream Cheese will last 2 weeks refrigerated and can be frozen for 3 months.
Nutrition
Calories:
181
kcal
|
Carbohydrates:
10
g
|
Protein:
6
g
|
Fat:
14
g
|
Sodium:
124
mg
|
Potassium:
213
mg
|
Fiber:
1
g
|
Sugar:
2
g
|
Vitamin A:
1
IU
|
Vitamin C:
1
mg
|
Calcium:
17
mg
|
Iron:
2
mg