Ready in 20 minutes, one-ingredient fresh guava puree made from scratch tastes exactly like fruit plucked straight off the tree. It's sweet, tart, and velvety and will catapult all your tropical recipes.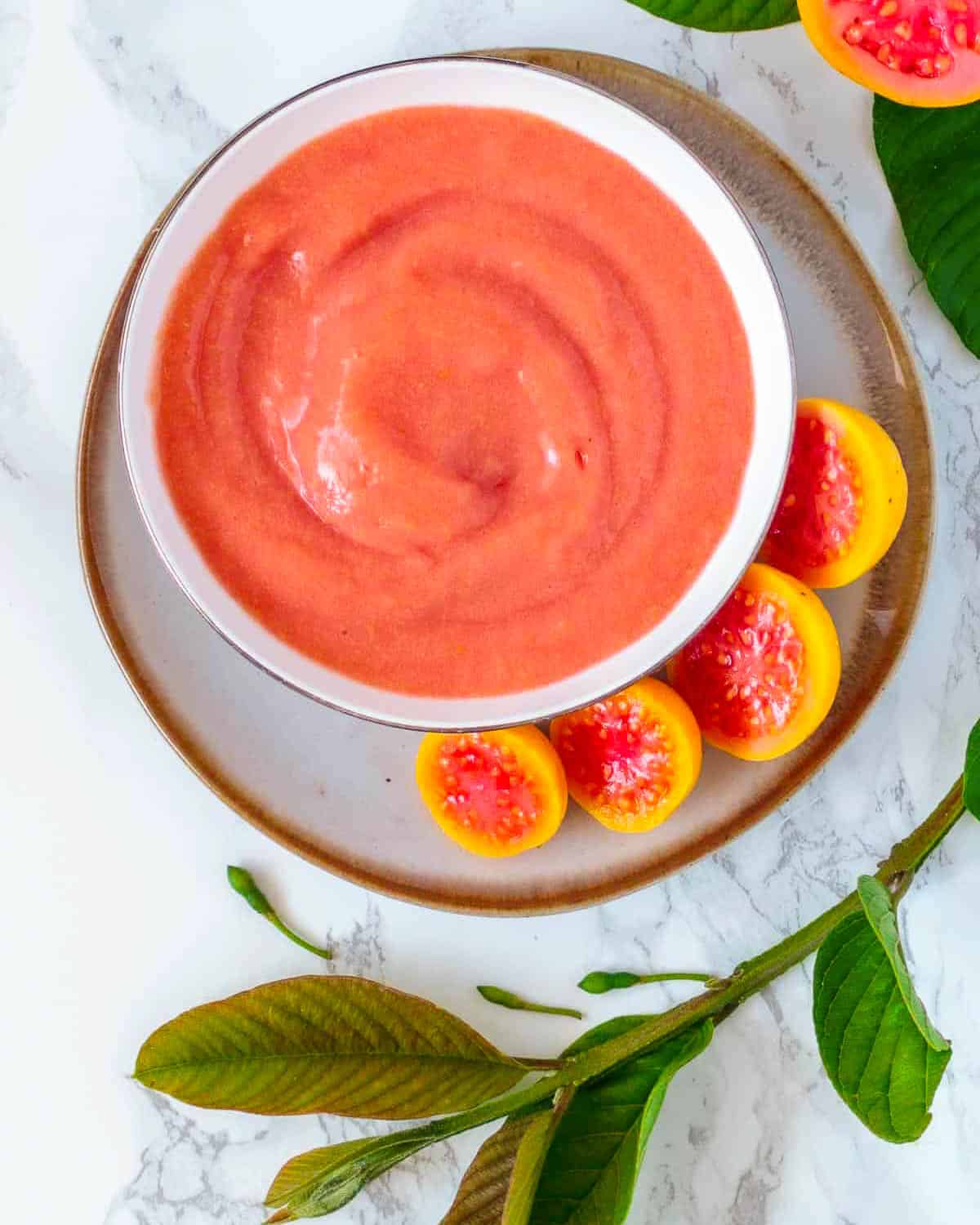 If you want the best Guava Jam, baked goods, desserts, and sauces, start with homemade sweet fruit puree made from real guava.
Jump to:
⭐ Why it works
Not cooked or diluted - enjoy all the fragrance and freshness of 100% fruit.
No additives or sugar - pure, healthy base for all your recipe creations.
Quick to prepare - uses standard kitchen equipment.
Freezer friendly - can be used fresh or frozen for later.
🍋 Amazing guava facts
I love foods that are beautiful as well as nutritious. Guava definitely falls into the healthy category and is packed with antioxidants.
There is so much to appreciate about this alluring fruit. Here are a couple of my favorite interesting facts:
Guava is one of the highest sources of vitamin C, with nearly four times as much as oranges.
It has twice the lycopene of tomatoes and more potassium than bananas.
Psidium guajava is the Latin name for guava, and the fruit is botanically classified as a berry.
The leaves of guava trees can be brewed into a refreshing superfood iced tea.
🥣 One ingredient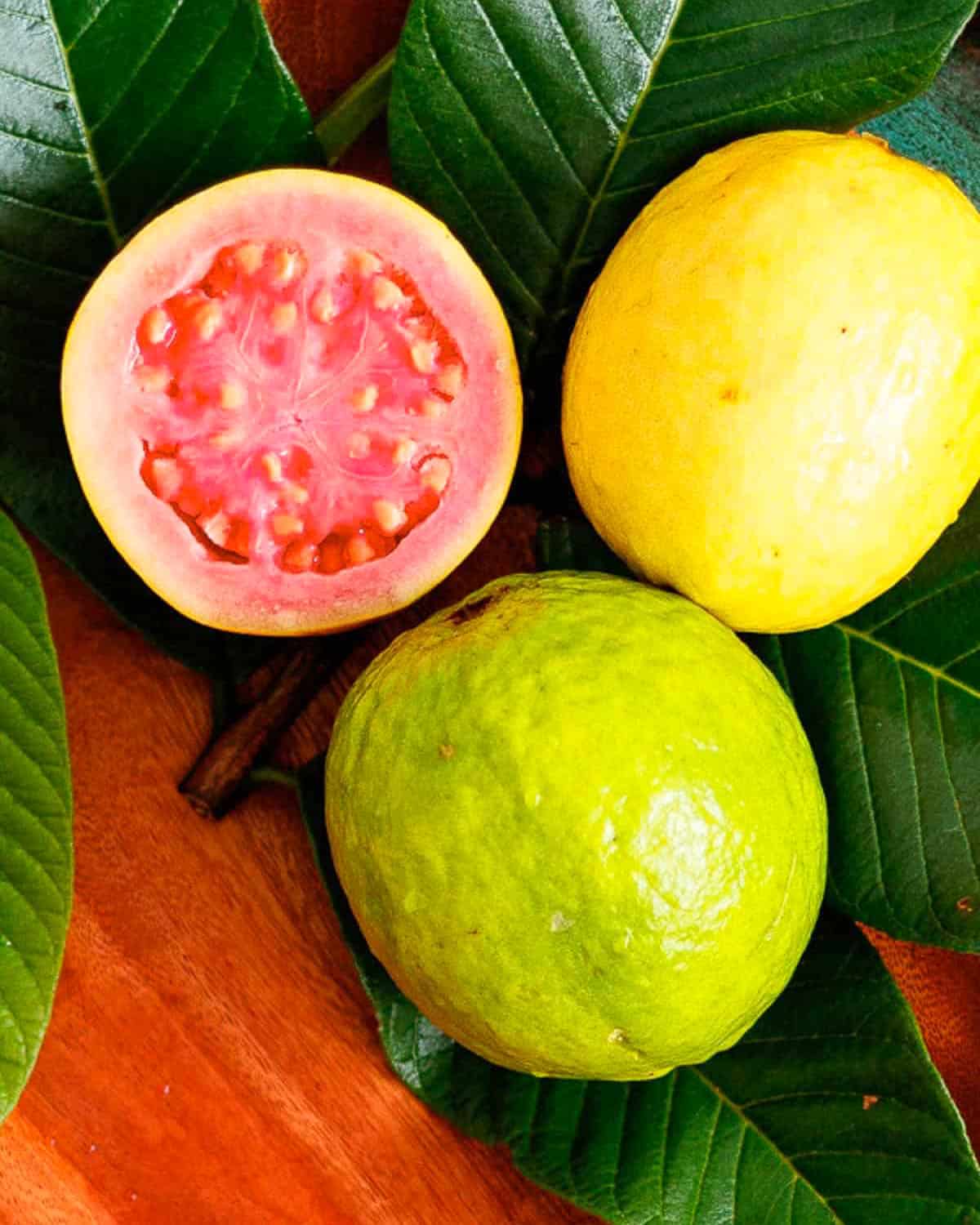 Are you ready for this easy, single ingredient recipe? I still haven't figured out if you can technically call it a recipe when it's comprised of only one food! But here goes.
Because there aren't any added ingredients, the flavor of guava puree is determined by the quality and maturity of the fruit you use.
🔪 Equipment
Blender or food processor.
Fine mesh strainer - A standard stainless steel kitchen strainer, approximately 6 inches, works well.
Bowl - Choose a deep bowl that fits your stainer and allows puree to fall through.
👩🏻‍🍳 Steps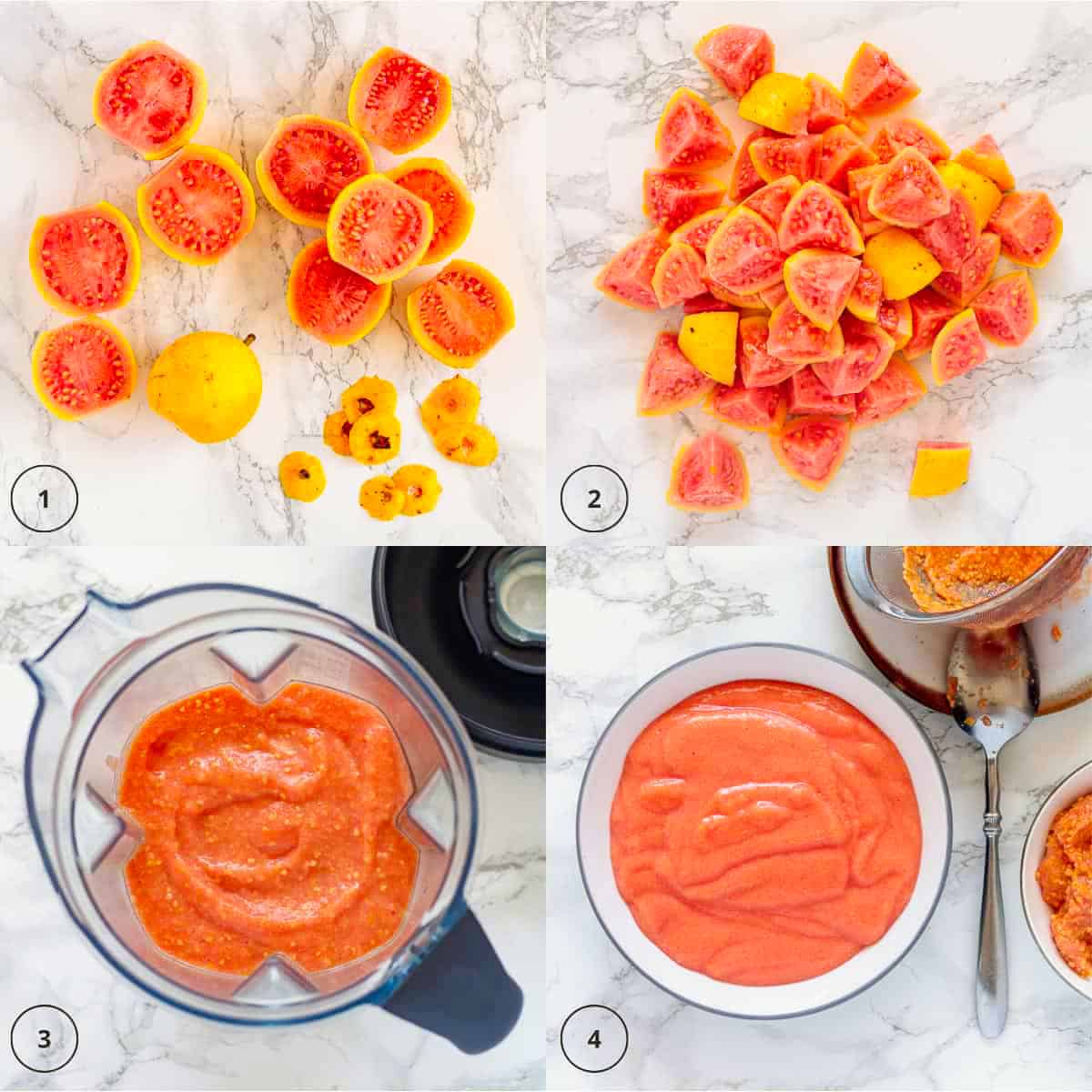 Trim - Wash and trim both ends of whole guava fruit to remove any brown parts. Cut fruit in half and inspect each piece to make sure there aren't any insects.
Chop - Leave the skin on and quarter the whole fruit.
Blend - Place chopped fruit in a blender or food processor and grind briefly.
Strain - Spoon blended fruit into a strainer positioned over a bowl. Use the back of a spoon to press the puree through the strainer.
That's all there is to it. Less is more in this pure, versatile kitchen staple. Now you're set to make anything you like with your guava puree if you aren't tempted to eat it all off a spoon first.
⏳ When is guava ripe?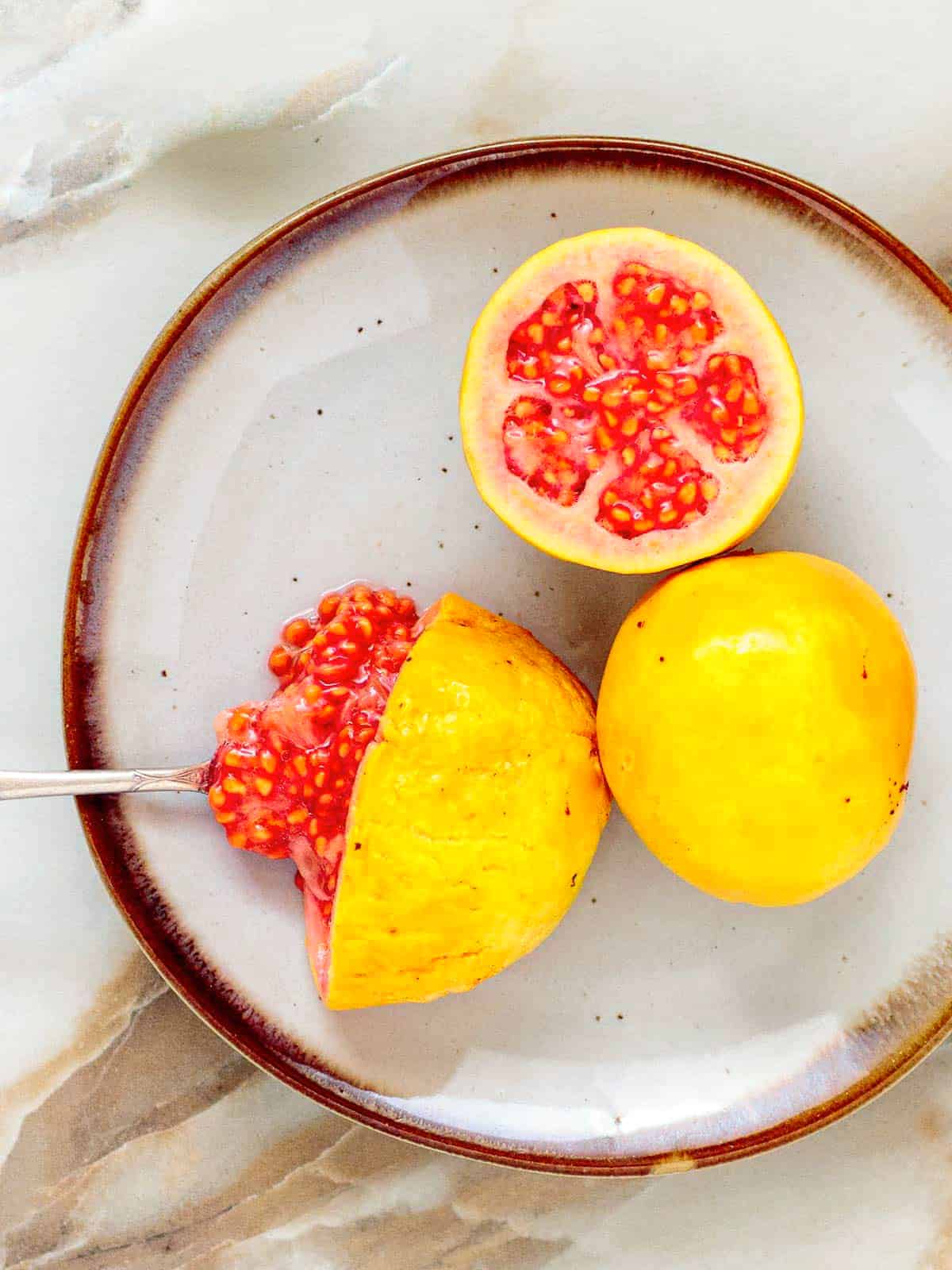 When we gather guava in the wild or buy it from our local farmer's market, I like to let it sit in a bowl on the counter for a day or two to ripen fully.
The fragrance from ripening fruit that fills the air is better than any room freshener!
When guava is ready it's juicy and soft inside. Some people liken the taste and texture to a cross between strawberry, pear, and kiwi.
The color of the pulp can be white, yellow, or pink depending on the variety. Don't wait too long to use it though. The fruit goes quickly from ripe to spoiled.
🥧 How to use
Basic fresh basic guava puree can be used straight, mixed with other ingredients, or cooked with sweeteners to infuse recipes with extraordinary tropical flavor.
Basic - Use as-is to top Homemade Yogurt and nutritious breakfast bowls or flavor Fizzy Fruit Kombucha.
Blend - With other fruits, vanilla, coconut milk and the like to make ice cream or sorbet.
Guava Syrup - You can make homemade guava syrup in ten minutes and keep it for months.
Guava paste - Boil equal parts puree and sugar over low heat until reduced by half. Pour in a mold and chill until firm. Slice and serve on cheese boards or bake in layered confections.
Guava Jam - Make the best fool-proof guava jam with just guava puree and sugar. No boiling or pectin required! Spread it over crumpets, scones and biscuits or fill cookies and cakes.
💭 FAQ
Is guava puree the same as guava paste or nectar?
No, homemade guava puree only has one ingredient, ripe guava. It's the basis for other guava preparations like guava jam, guava paste, and guava nectar.

Guava paste is made by adding sugar and boiling the mixture down to a thick consistency. Once it's cold it's a firm, sliceable product that is sometimes called guava cheese.

Guava nectar is a thick beverage made by adding water, sweeteners, and other fruit juices or flavors.
Is guava safe for babies?
Guava puree with the seeds removed is highly nutritious and a good starter food for babies. Check with your pediatrician for age-appropriate feeding, whether it should be cooked or not, and any allergy concerns. The texture may be new to some babies. You can blend guava with other fruits your baby is already accustomed to.
Can I use white guava to make puree?
Yes, you can use white or pink guava to make this puree, as well as other varieties in the psidium guajava family, like strawberry guava. The ones with pink flesh inside make the prettiest puree, but all taste delicious.
👩🏻‍🍳 Expert tips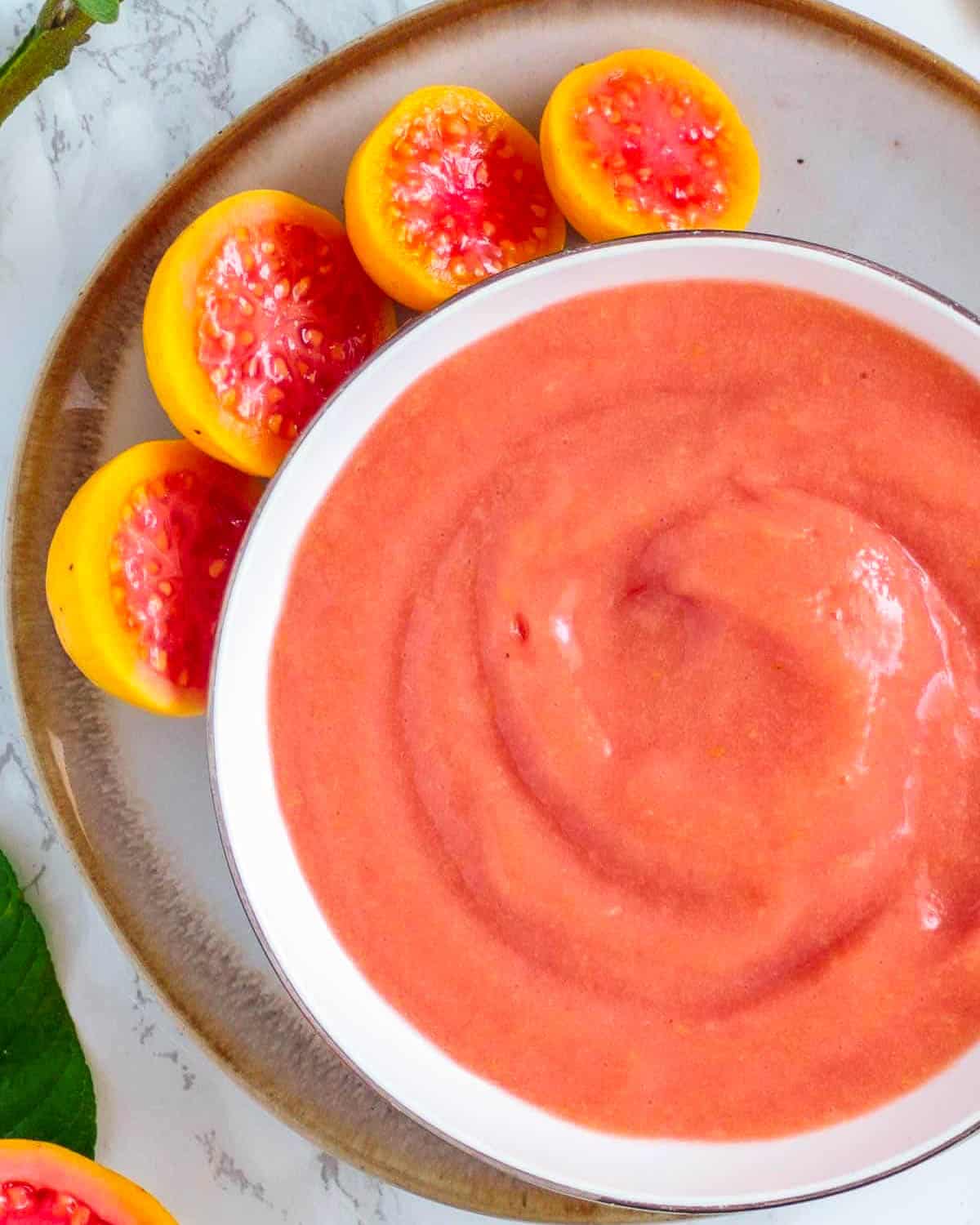 Use the ripest fruit possible for the sweetest guava puree with a beautiful color.
Inspect fruit after cutting it in half to ensure there aren't any small crawly insects. You'll be glad you avoided any unpleasant surprises!
Work in batches one cup at a time when pressing guava through a strainer. The job will be easier and faster that way.
Freeze guava puree in an ice cube tray if you want portions to mix in frozen treats or blended drinks later.
🥭 More tropical fruit recipes
Enjoyed this post? Leave a comment, rate ⭐⭐⭐⭐⭐ it, and follow @poppyswildkitchen on Instagram. Aloha!
📖 Recipe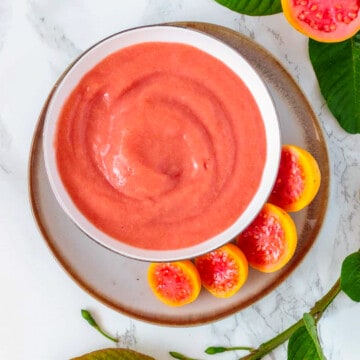 How to Make Guava Puree
Fresh Guava Puree made from scratch. Fragrant and packed with sweet, tart flavor, it's the basis for exotic sauces, spreads, baked goods, desserts, tropical beverages, and confections.
Print
Pin
Rate
Equipment
Blender or food processer

6-inch fine-mesh stainless steel strainer
Ingredients
24

ounces

fresh ripe guava to yield approximately 4 cups chopped
Instructions
Make puree
Wash whole fruit and trim ends or any brown spots.

Cut fruit in half and inspect each one to make sure there aren't any insects.

Quarter whole fruit and place it inside a blender or food processor. Process for about 30 seconds on low speed or until the mixture is uniform in color and texture. Don't over-process.

Working in batches, one cup at a time, press blended guava through a fine-mesh strainer positioned over a bowl.

Compost or toss out guava seeds and transfer the puree to a glass or plastic container with a lid for storage.
Store puree
Store fresh guava puree in the refrigerator for up to five days or in the freezer for three months.
Notes
Ingredients
Use fully ripened guava to make the puree. Ripe guava will have delicate skin that yields to pressure. Inside, the flesh will be juicy, pink, and soft. Once guava reaches this stage, it spoils quickly, so be sure to place it in the refrigerator or process it into food.
Always inspect guava by cutting it in half and checking for insects. Because guava has soft, penetrable skin, it is prone to bugs.
You can use pink guava or white guava and other varieties in the psidium family, like strawberry guava, to make puree with this recipe.
Equipment
Choose a standard fine-mesh kitchen stainer, like the one from Cuisinart . A strainer that is too coarse will let seeds through, and one that is too fine will make it difficult to extract puree.
Preparation
Blend chopped fruit for about 30 seconds to a minute. Don't over-process. As long as the mixture is uniform and the seeds are evenly dispersed, it's ready to strain. Over-blending will make the puree gritty.
Storing
Store fresh puree in the refrigerator in a covered container for up to 5 days.  Freeze puree in small-batch containers. Thaw overnight in the refrigerator or a couple of hours on the counter and stir before using.
You can also freeze it in ice cube trays for convenient portions to add directly to blended recipes.
Nutrition
Calories:
77
kcal
|
Carbohydrates:
16
g
|
Protein:
3
g
|
Fat:
1
g
|
Sodium:
2
mg
|
Potassium:
473
mg
|
Fiber:
6
g
|
Sugar:
10
g
|
Vitamin A:
708
IU
|
Vitamin C:
259
mg
|
Calcium:
20
mg
|
Iron:
1
mg