Guava leaf tea made from foraged wild leaves brews a refreshing, rosy-tinged, flavorful iced tea with pleasing tannins. It's high in polyphenols and antioxidants and has significant health benefits just like superfood guava fruit.
Jump to:
What is guava leaf tea good for?
I was surprised when I first discovered that wild guava, a.k.a psidium guajava, is a top-of-the-list superfood. It grows abundantly in our mountains nearby. Because it's commonplace and accessible, indeed invasive, it seemed too easy.
However, fresh guavas are rated higher than many named superfoods like blueberries and have nearly four times as much vitamin C as oranges.
Then I discovered that guava leaves themselves are a traditional medicinal food with curative and culinary uses. That was an even better surprise. This link from Livestrong will give you an idea of the types of benefits there are from drinking guava leaf tea.
Harvesting tips
If you or your friend already have an organic guava tree in your backyard, your task will be easy. Simply snip branches with clean, mature guava leaves from the tree. They will dry the best and have more flavor than soft green leaves.
If you are heading out to the wild, please keep safety and your ecological impact in mind. Here are some beginners tips that apply to foraging any wild edibles.
Be one hundred percent sure of your plant identification and always follow your Dr.'s advice consuming wild plants.
Forage off the beaten path and seek plants that are free from pesticides and run-off from human, animal or manufacturing waste.
Consider your effect on nearby plants when you decide on a tree to harvest from.
Once you have your tree, check the backside of leaves. Bugs and diseases like to hide out there.
Collect branches with leaves straight from the tree and never off the ground.
Selectively prune a couple branches 12-18 inches long from the tree.
Keep the branches cool and plan on washing them as soon as you return home.
Wash guava leaves
If your leaves are clean both top and underside and you plan on drying whole branches, you can leave them attached. It's easy this way to swish them in a sink filled with water and give them a rinse with a sprayer.
or
If your leaves have more dirt or evidence of insects, I recommend removing them from the branches. Soak them a bit in a sink full of water and use a kitchen scrub sponge to wash the backs of each leaf. Then, drain and rinse once more in a sink of clean water.
Dry leaves for tea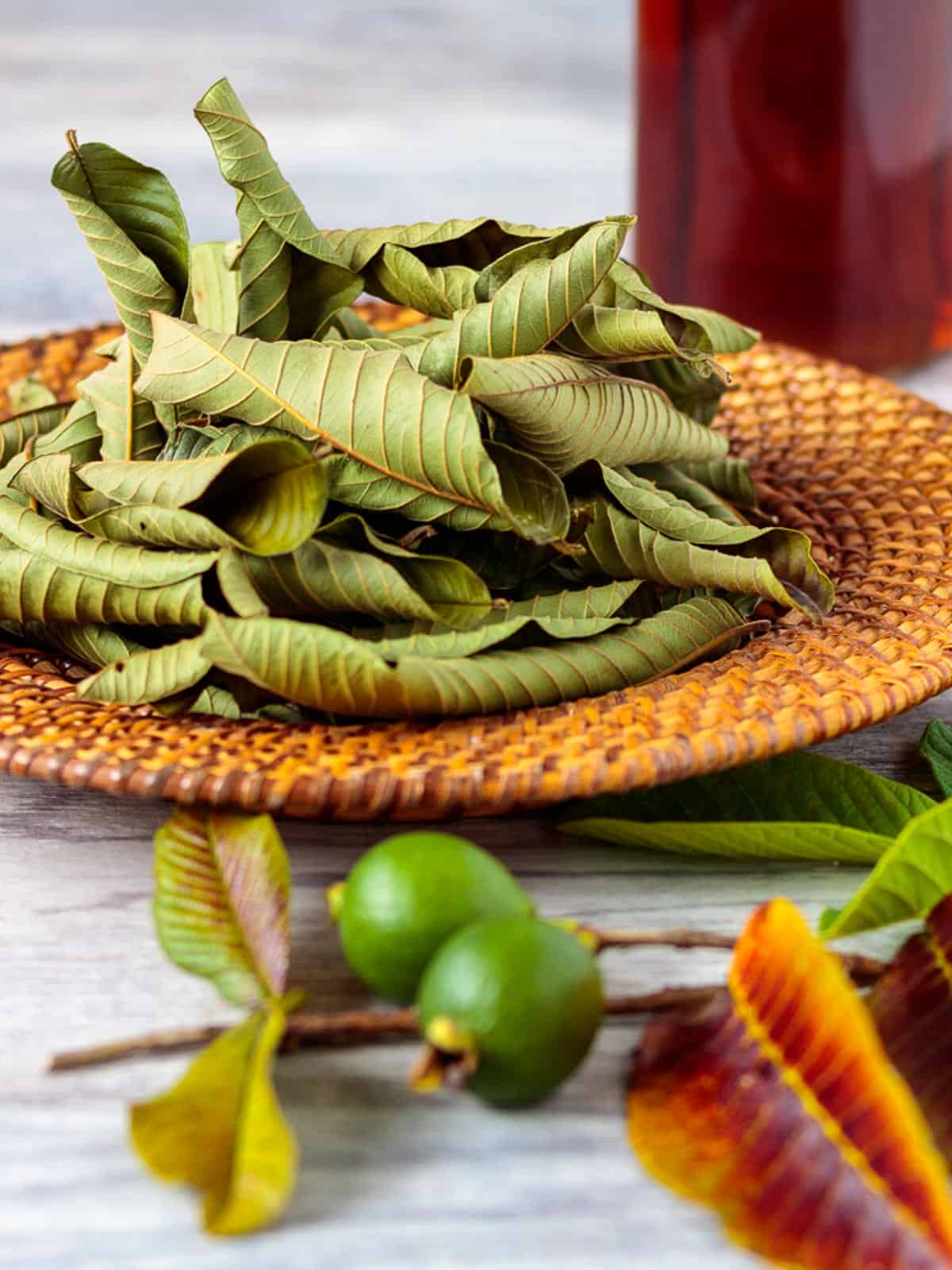 You will be pleased to know how easy it is to dry guava leaves and prepare tea. Once your leaves are harvested and washed, you have two options.
Hang whole branches upsidedown in a warm dry location. I like to tie loose bundles at one end with twine and use the twine to hang them from a ceiling hook.
or
Spread individual leaves in a single layer on trays. Place in a warm dry location. The top of a cupboard out of direct sunlight works well.
Then simply let nature do its work. Depending on your humidity and temperature, they are generally dry in 3-7 days.
Leaves are ready when they are curled and very crispy. You should be able to crumble them easily in your palm.
Dehydrator option
I prefer to dry guava leaves naturally and it's generally not necessary to use a dehydrator to dry them. However, if you live in a very humid environment or prefer to speed up the process, you can use a machine.
Spread individual leaves in a single layer on dehydrator trays. Set your dehydrator to a low setting, ideally under 120 degrees. Dry leaves until they are crisp and crumble easily in hand.
Iced or hot
My favorite way to drink wild guava leaf tea is lightly sweetened and guzzled ice-cold on a hot afternoon. I am hooked on the rosy-tinged color, earthy flavor, and gentle tannins. It's a terrific replacement for caffeinated green or black iced tea.
It also makes a soothing tisane sipped just before bed. Then I like to brew it a little lighter and enjoy the tropical forest aroma wafting from my steamy cup. There is even some evidence that it helps promote a good night's sleep.
FAQ
Does guava leaf tea have caffeine?
No. You can think of it in the same way as herbal teas. I appreciate the advantage it has over most herbal teas however with its lovely tannins. Typically only true teas with caffeine have tannin.
Can I buy whole organic guava leaves?
Yes. Look for whole guava leaf in health stores or online. It's a little harder to find wild-crafted, but this site on Etsy sells organic, whole guava leaves.
How should I store dried leaves?
Place leaves as soon as they are curled and fully dry in jars or containers with a tight-fitting lid. Store in a cool pantry cupboard for up to a year.
More Wild Foraged Recipes
I would be thrilled to know if you tried this recipe! Leave a comment, rate it, and don't forget to tag a photo #poppyswildkitchenrecipes on Instagram. Aloha!
📖 Recipe
Wild Harvest Guava Leaf Tea
Guava Leaf Tea brewed from dried, whole leaves has a floral, woodsy fragrance, smooth taste and pleasing tannins. A long list of health benefits make this easy to brew tea extra special.
Print
Pin
Rate
Ingredients
4

cups

filtered water

6

grams

dried guava leaves

about 1 cup torn leaves

to

taste

optional sweetener:

raw sugar, honey, stevia
Instructions
Bring water to a boil. Drop torn whole leaves in water and stir to wet all leaves.

Reduce heat to a slight boil and cook, loosely covered for 15 minutes.  

Remove pan from heat and let steep for 20 minutes or until cool enough to drink warm.

Sweeten if desired with raw sugar, honey, or liquid stevia.

For iced tea, place cooled tea in the refrigerator for another 20 minutes.
Notes
You can adjust the ratio of water to leaves to suit your taste. 
Great caffeine-free alternative to orange-pekoe iced tea. I like to add a couple drops of liquid stevia, which never tastes bitter in guava leaf tea.
Nutrition
Calories:
1
kcal
|
Carbohydrates:
1
g
|
Sodium:
12
mg
|
Potassium:
1
mg
|
Calcium:
7
mg