Huli-Huli Seitan Skewers will up your plant-based barbecue game so much even your meat-eating friends will be amazed. These shish kebabs are juicy and chewy inside, crisp and charred outside.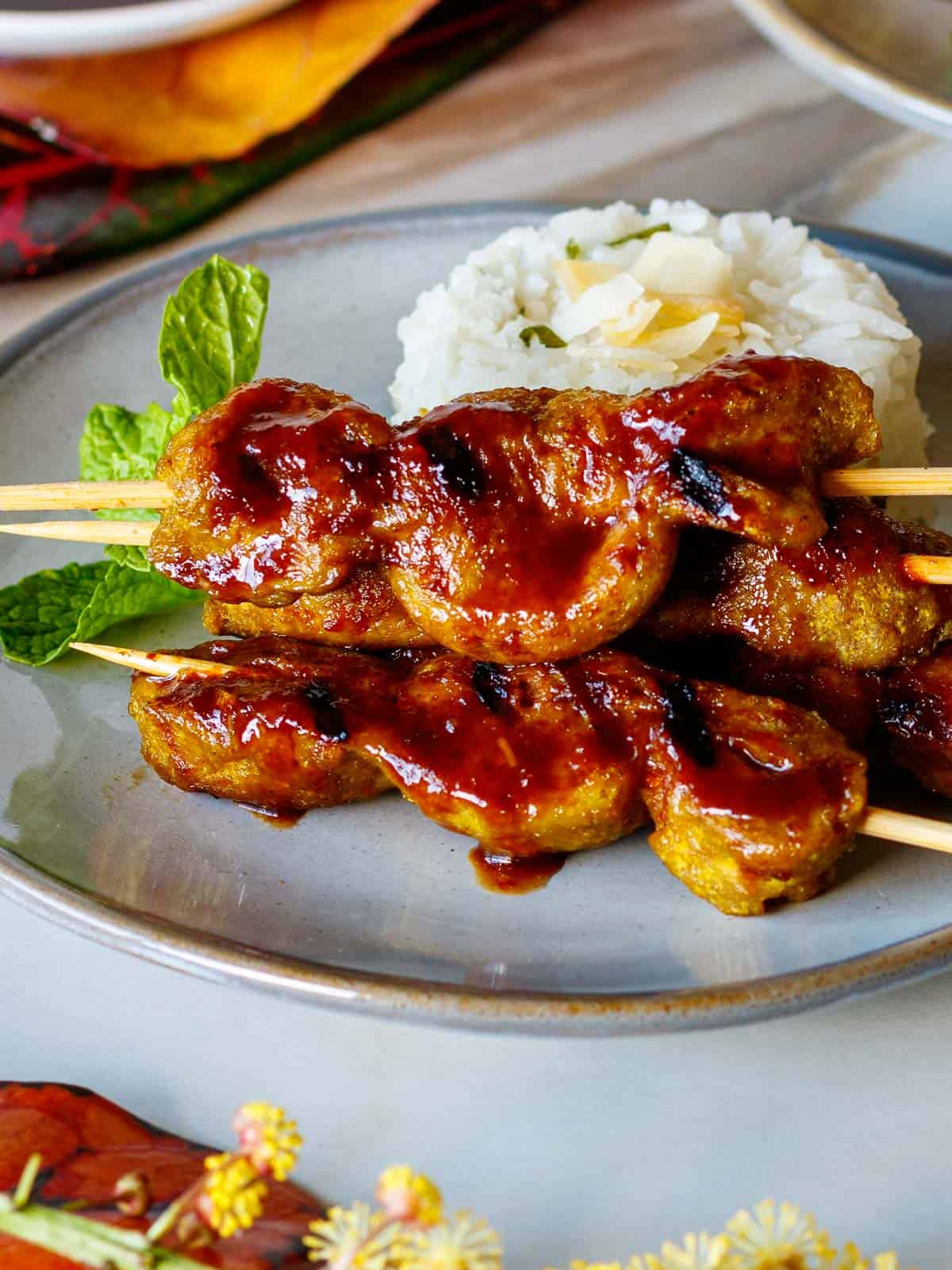 With a sauce that's savory, sweet, gingery, and just a little tart, the dripping brochettes are irresistible.
Jump to:
Huli huli
"Huli" means turn in Hawaiian. Fittingly, the sturdy skewers are basted while turning back and forth over a grill until they are seared, sizzling hot, and glazed with Huli Huli sauce. I like to serve them with coconut rice to round out the island flavors in this fantastic dish.
So what makes these vegetarian skewers firm enough to cook on a grill? It's the seitan made from scratch. Using fresh raw seitan allows you to shape and secure it any way you like. Yes, making seitan yourself involves some work. But, that brings us to the second and most compelling reason to make your own.
Let me give you a couple of examples first to illustrate. Have you tasted the difference between homemade and frozen guacamole? Right. Likewise, I probably don't need to convince you that a loaf of crusty sourdough straight out of the oven deserves your grasp more than stale packaged bread from the market.
Well, in the same way, homemade seitan is hands-down better tasting than anything you can buy. Plus, once you get the hang of making it, it's a fun and rewarding project. I used to think of it as time-consuming. But, if you don't count soaking, a batch of seitan can be shaped, seasoned, and cooked in 45 minutes. If you want to make extra, you can season sections uniquely for future recipes. Cooked seitan freezes beautifully, and can be used when you are ready.
If you are new to making seitan, my recipe for Homemade Seitan From Scratch will help you on your way. I have tried to simplify the process to make it user-friendly. So, enough about making seitan. Go ahead and start with the Huli Huli sauce. My guess is once you taste it, no one can stop you from wanting to try it caramelized over hand-made seitan skewers.
More island recipes
Enjoyed this post? Leave a comment, rate ⭐⭐⭐⭐⭐ it, and follow @poppyswildkitchen on Instagram. Aloha!
📖 Recipe
Grillable Huli Huli Sietan Skewers
Hawaiian Huli Huli sauce is savory, sweet and gingery. It's sensational caramelized over juicy, charred homemade seitan skewers served with coconut rice.
Print
Pin
Rate
Ingredients
Huli Huli Sauce
½

cup

soy sauce or tamari

½

cup

coconut palm sugar

2

TB

tomato paste

3

TB

Sukang Iloco or apple cider vinegar

1

tsp.

fresh grated garlic

juice

squeezed

from 2 TB fresh grated ginger

1

teaspoon

red chili paste to taste
Burmese Coconut Rice
1

cup

water

1 ¼

cups

rich coconut milk

¾

tsp.

salt

1

cup

white basmati rice

2

TB

slivered fresh mint
Instructions
Huli Huli Sauce
Combine Huli Huli sauce ingredients in a blender and mix until smooth. Alternatively whisk well in a small bowl.
Seitan Skewers
Flatten raw seitan into

2

three by six inch rectangles. Press and stretch lightly to avoid compressing and toughening the seitan. Its good to have web-like air pockets in the seitan.

Cut crosswise with a pizza cutter or sharp knife into ½ inch strips. You should end with about

24

three and one-half inch strips. Seitan expands while cooking so your skewers will be larger. Pinch the cut pieces to shape attractively.

Bring water to a light boil and season with not chicken bouillon. Your broth should be very flavorful and salty as raw seitan is bland and will only soak up part of the seasoning. Gently add skewers and simmer at a low boil for 20 minutes. Stir lightly with a spatula half way through to cook all sides evenly. Carefully remove with tongs or a spatula to a colander. Drain until cool enough to handle. Seitan will firm up as it cools.

Spread strips out on a cutting board and pat both sides dry. Brush both sides lightly with olive oil.

Heat a cast iron griddle or barbecue grill to medium high. Lay strips of seitan on the grill at an angle. Brush the top side of skewers with Huli Huli sauce and flip when bottom begins to brown. Brush again with Huli Huli sauce and repeat flipping and basting until both sides of skewers are well charred and sauce has thickened.

Put skewers on a warm serving platter and brush with a little more sauce. Serve with Burmese Coconut Rice if desired.
Burmese Coconut Rice
Bring water, coconut milk and salt to a boil. Stir in rice and reduce to low heat.

Cook for 15 minutes or until coconut milk is absorbed.

Add slivered mint to rice and fluff with a fork.
Notes
Ingredients
Sucang Iloco is a Filipino naturally fermented sugar cane vinegar popular in the islands. 
Here is the link to make your own not chicken bouillion mix.
Frozen thick coconut milk without any additives is best. Second best is canned coconut cream without any additives.
You will have leftover Huli Huli sauce. So yummy on lots of grilled dishes.
Nutrition
Calories:
549
kcal
|
Carbohydrates:
47
g
|
Protein:
29
g
|
Fat:
214
g
|
Sodium:
1715
mg
|
Potassium:
285
mg
|
Fiber:
4
g
|
Sugar:
12
g
|
Vitamin A:
317
IU
|
Vitamin C:
3
mg
|
Calcium:
89
mg
|
Iron:
6
mg