Pink guava, with its sunny yellow exterior, is a member of the myrtle family native to Southern Mexico and tropical America. Abundant several times a year, ripe guavas are sweet and tart, with a beautiful fragrance that fills the air.
Fresh guava puree is the basis for exotic spreads, desserts, baked goods, libations, and more. We love to brew superfood tea from dried wild guava leaves in our home.
Jump to:
Fun fact
Despite their size and appearance, guavas are botanically classified as berries.
🌿 Botanical
FAMILY: Myrtaceae
GENUS: Psidium
SPECIES: P. guajava
TYPE: evergreen shrub or tree
NATIVE: Southern Mexico, tropical America
DISTRIBUTION: Pantropic, Southeastern U.S., Caribbean, Australia, New Zealand
📋 Common names
HAWAIIAN - kuawa
ENGLISH - guava, apple guava, yellow guava, common guava
INTERNATIONAL - ku'ava, tuava, amrud, amrut, ngguavaaba, guyaba, guayabo, goyave, fan shi liu
🌟 Benefits
Guava is exceptionally rich in vitamin C with almost 4 times that of oranges. Guavas are also a good source of minerals, including calcium, magnesium, and phosphorus. They even have more potassium than bananas.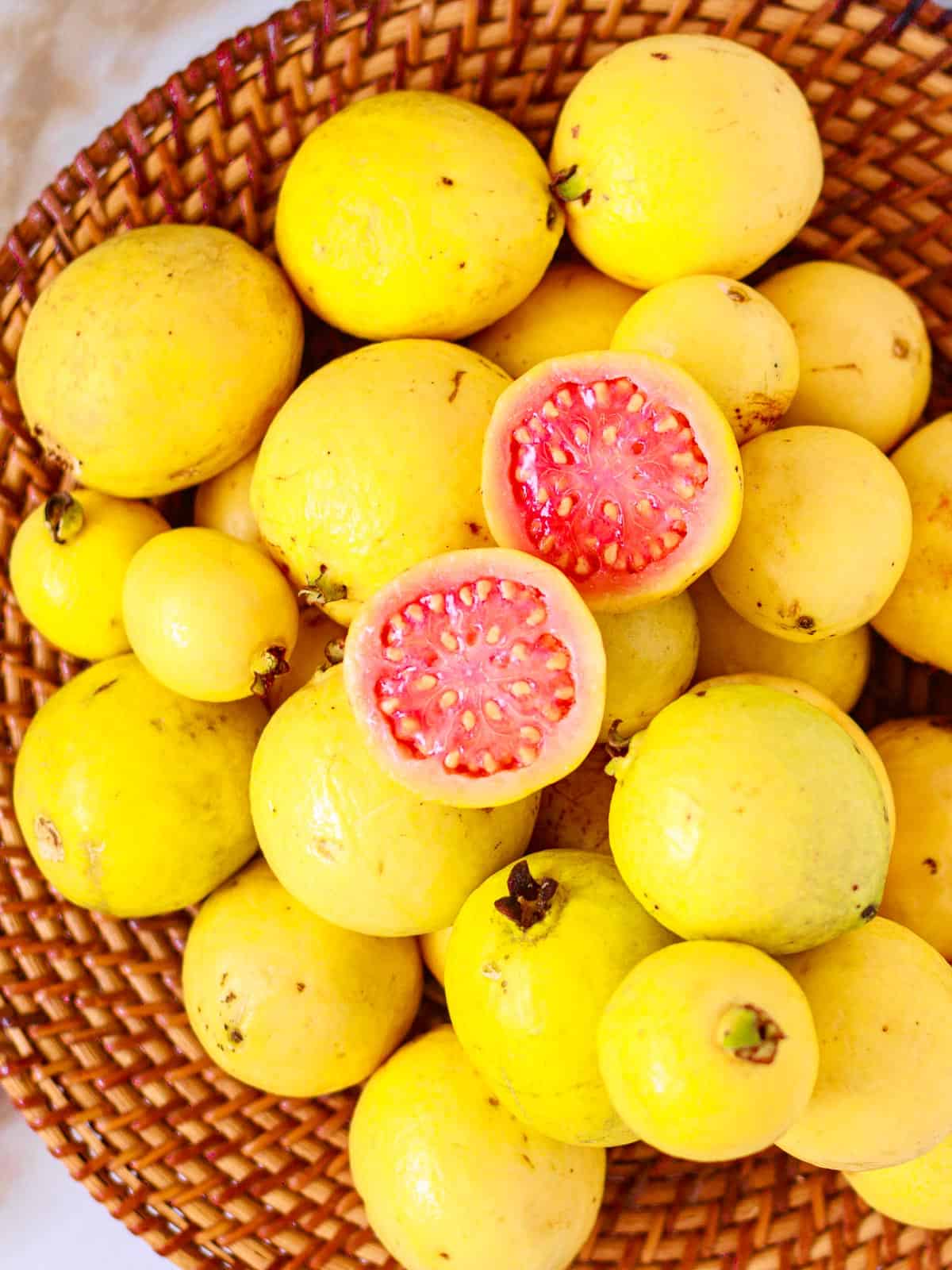 Further, guavas qualify as a superfood and outrank heavyweights like blueberries and kale. That's because they have significant amounts of lycopene, polyphenols, and quercetin that help neutralize free radicals reducing the risk of cancer and providing immune support.
Their edible hard seeds also have nutritional benefits. The seeds are high in fiber, assisting digestion. When coupled with the fruit's low-glycemic index, they help prevent diabetes in healthy individuals. So, go right ahead and eat the whole fruit, skin, seeds, and all to get these extra bonuses.
When is guava ripe?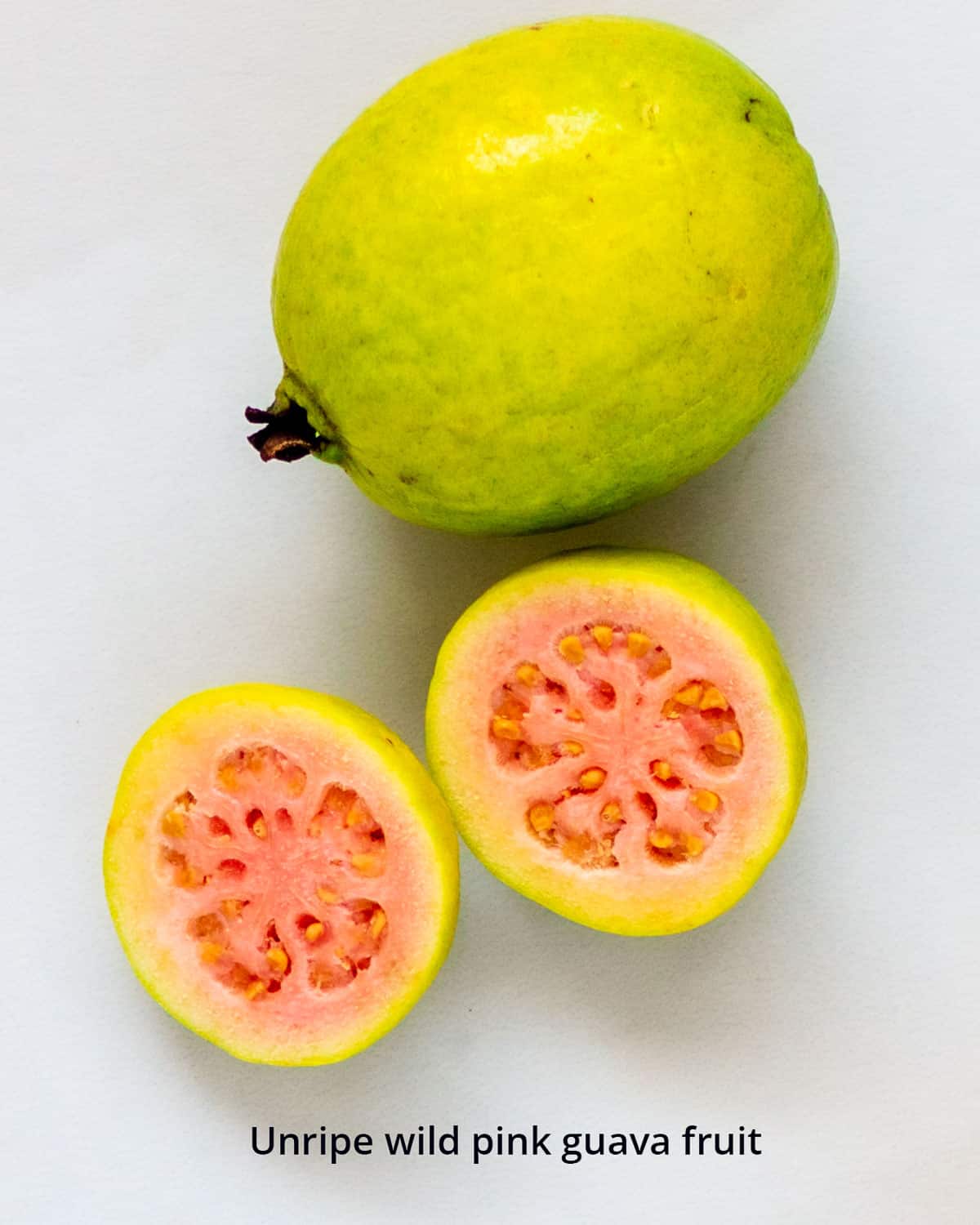 Perhaps the best way to tell when guava is ripe is by the smell. Whenever we collect wild guava, we like to wash it and place it in a bowl on the table to ripen it fully.
You know when you walk in the front door, and the whole room is filled with a lovely, sweet, tropical, spicy perfume that your fruit is ripe. I've yet to find a room scent more pleasing than a bounty of plush guava!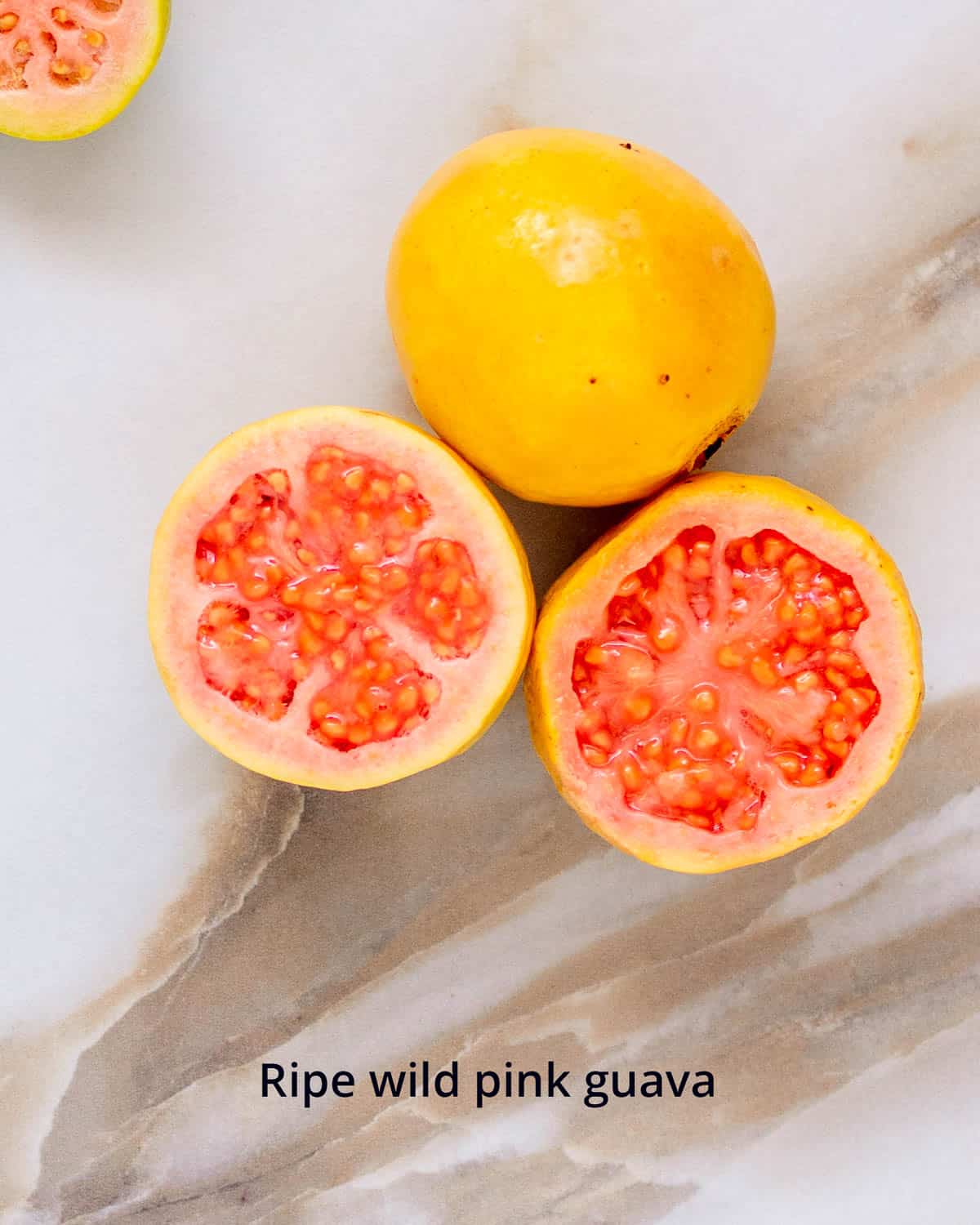 Of course, there are some easy visual and tactile markers as well. Ripe guava will have turned from green to yellow and have delicate skin that yields to pressure.
Inside, the flesh will be juicy, pink, and soft. Once guava reaches this stage, it spoils quickly, so be sure to place it in the refrigerator or process it into food.
How to eat
One of the best ways to enjoy the pure, sweet taste and alluring perfume of guava is to eat them out of hand, just like a peach. Like other fruits classified as berries, the seeds are edible. Aim for fully ripe fruit and cut it in half before consuming it.
Why cut it in half? You don't want to learn the hard way like we have that the soft skin of guavas invites critters! A good wash and inspecting your cut fruit will prevent any rude surprises.
Here is a partial list of culinary delights that can be made from fresh guava puree with the seeds removed:
Guava jam, fruit butter, spread, and fruit roll-ups
Ice cream and sorbet
Baked goods like scones, cookies, bars, and sweet bread
Cheesecake and filled pastries
Dipping and barbecue sauces for savory dishes
Salad dressing and marinade
Shakes, smoothies, nectar, mocktails, and cocktails
I hope you'll be inspired by this list to make your own pink guava creations. Let us know in the comments below what you come up with!
🔎 Identification
If you are new to collecting guava in the wild, you might like a couple of identification markers. In some environments, young shrubs produce fruit when they are only two to three feet high.
In taller trees, the bark of psidium guajava is a real giveaway. It's easy to distinguish from the bark of surrounding trees and is a good starting place. Look for mottled red and green trunks with thin, peeling bark.
The leaves of guava trees are handsome, with prominent veins and a matte finish. Mature leaves can grow to five or six inches long.
The pretty one-inch flowers of pink guava plants are singular, with four to five petals and a pom-pom-shaped spray in the center.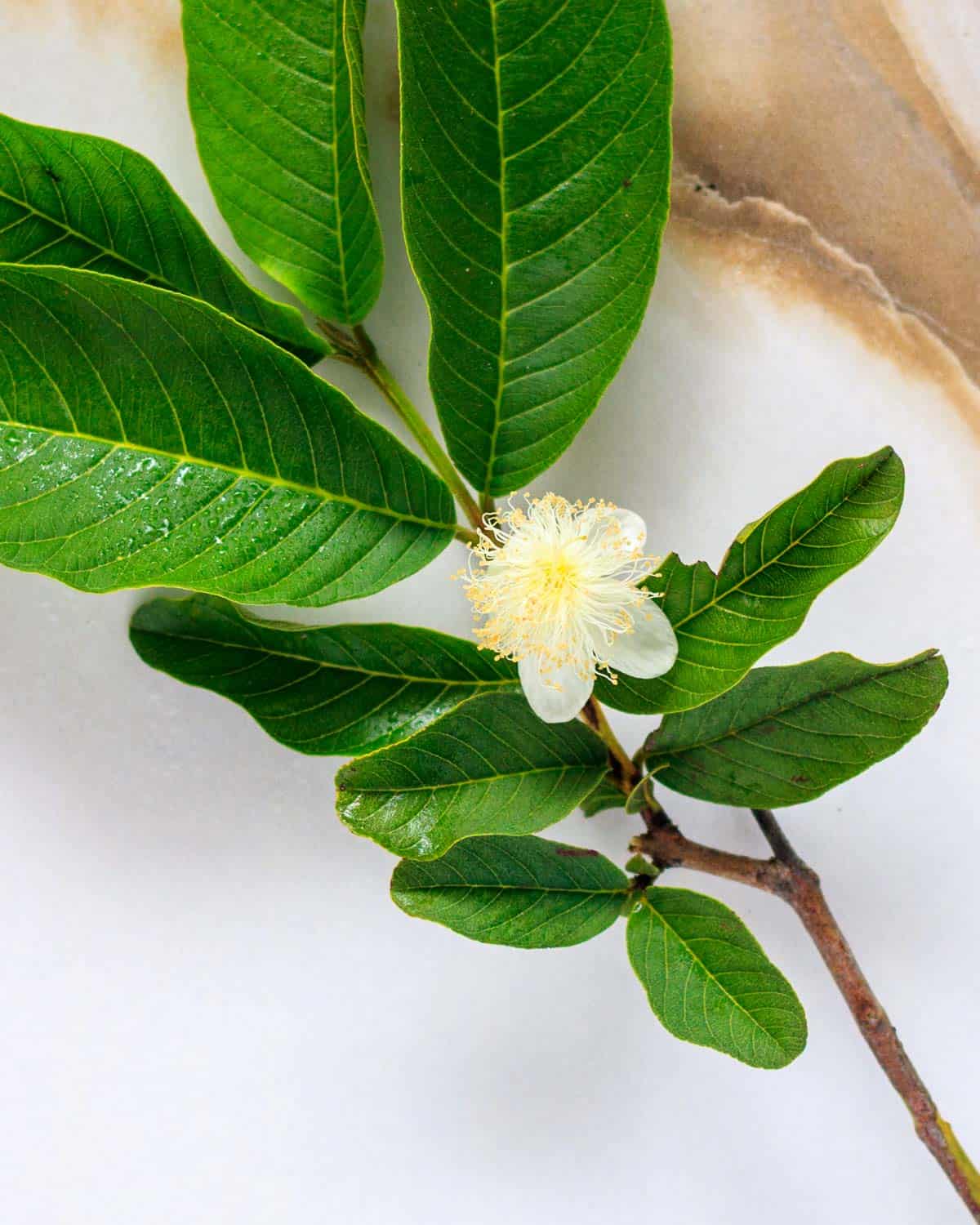 Once you've found some or all of these markers, you can look for guava fruit. Guavas start off as hard green ovoid fruit with a crown at the end.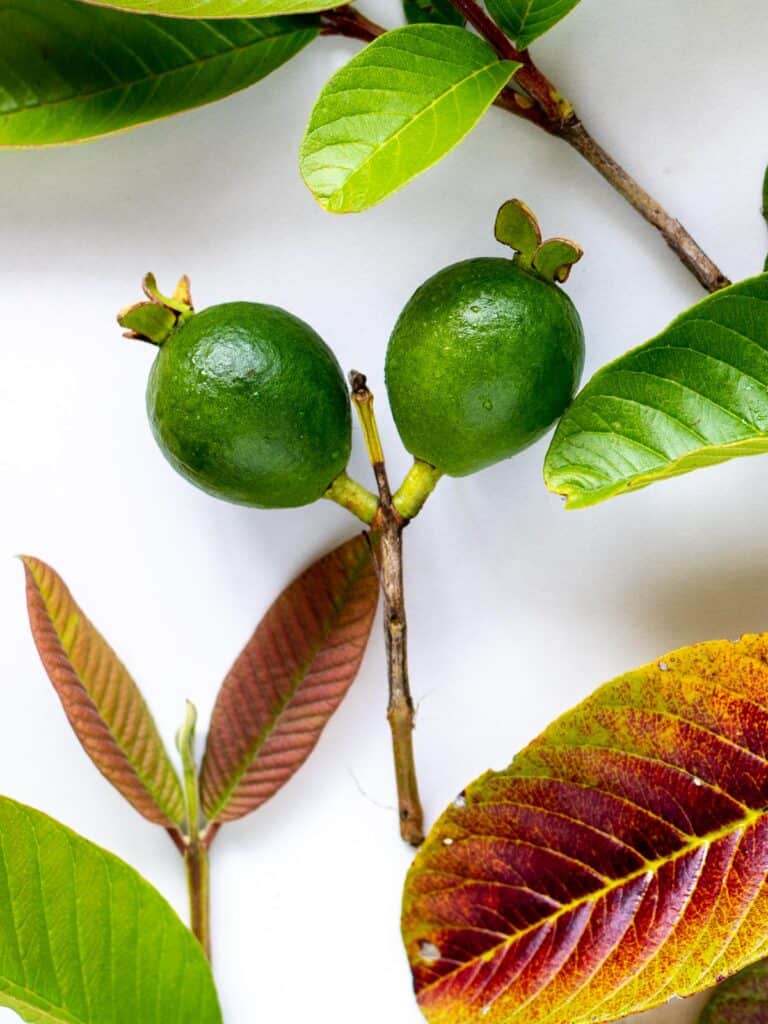 As they grow, they eventually look like small, smooth lemons. Some get as large as tennis balls before they turn from green to yellow.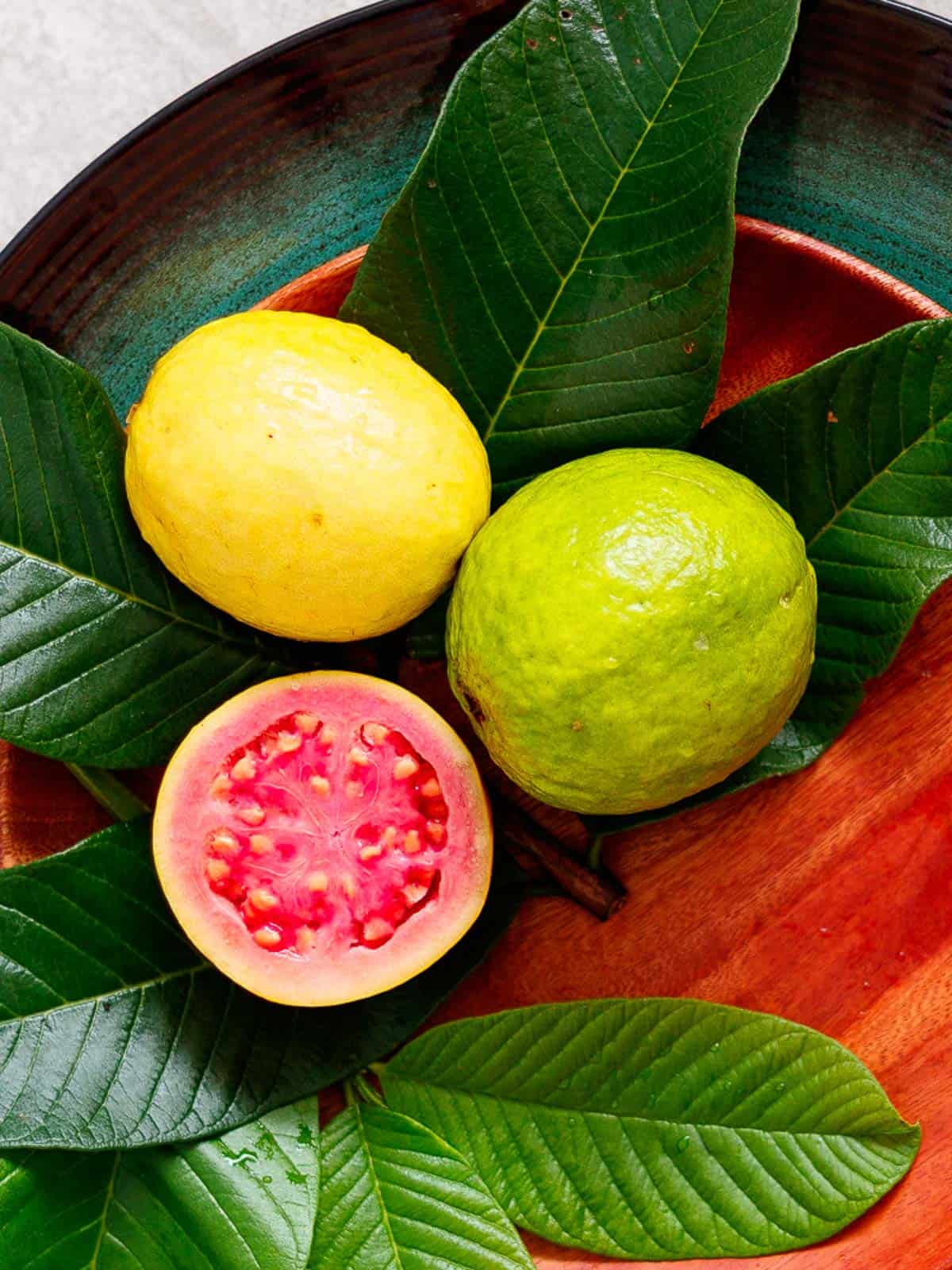 👩🏼‍🌾 Foraging tips
You can find a complete guide on harvesting wild guava leaves in our tea-specific post. A few things to keep in mind when foraging for pink guava fruit, whether it's in a backyard garden or out in the wild, are:
Always collect fruit from the tree and never from the ground. This is important because guavas have penetrable skin and are prone to bugs the moment they are punctured.
It's fine to harvest fruits that are still somewhat green as long as they pull with a gentle tug from branches. Guava ripens in one to three days sitting on a countertop.
Use a shallow basket when collecting ripe fruits rather than bags or deep containers. You'll be happy you avoided smooshing the soft fruit by stacking it.
Fully ripe fruit needs to be refrigerated right away.
🌍 More reasons to eat wild guava
Guava first came to the Pacific Islands in the early 1800s. Since that time, it has become an invasive species in Hawaii. Strawberry guava, a relative of pink guava with the Latin name psidium cattleianum is a serious threat to Hawaiian rainforests.
I have witnessed firsthand how guava trees will quickly take over an area. Back in 2007, a well-kept golf course on Maui was closed. Within 2 years, a handful of guava trees turned into multiple colonies throughout the 18 links.
In the following couple of years, the entire area became unrecognizable as a golf course. The only remaining clues to the land's prior use are patches of asphalt from the former cart paths and the croppings of golf balls that peek out in the most unlikely places.
Much to the delight of hikers who enjoy nature, unchecked growth took over completely. Now forests of wild guava intermingle with Christmas berry, haole koa, Java plum, yellow oleander, octopus tree, Chinese violet, and eight-foot-tall grass.
I suppose you could call it an invasive species soup. However, it is a beautiful place to be immersed in nature. Furthermore, I am grateful for the opportunity to harvest wild guava several times a year.
I like to think that foraging wild guava from the area helps rather than hinders our ecosystem balance. Even though one person has a small impact, I take care to compost the seed in a way that won't grow more trees.
I hope you have the pleasure of collecting and eating wild guava in Hawaii someday. Dispose of the seeds properly, and the more you eat, the more you are doing your part for the environment.
We feel blessed to have such an amazing, nutritious treat growing nearby. I hope our appreciation will help you seek as much pleasure from a tropical fruit in your locale.
👩🏼‍⚕️ Safety
Always be one hundred percent sure of your plant identification if consuming foraged or wild plants. Finally, follow your doctor's advice when eating new or unfamiliar plants, especially if you are pregnant or taking any medications.
🌴 More tropical fruit
Enjoyed this post? Leave a comment, rate ⭐⭐⭐⭐⭐ it, and follow @poppyswildkitchen on Instagram. Aloha!