This roasted vegan sesame dressing recipe comes together in 15 minutes and makes meal prep a breeze. Use it to top rice bowls, salads, noodles, and grilled foods or as a healthy plant-based sandwich spread and vegetable dip.
I crafted this Japanese-inspired vegan sesame dressing to accompany my Shabu Veggie & Black Rice entree. It's a happy day when we have it for dinner because the recipe makes enough sauce for other meals.
Jump to:
🏆 Top tip
Take the time to toast and grind seeds at home from scratch. It's the secret to restaurant-style goma dare that's heads above recipes made with tahini.
Some flavors you never forget. That's the case with the amazing creamy dressing I fell in love with many years ago at a Japanese restaurant.
I never obtained the recipe for that memorable dish. But our waiter divulged that the chef's signature rendition left out the ginger and included fresh-squeezed orange juice.
This thick, savory goma dressing recipe, with its lightly sweet and lightly tangy nuances, is crafted with that memory in mind.
📋 Ingredients
White sesame seeds- Buy organic when you can and use hulled raw seeds.
Tamari- Enjoy all the umami of soy sauce without gluten.
Pink salt - I like Himalayan pink salt or sea salt for their extra mineral content.
Vegan mayonnaise- Because creamy! Use a healthy brand that isn't sweet, like Grapeseed Oil Vegenaise.
Lime juice- Replaces vinegar for a tart round flavor without harshness.
Orange juice- Adds more citrusy zing as well as sweetness.
Maple syrup- A healthy whole food that rounds out the tangy citrus and toasty flavors.
👩🏼‍⚕️ Is it healthy?
Because this recipe is made from scratch, you know exactly what's in it. This delicious condiment is plant-based, dairy-free, gluten-free, and sugar-free and has none of the artificial additives like MSG typically found in store brands.
🥢 How to use
We love this creamy vegan sesame dressing with shabu-style vegetables and black rice, as mentioned, but you don't have to stop there. Some of our other favorite ways to enjoy goma dare are:
Dip summer rolls.
Drizzle over sushi.
Serve with grilled vegan skewers.
Spoon on a plate and top with seared tofu.
Inside collard wraps.
Spread on sandwiches.
Thin with a little orange juice for coleslaw and green salads.
Toss cold noodles with sesame oil, fold in the dressing, and sprinkle the dish with thinly sliced scallions for noodle salad in a flash.
⏰ Quick from-scratch method
It only takes a few minutes to make toasted sesame sauce. Pan-roasting and grinding the seeds is essential before blending in the remaining ingredients. However, the process goes quickly, and the roasted sesame dressing is ready to serve immediately.
♨️ Pan roasting
Roasting seeds on the stovetop saves energy over using an oven. You can also keep an eye on your seeds to make sure they don't burn, which happens in an instant.
Use a heavy bottom skillet. An eight-inch cast-iron skillet like this one from Lodge company is ideal for a single or double recipe.
Preheat your skillet to a medium temperature, and don't add any oil.
Pour sesame seeds in and constantly stir with a spatula or wooden spoon while toasting.
Toast to a light golden color. Seeds will continue to darken when removed from heat.
Transfer toasted seeds immediately onto a large plate to cool.
👩🏻‍🍳 How to grind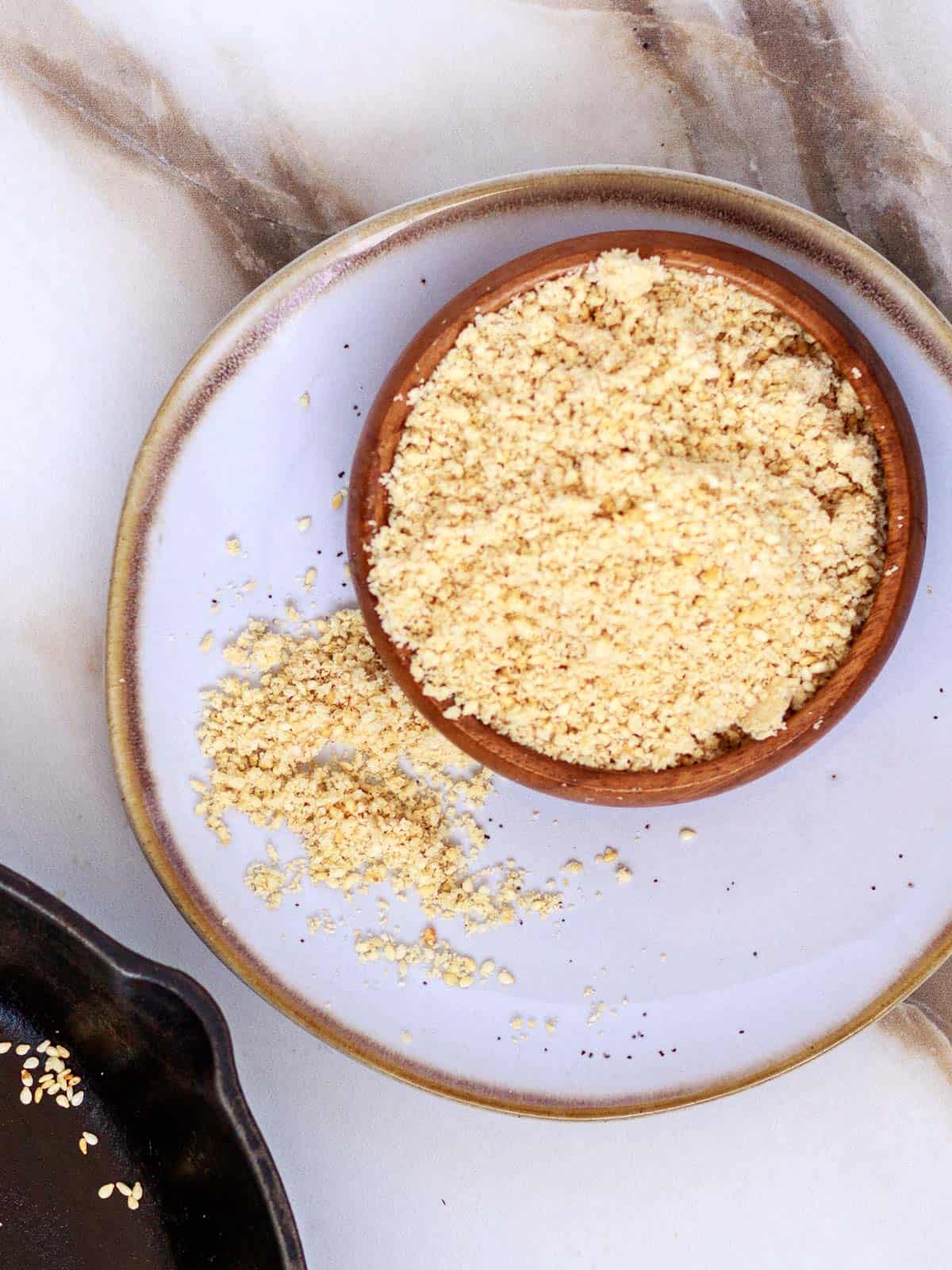 I love my Krups Spice and Coffee Grinder. I've used it for years and think it well deserves its name; fast touch. You can use other appliances with a small chamber if you use a pulse setting.
Cool seeds to room temperature before grinding.
Grind seeds one-half cup at a time if doubling the recipe.
Grind to a fine meal but don't allow the mixture to release oil and turn into seed butter.
Sesame meal will become smooth when processed with other ingredients in a blender.
Can I substitute tahini for ground sesame seeds?
The key secret to this recipe's success is toasting the seeds and grinding them just before making vegan sesame dressing. Tahini just won't provide the same fresh roasty aroma or depth of flavor.
Why can't I blend whole roasted seeds instead of sesame meal?
That's a great question. Believe me, I've tried it because who doesn't want to save time? However, your sauce won't have the same creamy, perfect consistency without making a sesame meal first.
How long does roasted vegan sesame dressing last?

Homemade Japanese sesame dressing will last at least one week refrigerated. Because it contains mayonnaise, freezing is not recommended.
🥣 More dips and spreads
Enjoyed this post? Leave a comment, rate ⭐⭐⭐⭐⭐ it, and follow @poppyswildkitchen on Instagram. Aloha!
📖 Recipe
Creamy Vegan Sesame Dressing
15-minute Vegan Sesame Dressing made with freshly ground roasted sesame blended with two types of citrus, maple syrup, and vegan mayo for the best creamy Japanese dressing.
Print
Pin
Rate
Ingredients
½

cup

hulled white sesame seeds

2

TB

tamari

¼

tsp.

Himalayan pink salt or sea salt

2

TB

fresh squeezed orange juice

1

TB

lime juice

¼

cup

Vegenaise

(vegan mayo, not sweet)

¼

cup

water

1

TB

maple syrup
Instructions
Toast seeds
Roast sesame seeds in a dry skillet over medium heat. Stir and watch carefully not to burn. When seeds are a pale golden color, remove them from heat.

Spread toasted seeds on a plate and let cool to room temperature.
Grind seeds
Place lightly toasted seeds in a spice mill or clean coffee grinder. Blitz briefly until most of the seeds are powdered. Stop short of the mixture turning to butter.
Blend dressing
Place sesame meal and remaining ingredients in a blender. Blend on high until smooth and creamy. 
Serve
Serve at room temperature for Shabu Shabu or hot pot. Or, pour into a container and chill for salad dressing and dips.
Store
Vegan sesame dressing lasts well a week refrigerated. Do not freeze.
Notes
Makes about 1 cup of fresh, creamy, Japanese-style roasted sesame dressing.
Nutrition
Calories:
111
kcal
|
Carbohydrates:
5
g
|
Protein:
2
g
|
Fat:
9
g
|
Sodium:
353
mg
|
Potassium:
70
mg
|
Fiber:
1
g
|
Sugar:
2
g
|
Vitamin A:
10
IU
|
Vitamin C:
3
mg
|
Calcium:
96
mg
|
Iron:
1
mg