Find out why edible moringa oleifera is called The Miracle Tree and has been valued for many uses since the time of ancient Greeks and Egyptians.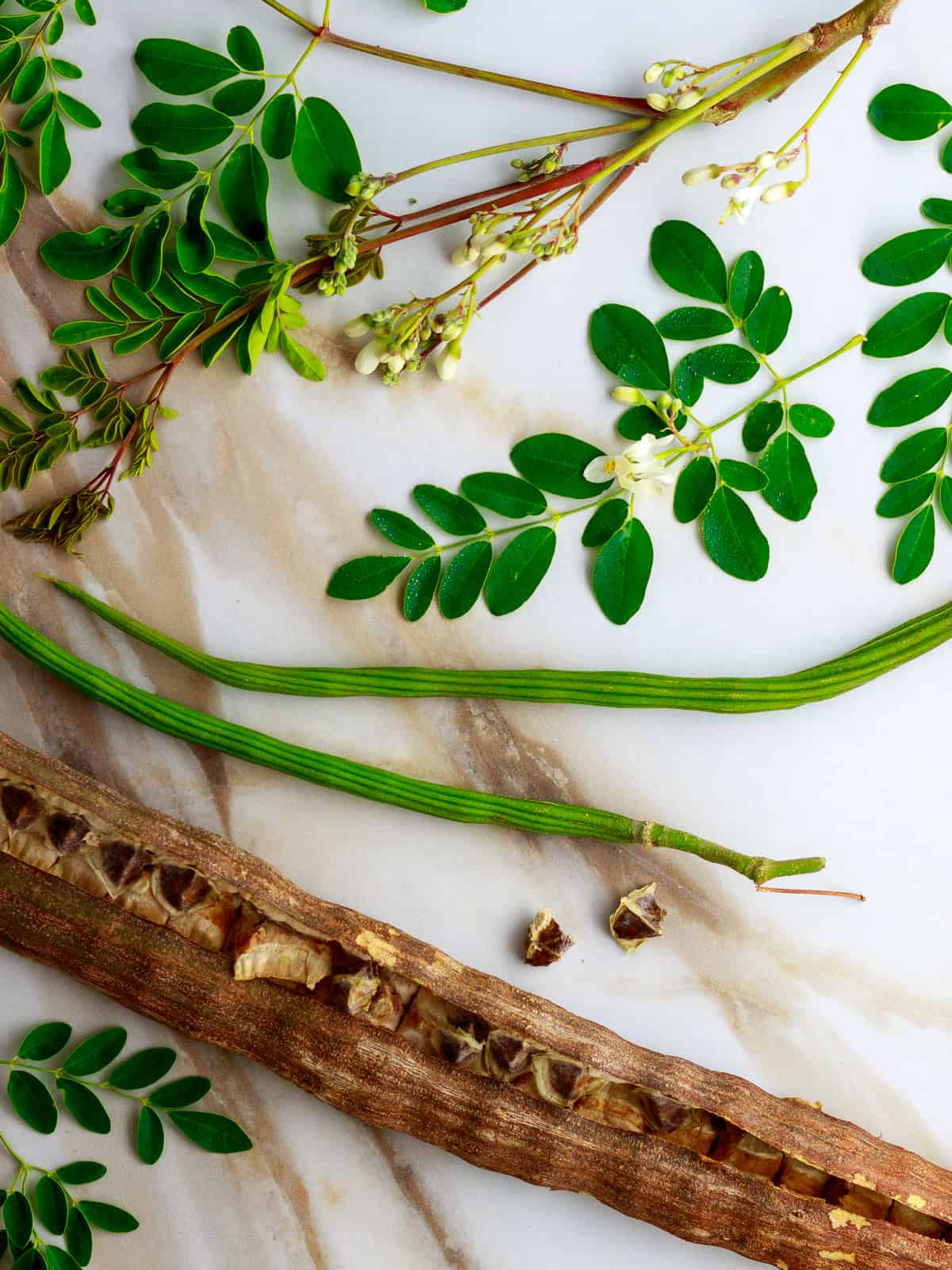 Jump to:
🌿 Botanical     
FAMILY: Moringacea
GENUS: Moringa
SPECIES: Moringa oleifera
TYPE: Perennial tree
NATIVE: North India
DISTRIBUTION: Worldwide subtropic and tropic
📋 Common names
ENGLISH - horseradish tree, drumstick tree, ben oil tree, moringa
HAWAIIAN - marungay (pronounced mah-roon-guy)
INTERNATIONAL - moranga, acacia blanc, rawaag, nugge, moringuero, behenbaum, marum, perlas, sevga, sajna, murungai, marunga, marunggay, gemunggai, malungai, ben alle, mlongo, agomago, ma rum, chum ngay, zakalanda
🌟 Miracle Tree of Life
Nearly every part of the moringa plant, from root to seed, is valuable and has been used since early recorded history. It's highly nutritious, but that's just the start of moringa's benefits.
Ancient Greeks used the seeds to make an important oil called ben oil which has been a preferred medium for centuries to make perfume.
Moringa oleifera has appeared in scientific journals and has been studied for both medicinal and pharmacological benefits for decades. It holds promise in the treatment of cancer, diabetes, and hypertension, among many other ailments.
Moringa trees benefit the natural environment as well. They are highly productive, drought-resistant, and help with soil conservation.
In some parts of the world, they even assist in purifying water. I still can't get over plants that grow easily and offer so many benefits. I am amazed by the gift of such abundance.
🌳 Moringa tree Hawaii
Luckily, moringa trees thrive in Hawaii, where we live. I say luckily because they provide an abundant source of food. They can grow at an impressive pace beyond 10 feet in less than 6 months and keep going to 30 feet or more.
In fact, they grow so fast that it's a good idea to plan on regular pruning if you plant one. Summer Winds Nursery has lots of information on growing and maintaining your moringa tree.
Look at this sturdy fellow below who has been pruned many times, providing food for ten years.
🫐 Superfood Nutrition
If there is one food that truly deserves the title superfood, it is moringa. A little research reveals it has more vitamin C than oranges, more potassium than bananas, more vitamin A than carrots, more iron than spinach, more protein than yogurt, and more calcium than milk. Wow. That's just a start. The antioxidant and phytochemical composition of moringa is also exceptional.
Now the leaves are a regular item in refreshing green drinks at our house, and Murungai Keerai Minestrone Soup is a favorite winter soup. The fact that moringa has a mild yet delicious flavor makes it so easy to find ways to eat it frequently. It has become a true friend in our kitchen.
 🍽 How to eat moringa
The moringa plant has many highly nutritious and edible parts. I was first drawn to cooking the young pods of the tree. That's because originally, I learned about moringa from my friend who told me what a succulent treat they are in Filipino cuisine.
He described with a motion of his wrist just how you grasp one end of a cooked pod and suck the tender green bean-like seeds from the shell. Furthermore, he explained that the fibrous outside of the pods is too tough to chew. Hence they are tossed aside in the same way artichoke leaves are discarded.
After that, I coupled his advice with recipes I found in my Indian cookbooks. It wasn't too far from there to delicious "drumsticks" dripping with spicy sauces showing up on our table.
🌳 Moringa pods
The young pods of moringa oleifera are so fun to cook with! It takes a little preparation, and you must peel away the outer layers' strings before cooking. If you have ever pulled the strings from celery stalks, you'll find the technique easy to master.
Then oh, the delicious reward inside. I think it's accurate to liken the flavor of the insides of moringa pods to sweet green beans.
Harvest pods when they are about one-half an inch across. Once they are peeled and cut, they can be boiled, steamed, fried, or simmered in sauce. They are a must if you want the very best Sambar Spiced Indian Lentil Soup.
🍃 Fresh and dried leaves
Fresh leaves, commonly called murungai keerai in moringa's native India, can be eaten raw or cooked. The leaves blend easily, cook quickly and taste surprisingly mild mixed in recipes.
Thus, they can be used in salads and soups as well as added to rice, scrambles, or pasta dishes. One of my favorite raw preparations is Frozen Moringa Orange Julius.
Leaves can also be dried and powdered to blend into hot or cold teas, smoothies, or dips and sauces. Of course, it helps if your yummy dish already has a green color. Think of matcha tea, guacamole, or spinach dip.
🌼 Flowers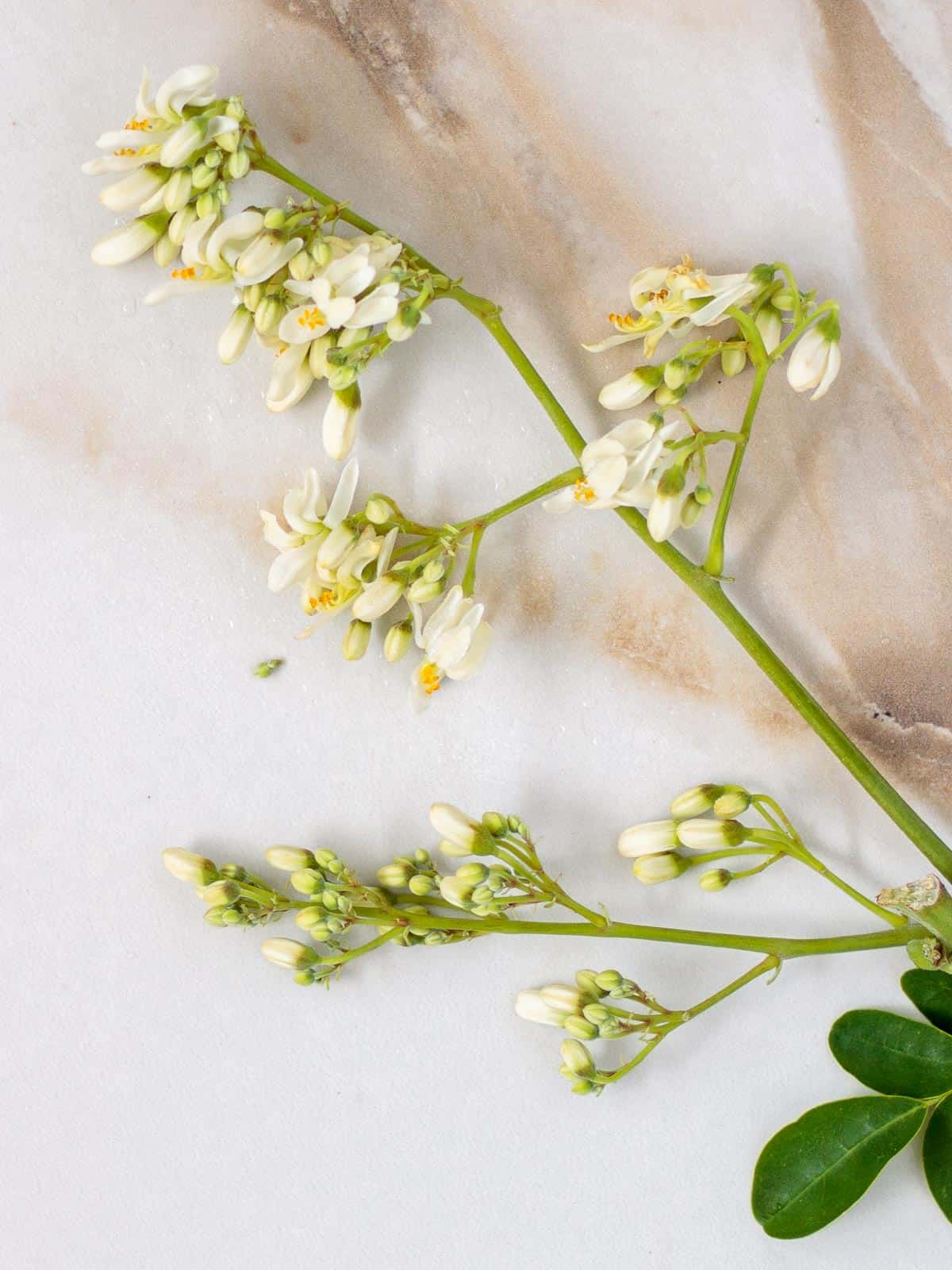 I haven't created any recipes yet with moringa blossoms. However, I have a fritter recipe in the works that I am eager to perfect. Many sources report the flowers have a mushroom flavor.
Like fresh leaves, they can be added to salads. Choose younger flowers for the best results.
The flowers are also dried in some parts of the world and are a highly valued tisane. Cover with boiling water and steep as you would chamomile tea.
🫘 Seeds and roots
Dried moringa seeds have a papery sheath that can be removed. They have a bitter, sweet flavor and are safe to eat raw or toasted. Small quantities are best, and they should be considered medicinal.
Oil from moringa seeds has a long shelf life and a higher smoke point than olive oil. Some manufacturers extract through cold-press methods producing healthy, food-grade moringa oil.
Perhaps someday, it may be more available globally for culinary use. Currently, in most countries, it is sold for skin and body health or taken as a supplement.
The name horseradish tree refers to the flavor of the dried, ground roots. I don't imagine digging up any roots soon. However, if I learn more about processing roots, I'll be sure to let you know!
👩🏼‍⚕️ Safety
I don't want to detract from this amazing plant's significant benefits, but you might want to note that eating too many flowers, and seeds especially, has a laxative effect.
Also, while the root is used as a spice, there is some indication the bark of roots can be toxic.
Always be one hundred percent sure of your plant identification if consuming foraged or wild plants. Finally, follow your doctor's advice when eating new or unfamiliar plants, especially if you are pregnant or taking any medications.
That being said, I hope you find many wonderful ways to enjoy The Tree of Life!
🍲 Moringa recipes
Enjoyed this post? Leave a comment, rate ⭐⭐⭐⭐⭐ it, and follow @poppyswildkitchen on Instagram. Aloha!