Gotu Kola Sambol is a bright green side salad made with finely chopped Indian pennywort, grated coconut, lime juice, and chilies. This fresh and easy recipe with a secret seasoning is suitable for vegetarians and vegans.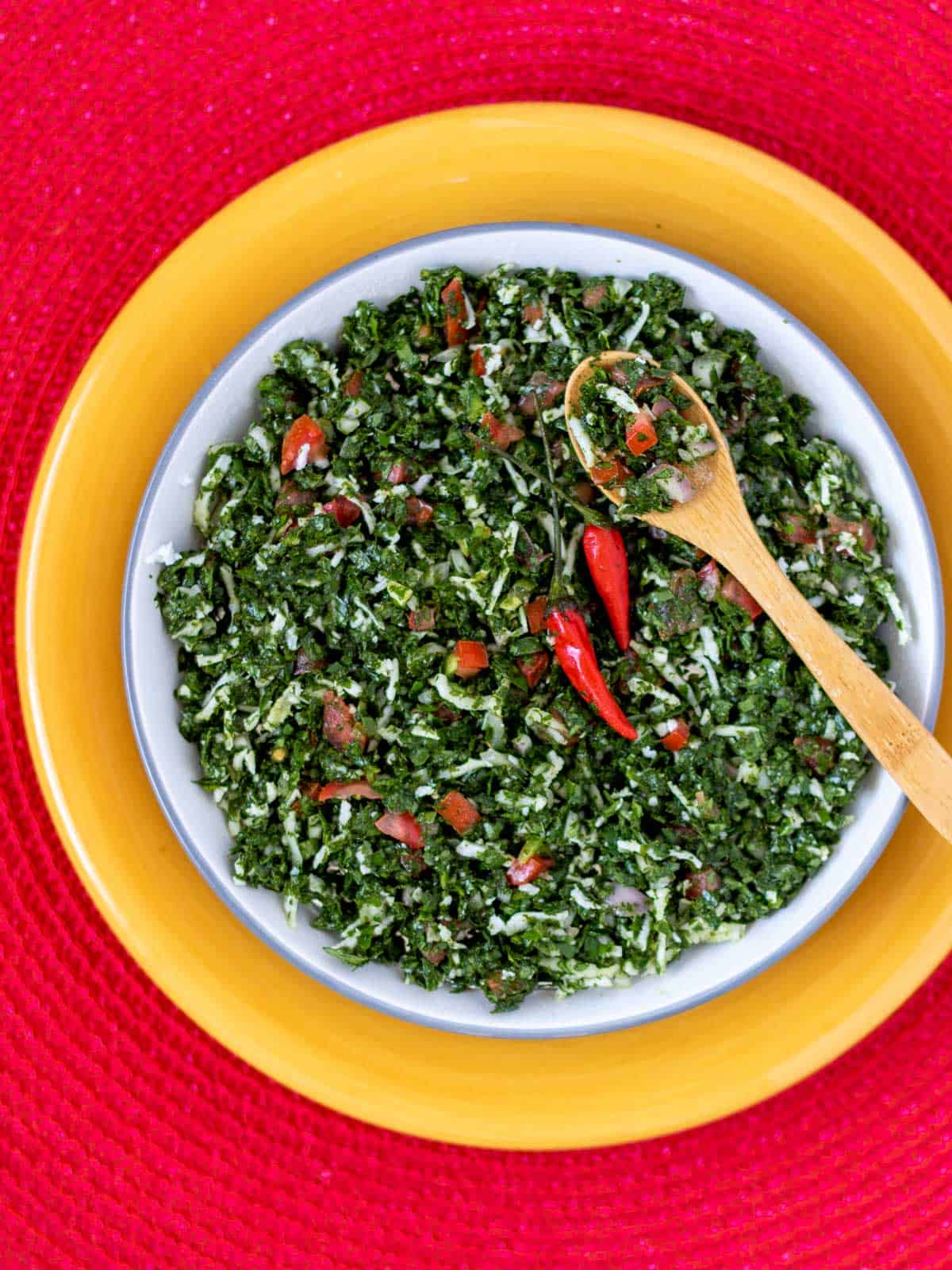 Sambol is extremely popular in Sri Lanka and I think it has some fun similarities to Italian gremolata and Argentinian chimichurri.
It makes a sensational accompaniment to plain rice and grilled foods like Huli Huli Seitan Skewers or rich entrees like Coconut Milk Pasta.
Jump to:
Why this recipe
Made without fish flakes or any meat products
Fresh intense flavor to compliment many foods
Exceptionally nutritious
Can be made from wild foraged centella asiatica
Customizable taste, from no heat to extremely spicy
Ingredients
Gotu kola - choose bright green perky leaves of centella asiatica.
Coconut - fresh grated is best, but shredded dry coconut can be used if rehydrated.
Shallots- more kick than dry bulb onions and sweeter than garlic - just right.
Green chili - adjust amount for the spicy level you like with notes in the recipe card below.
Lemon or lime - lime is traditional but lemon is pleasant and less bitter.
Vegan fish sauce - the signature ingredient that makes this plant-based recipe so tasty.
Step by step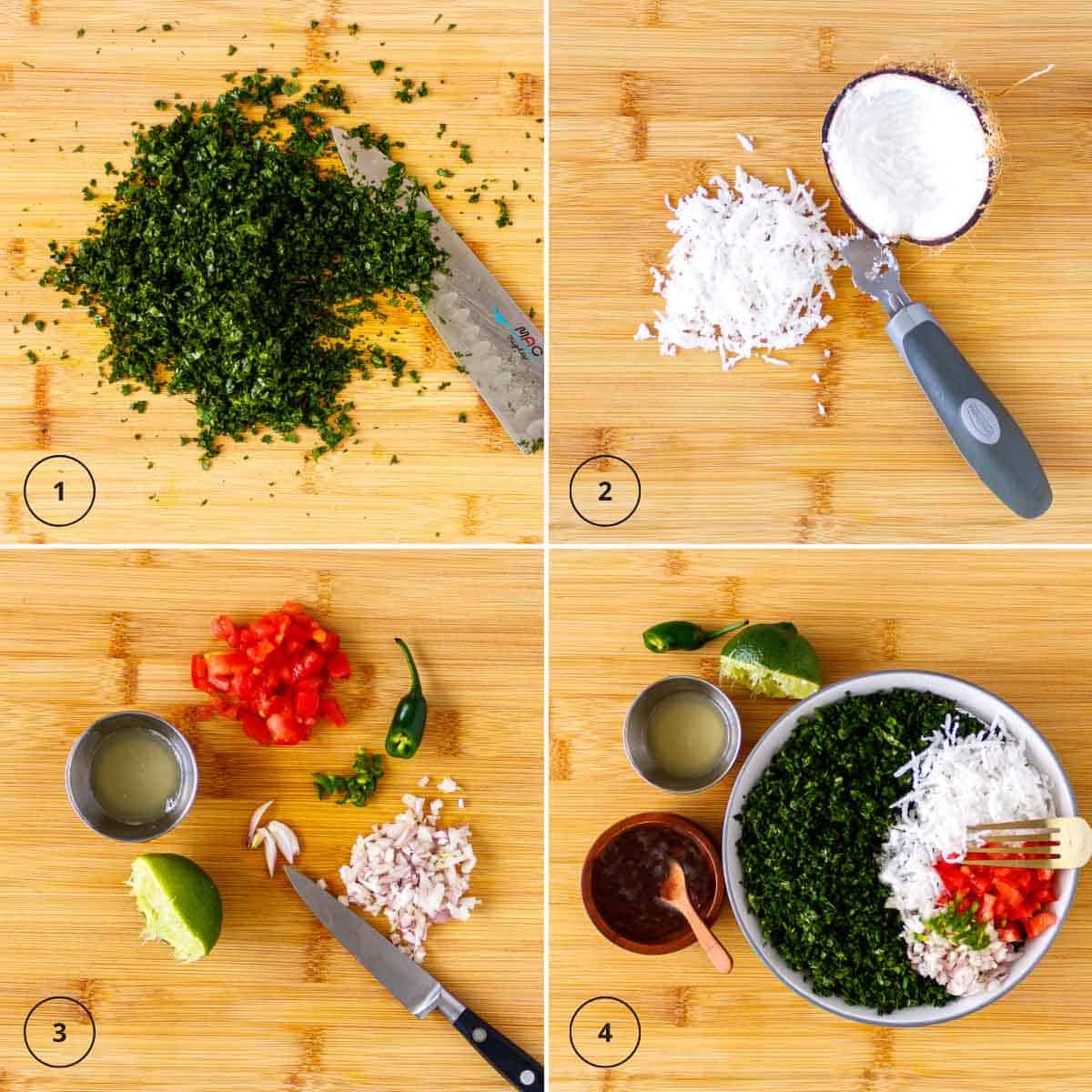 Finely chop fresh pennywort, (centella asiatica) leaves.
Grate fresh coconut.
Prepare shallots, lemon or lime juice, tomato and green chilies.
Mix chopped and sliced ingredients with citrus juice and vegan fish sauce.
What is gotu kola?
The scientific name for gotu kola, or pennywort, is centella asiatica. The greens are commonly known as vallarai keerai in Tamil, pohe kula in Hawaii, pegagan in Indonesia, and a myriad of other names around the world.
It's no wonder this amazing plant has so many names. It's a nutritious superfood found in the wild and in farmers' markets that has been valued for centuries around the globe for its health benefits.
Check out this post on centella asiatica if you would like to read about its benefits and discover more ways to prepare and eat it.
Grating coconut
My motto is fresh is always best, so here are a few pointers on grating your own coconut. While there are many ways to crack one open, I find this method simple and uncomplicated.
Equipment
Ordinary table knife with a serrated edge
Heavy chefs knife or cleaver
Bowl to catch coconut water
Citrus zester or coconut grater
Method
"Mark" the circumference of your coconut with a wet finger. Then run an ordinary table knife with a serrated edge around the mark to create a shallow groove.
Hold the shell in the palm of your hand over a bowl to catch the water inside. (If you prefer, you can pierce the eyes of the coconut and drain the water first.) Take a heavy knife or cleaver. Use the dull edge opposite the sharp blade to whack the shell as you turn it in your palm. DON'T USE THE SHARP END OF YOUR KNIFE AGAINST THE SHELL!
After several thumps the shell will pop right in half. It's easier than you might think.
Now you can scrape your fresh shreds for sambol. There are coconut graters of all kinds on the market. But if you don't have one, I find a citrus zester as shown in the photo above works fine for this recipe.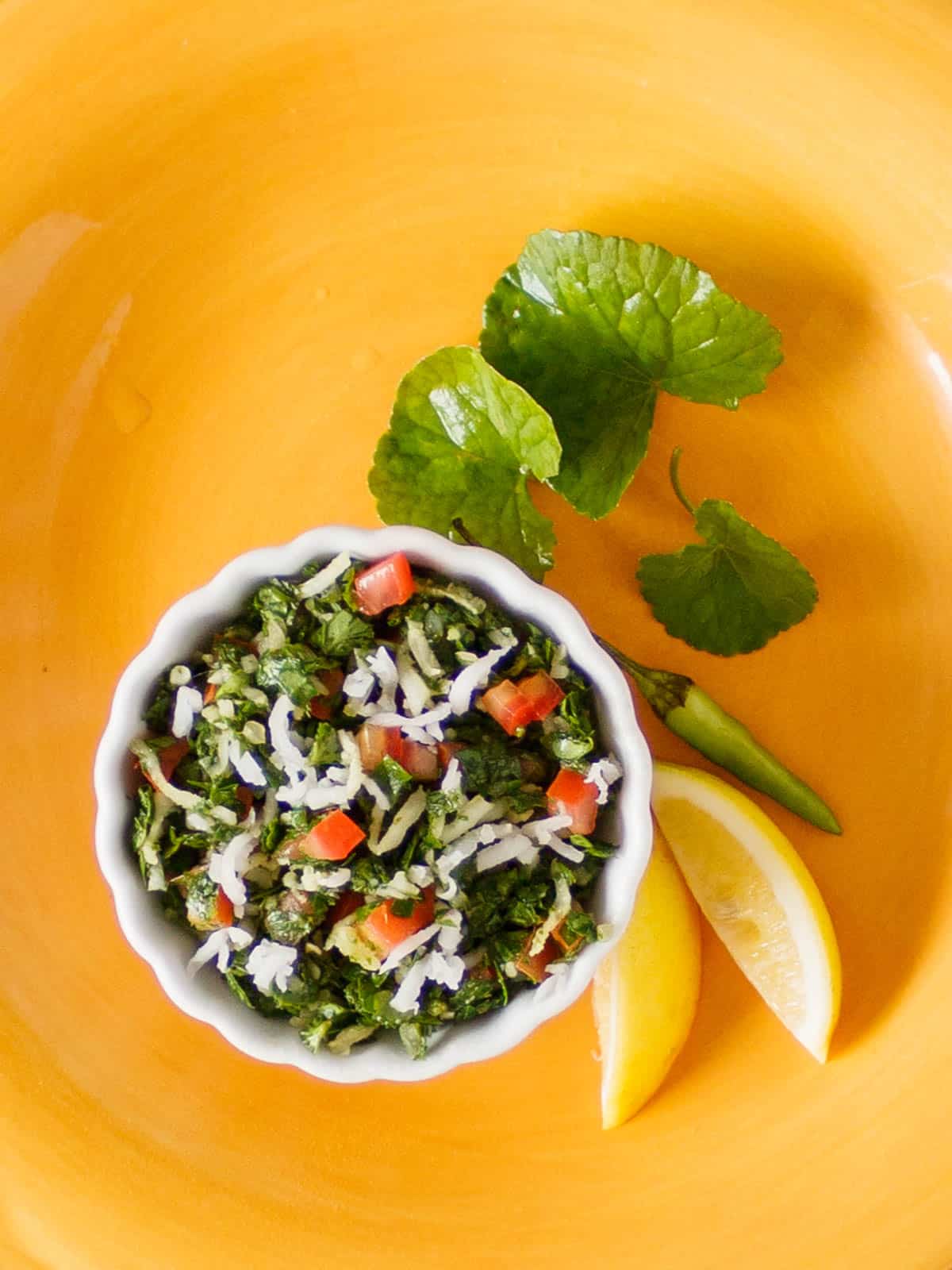 Tips and substitutions
Wash and spin dry fresh pennywort. Then remove stems before chopping to a fine texture.
Temper the spiciness of your sambol to taste. You can even leave chili out if you want.
Be extra careful opening a fresh coconut and don't use the sharp end of your heavy knife or cleaver to hit the coconut shell.
You can substitute fresh grated coconut with shredded dried coconut that has been soaked in warm water for 30 minutes.
The signature seasoning in this recipe makes all the difference. However, if you need a substitute you can use coconut aminos, light soy sauce or ½ teaspoon of sea salt to taste. You might want to add just a tiny pinch of brown sugar and garlic powder to compensate for the loss of flavor without the vegan fish sauce.
Freshly made sambol can be chilled and is best consumed the same day it's prepared.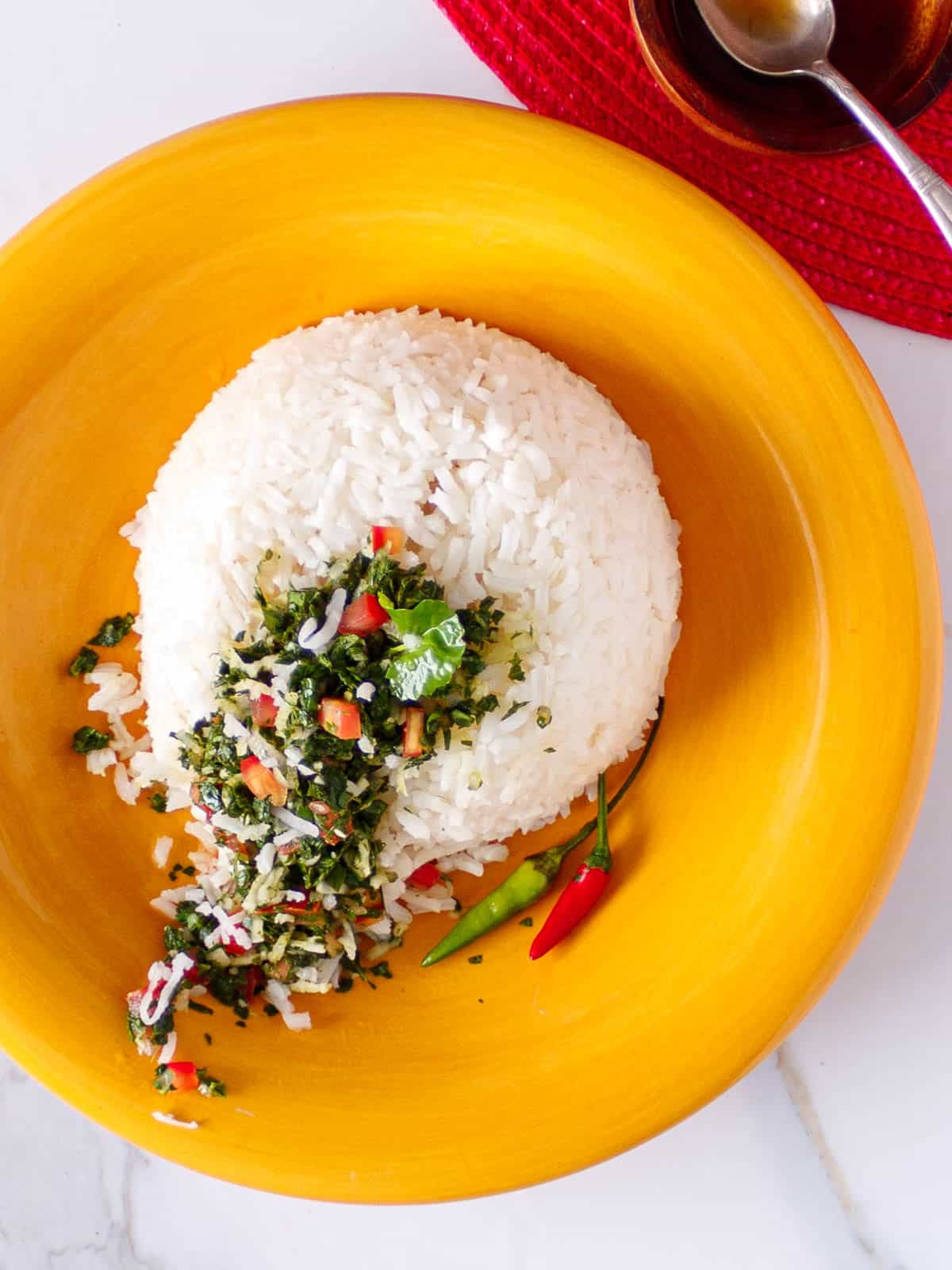 FAQ
Does sambol have Maldive fish flakes?
Maldive fish flakes are used frequently in Sri Lankan cuisine, thus it's included in many traditional gotu kola sambol recipes. You don't have to worry though if you are looking for a delicious condiment without fish as the seasoning in this recipe is completely vegan.
Is vegan fish sauce gluten-free?
You'll want to check the label if purchasing vegan fish sauce from the market. Not all brands are gluten-free. The Best Vegan Fish Sauce Substitute made with tamari in place of soy sauce is gluten-free.
More superfood recipes
Let us know if you try this recipe! Leave a ⭐⭐⭐⭐⭐ rating in the recipe card below and don't forget to tag a photo #poppyswildkitchenrecipes on Instagram @poppyswildkitchen Aloha!
📖 Recipe
Ingredients
4

oz.

fresh gotu kola leaves, about 4 cups well packed

½

cup

finely shredded fresh coconut

¼

cup

diced tomato

2

tablespoons

minced shallot

1

teaspoon

minced green chili or more to taste

2

tablespoons

vegan fish sauce

2

tablespoons

fresh-squeezed lemon or lime juice
Instructions
Instructions
Wash gotu kola well and spin dry. Remove stems from leaves and discard the stems. measure out

4

cups of leaves. Finely chop the gotu kola.

Grate fresh coconut and measure out

½

cup. See photos and tips in the recipe post for cracking open a coconut if needed.

If using dry shredded coconut, cover with warm water and soak for 30 minutes to rehydrate. Measure out

½

cup after it is soaked and drained.

Dice tomato, mince shallot, and squeeze lemon or lime juice.

Mince green chili. See recipe notes for adjusting the spiciness of your sambol to taste.

Mix all the prepared ingredients together. Adjust taste by adding more vegan fish sauce, lime juice, or chili if desired.
Serving
Serve sambol right away or chill and serve later the same day.
Notes
Ingredients
Gotu kola - Use the freshest leaves you can find. Wild harvest, garden-grown and farmers or Asian markets are all good sources.
Coconut - Fresh grated or unsweetened shredded coconut soaked in water 30 minutes and drained well.
Green chili - Small varieties like serrano, Thai or birdseye have the appropriate heat. Start with ½ teaspoon for 4 cups of gotu kola for medium spicy sambol. Use less or leave chilies out for mild sambol. Double or triple the chilies for extra spicy sambol.
Vegan fish sauce -tastes fabulous in this recipe. However, if you need a substitute you can use coconut aminos, light soy sauce, or ½ teaspoon of sea salt to taste. You might want to try a tiny pinch of brown sugar and garlic powder to compensate for the loss of flavor without fish sauce.
Preparation 
Gotu kola - Wash two to three times in plenty of water and spin dry. Remove stems and discard before chopping. Mince to a fine texture.
Coconut - Take care and see photos and tips in the post for opening a fresh coconut.
Serving - Gotu kola sambol can be chilled before serving but is best eaten the same day it is prepared.
Nutrition
Calories:
24
kcal
|
Carbohydrates:
2
g
|
Protein:
1
g
|
Fat:
2
g
|
Sodium:
360
mg
|
Potassium:
58
mg
|
Fiber:
1
g
|
Sugar:
1
g
|
Vitamin A:
11
IU
|
Vitamin C:
2
mg
|
Calcium:
6
mg
|
Iron:
1
mg
|
Magnesium:
11
mg
|
Phosphorus:
9
mg
d