Gotu Kola is a healthy perennial herb related to parsley, enjoyed as a leafy vegetable, condiment, refreshing juice, and longevity tea. It's been prized in Asia and Indonesia for centuries.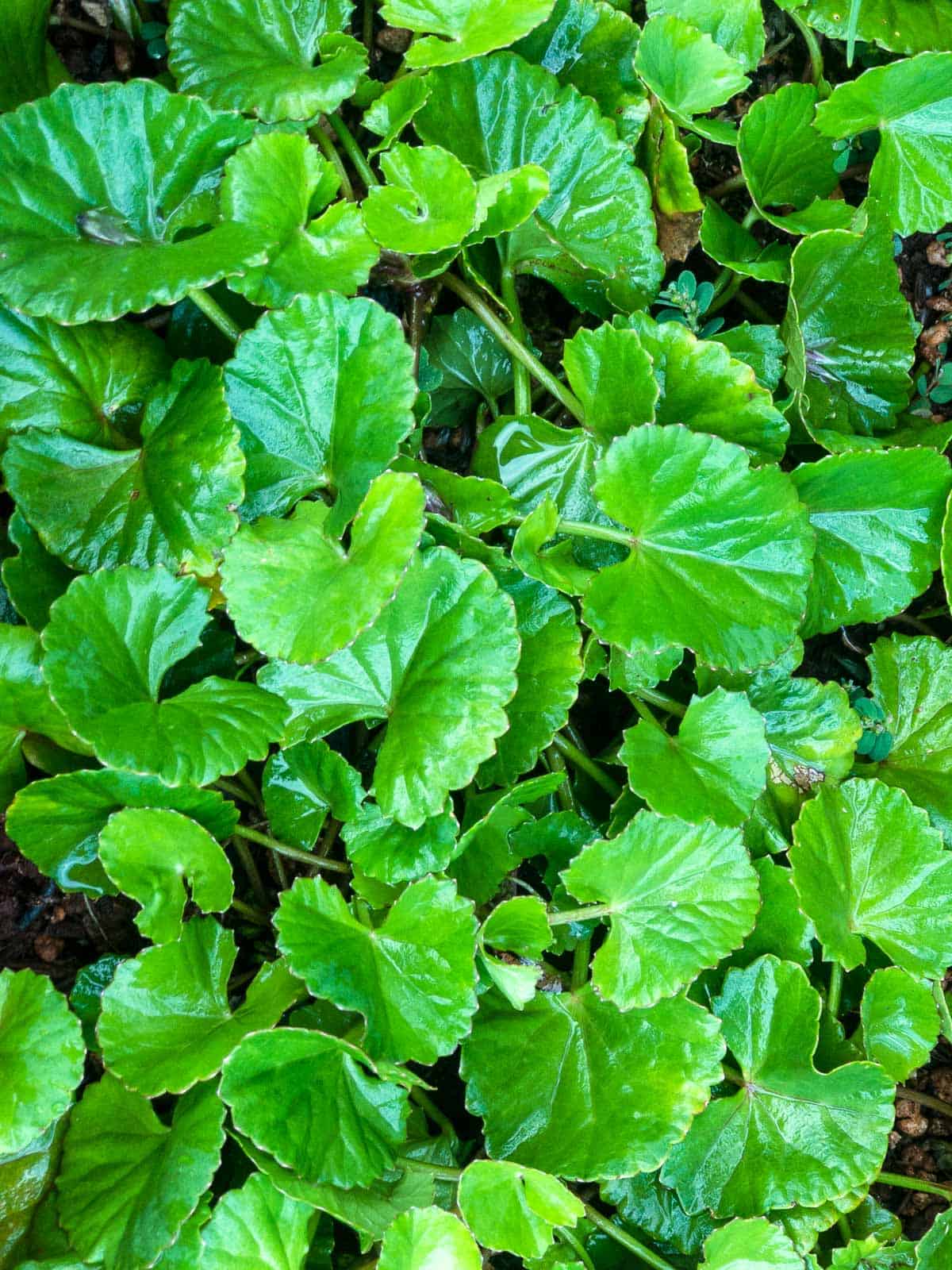 In fact, Sambol made with chopped fresh gotu kola leaves, coconut, and chili, is so popular it's considered a national dish in Sri Lanka.
Two of our favorite recipes here on the blog are Simple Onion Pulao With Basmati Rice and Starfruit, Celery, & Gotu Kola Salad.
Jump to:
🌿 Botanical       
FAMILY: Apiaceae
GENUS: Centella
SPECIES: C. asiatica
TYPE: Perennial herb
NATIVE: South East Asia, Indian subcontinent
DISTRIBUTION: Pantropic, wetlands
📋 Common names
HAWAIIAN - pohe kula
ENGLISH -Indian pennywort, Asiatic pennywort, penny weed, spade leaf, marsh pennywort, hydrocotyle
INTERNATIONAL - brahmi, vallarai, thankuni pata, pegagan, goyu kola, tohetupou, tono, tododro, togo, moa, fause violette, sombrerito, tohetupou, tsubo-kuga, kodavan, leui gong gen
🌟 Benefits
Nutrition and Healing
Fresh centella asiatica has exceptionally high levels of vitamin A, vitamin C, and iron, as well as other nutrients listed in this International Food Research Journal. Its deep green color is certainly a giveaway of its nutritional value.
In fact, centella asiatica has been highly regarded in China, India, and Indonesia for thousands of years for its health benefits and traditional medicine. In particular, it is known to preserve memory and support a long life.
Mount Sinai discusses the medicinal uses of gotu kola with precautions and research notes if you want to read more contemporary information on the subject.
Biodiversity
In the series "A Life On Our Planet", David Attenborough illustrates the devastating loss of our planet's biodiversity in his lifetime. The series brought me to tears, but ultimately the program has a message of hope.
In summary, David proposes 5 key moves that would heal our climate, bring back forests with wildlife, and ensure a future for children born today.
Can you guess what one of those 5 moves is? If you guessed a predominantly plant-based diet for the entire earth's population, you are right. I do hope this message reaches far and wide.
This is one reason I love to substitute gotu kola for parsley. I believe establishing a relationship with wild plants as a food source is a powerful part of an evolving plant-based diet.
🪴 Growing
Gota kola has been a great ally in my garden plot. I encourage it to grow between my larger plants. In this way, it forms a dense carpet that keeps unwelcome grass and other weeds at bay.
It does seem to prefer a little shade and the cooler season here on the island. It will persist and spread if it doesn't go too long without water.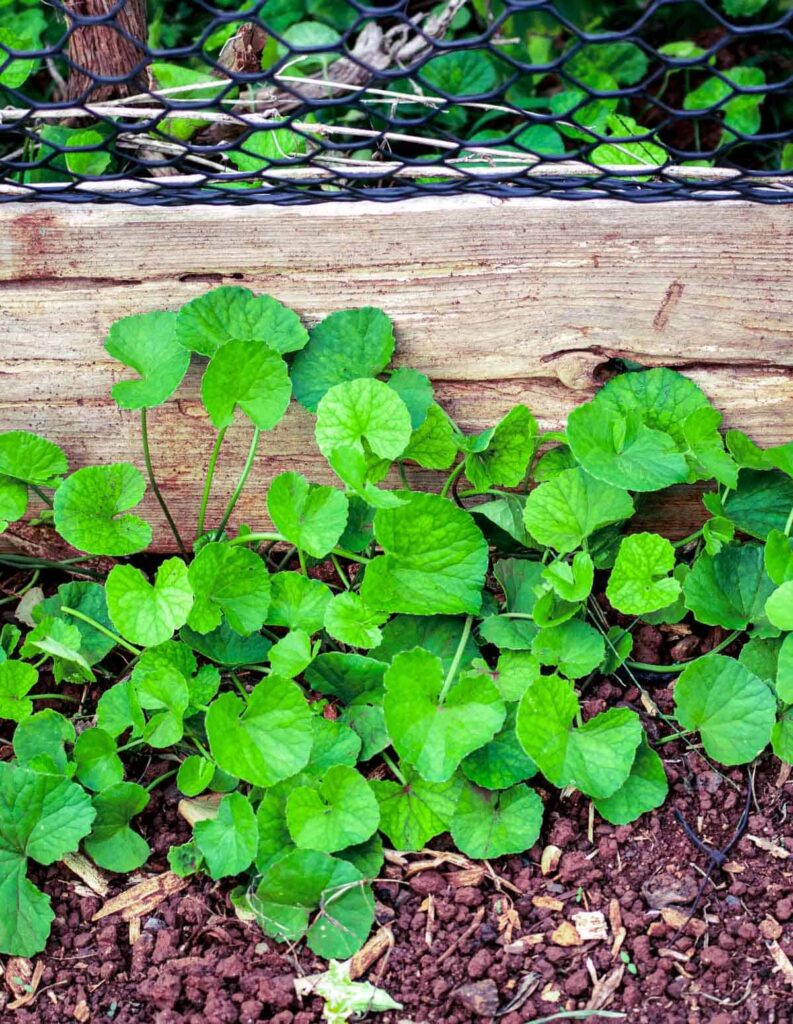 So, to keep it alive, I prioritize it receiving water during a drought. I like to help it stay as green and lush as possible. That way, when I am ready to pick it, I know it will be choice and delicious.
Would like to start your own plants at home? You can order seeds and read some helpful information on growing centella asiatica at Strictly Medicinal Seeds company.
👩🏼‍🌾 Foraging
Starting out
If you happen to live in Hawaii or another region where centella can be found growing in the wild, you have a great opportunity to harvest gotu kola in its natural habitat.
The easiest and safest way to start collecting edibles outdoors is with a trusted friend who is an experienced forager. Then you can harvest together to learn what's available in your area.
Lookalikes
If you don't have a foraging buddy, your identification tasks become a lot more fun. There are many look-alikes in the wild edible kingdom, and some are deadly toxic.
For that reason, you want to be one hundred percent sure of a plant before consuming it. If that sounds scary or difficult, it doesn't have to be.
I propose it's part of what makes foraging both a challenge and a beautiful adventure. It's your turn to be a researcher, gatherer, and naturalist all in one. With practice, learning to forage safely is entirely doable.
Even though some dichondra species and pilea peperomioides, also called the Chinese money plant, have similarities in appearance to centella asiatica, closer inspection reveals important differences.
Identify
Centella has a spreading growth pattern, and its bright green leaves have a distinctly scalloped edge. Each leaf has its own stem joined with others at nodes. The tiny pink and white flowers and seed pods grow at the base of the plant near the roots.
Google Lens is a handy tool to start with identification. You can easily download the app and take a snapshot of a plant with your cell phone.
Whenever possible, include leaves, flowers, fruit, seeds, bark, and stems. The more parts of a plant you involve, the better your chance of an accurate result. Then the app will give you possible matches.
It's not an exact science, so that's where your sleuthing skills come in. For example, when I take a photo of gotu kola, Google Lens gives me three possibilities. I can eliminate one just by looking at it.
Then I am ready to investigate the remaining candidates by doing some reading or Internet searching.
Once I find what I think is a solid match, I take that result and verify it by cross-referencing with at least two other websites or books. You can find a short list of resources I have found particularly helpful on Maui at the bottom of this post.
How to eat
Thinking of centella asiatica as an herb like parsley is one of the easiest ways to incorporate it into recipes. You can fold it in as a chiffonade or sprinkle it over just about anything as a pretty and nutritious garnish.
People in Asia and Indonesia have created some delicious dishes from fresh gotu kola. The leaves are used both in raw juices and dried for tea. A few time-honored ways to eat centella include:
Sambol - a very popular side salad made with finely chopped fresh centella, shredded coconut and chilies.
Kola kenda - porridge made with gotu kola juice, rice and coconut milk, traditionally served before breakfast and as a healing food.
Thankari patar bora - similar to pakora, are fritters made with spices and a lentil-based batter.
Nuoc rau ma and bai bua bok - two names for refreshing cold beverages made from gotu kola blended with water, strained, sweetened and served over ice.
I can't wait to try all of the dishes above and the many inspirations that follow. I'll keep you posted on the growing list of recipes!
🥗 Gotu kola recipes
📖 Resources
This is only a short sampling to help beginners get a taste for collecting wild foods. You may become hooked on foraging once you gain a little experience. Harvesting wild edibles is a truly rewarding endeavor!
BOOKS:
Kallas, John Ph.D. (2010). Edible Wild Plants. Layton, Utah: Gibbs Smith
Whistler, Dr. W. Arthur (1995). Wayside Plants of The Islands. Honolulu, HI: Isle Botanica
Savage, Sunny (2015). Wild Food Plants of Hawaii. Charleston, SC: CreateSpace
Facciola, Stephen (1990). Cornucopia, A Source Book of Edible Plants. Vista, CA: Kampong Publications
WEBSITES:
👩🏼‍⚕️ Safety
Always be one hundred percent sure of your plant identification if consuming foraged or wild plants. Finally, follow your doctor's medical advice when eating new or unfamiliar plants, especially if you are pregnant or taking any medications.
🌴 More edible tropical plants
Enjoyed this post? Leave a comment, rate ⭐⭐⭐⭐⭐ it, and follow @poppyswildkitchen on Instagram. Aloha!