This easy recipe is a warming pumpkin red curry noodle dish made with roasted squash, rich coconut milk, and red chili paste.
Fresh lemongrass, shallots, Makrut lime leaf, and Thai basil give it a bold flavor, and it's equally delicious with butternut squash or any sweet variety of pumpkin. Like my Thai Green Curry, it's adjustable from mild to extra-spicy and is completely vegan.
Jump to:
🏆 Top tip
Not overcooking the pumpkin keeps it from falling apart in the curry.
⭐ Why it works
Simple recipe
Oven-roasted pumpkin
Creamy coconut red curry
Fresh lemongrass and Thai basil
Gluten-free brown rice noodles
Vegan entree
📋 Ingredients
Pumpkin - pumpkin, kabocha, black futsu, and butternut squash are all good varieties.
Coconut milk - fresh frozen Hawaiian Sun brand without guar gum or additives is our absolute favorite because it's extra thick and creamy.
Noodles - Annie Chun's 100 percent whole-grain, gluten-free brown rice pad Thai noodles are superb.
🌶 Seasonings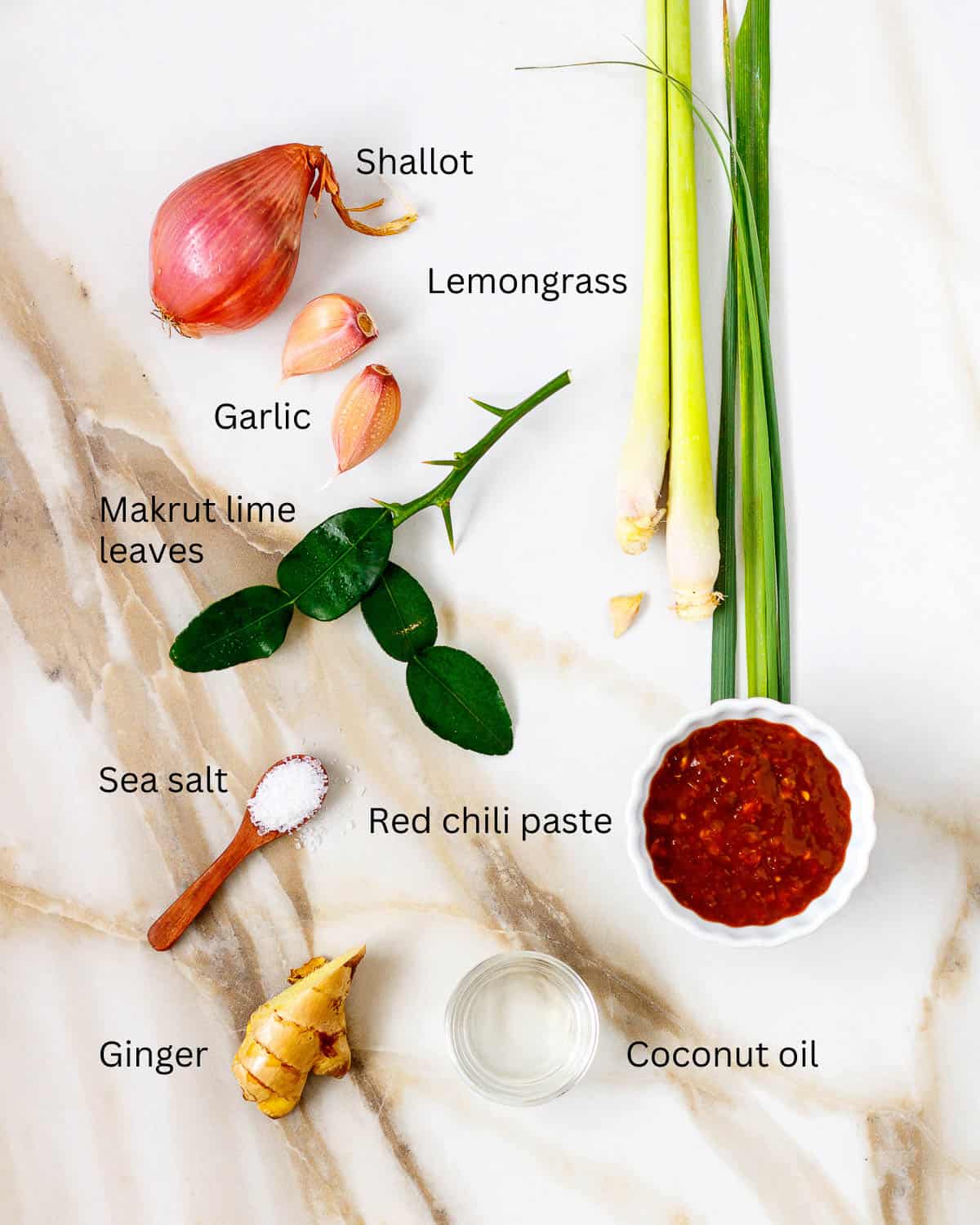 Lemongrass - fresh lemongrass enhances the recipe to make authentic-tasting red curry.
Shallots and garlic - add depth to the sauce.
Ginger - use peeled, fresh raw ginger root.
Red chili paste - our favorite is Indonesian sambal oelek, made with red chili, salt, and vinegar. Adjust the amount to your taste.
Makrut lime leaves - there's no substitute. Omit if unavailable.
Sea salt -brings out all the other flavors. Adjust the amount to taste.
Cashews - whole raw cashews fry up golden in coconut oil.
Coconut oil - just a little is enough to saute cashews and fry spices.
Thai basil - Be sure to include or substitute other types of basil if necessary.
🔪 Steps
Prep ingredients
Toss pumpkin cubes lightly with coconut oil and salt before roasting.
Toast cashews in a skillet.
Smash the bulb end of peeled lemongrass stalks and mince them.
Mince shallots, grate garlic and ginger, and tear Makrut lime leaves.
Roast pumpkin
Roasting sweetens the pumpkin, so you'll want to do this while making your sauce and boiling noodles.
You can start with pre-cut cubes of squash from the market, but make sure they aren't frozen, or they will be too mushy to roast once thawed.
Even better, begin with whole raw squash and cut it into cubes yourself. Of course, that requires peeling first, and I understand if you don't enjoy wrestling the hard skin of winter squash with a sharp knife.
So, I've written a post on How To Cut Kabocha Squash with tips to make the task much easier. You'll be surprised what does the trick!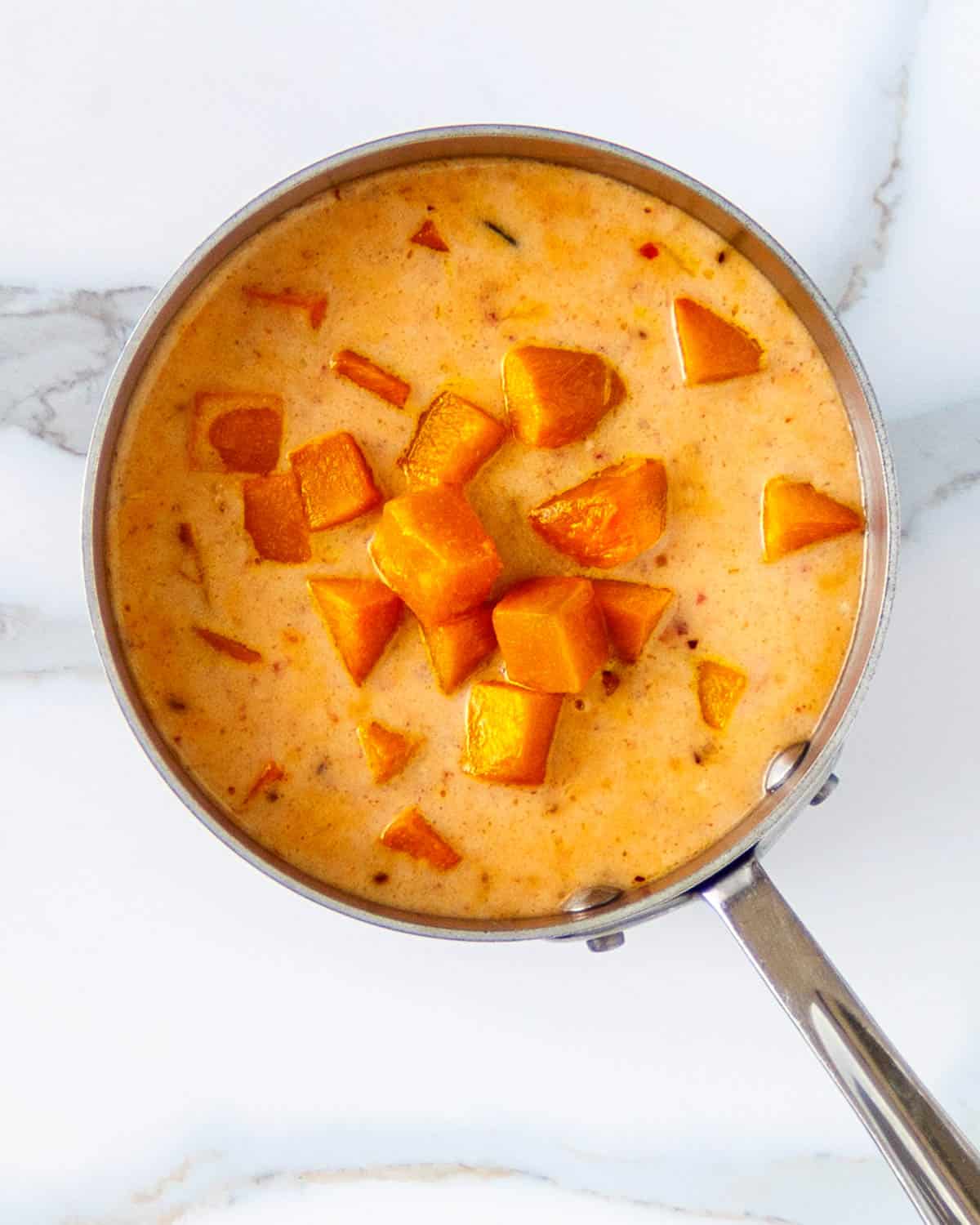 The beauty of this pumpkin red curry is it tastes like you spent 2 hours with a mortar and pestle grinding aromatic spices.
However, by combining red chili paste with choice, fresh ingredients, you can have a first-rate pumpkin curry with Southeast Asian flavor in no time.
The creamy sauce for this vegan noodle dish is quick to make and only requires three simple steps before it's ready to spoon over noodles.
Make coconut red curry sauce
Saute prepared spices in coconut oil.
Stir in coconut milk and red chili paste.
Add roasted pumpkin.
Serve red curry over noodles with toasted cashews and Thai basil.
💭 What kind of pumpkin?
This recipe for vegan pumpkin red curry came about because a dear friend gave me a gorgeous hunk of Japanese black pumpkin grown in her garden. Have you ever seen a futsu black squash? They are the most intriguing pumpkins.
My friend's squash was so large she divided it up and gave sections to friends. I still ended up with over two pounds of fresh, organic deliciousness.
The sweetness of her organic pumpkin contributed significantly to the recipe I created. In fact, the dish was so incredible I was compelled to plant seeds from the squash in my garden, as you can see from the photograph above.
However, I have some good news for you. I have made this meal with great success several times since, with different varieties of pumpkin and winter squash. Everyone at the table loves this delicious vegan curry topped with toasted cashews.
To make it yourself, choose a squash with smooth, dense flesh like butternut or kabocha. If you are lucky enough to find it, use Japanese futsu black squash.
👩🏻‍🍳 Expert tips
Roast pumpkin - Cook squash until it can be pierced with a long fork but only a few edges have browned. You want the pumpkin to be a little firm because it will soften further in the hot coconut milk before it's served.
Fresh frozen - Rich coconut milk without additives from the freezer case is best for this pumpkin red curry recipe.
Mince - Chop lemongrass and shallots very fine and grate the garlic and ginger to make a smooth pumpkin Thai curry sauce.
Make ahead - This comforting vegan red curry is best served the day it is made. If you want to make it in advance, undercook the pumpkin slightly and store the roasted pumpkin and red curry sauce separately. When you're ready to eat, combine the pumpkin with the coconut red curry and heat them gently while boiling your noodles. Then, assemble the entree according to the recipe instructions.
🍽 Serve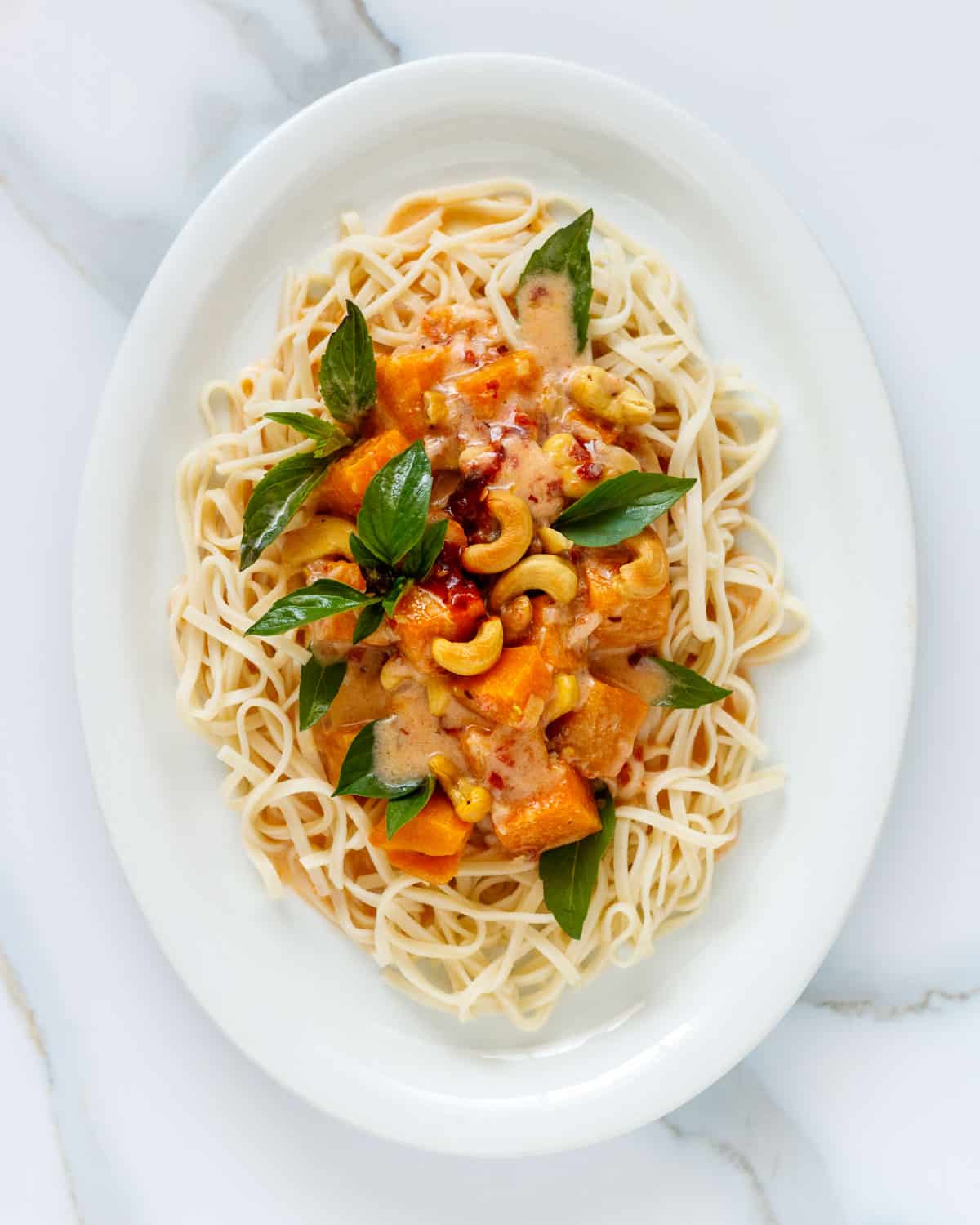 To serve vegan pumpkin red curry, have your toasted cashews ready, along with extra fresh Thai basil leaves and red chili paste. Keep the curry warm while boiling your quick-cooking noodles.
Divide hot noodles onto individual plates and top them with the sumptuous coconut red curry. Garnish each serving with golden cashews and a generous splash of fresh Thai basil.
Place the remaining basil and red chili paste at the table for diners to use as desired.
💭 FAQ
Can I use other types of pasta?
Yes, choose whatever brand you like, gluten-free or not. I recommend thin, long, pad Thai-style noodles.
Is makrut lime the same as kaffir lime?
Yes, they are the same citrus variety. However, out of cultural respect,  I don't use the term kaffir. That's because, historically, it has been used as a racial slur and is a misplaced name for this citrus.
🍛 More Southeast Asian recipes
Enjoyed this post? Leave a comment, rate ⭐⭐⭐⭐⭐ it, and follow @poppyswildkitchen on Instagram. Aloha!
📖 Recipe
Pumpkin Red Curry Noodles
Pumpkin Red Curry Noodles in rich coconut milk. Seasoned with shallot, red chili paste, fragrant lemongrass, and Makrut lime leaves. Easy, whole food, dairy-free, and gluten-free recipe.
Print
Pin
Rate
Ingredients
1

lb.

pumpkin

cubed and roasted

6

ounces

dry noodles

brown rice pad Thai

1

TB

coconut oil

divided

1

TB

lemongrass

fresh, minced finely

1

TB

shallot

minced

2

whole cloves

garlic

grated

1

tsp.

ginger

peeled, grated

2

whole

Makrut lime leaves

½

tsp.

sea salt

1-3

TB

red chili paste

to taste

12

ounces

coconut milk

fresh frozen, thawed about 1 ½ cups

½

cup

cashews

raw

⅓

cup

basil leaves

fresh, Thai
Instructions
Roast pumpkin
Toss the peeled and cubed pumpkin with a light sprinkle of coconut oil and a pinch of salt. Spread in a single layer on a cookie sheet and roast at 425 degrees. Depending on the freshness of the squash, this can take anywhere from 10-30 minutes. Take the squash from the oven when tender and starting to brown but not mushy. Take care to not overcook the pumpkin.
Toast cashews
While the pumpkin roasts, heat

1

teaspoon of coconut oil in a skillet over medium heat. Add the cashews and stir while cooking until golden. 
Preheat water to boil noodles
Heat a pot with 6 cups of water to boiling. Turn off the heat and keep it warm while preparing seasonings for pumpkin red curry.
Prepare lemongrass and seasonings
Trim the bulb end and top of the lemongrass to leave 4-inch stalks. Peel away tough outer leaves and discard them. Smash the bulb end of the lemongrass and chop it very fine. Measure out

1

tablespoon.

Peel ginger root, garlic, and shallots. Mince the shallots and grate the ginger root and garlic on a grater with small holes. Tear makrut lime leaves in half.
Make coconut milk red curry sauce
Heat

2

teaspoons of coconut oil in a saucepan over low heat. Add lemon grass, shallot, garlic, ginger, Makrut lime leaves, and salt. Stir quickly until spices are fragrant. Take care not to burn the garlic.

Add coconut milk and red chili paste. Adjust salt and chili paste to the desired level of spiciness. Gently heat the red curry sauce and keep it warm while cooking the noodles, but don't allow it to boil.
Cook noodles
Bring preheated water to a boil and cook noodles according to the directions on the package.
Assemble pumpkin curry with noodles
Place drained noodles on four plates. Spoon pumpkin curry over the top of the hot noodles. Top with roasted cashews and fresh Thai basil.
Serve
Serve with extra red chili paste and Thai basil on the side.
Store
This comforting red curry is best served the day it is made. If you want to make it in advance, undercook the pumpkin a little and store the roasted pumpkin, red curry sauce, and cooked noodles separately. Then, heat everything and assemble it according to the recipe instructions.
Notes
Ingredient Tips
Premium frozen coconut milk without any gums or additives makes the best curry.
Fresh lemongrass and makrut lime leaves are essential to this curry. There really isn't any substitute for either.
If you can't find makrut lime leaves, you can leave them out. The curry will still be delicious.
Start with one tablespoon of red chili paste for a mild curry, and use up to four tablespoons for a spicy curry. Serve extra red chili paste at the table for even more heat.
Preparation Tips
Preparing lemongrass before chopping will release powerful oils for maximum flavor. Cut stalks of lemongrass to 4 inches long. Peel off the tough outer layer of lemongrass and use the tender white part nearer the bulb end. Chop it very fine.
Heat coconut milk sauce gently and take care it doesn't boil. Boiling will destroy delicate lemongrass flavors and change the texture of the coconut milk. 
Nutrition
Calories:
481
kcal
|
Carbohydrates:
53
g
|
Protein:
8
g
|
Fat:
29
g
|
Sodium:
332
mg
|
Potassium:
737
mg
|
Fiber:
2
g
|
Sugar:
5
g
|
Vitamin A:
9767
IU
|
Vitamin C:
13
mg
|
Calcium:
60
mg
|
Iron:
5
mg
|
Magnesium:
109
mg
|
Phosphorus:
299
mg