Frozen Moringa Drink with orange and pineapple is a frosty pick-me-up reminiscent of the original orange Julius. I turn to it when I am looking for an afternoon recharge or need a boost. If I'm a little dehydrated or headachy, this refreshing tropical smoothie always does the trick.
Like my Papaya Banana Smoothie With Turmeric, it's made with whole foods chock full of antioxidants, electrolytes, minerals, and more.
Jump to:
🏆 Top Tip
Measure plucked moringa leaves before packing them into freezer containers and label the container with the amount. That way, it won't matter if leaves wilt upon thawing. You'll know just how much to use in your recipe.
⭐ Why it works
Naturally sweet
Frosty consistency
Superfood nutrition
Easy recipe
Unlike gloppy smoothies, which you can probably tell I am not a fan of, this frozen pick-me-up has a light, icy consistency.
Banana makes it creamy, and it's just substantial enough to scoop with a spoon. But after that, the sweet fruit, moringa oleifera, and crushed ice melt on the tongue. It's an excellent thirst quencher.
It tastes remarkably like the iconic Orange Julius drink so popular in the 70s and 80s. However, unlike the original Julius, this frozen moringa drink it's dairy-free, sugar-free, and of course, has no artificial additives.
📋 Ingredients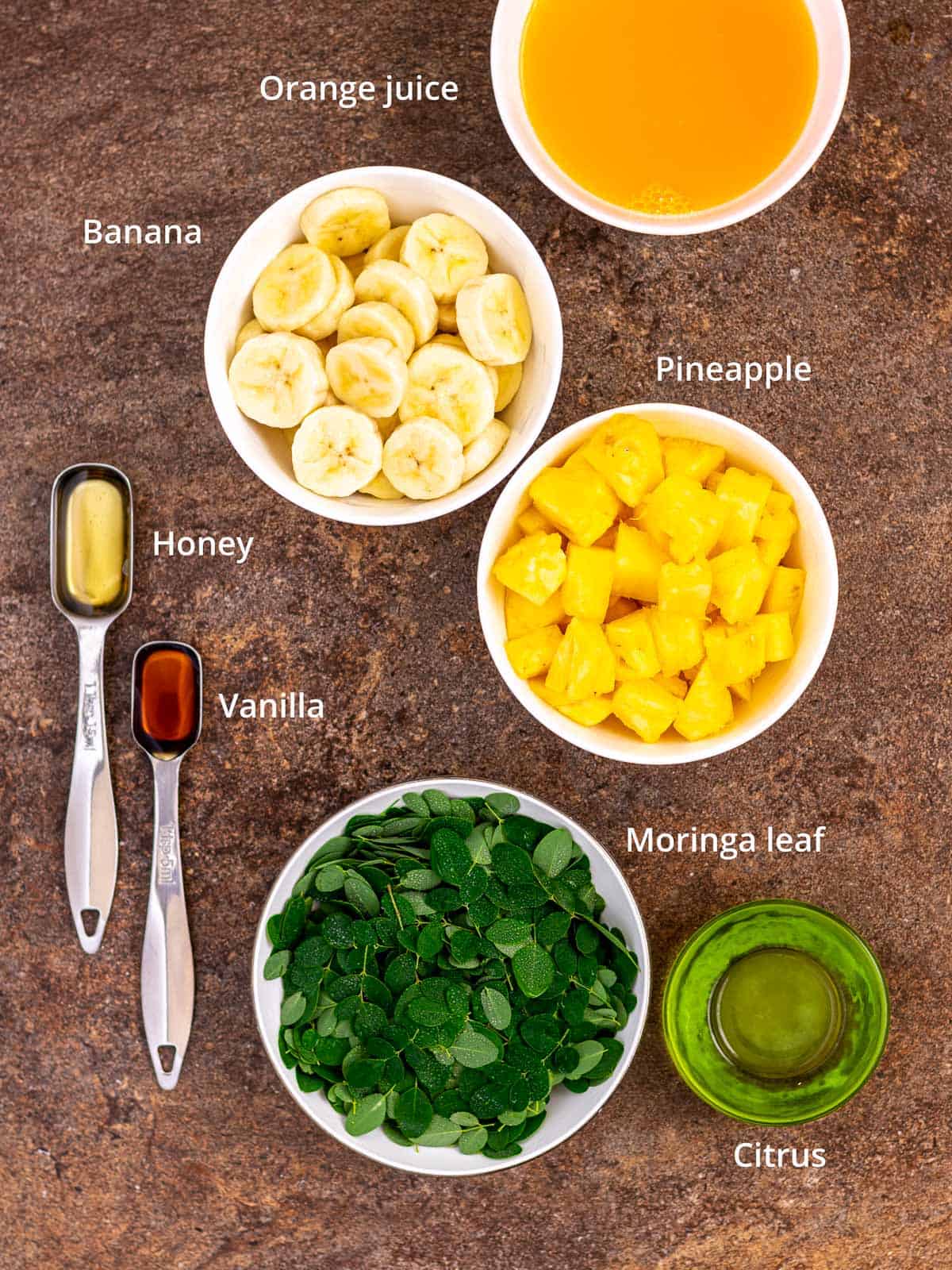 Orange juice - fresh squeezed will make a difference.
Banana - makes it creamy.
Pineapple - fresh or frozen chunks. No cans, please.
Vegan honey can be substituted with agave or maple syrup.
Vanilla - is essential for that Orange Julius flavor.
Moringa leaves - Can be fresh or frozen. See tips below on freezing moringa.
Citrus - A touch of tart calamansi lime or lemon juice perfects the recipe.
🌿 How to eat moringa leaves
Fresh raw moringa leaves, also called murungai keerai and malunggay, are not only edible but highly nutritious. It's amazing how such a hefty addition of nutrient-dense moringa leaf blends right in with the tropical flavors in this vibrant smoothie.
To eat fresh moringa leaves, wash whole sprigs with a light spray nozzle or swish them in a sink filled with cold water. Give the leaves a good shake and let air dry in the refrigerator. This prepares them for easy removal from stems.
Then, take the perky leaves from your refrigerator and strip them from their stems. It's ok if a few stems are included in the prepped leaves.
Now your fresh moringa is ready to be blended into smoothies, tossed in salads, mixed into spreads, or added at the end of cooking to stir-frys and soup. Murungai Keerai Minestrone is one of our family's favorites.
These are just a few suggestions, and fresh moringa is so mild there truly isn't any limit to the recipes you can create with it.
It just happens to be the middle of a hot afternoon as I am typing up this post. I can honestly say my mouth is watering, and I am contemplating a pause in writing.
Recollecting how much I enjoy this frozen moringa drink is posing to be a challenge. Dare I take a break from typing? Now I am wondering if I have some fresh moringa leaves in the refrigerator or freezer.
❄️ How to freeze moringa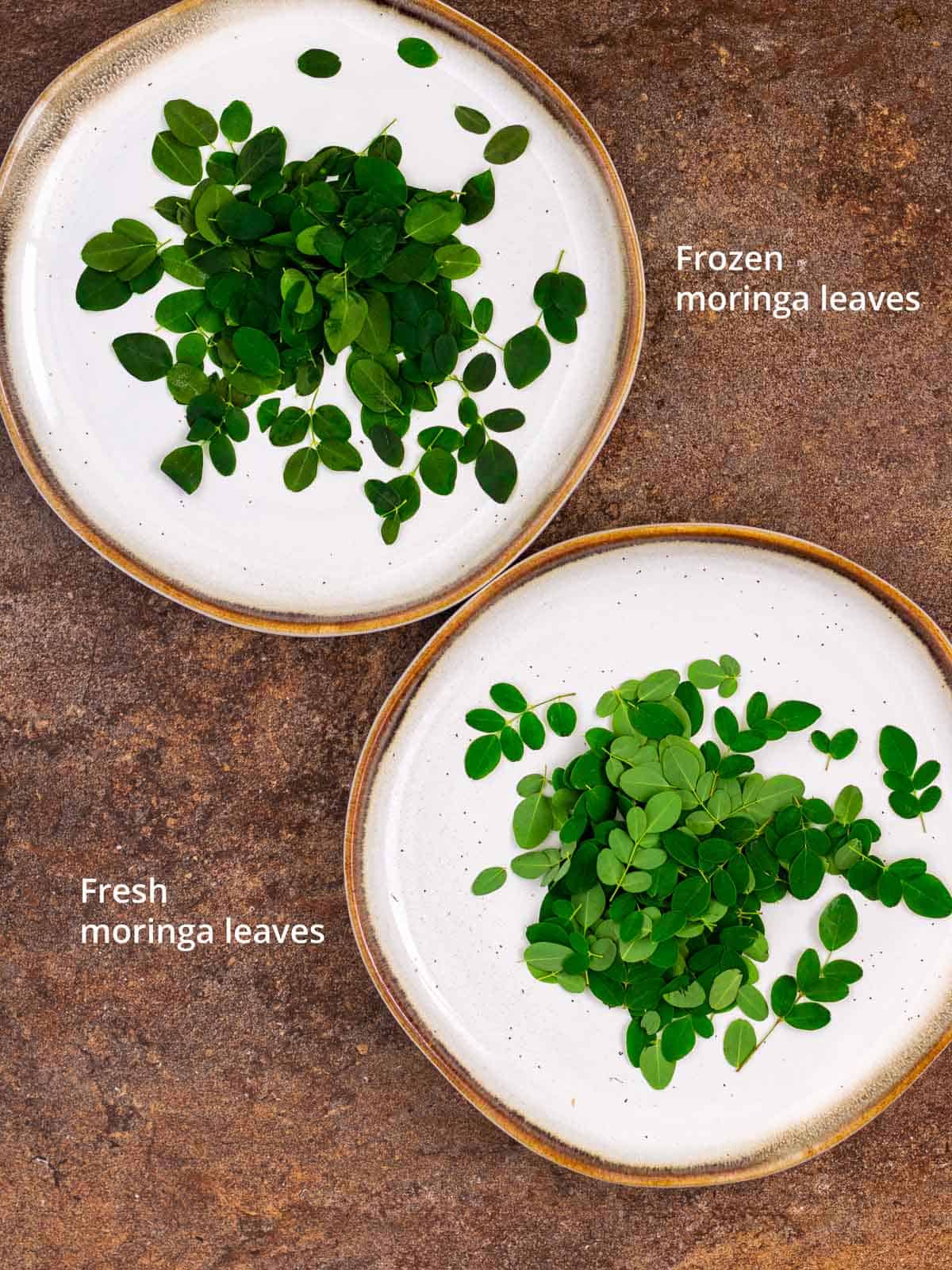 Washed and dried leaves can be stored in a refrigerator for about 2 weeks. If you won't be using them right away, leave branches intact, dry them well and store them in an airtight container or seal them in a plastic bag.
Even though they are tender, moringa leaves freeze just fine if you wash, dry, and remove them from their stems before placing them in a freezer.
Any container with a tight lid works well and will protect fresh frozen leaves for up to 6 months. They will wilt slightly when they thaw, so they can't be used for salads.
However, their taste and exceptional nutritional value are just the same as unfrozen leaves added to soups or blended into drinks.
💭 FAQ
What can I substitute for fresh moringa leaves?
You can substitute very mild baby spinach for the moringa leaves. Your frozen drink won't have the same superfood power or taste quite as lovely. But the upside is, that spinach helps a sluggish digestive system as moringa does.
Can I substitute dried moringa powder?
Yes. Again the flavor won't be quite as delicious, but you'll still have a healthy tropical smoothie. Substitute one tablespoon of high-quality dried moringa powder for one cup of fresh moringa oleifera leaves.
Is it vegan?
Yes. Use vegan honey, vegan-friendly evaporated cane sugar, agave syrup, or maple syrup as your sweetener. All the other ingredients in this moringa drink are naturally vegan.
🥗 More superfood recipes
Enjoyed this post? Leave a comment, rate ⭐⭐⭐⭐⭐ it, and follow @poppyswildkitchen on Instagram. Aloha!
📖 Recipe
Frozen Moringa Drink - Orange Pineapple
Tropical Frozen Moringa Drink is sweet, slushy, and refreshing. A nutritional boost and cool treat all in one with orange, pineapple, and vanilla.
Print
Pin
Rate
Ingredients
½

cup

fresh squeezed orange juice

½

cup

cubed fresh pineapple

½

cup

sliced banana

2

tsp.

calamansi lime or lemon juice

¾

cup

fresh moringa leaves*, removed from stems

1

tsp.

vanilla

1

TB

vegan honey, agave syrup or maple syrup

2 - 2 ½

cups

crushed ice

6

drops

liquid stevia, optional
Instructions
Blend
Place everything in a high powered blender and blend until smooth and icy.
Garnish
Garnish with a pineapple wedge, orange slice, or twist if desired.
Notes
Recipe tips
Substitute fresh baby spinach leaves if moringa isn't available.
Remove moringa leaves from stems as best you can. It's ok if a little stem is included.
Liquid stevia is optional. Some people like their smoothies sweeter, and natural stevia adds sweetness without sugar or calories.
Nutrition
Calories:
257
kcal
|
Carbohydrates:
62
g
|
Protein:
5
g
|
Fat:
2
g
|
Sodium:
57
mg
|
Potassium:
794
mg
|
Fiber:
3
g
|
Sugar:
46
g
|
Vitamin A:
344
IU
|
Vitamin C:
302
mg
|
Calcium:
243
mg
|
Iron:
2
mg