Are you looking for an easy pie crust recipe that bakes up golden and flaky? This dairy-free dough makes vegan tart shells with a delicate crunch. The recipe is perfect for small tarts, cream pies, and blue-ribbon fruit pies.
The recipe is made with nut milk and avocado oil, so it's entirely plant-based. Because you don't have to worry about chilling or handling butter or shortening, it's a quick and trouble-free recipe.
Why it works
Extra-crisp pastry
Vegan and dairy-free
Easy to roll
Stores for a week
Makes tarts or larger pies
Jump to:
A little attention to detail while baking ensures that this easy pie crust makes lovely thin vegan tart shells. Consequently, you won't have any soggy bottoms for your most stunning pies.
The best part is, that they can be baked in advance and conveniently stored in an airtight jar or tin for a week. They will stay crisp until you are ready to fill them.
Ingredients
Steps
Make pastry
Whisk dry ingredients.
Whisk wet ingredients.
Combine with a fork to a crumbly texture.
Press into a ball of dough.
Roll dough and fill pans
Shape pastry into logs, mark, and divide.
Roll each section into a disk.
Cut parchment liners.
Fill tart pans with pastry, parchment, and beans.
Baking tricks
The secret to creating that delicate, crunchy bottom crust is baking the pie shells on the oven's lowest rack. Furthermore, you can bake well-shaped crusts with an old-school trick.
When you lay parchment paper over the top of your dough and cover it with beans, it prevents the crust from ballooning up as it bakes.
Remove the beans halfway through baking, and your vegan tart shells lay flat against the pie pan as they finish cooking.
If you don't already own a set of small tart pans, you might be wondering where to get them. You'll be happy to know there are several suppliers online.
As an example, here is a steel set from King Arthur Flour. Silicone molds like the ones shown in this post are also handy.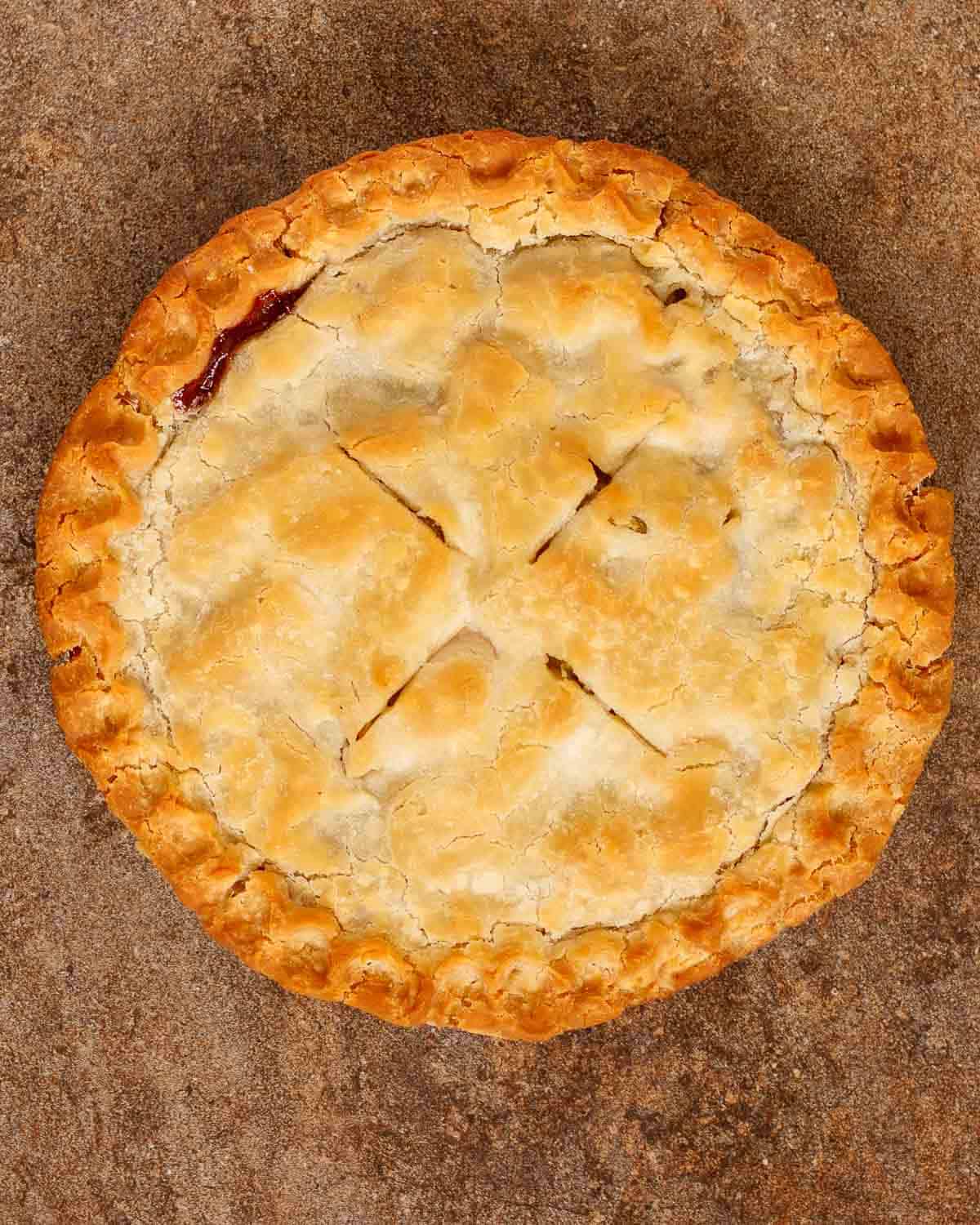 Finally, you may want to know that yes, you can absolutely use this recipe for 8 and 9-inch pies. The recipe below gives specific instructions for rolling and shaping tarts or a standard pie crust.
Whether you are baking tiny tarts, giant, gorgeous cream pies, or lattice-topped fruit pies, this recipe will serve you well.
More baking
Let us know if you try this recipe! Leave a ⭐⭐⭐⭐⭐ rating in the recipe card below and don't forget to tag a photo #poppyswildkitchenrecipes on Instagram @poppyswildkitchen Aloha!
📖 Recipe
Crispy Vegan Tart Shells
Easy Pie Crust recipe makes light and flaky Vegan Tart Shells. Ideal for small tarts, large cream pies or golden, double-crusted pies.
Print
Pin
Rate
Servings:
12
small tart shells, 8 4-inch shells or 2 nine-inch shells
Ingredients
2

cups

organic all-purpose flour

1

TB

organic powdered sugar

¼

tsp.

sea salt

¼

cup

nut milk, preferably homemade

½

cup

coconut oil or avocado oil
Instructions
Preheat oven to 375 degrees and adjust rack to bottom shelf.

Have ready

1

cup of dry beans. Cut parchment paper to size for

6

tart pans or

1

nine-inch pie pan. Double recipe for a double-crusted or lattice-top pie.
Mixing Dough
Measure flour by scooping into a cup and leveling with knife drawn over top. Whisk flour, sugar, and salt together in a medium sized bowl.

Whisk wet ingredients in a larger bowl until well blended.

Stir flour into wet mixture with a fork. Dough will be crumbly but should stick together enough to form a ball. Add nut milk a couple drops at a time if dough won't hold together. You want the dough to roll out easily without cracking. However, a too-wet dough won't be as flaky after baking, so go sparingly adding liquid.
Rolling and Baking Individual Tart Shells
Turn dough out onto a smooth counter top. Press sides of dough together and shape to make

1

even log 6 inches long. Divide into

6

one-inch pieces, cut like a Tootsie roll.

Keep pieces covered and roll out one by one. Take a section out and flatten with hands to a 3 inch circle. Smooth edges. Dust both sides lightly with flour. A wide spatula or dough scraper is handy for lifting and flipping the pastry.

Lightly flour a rolling pin and roll pastry to a 4 ½ inch circle if filling 3 ½ inch pans. (Roll to 5 inches for a 4 inch tart pan.) Rolling the dough thin helps create a light and crisp shell. Lift dough with scraper and drape into tart pan. Tuck into pan as much as possible and use finger tips to flatten bottom. Use side of thumb to press dough into inner ridges of pan. Trim any excess from top with a sharp knife.

Once pans are filled with dough, lay parchment cut to size over top of dough. Fill with

2.5

TB dry beans. You'll only have to cut parchment circles and measure beans for first bake. Thereafter, you can reuse the paper and beans many times.

Place all

6

pastry shells on a small cookie sheet. Bake at 375 degrees on bottom shelf of oven for 10-12 minutes. Remove parchment and beans. Bake another 5 minutes or until golden. Watch carefully last few minutes so as not to burn. Remove from oven and cool on a rack.
Rolling and Baking One Nine-Inch Pie Crust
Shape and flatten dough with hands into a 6 inch disk. Press edges of dough to seal and even sides. Lay a sheet of parchment paper on counter. Place dough on parchment paper. Dust top side of dough and a rolling pin with flour.

Working from center outwards, roll dough North to South. Then roll East to West. Turn parchment and dough 45 degrees and repeat rolling from center outwards until circle measures one inch larger than your pie pan. Using patience will result in a flaky crust.

Lay pie pan upside down over pastry dough and center it. Slip one hand under bottom of parchment paper. Use other hand to steady pie pan. Flip pie pan and pastry dough in one motion so pie pan rests on counter. Press dough evenly into pie pan with parchment. Peel away parchment paper. Fold excess dough up onto rim of pie plate. Shape edge as desired.

Lay pre-cut parchment over top of dough. It doesn't need to cover sides completely. Fill unbaked pie shell with beans, adding a couple tablespoons if necessary to weigh paper down.

Bake on bottom rack of oven 12-15 minutes. Remove parchment and beans. Return pie crust to oven and bake 10-12 minutes or until bottom of pie crust is golden. A glass pie plate is very helpful in judging bake. If sides and top of crust brown before bottom is crisp, lay a piece of foil over pie crust to finish baking.
Rolling and Baking Pastry For a Double-Crusted 9-Inch Pie
Follow instructions for shaping and rolling one nine-inch pie shell, but don't fill with beans.

Fill unbaked pie shell with pie filling of choice.

Repeat rolling for second crust. Place rolling pin at one end of crust. Without putting pressure on pastry, roll it up with rolling pin like a paper towel.

Take the rolling pin wrapped with pastry and unroll it over top of filled pie. Shape edge as desired.

Bake pie according to recipe instructions.
Notes
Recipe Tips
This recipe will make twelve  3 ½-inch tart shells,  eight 4-inch tart shells, or two 8-9 inch pie shells.
To embellish a pie with cut-outs, increase the recipe.
You may have to add a touch more flour or nut milk depending on your flour and climate. The pastry should just hold together when pressed into a ball and not feel wet.
Ovens vary, so baking times are approximate. After the first bake, you should have an idea of how long your oven takes and can make a notation if needed.
You can reuse parchment paper and beans many times for future bakes.
Calories
Calories are for one six-inch tart shell.
Nutrition
Calories:
163
kcal
|
Carbohydrates:
17
g
|
Protein:
2
g
|
Fat:
9
g
|
Cholesterol:
1
mg
|
Sodium:
42
mg
|
Potassium:
30
mg
|
Fiber:
1
g
|
Sugar:
1
g
|
Vitamin A:
9
IU
|
Calcium:
9
mg
|
Iron:
1
mg
|
Magnesium:
5
mg
|
Phosphorus:
28
mg