Have you dreamed of making your own kombucha but don't know where to start? Well, homemade kombucha can be yours, and it all begins with an awesomely fun project. Allow me to show you how to make a scoby.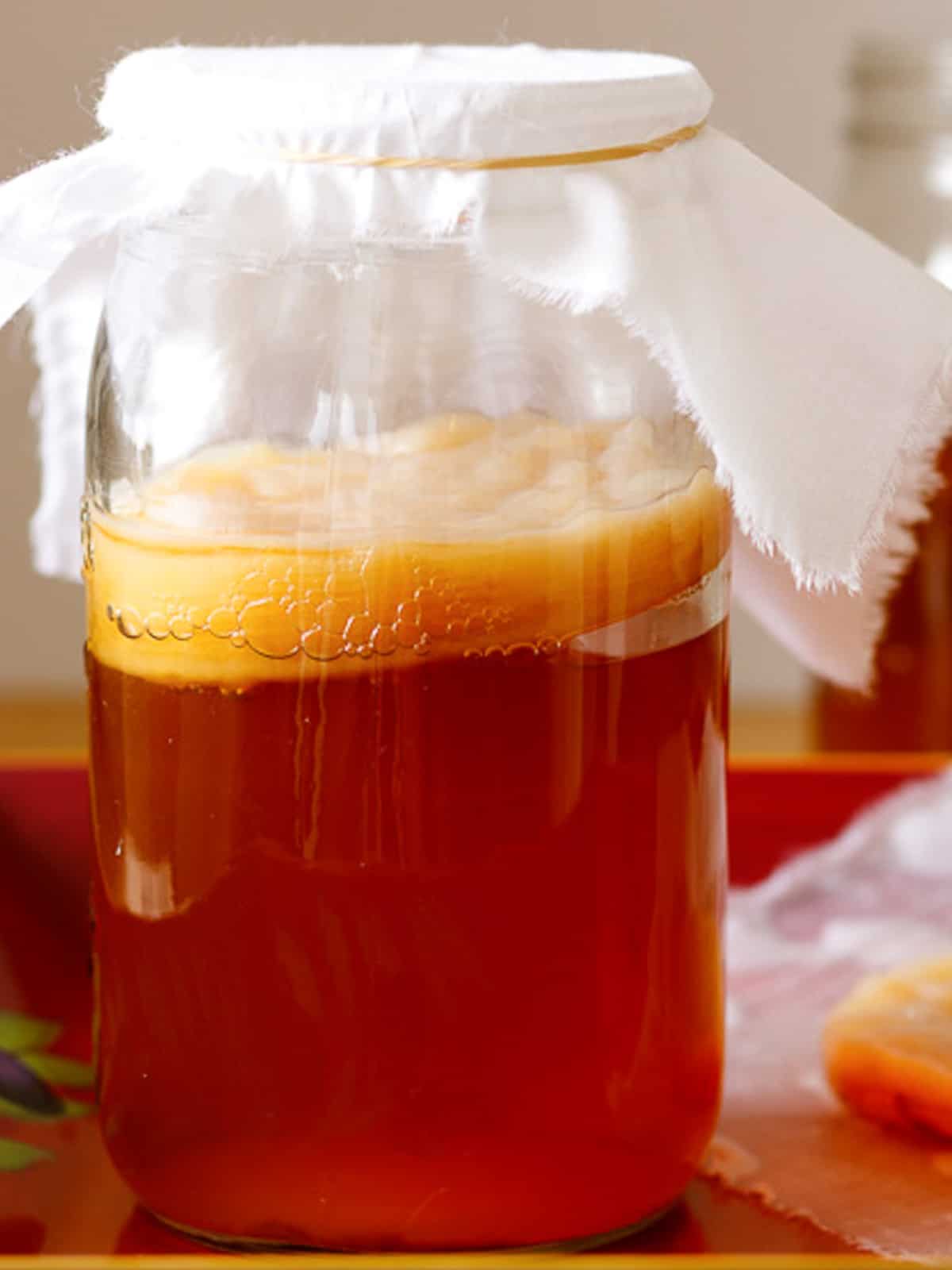 Scoby. What a funny name. You will want to memorize it because "symbiotic culture of bacteria and yeast" is too long, don't you think? You're probably more interested in knowing what a scoby has to do with kombucha.
Jump to:
Well, just like yogurt and sourdough bread need a mother starter to grow the beneficial bacteria that create wonderful flavors and healthful nutrients, kombucha needs a culture.
Ingredients
What does a scoby look like?
The good news is you can grow a culture yourself from a few simple ingredients. It's fun to watch the scoby appear out of nowhere as a jelly-like film. Then, it gets even weirder as it continues growing into an opaque, rubbery disk that takes on the shape of the container it is grown in.
It's a lot more pleasant to touch than it looks. Trust me, you will be able to impress all your friends and relatives with its fascinating appearance. Whether you call it beautiful or beastly, a scoby is your ticket to the best tasting and most affordable kombucha you have ever tasted.
A young scoby can be used to brew many batches of kombucha tea. In a sense, it lives indefinitely because new top layers continue to grow. The older layers can be peeled off the bottom and given to friends to start their own kombucha.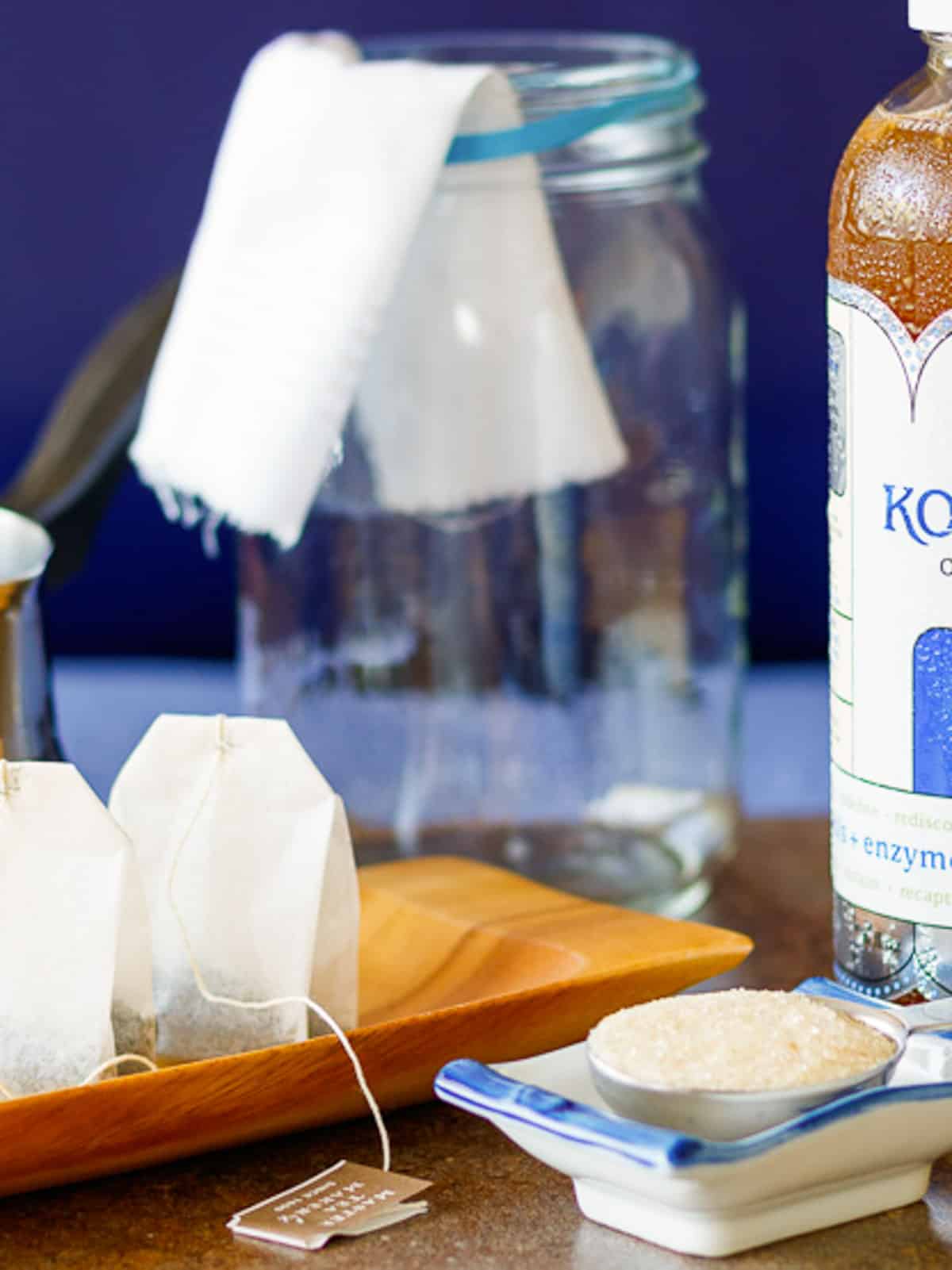 Ready to grow a scoby with the recipe below? From there, you can brew your own probiotic kombucha tea for pennies. Effervescent, refreshing, and addictive are words that describe this flavored and carbonated version you will definitely want to make.
More cultured food recipes
I would be thrilled to know if you tried this recipe! Leave me a ⭐ ⭐ ⭐ ⭐ ⭐ rating in the recipe card below and don't forget to tag a photo #poppyswildkitchenrecipes on Instagram @poppyswildkitchen Aloha!
📖 Recipe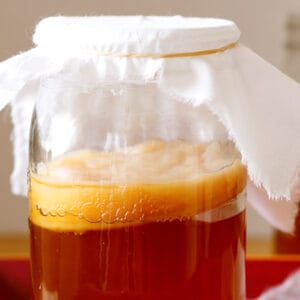 Kombucha - How To Make A Scoby
Growing a scoby is a fun and rewarding project. Use it to brew your own healthful and delicious kombucha at home. Homemade kombucha costs a fraction of store bought brands and tastes even better.
Print
Pin
Rate
Ingredients
1

cup

filtered or bottled spring water

2

bags

black tea or 1 TB loose leaf black tea*

1

TB

organic raw sugar

1

16 oz.

bottle plain raw kombucha
Instructions
Bring water to a boil and stir in sugar to dissolve. Add tea bags or loose leaf tea. Remove from heat and let steep until lukewarm or cooler.

Pour the whole bottle of plain, raw kombucha into a wide mouth jar that holds at least 3 cups.

Add cooled tea to kombucha and cover jar with a cut square of breathable white cloth. Secure cloth with a rubber band.

Tuck jar into a dark cupboard. A warm location 70-85 degrees is best. After several days you should see a jelly-like film growing on top of the tea. If no film has formed in two weeks, or the mixture smells bad or has mold, toss it out and make a new batch.

Once the scoby starts forming, it will gradually thicken and form a firm white disc on top of the tea mixture. When your scoby is ¼ inch to ½ inch thick it is ready to brew kombucha. Climate can cause significant variations, but typically a scoby is ready in 10 days to 3 weeks time.
Notes
*You can use a combination of  black tea and green tea. For best enzyme production, it is recommended not to use decaffeinated teas.
Be sure plain kombucha used for starter liquid is raw, live and unpasteurized.
Use pure water that is not chlorinated to brew tea. Use a clean jar with no soap residue. 
Don't stir or disturb your scoby while it is growing. It doesn't hurt to look at it though!
Kombucha thrives in warm weather. The ideal growing temperature is 68-85 degrees. A scoby will grow quicker in warmest weather and can take up to 4 weeks to grow ¼ inch in cooler climates.
Extra scobies can be kept alive in a "Scoby Hotel" while on vacation or for gifting to friends:
Remove shaggy strings, tea residue and yeast strands from scobies. You can trim edges or rinse in non-chlorinated water if desired. It doesn't have to be exact.
Then brew 1 cup of tea with 2 tea bags and 1 TB of raw sugar. (Double amount for larger hotels.) Cool until lukewarm or less. Mix with an equal amount of plain, raw kombucha.
  Pour mixture into a wide mouthed jar. Gently slide scobies into jar. Cover with plain cotton cloth and a rubber band. Store in a dark cupboard in a cool location, but at least 60 degrees.  
Nutrition
Calories:
46
kcal
|
Carbohydrates:
12
g
|
Protein:
2
g
|
Sodium:
12
mg
|
Potassium:
1
mg
|
Fiber:
1
g
|
Sugar:
12
g
|
Calcium:
207
mg
|
Iron:
1
mg