Brown rice idli are made with a batter of whole-grain basmati rice and white lentils. Soft and fluffy, steamed idli cakes are adored for breakfast throughout South India. They have a scrumptious texture served as dumplings in spicy Sambar Soup, but can be eaten a number of other ways.
Even though this vegan recipe is made entirely with whole foods for extra nutrition, it's just as tender as idli made with white rice.
Jump to:
🏆 Top tip
Test brown rice idli batter by rubbing it between two fingers. Ideally, the batter will be smooth with a bit of fine grit remaining.
⭐ Why it works
Whole food high in fiber, protein, and vitamins and low in calories.
Sourdough is said to be more easily digested than other breads.
Steamed on the stovetop. You don't have to heat your oven!
Gluten-free
Vegan
🍛 Indian breakfast food
When we moved from California to Hawaii nearly 20 years ago, I lost one of my favorite foods. Sadly I missed idli, the tender, savory cakes prized for breakfast in South India.
I was hooked when I first tasted them in California at an authentic restaurant near Berkeley University. The light texture and mild sourdough flavor of idli were sensational paired with spicy sambar soup.
Because we don't have any Indian restaurants where we live now and ordering a stale package mix from the mainland is out of the question, I've learned how to make them at home.
Little did I know how divergent the recipes would be when I first consulted my Indian cookbooks and the Internet to perfect a brown rice idli recipe.
If your kitchen is in South India, your grandmother may have already taught you the ropes. However, for the rest of us, I like to think I've done the legwork for you and made an otherwise confusing task easy.
📋 Ingredients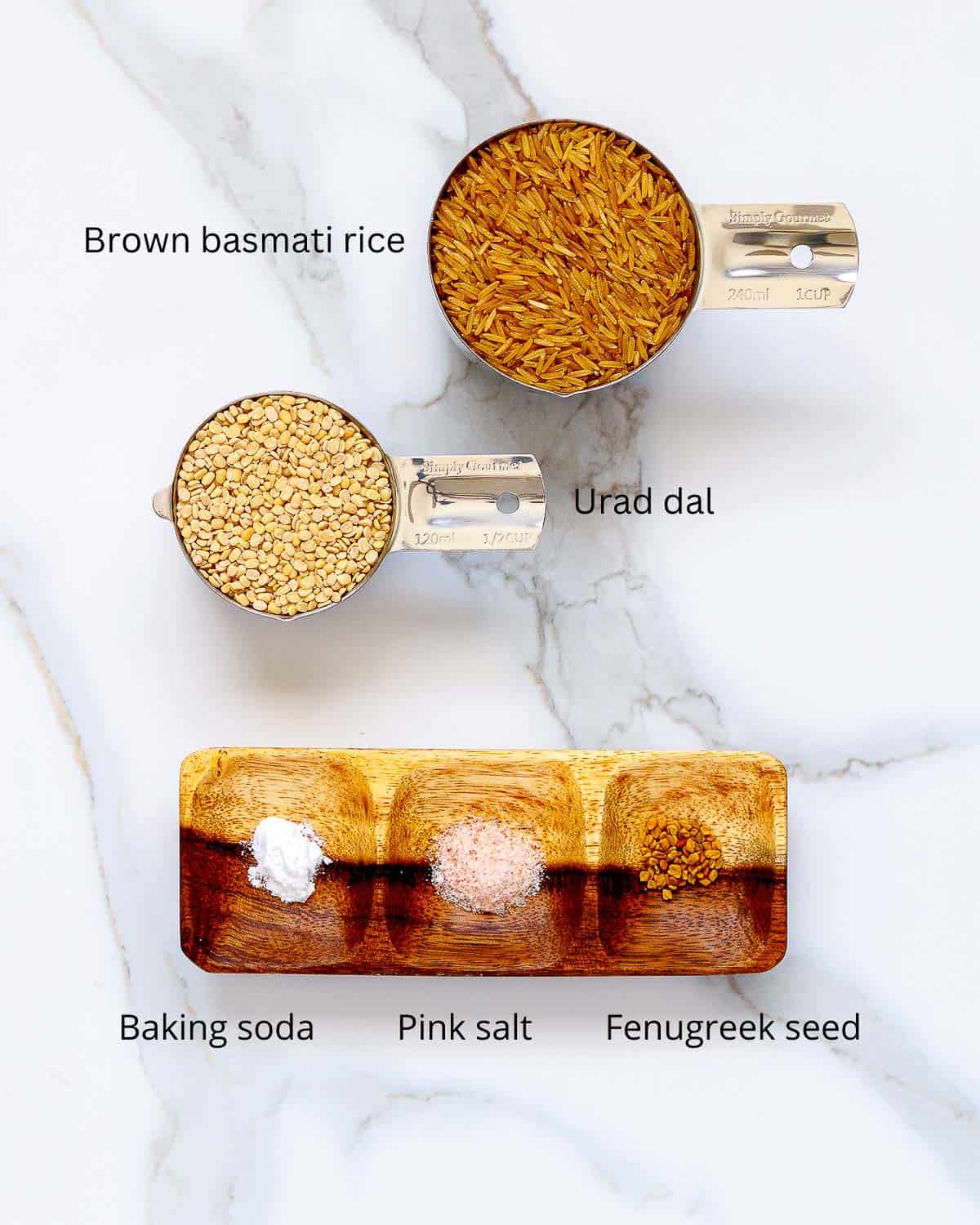 Brown rice - Brown basmati is light and dry, ideal for idli.
Urad dal - I prefer dal that is skinned for this recipe.
Fenugreek seed - a traditional ingredient in Indian kitchens.
Baking soda - Be sure to mix it into the batter with salt before fermenting.
Salt - Pink Himalayan salt has benefits, but you can also use sea salt.
Some of the recipes I saw said never to use basmati rice, and others used it exclusively. In fact, recipes abound touting varied combinations of rice, including short grain, long grain, par-boiled, flaked, flattened, beaten, and even cream of rice cereal.
Then there are two camps on urad dal, the other essential ingredient. In some circles, the black skins of urad dal are left on, and others prefer peeled white dal. As the saying goes, it's enough to make your head spin.
Thus, I just had to dive in and give it my best shot. Ultimately, I found I could make fabulous, light-textured brown rice idli that reminds me of the ones I first had in Berkeley.
The part that really thrills me is they are entirely whole food. For me, that's always the ultimate win. Don't you just love it when the best-tasting dish is also the healthiest?
📋 Steps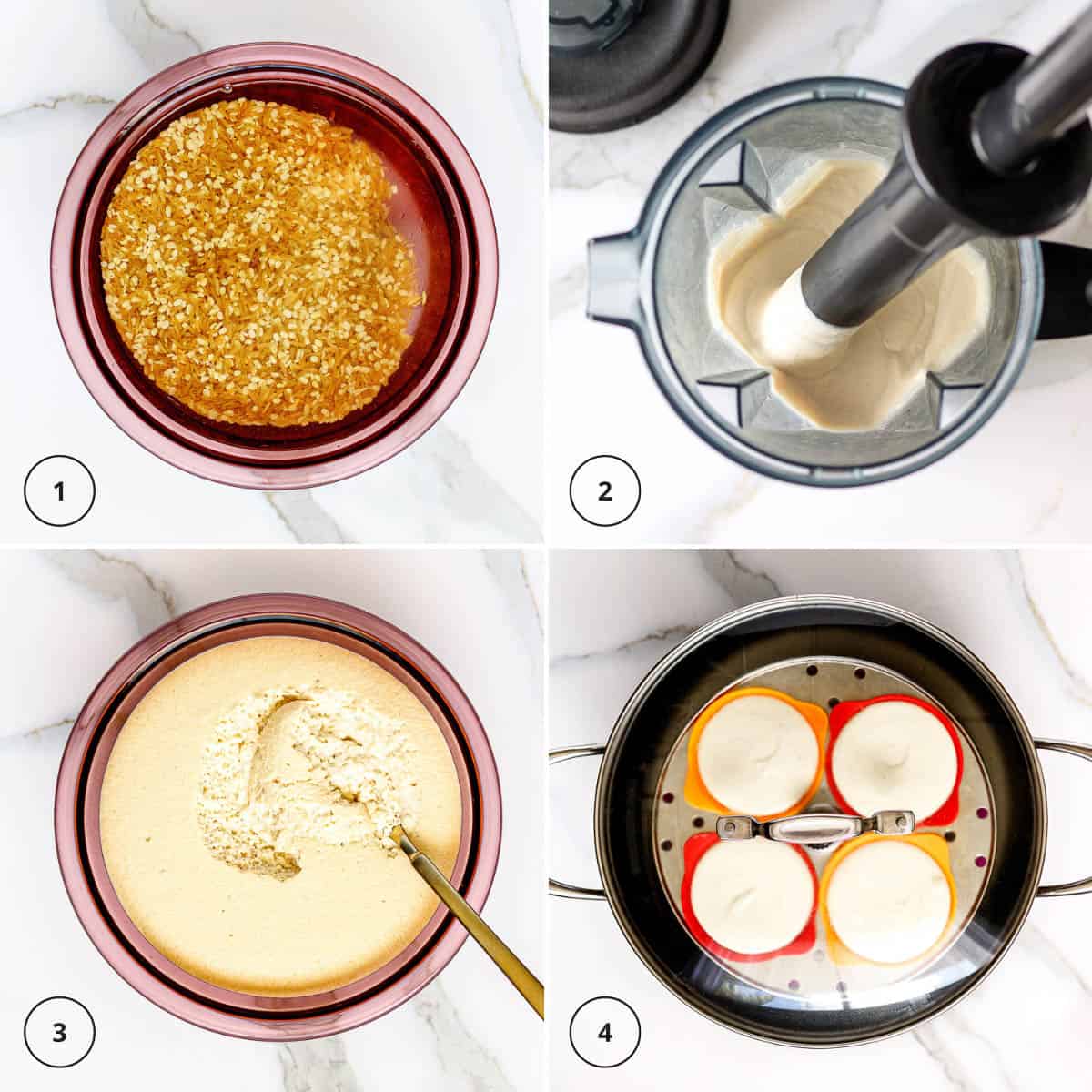 Soak brown basmati rice with urad dal and fenugreek seed.
Grind the mixture until smooth.
Ferment with baking soda and salt until fluffy.
Steam in molds in a covered pot.
🥣 Equipment
Large deep pot with a lid
High-powered blender
Idli tray, also called tabakh
Idli liners
The right equipment, including an idli tray or tabakh, will ensure your dumplings have a classic, round dome shape. I love my idli liners because they make removal a breeze. However, they are optional.
You can still make idli if you have a steaming tray and paper cupcake liners. You can also use a cotton handkerchief to line your trays. Just cut a hole in the center of each handkerchief to position it on trays before filling and stacking. You can wash and reuse your handkerchiefs.
Thus, you can try these incredible spongy cakes and decide if you want to invest in the right equipment to make them perfect. My bet is a tabakh will end up on your wish list.
You do need a large deep pot with a lid and a high-powered blender. Thankfully, modern times have made strong, efficient mixers available worldwide.
I find my Vitamix replaces the traditional method of stone grinding just fine. It's not even necessary to soak dal and rice separately, as is the old way. The dal and rice process together beautifully in the blender, making an ideal smooth batter with a touch of fine rice remaining.
👩🏻‍🍳 Expert tips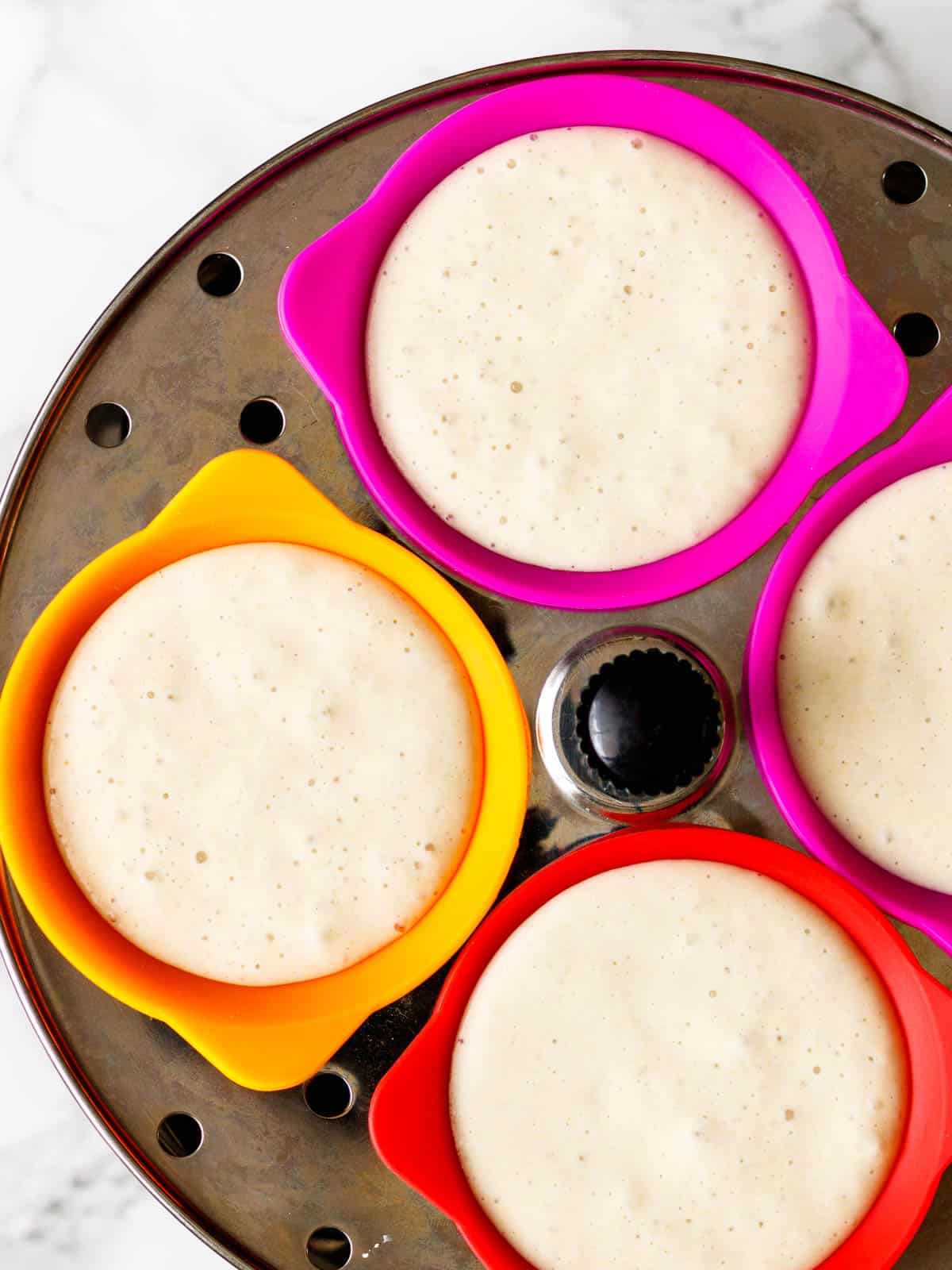 I like preserving tradition by adding fenugreek seeds, as many Indian cooks recommend this. It's said to help with fermentation.
Plus, I found another simple choice that works like a magic wand to create frothy sourdough. I mix Himalayan pink salt and a pinch of baking soda into the batter before fermenting.
This way, the sourdough doesn't lose its loft from stirring the baking soda in at the end. Instead, the mixture keeps all its bubbles when spooned gently into idli molds.
🍽 How to eat brown rice idli
Idli can be thought of as small pieces of bread, dumplings, or savory cakes. Whether you dunk them in soup, smother them with crispy toppings, spread them with butter or chutney, or make them into tiny sandwiches, they are tasty and super convenient.
I'm sure I've broken a few rules by eating my nutritious morning idli with sauteed greens, crunchy seeds, and salsa. I must confess I've even eaten these moist darlings toasted, and smeared with peanut butter and jam.
But if that sounds a bit much, I'll give you a solid recommendation for what to serve with these brown rice idli dumplings.
Here's my recipe for my Sambar Spiced Indian Lentil Soup. This is the most popular pairing in the world for idli, adored in South Indian breakfasts.
🥙 More International recipes
Enjoyed this post? Leave a comment, rate ⭐⭐⭐⭐⭐ it, and follow @poppyswildkitchen on Instagram. Aloha!
📖 Recipe
Tender Brown Rice Idli
Tender, steamed, sourdough brown rice idli made with whole-grain basmati rice, urad dal, and fenugreek seed. A delicious, popular South Indian breakfast food. Gluten-free and vegan.
Print
Pin
Rate
Servings:
16
Medium Size Idli
Ingredients
1

cup

brown basmati rice

½

cup

white urad dal

¼

tsp.

whole fenugreek seed

1

cup

water

¼

tsp.

baking soda

½

tsp.

Himalayan salt

1

TB

water to dissolve baking soda and salt
Instructions
Soak
Rinse dal and rice together three times. Soak dal, rice, and fenugreek together for 4 hours at room temperature or overnight in the fridge. Drain and shake well but don't rinse.
Grind batter
Place the soaked dal, rice, fenugreek seed, and 1 cup water in a high-powered blender. A Vitamix works beautifully. Blend on high as long as it takes to make a batter. The mixture will be thick, and a tamper is helpful. It's ok if the batter becomes slightly warm. However, if the mixture warms to bath water temperature, stop blending. Test the batter by rubbing it between two fingers. Ideally, the batter will be smooth with a bit of fine grit remaining.
Ferment
Pour idli batter into a nonreactive bowl leaving room for expansion.

Dissolve salt and baking soda in 1 tablespoon of water. Stir into idli batter. Clean the sides of the bowl with a rubber spatula. Cover the bowl with a plate and let ferment at room temperature. Look for the batter to puff up and have thin cracks or tiny bubbles at the surface. This takes about 12 hours in a tropical climate or up to 36 hours in a cool climate. You want the batter to sour slightly but still taste light and pleasant.
Steam
Once the batter has the desired degree of sourness and is bubbly, it's ready to cook. You can store batter in the refrigerator for up to 2 days before cooking. After that, it becomes increasingly sour. Allow chilled batter to warm to room temperature before cooking.

When you are ready to steam idli, check the consistency of the batter by stirring gently. The batter should be nice and fluffy and pour easily off a large spoon. If the batter is too thick, stir in a tablespoon of water. If the batter is too runny, the idli will be sticky. You can add a tiny bit of rice flour if necessary, but go easy.

Fill a large deep pot with one to two inches of water. Cover with a lid and bring water to a gentle boil.

Prepare tabakh (idli tray) by lightly greasing indentations or lining with silicone liners. You can also use a cotton handkerchief to line your trays. Just cut a hole in the center of each handkerchief to position it on trays before filling and stacking. You can wash and reuse your handkerchiefs.

Fill each well with batter. Don't over-fill the wells if cooking in a stacked tier or the idli tops will be dented. Place filled idli molds in a pot with gently boiling water. Place a lid on the pot. Steam idli until risen and set. the surface of the idli will be firm to light touch. Three-inch idli take about 12 minutes. Adjust time for smaller or larger idli.

Take the idli tray from the steamer and let it cool for ten minutes. Removal is easier if you wait to take dumplings out of molds.
Notes
Serve idli with sambar, coconut chutney or anything else you like!
Nutrition
Calories:
62
kcal
|
Carbohydrates:
12
g
|
Protein:
2
g
|
Fat:
1
g
|
Sodium:
82
mg
|
Potassium:
32
mg
|
Fiber:
2
g
|
Vitamin A:
1
IU
|
Vitamin C:
1
mg
|
Calcium:
8
mg
|
Iron:
1
mg