This easy mango habanero salsa is sweet upfront and will leave your lips tingling with heat. It's ready in less than thirty minutes and is a fun dish for game day or any large party. It's served attractively right inside the pineapple shells.
If you're not cooking for a crowd, go ahead and freeze half and serve the rest any way you like. It's a versatile dish that we love over Huli Huli Seitan Skewers and Avocado Black Bean Quesadillas.
Jump to:
Why it works
Thick and juicy with a texture that won't topple off tortilla chips.
Makes enough to fill two half pineapple shells.
No need to roast or cook anything.
Flavors of mango and pineapple shine with no competition from tomatoes or red onion.
Habanero peppers are blended whole. No burning fingers or eyes from chopping peppers.
Adjust the spicy level to your taste with the chart below.
Ingredients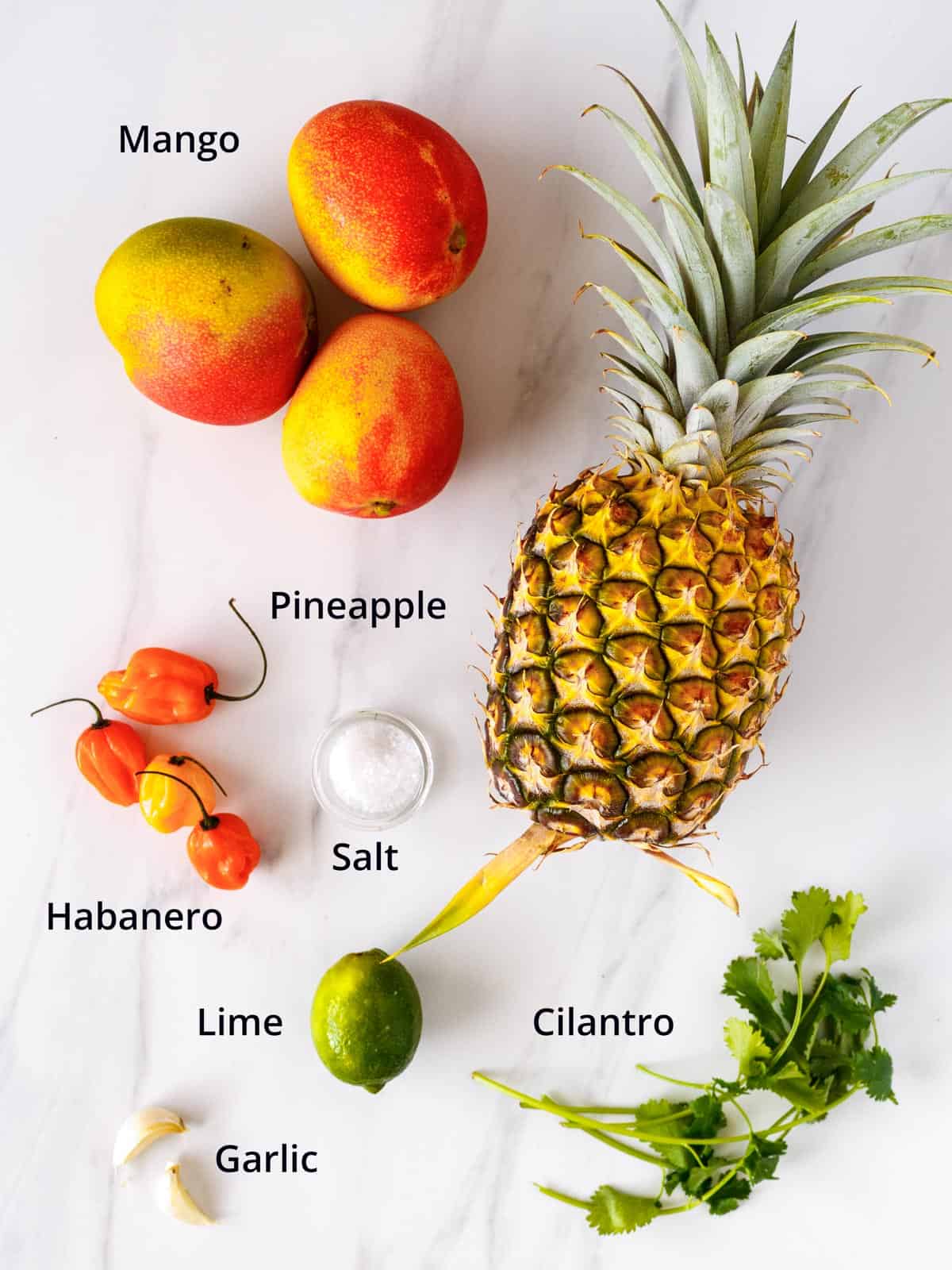 Mangoes - Fully ripe mangoes that leave a thumbprint indent when squeezed are the sweetest.
Pineapple - Look for low acid varieties like Maui Gold, Sugar Loaf or Aus Jubilee from Australia.
Habanero peppers - Select fresh peppers that are crisp and not soft or wilted. The color should be bright orange and the stem should be firm in place.
Pineapple bowl
Whether you are serving your mango habanero salsa as a dip for chips or a sauce to be spooned over grilled skewers, a pineapple boat makes an impressive centerpiece at the table.
Full instructions and tips on carving are in the recipe card below. Here are some photos to give you a preview.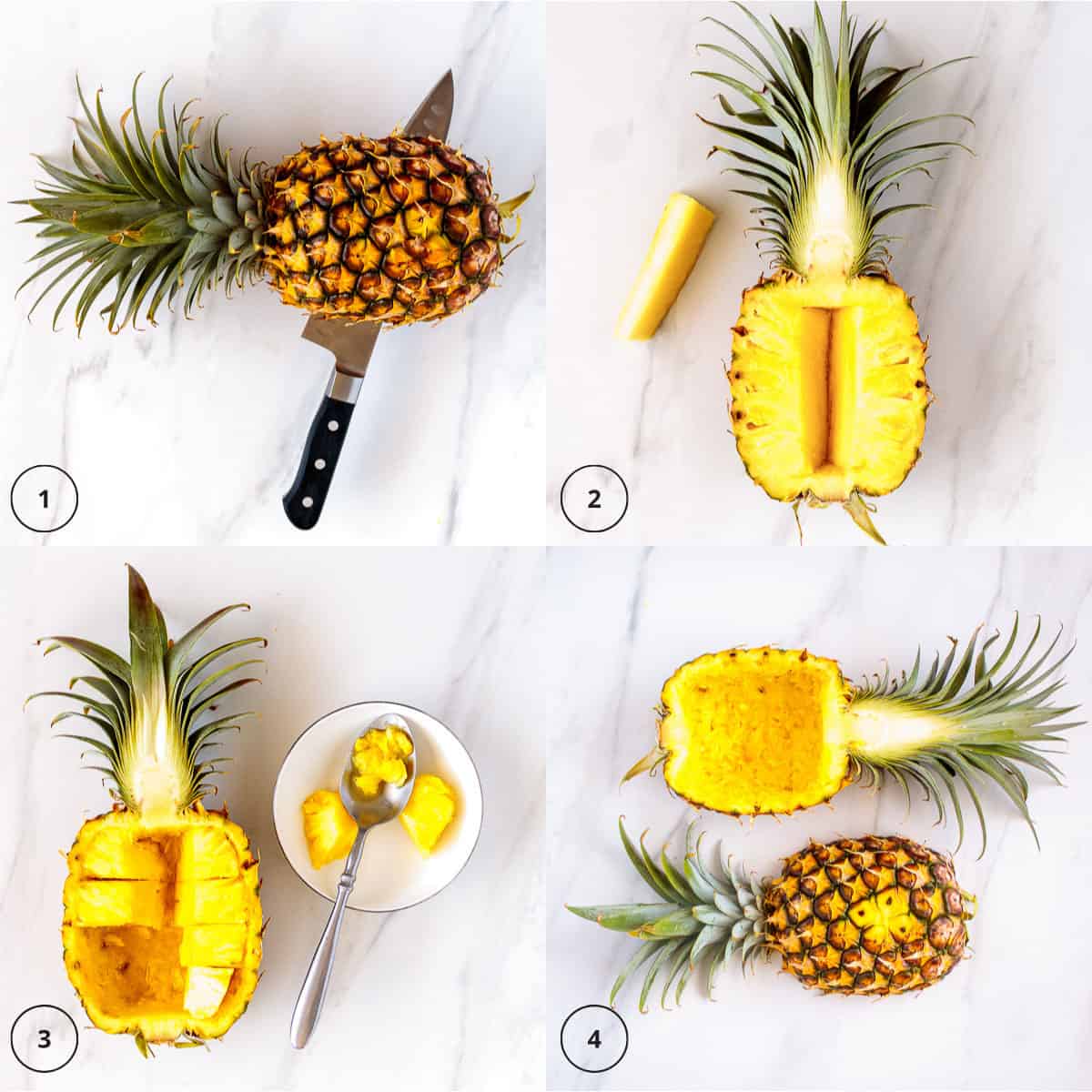 Make the recipe
Once your fruit is removed from the shell it's an easy four steps to complete this salsa recipe.
Blend - fresh pineapple with whole habanero peppers, lime juice, garlic cloves and salt.
Chop - fresh mango into a fine dice and slice cilantro leaves.
Mix - diced mango and cilantro into the blended mixture.
Spoon - chunky salsa into pineapple shells.
Pepper Variations
Habaneros add real inferno heat to this spectacular dip. Pairing them with tropical mango and pineapple is one of the best ways to bring out their full fruity flavor.
But, what if you don't want your mango habanero salsa to be that spicy? No worries, just use this guide to common peppers for substitution, or leave them out altogether.
If you're curious about the Scoville rating or other peppers, Cayenne Diane has a Big List with great photographs.
Serving options
There are so many ways to enjoy this gotta-have-more colorful dip!
Serve with tortilla chips, pita chips, fried wontons or my favorite, Indian papadums.
Use as a dip for eggrolls and summer rolls.
Serve as mango chutney with lentil dal and basmati rice.
Make a veggie platter with slices of jicama and mini sweet peppers that can be filled.
Top Tofu Mock Chicken and grilled vegetables like zuchini and eggplant.
Spoon over a taco salad bowl.
Serve with Black Bean Soft Tacos and Vegan Sour Cream.
Make roll-ups with Soft Whole Wheat Chapatis and Cultured Cashew Cream Cheese. Then, slice them into pinwheels for an appetizer.
Expert tips
Take care not to slice all the way through pineapple shells when removing core and cutting into chunks. This way your pineapple serving bowl won't leak.
Use a dull edged spoon to remove the remaining flesh and clean shell.
Slice a thin sliver of rind from the bottom of the hollowed out pineapple shell so bowl sits flat on a plate. Be careful not to cut too deep!
Dice mango into small pieces about one-fourth an inch wide for the best saucy texture.
Garnish mango and habanero salsa with a pinch of red chili flakes for a final splash of color.
FAQ
Can I make it with frozen mango?
Yes, frozen mango works well in this recipe. Thaw and dice mango chunks into small pieces. I like to gather and freeze fresh mangos when they are in season to have on hand later.
Can I freeze the salsa?
Yes, the salsa freezes well for a month. Go ahead and make the whole recipe even if you aren't serving a large party. You'll be happy to have a tub of spicy pineapple mango salsa ready for later.
Can I make it with canned pineapple?
You won't have a festive serving bowl and the flavor won't be the same with canned pineapple so it's not recommended. However, you can find other salsa recipes below.
Is mango habanero salsa gluten-free?
Yes, this recipe is vegan, gluten-free, dairy-free, sugar-free, and has no artificial additives.
Can I make it without cilantro?
Yes absolutely. If you aren't a fan of cilantro you can substitute basil or leave out the herbs.
More salsa recipes
Enjoyed this post? Leave a comment, rate ⭐⭐⭐⭐⭐ it, and follow @poppyswildkitchen on Instagram. Aloha!
📖 Recipe
Pineapple Mango Habanero Salsa
Sweet and flaming mango habanero salsa makes a beautiful centerpiece served in pineapple shells. This quick, fresh recipe bursting with tropical fruit flavor can be tailored to your taste for spiciness.
Print
Pin
Rate
Equipment
1 professional chef knife

1 Small serrated knife

1 standard blender or food processor
Ingredients
one

3 pound

pineapple

to yield 2 cups chunks

3-4

whole

mangoes

to yield 3 cups diced

4

whole

habanero peppers

about one ounce

1

tsp.

sea salt

2

cloves

garlic

peeled

2

tablespoons

lime juice

fresh squeezed

¼

cup

cilantro leaves

sliced

½

teaspoon

red chili flakes

optional for garnish
Instructions
Make pineapple boats
Lay

one 3 pound pineapple

on its side and cut fruit in half with a large chef's knife. Stop at the leafy portion. Then with pineapple still on its side, position the knife at the bottom end. Slide the knife up to the leafy portion and slice through the leaves using a rocking motion.

Remove pineapple core by cutting a strip down the center. Angle knife to a v shape so the cut is narrow near the bottom rind.

Use a small serrated knife to cut around the inside rim of the pineapple shell. Then slice fruit horizontally into four to five sections. Take care not to cut through the bottom of the rind or your pineapple bowls will leak.

Use a large spoon to remove chunks of pineapple. Scrape the inside bottom of the shell but don't pierce through the rind.

If necessary, slice a thin piece of rind off the bottom of the pineapple to make it sit flat. Take care not to cut deep enough to make a hole in the bottom though.
Blend pineapple with whole peppers
Place pineapple flesh in a blender with

4 whole habanero peppers

,

1 tsp. sea salt

,

2 cloves garlic

, sliced, and

2 tablespoons lime juice

.

Secure a lid on the blender and blend on high speed briefly until habanero peppers are fully disintegrated.
Dice mangoes and slice cilantro
Peel

3-4 whole mangoes

and dice into small squares about ¼-inch across. Finely slice

¼ cup cilantro leaves

.
Combine pineapple and mango mixtures
Pour blended pineapple into a mixing bowl. Add mango and cilantro and stir to mix.
Fill pineapple shells
Divide salsa between the two hollowed-out pineapple shells.
Serve
Garnish salsa with

½ teaspoon red chili flakes

if desired. Serve with a spoon for any accompanying dish.
Store
Store salsa in the refrigerator for 5 days or in the freezer for one month.
Notes
Ingredients 
Use ripe mangoes that leave a thumbprint indent when squeezed.
Fresh, ripe mangoes taste amazing and are the best, but you can substitute frozen mango.
Look for low acid pineapples like Maui Gold, Sugar Loaf, and Aus Jubilee
If your pineapple is extra juicy, hold back some of the juice from the recipe. About ¼ cup of juice is all that is needed. 
Habaneros are HOT. Choose peppers with a lower Scoville rating is you aren't accustomed to them.
Pull off any stems from hot peppers and add them whole to the blender. Wash your hands once and you're set.
Equipment 
A sharp professional chef's knife like the MAC 8-inch knife is best for cutting a pineapple in half.
A smaller serrated knife like Kai Pure Komachi is best for removing the core and flesh.
Preparation
Use a rocking motion along the length of the leafy part of the pineapple to cut all the way through.
Angle knife to cut the core out in a v-shape with the narrow point closest to the rind.
Take extra care when removing core and pineapple flesh not to cut through rind. That way your pineapple bowls won't leak when filled.
You can level the bottom of hollowed-out pineapple shells to make bowls sit flat. In many cases, it's not needed. If you do decide to trim the bottom be careful not to pierce through the rind, just as with removing flesh.
Serve
Pineapple Mango Habanero Salsa can be served chilled or at room temperature.
Store
Store leftover salsa covered in the refrigerator up to 5 days. Freeze covered salsa for up to one month and thaw on a counter or in the refrigerator overnight before serving.
Nutrition
Calories:
40
kcal
|
Carbohydrates:
10
g
|
Protein:
1
g
|
Fat:
1
g
|
Sodium:
82
mg
|
Potassium:
109
mg
|
Fiber:
1
g
|
Sugar:
8
g
|
Vitamin A:
514
IU
|
Vitamin C:
30
mg
|
Calcium:
10
mg
|
Iron:
1
mg