Fire Roasted Salsa is full of smoky flavor and looks gorgeous flecked with charred green chilis. It's thick and chunky. Make it with jalapenos for a medium-hot dip, or select serrano peppers if you like your food extra spicy.
Tart, fresh tomatillos provide all the mouth-watering zest you could want. No vinegar or lime juice means no guesswork. This quick recipe is magical with Soft Whole Wheat Roti and crunchy tortillas strips.
Jump to:
🥣 Why homemade?
Mexican salsa made at home tastes so much better than the products sold in jars at the store. The secret is freshness, and it makes all the difference.
You'll love how simple this recipe is. Can you believe it only has two key ingredients? Less is definitely more with the green chilis and tomatillos that shine in this fire-roasted salsa.
🔥 Roast peppers on the stovetop
It's easy to roast peppers and tomatillos on a stovetop. You can either use a gas flame or an electric burner. Place entire peppers with stems intact directly on a preheated cast-iron skillet or griddle.
Arrange chilis in a single layer and cook over medium-high heat. Turn to char all sides. Peppers will soften as they cook, and you can use that to your advantage. Press down with a spatula, and you'll create square sides that make it easier to blacken more surfaces.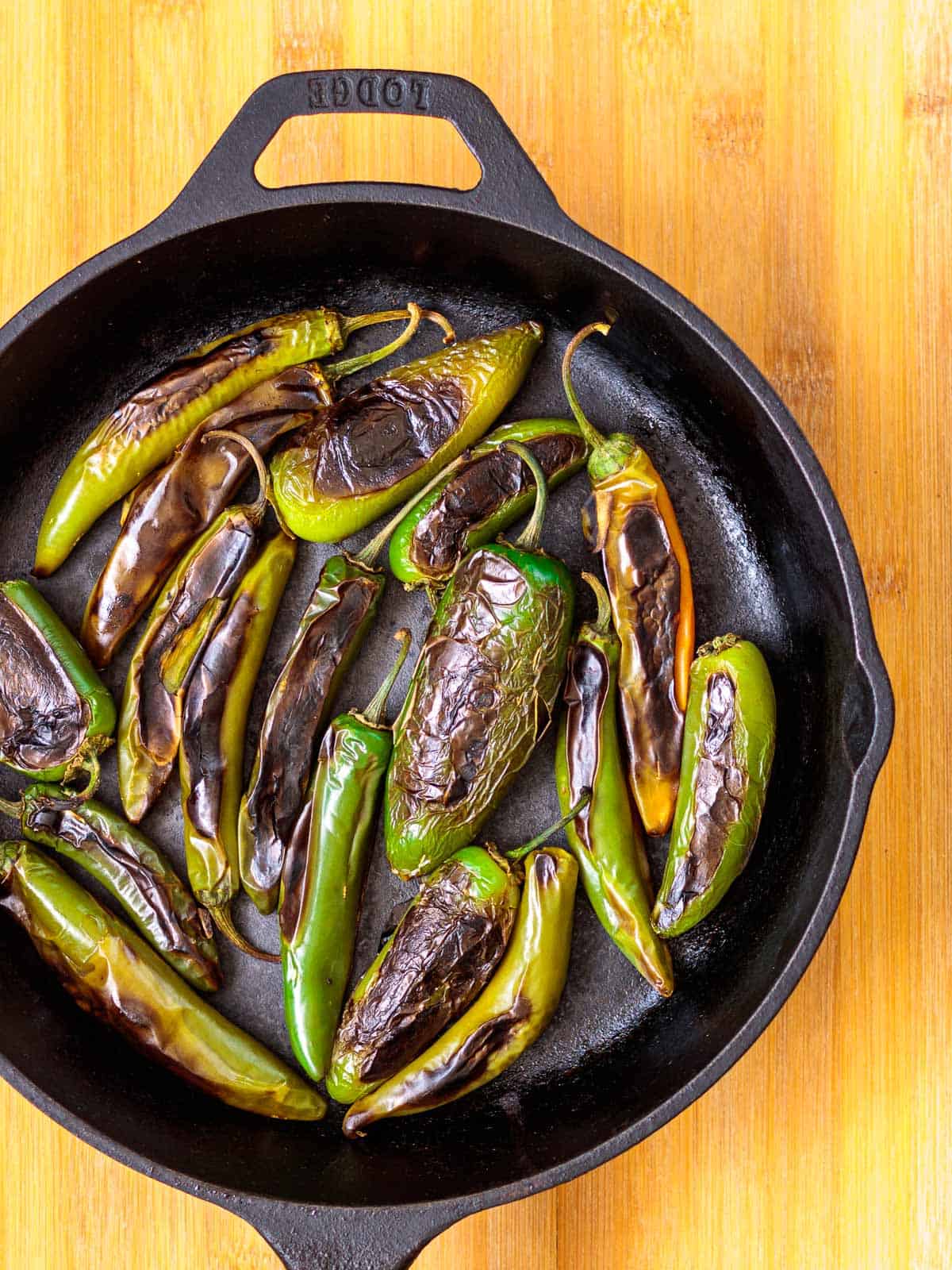 For best results, roast your peppers and tomatillos separately. Leave tomatillos whole just like peppers. The reason for this is to preserve tasty juices inside the vegetables and keep them from leaking onto the skillet.
Want a little trick for keeping your tomatillos from rolling around in the pan? Tuck them snuggly into a 6-inch cast-iron skillet. Packing them this way makes it possible to turn and position them the way you want.
If you don't already own more than one size of cast-iron skillet, I highly recommend making a small investment that will last you a lifetime. Lodge Cast Iron company has an online quiz that helps you find just the right sizes for your kitchen.
You'll want to quarter tomatillos and remove the stems from the chilis once they cool. That's all the preparation it takes before you blend and briefly simmer your fire-roasted salsa into the most delicious, thick, chip-worthy sauce.
Top tip
Puree blackened tomatillos by themselves and wait to add chilis. Process briefly until smooth. Then, add roasted chilis and pulse chop to preserve the striking black flecks in the salsa.
❄️ Can I freeze it?
Yes, because it's cooked, it freezes beautifully and has the same texture once it thaws. Think how handy it would be to have a container ready to go for a potluck or company dinner. Believe me, your friends will appreciate a hand-crafted homemade salsa at your next get-together.
Hungry for more quick salsa recipes? You might like to try my best Red Salsa Fresca.
🍅 More salsa recipes
Enjoyed this post? Leave a comment, rate ⭐⭐⭐⭐⭐ it, and follow @poppyswildkitchen on Instagram. Aloha!
📖 Recipe
Fire Roasted Salsa
Fire Roasted Salsa made from whole green chilis and tomatillos charred on the stovetop. Less than 30 minutes, 2 ingredients plus salt. Makes 3 cups.
Print
Pin
Rate
Ingredients
16

oz.

fresh tomatillos

husks removed

12

oz.

jalapeno or serrano peppers

left whole

2

tsp.

salt, more or less to taste
Instructions
Roast Green Chilies
Heat a 10-inch cast-iron skillet to medium-high heat. Place whole green chilis in the pan.

Char until extra black on several sides. This takes about 10 minutes. Remove from pan and allow to cool.
Roast Tomatillos
Heat a smaller cast iron skillet if you have it. Char tomatillos on several sides, just like chilis. Remove from pan and allow to cool enough to handle.
Puree Tomatillos
Quarter roasted tomatillos and puree in a food processor or blender on low speed.
Combine and Cook Salsa
Remove stems from roasted chilis. Place whole chilis in a food processor with pureed tomatillos. Pulse a few times on low speed to mix chilis with tomatillos. Don't over-blend.

Pour salsa into a saucepan and bring to a boil with the lid on. Reduce heat and simmer for 5 minutes. Add salt to taste. Allow to cool to room temperature.
Store
Finished salsa will last easily a week refrigerated or 3 months frozen.
Notes
Preparation Tips:
Roast chili peppers in a single layer. Use a spatula to flatten cooking peppers. It will help shape them with square sides, and that makes them easier to brown on several surfaces.
Tuck tomatillos tightly into a smaller cast iron skillet. Then, you can turn and arrange them without having them roll around in the pan.
Be sure to puree tomatillos briefly by themselves and pulse-chop mixture once you add roasted chilis. Don't over-blend.
Nutrition
Calories:
12
kcal
|
Carbohydrates:
2
g
|
Protein:
1
g
|
Fat:
1
g
|
Sodium:
161
mg
|
Potassium:
96
mg
|
Fiber:
1
g
|
Sugar:
1
g
|
Vitamin A:
156
IU
|
Vitamin C:
23
mg
|
Calcium:
3
mg
|
Iron:
1
mg