Vegan almond sour cream has all the cool, silky attributes of traditional sour cream but is entirely dairy-free and soy-free. If you have tried plant-based recipes made with cashews and lemon juice or apple cider vinegar and have been disappointed, this is the recipe for you.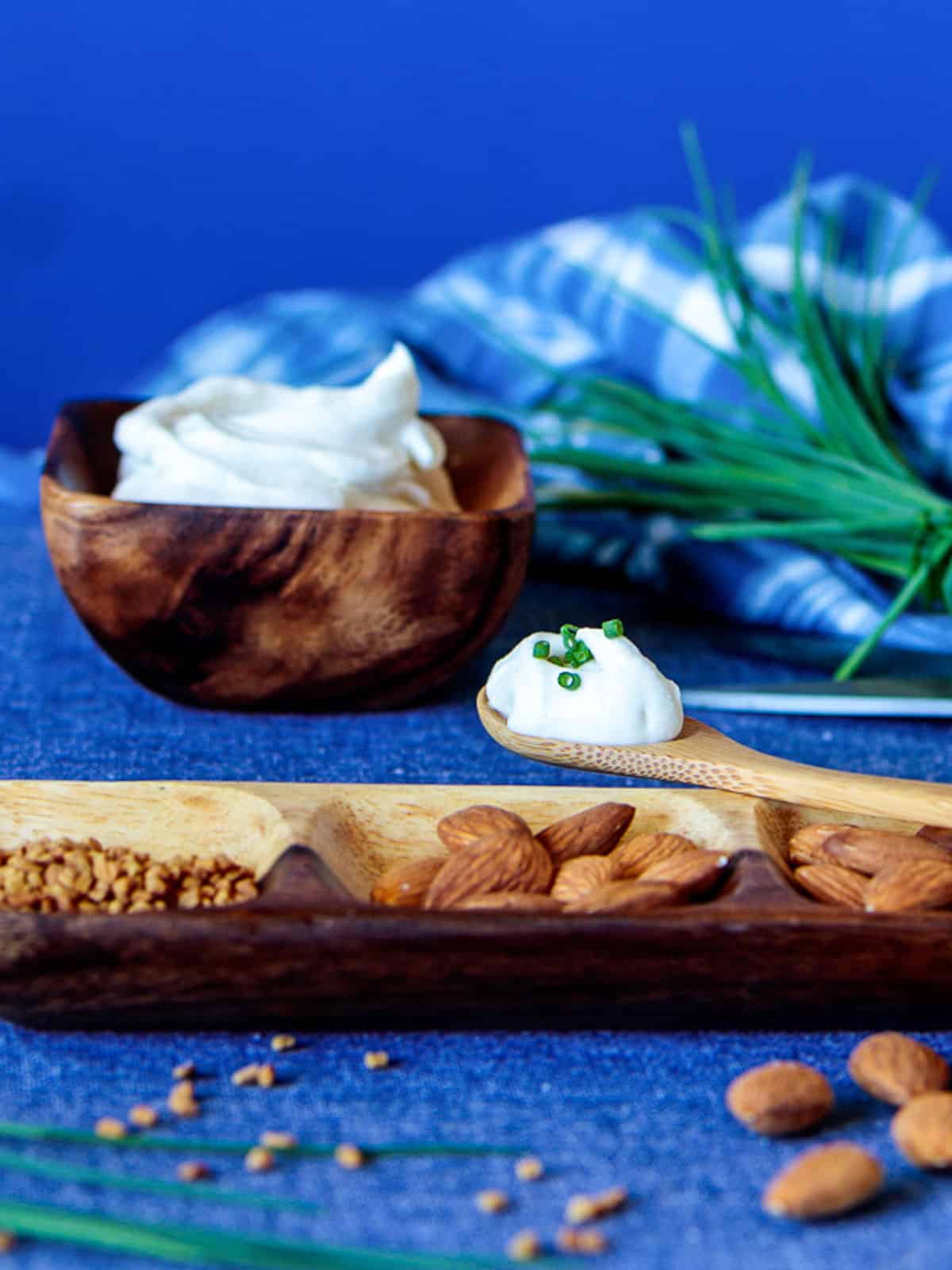 While the flavor is not identical to traditional dairy-based sour cream, it's the closest taste yet for plant-based eaters. Like my Ultimate Recipe For Vegan Butter, half the time our family and guests don't realize they aren't eating dairy when it's served!
Jump to:
Coming up with the most convincing almond sour cream recipe was a tall order. Let's face it. It's tempting to think cool, dairy-based, luscious sour cream is one of those foods that simply has no plant-based substitute. I thought a dairy-free sour cream was impossible until I perfected this exquisite recipe made with rich, homemade almond milk.
🥣 BEST vegan sour cream
So what makes this the best sour cream substitute? To start, perfect sour cream needs to be a lovely, snowy white. After all, food is as much about sight as smell, taste, and mouthfeel. Happily, skinned almonds ensure this cool almond milk sour cream has the required pristine color.
Next, the aroma is light, clean, and fresh. Finally, the flavor is markedly tangy with a kiss of sweetness and a hint of bitterness. If including that last taste sounds a little strange, let some traditional sour cream linger on your tongue.
Of course, if you have been vegan for a while, you'll have to rely on memory. But trust me, a subtle touch of bitterness shows up on the finish of sour cream and adds to its deliciousness.
🥄 Secret ingredient
Coming up with the right bitter component was one of the most challenging and rewarding aspects of creating this vegan almond sour cream. You'll never guess what provides that extra element to the tart flavor. It's fenugreek seed.
Raw fenugreek seeds are tiny, bitter-sweet, and potent. Just a few blended into this versatile staple brings everything into balance.
Are you ready for the very best part? Let's talk about consistency. Along with flavor, this is where many homemade alternative sour creams fall short.
In my book, a gorgeous dip has to be smooth and silky. It needs to be thick enough to sit up on a spoon or dollop onto a baked potato. But, at the same time, it needs to be stir-able.
Finally, it needs to melt slowly over steaming hot dishes or flow into sauces. Thus, using select ingredients in the right proportion is key in this vegan sour cream recipe.
📋 Ingredients
ALMONDS - Use fresh organic whole almonds for a pure sweet taste. It's essential that they be raw and unseasoned.
FENUGREEK SEED - You can find fenugreek whole raw fenugreek seed at Indian markets, health food stores, gourmet spice sections of supermarkets, and online.
POMONA'S UNIVERSAL PECTIN - Pomona's pure citrus pectin made from dried citrus peel is vegan, non-GMO, and gluten-free. Look for it in the baking and jam or jelly-making sections of large supermarkets, health food stores, and online.
DRUIDS GROVE LACTIC ACID - Lactic acid is the secret ingredient in the recipe that gives an unmistakable tang that mimics dairy. Don't let the word lactic in its name confuse you. This fantastic ingredient is made from plant sugars and is vegan. One can lasts for a very long time and is terrific to have on hand if you enjoy crafting artisan plant-based cheeses.
ORGANIC PALM SHORTENING - Be sure to use sustainably sourced, organic shortening made from 100% pure palm oil. I look for manufacturers that are eco-friendly and animal sensitive, like the ones endorsed by Greenpeace and Rain Forest Alliance.
ORGANIC AVOCADO OIL - Avocado oil has a smooth neutral taste that lets the other flavors in the recipe shine.
🥛 Make homemade almond milk
You can find lots of tips on making both almond milk and almond cream in my Vitamix Almond Milk recipe. Here is a summary for you:
First, a brief soak in boiling water is enough to loosen almond skins. Then you can slip them off easily. Rinse and drain the peeled almonds.
Next, blend almonds with water in a high-powered blender for 2 minutes. Then, your mixture is ready to strain.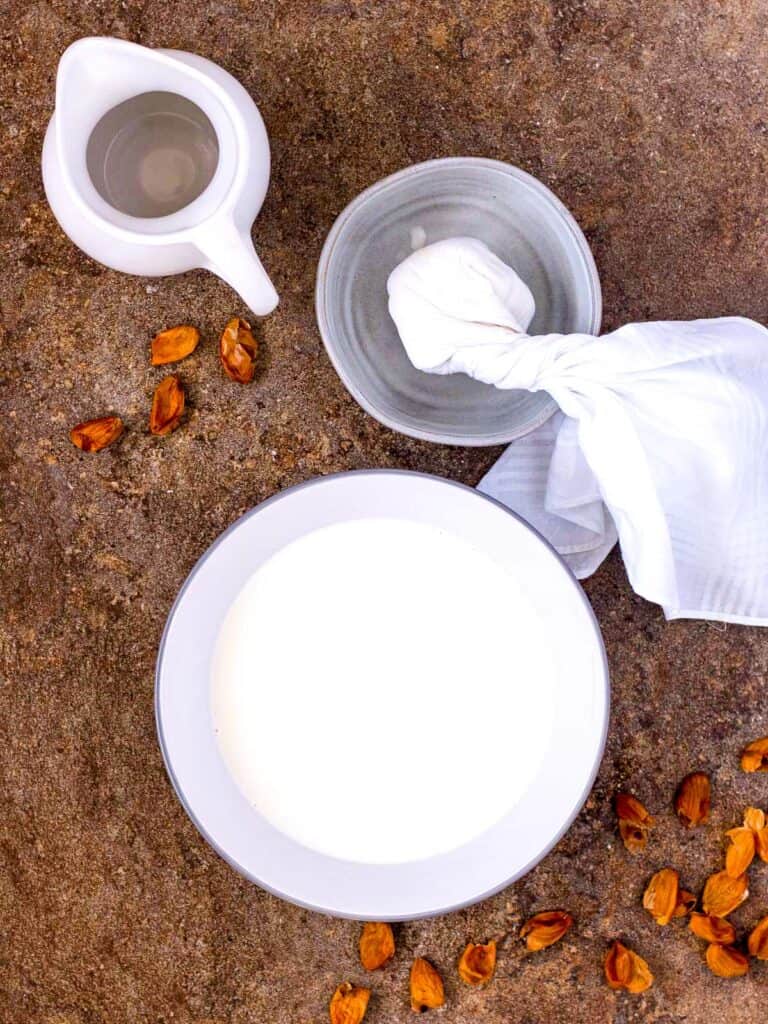 Finally, strain your milk to remove every trace of grit. I find a large cotton handkerchief or thin, tight-weave tea towel perfect for the task. Simply lay your cloth over a bowl and pour the blended almond milk in.
Gather the sides of the cloth, twist, and knead the bundle to extract smooth almond milk. Be sure to ring the top of the bundle tightly to keep the mixture from escaping from the sides. Voila, you'll have silky almond milk without any graininess.
👩🏻‍🍳 Top tip
This recipe works best with a standard, high-powered blender rather than a machine like Vitamix or Blendtec. If you use a Vitamix, use a lower speed and don't blend as long, but do make sure the mixture is smooth before chilling. You can always blend your mixture briefly after chilling to get a perfect consistency.
Give this almond milk sour cream recipe a try, and be prepared for a heavenly topping. I think you'll find it's worth taking the time to make your own nut milk and source the unique ingredients that make this blissful condiment possible.
💭 FAQ
Can I substitute other plant milk?
This recipe relies on precise ingredients and measurements to work. Thus, I don't recommend trying any substitutions. The one small change you can make is to save a little time by using almond flour. Sometimes it's helpful to skip peeling whole almonds.
How can I make almond milk from almond flour?
You can make almond milk from almond flour by substituting equal amounts of blanched, superfine almond flour for whole peeled almonds. From there, use the same instructions for making almond milk with whole almonds. I use Kirkland Signature brand almond flour with great results.
🫕 More dips and spreads
Enjoyed this post? Leave a comment, rate ⭐⭐⭐⭐⭐ it, and follow @poppyswildkitchen on Instagram. Aloha!
📖 Recipe
Vegan Almond Milk Sour Cream
Almond Milk Sour Cream is cool, silky, thick, and melts into sauces. This vegan sour cream recipe is made without cashews, soymilk, or vinegar. Its creamy, tart flavor is perfected by the addition of a secret ingredient.
Print
Pin
Rate
Ingredients
1

cup

rich homemade almond milk*

10

whole

fenugreek seeds, about 1/32 tsp.

1

tsp.

calcium water

¼

tsp.

salt

¼

cup

sustainable organic palm oil

1

TB

avocado oil

1

tsp.

lactic acid

1

tsp.

Pomona's Universal Pectin
Instructions
Make Homemade Almond Milk - Choose One:
From almond flour: Blend 1 cup of water and ½ cup lightly packed fine almond flour in a high-speed blender. Strain through a large cotton handkerchief or tightly woven, thin tea towel. Extract as much milk as possible. Toss pulp or keep for baked goods.

From fresh almonds: Blend 1 cup of water and ½ cup blanched and peeled raw almonds in a high-speed blender. Strain through a large cotton handkerchief or tightly woven, thin tea towel. Extract as much milk as possible. Toss pulp or keep for baked goods.
Heat Almond Milk:
Place almond milk, salt, fenugreek seed, and calcium water in a saucepan and heat just to boiling. Don't allow it to further.
Blend Sour Cream:
Carefully pour heated almond milk into a high-powered blender. Add palm oil, avocado oil, and lactic acid. Blend on high to disintegrate fenugreek seeds.

Turn the blender speed down to medium and carefully open the feeder top. Sprinkle pectin powder slowly into the center of the mixture with the blender running. Continue blending for a full 2 minutes.
Chill and Whip Sour Cream:
Scoop sour cream into a small bowl. Cover and chill for 2 hours. Take sour cream from the refrigerator and stir vigorously with a spoon until shiny and very smooth. If there are any lumps in sour cream, blend it on low speed in a blender until smooth and glossy.
Store
Transfer to a container for storage and use as needed. Sour cream will last 7-10 days refrigerated or 2 months frozen.
Notes
Recipe tips
This recipe requires making almond milk from scratch. Store-bought almond milk will not give the right flavor or texture.
Sour cream will become fully smooth and homogenized after it is chilled and stirred or blended.  Then it will hold its consistency well during storage.
Nutrition
Calories:
58
kcal
|
Carbohydrates:
1
g
|
Protein:
1
g
|
Fat:
6
g
|
Sodium:
115
mg
|
Potassium:
26
mg
|
Fiber:
1
g
|
Vitamin A:
1
IU
|
Vitamin C:
1
mg
|
Calcium:
1
mg
|
Iron:
1
mg