The BEST Falafel Sandwich has a crispy, golden patty that's loaded with flavorful herbs and is moist inside. It's made on a fresh, squeezable ciabatta sandwich bun spread with creamy, lemon and garlic falafel sauce. Layers of sliced juicy tomato, red onion, avocado, and crunchy romaine lettuce make this supreme vegan meal complete.
Jump to:
I have loved falafel since my first introduction years ago, dining in a Greek restaurant. Since then, I have made many versions of falafel sandwiches and sauces at home.
While they all made satisfying meals, I asked myself each time what could make this delicious vegetarian combo even better? What would make it the BEST?
Well, I am so happy you have shown up to see what all the noise is about. That's because this recipe may just become a repeat in your kitchen. It's finally ticked all the boxes at our home for the ultimate falafel sandwich.
⭐ Why it works
Dry chickpeas soaked and ground.
Large falafel patties that hold together.
Crispy on the outside and moist inside.
Grated zucchini, the secret ingredient.
Flavorful herbs and spices.
Vegan falafel sauce with smooth lemon and garlic flavor.
Ciabatta bread rolls for the best falafel burger.
📋 Falafel ingredients
The secret ingredient in this recipe is grated zucchini. Salting it and squeezing out the moisture is a trick I've never forgotten from a Richard Olney recipe and adapted to vegan cuisine.
Adding it to the falafel mixture holds it together and eliminates the need for baking soda. The best part is that the patties stay moist inside even when browned crispy and reheated later.
Dry chickpeas are essential.
Zucchini is a must as the secret ingredient.
Coriander powder is just right, but feel free to substitute cumin powder if you want an earthier taste.
Green onions, cilantro, and parsley are generously included for that classic falafel taste. Substitute part fresh dill if desired, but I don't recommend other herbs.
Red chili powder can be increased if you like extra-spicy falafel. The amount in the recipe is tailored to children or anyone who doesn't want spicy food.
Olive oil in the mix makes the patties richer and easier to flip while frying.
🔪 Steps
Prep ingredients.
Grind raw soaked chickpeas.
Pulse in vegetables, herbs, and spices.
Fry burger-sized falafel patties until golden and crispy.
🫘 Why can't I use canned chickpeas?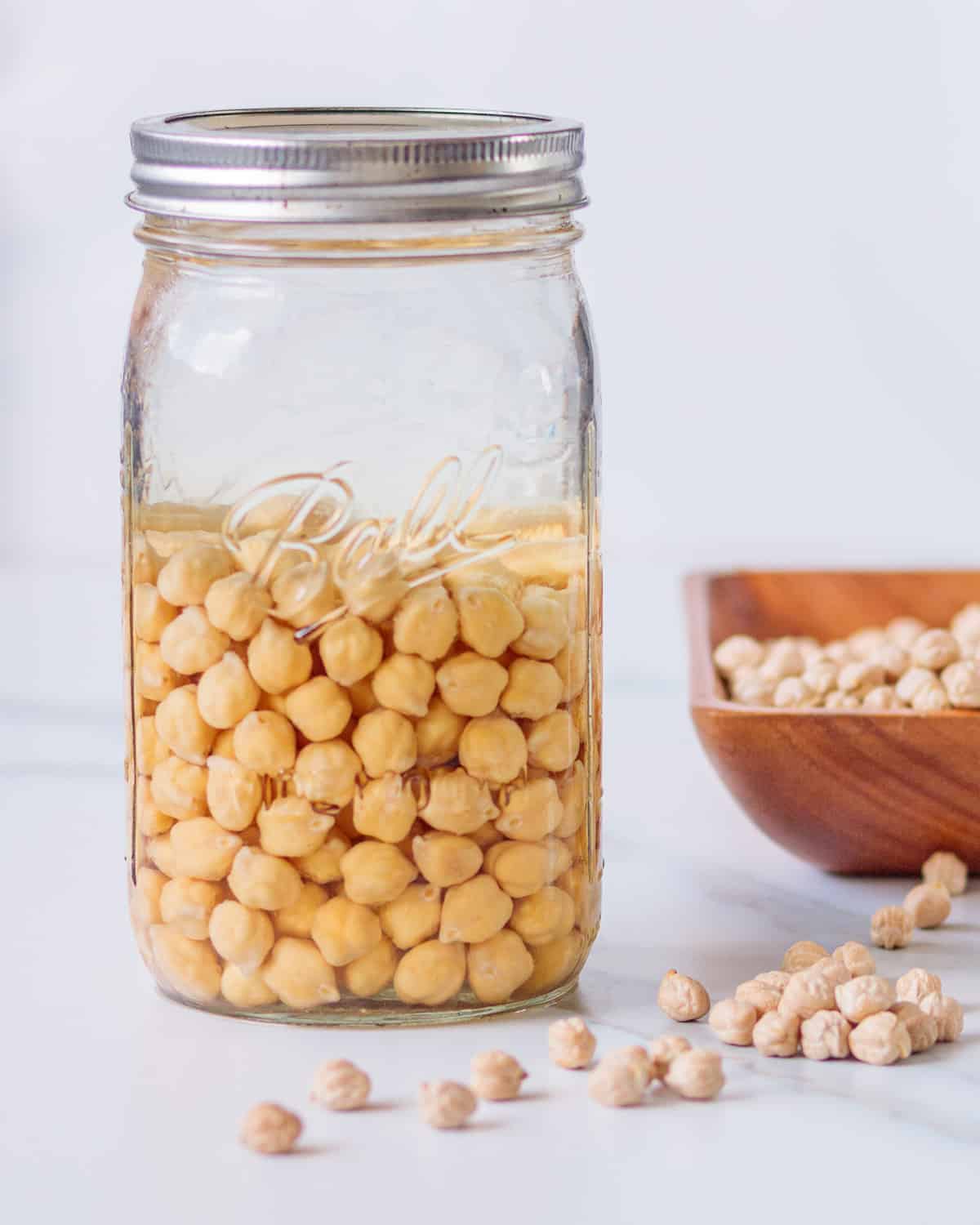 Have you eaten falafel patties that just didn't match up to your favorite Middle Eastern restaurant or food truck? I know how disappointing that is.
That's why you won't find any canned chickpeas in this recipe. Soaking and grinding raw chickpeas is the traditional method that real falafel eateries use, and there are good reasons.
Canned chickpeas have a very different taste than freshly ground, fried chickpeas. They also have a wet mushy texture that requires flour or other additions to bind together.
I tried many falafel recipes over the years only to discover no amount of mixins will compensate for the delicious taste and crispy texture that's missing with canned chickpeas.
Once I discovered the key to the best restaurant-style falafel was soaking and grinding raw chickpeas, I was thrilled. It inspired me to put together the absolute best falafel sandwich, which also meant nailing the sauce.
🥣 Thick falafel sauce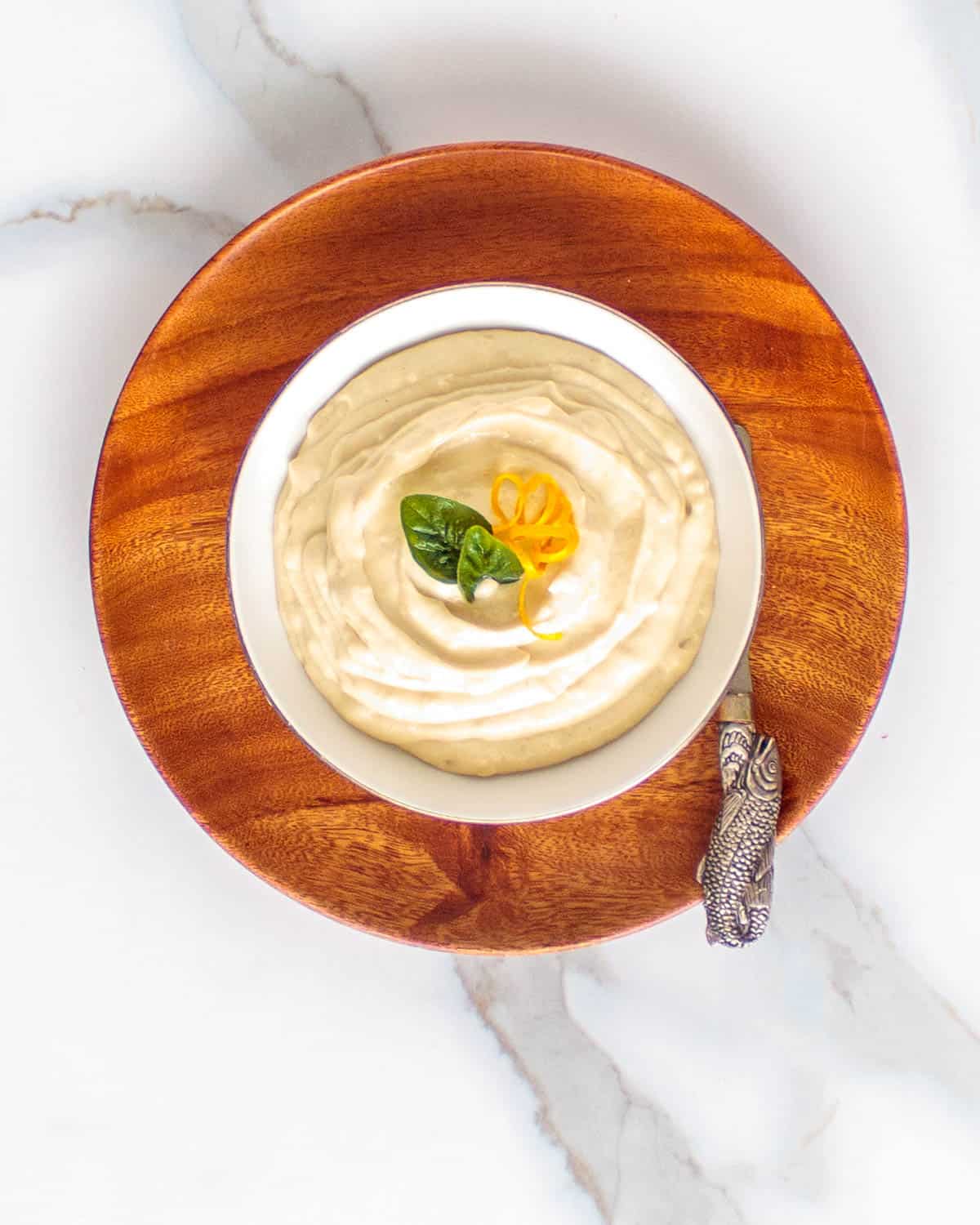 So what makes the best falafel sandwich sauce? Well, for starters, you'll be happy to know, like the rest of the sandwich ingredients, this one is vegan.
It's spoonable and spreads so that you can layer it on generously. The taste of the sauce is finely tuned to be salty and tangy, with just the right amount of garlic.
Most importantly, it's smoother and less bitter than other recipes. That's because it has cool and creamy Cultured Cashew Cream Cheese blended into it.
🍋 Sauce ingredients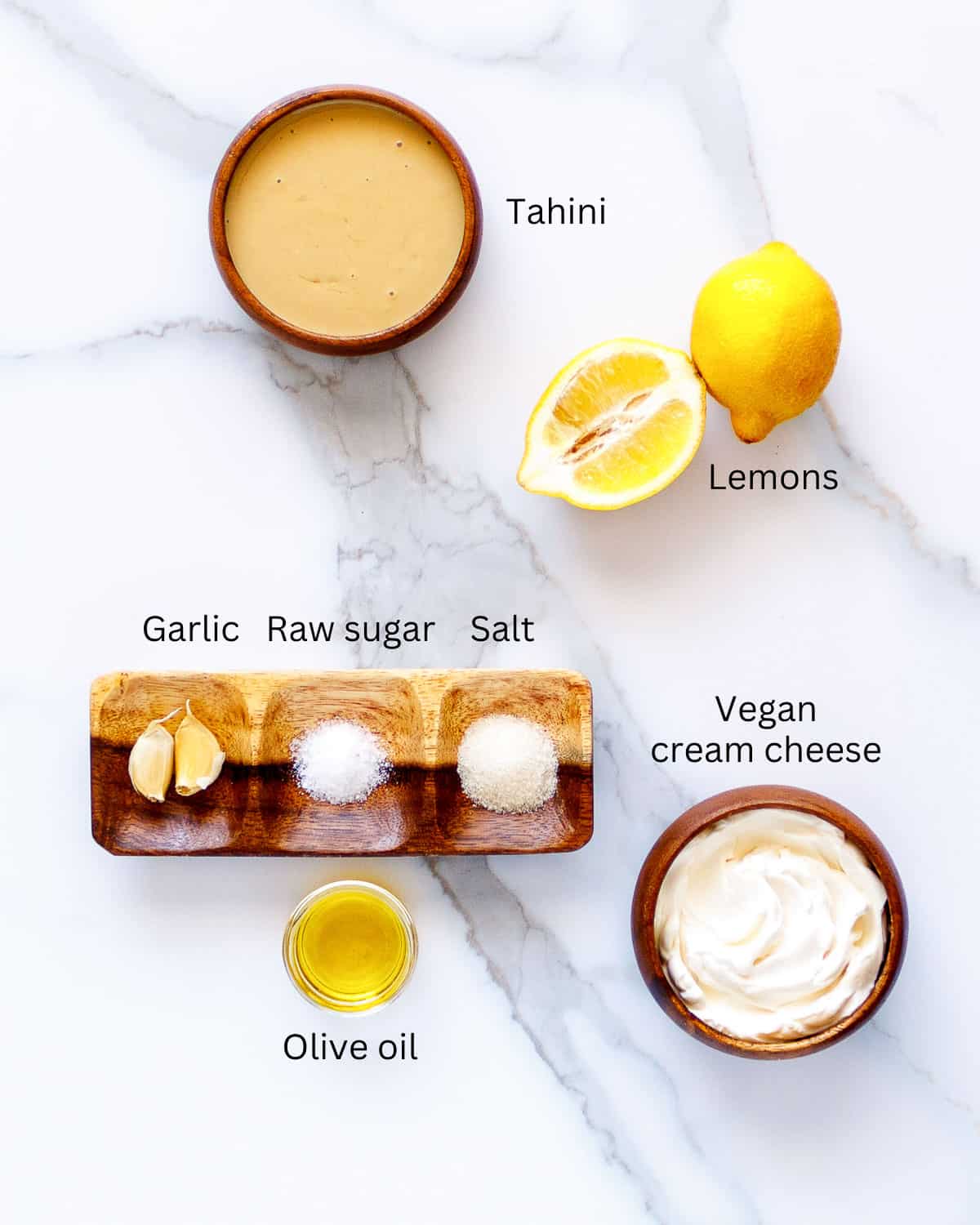 Tahini - Fresh, lighter-colored tahini with a pleasant nutty flavor.
Lemons - Meyer lemons are especially good.
Raw sugar - Just one small teaspoon brings all the other flavors into balance. Be sure to include it.
Olive oil - Use fruity extra-virgin olive oil. Just a touch that you'll be glad you included.
🔪 Steps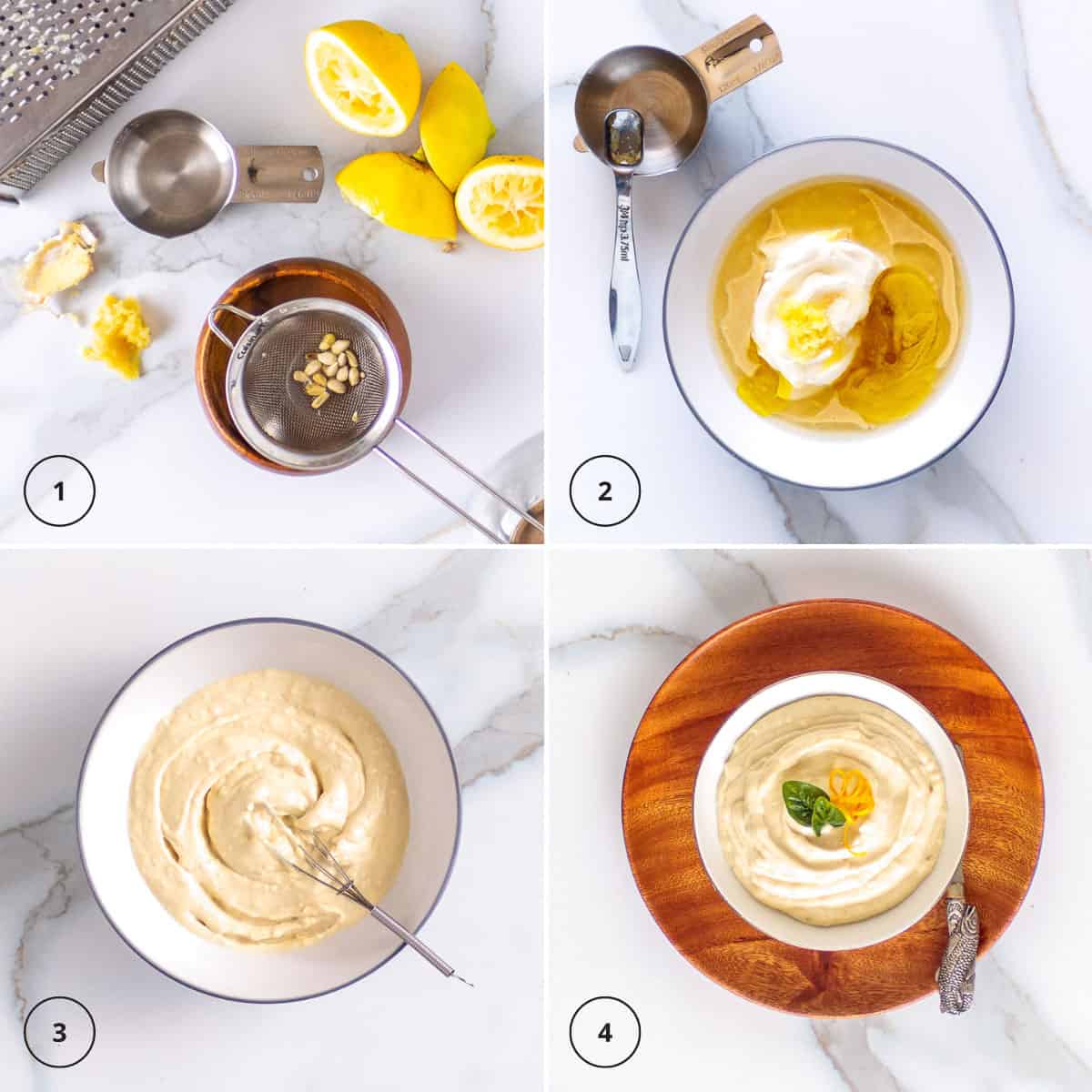 Prep garlic and lemon juice.
Combine falafel sauce ingredients.
Whisk until smooth.
Transfer to a serving dish.
🥖 Best bread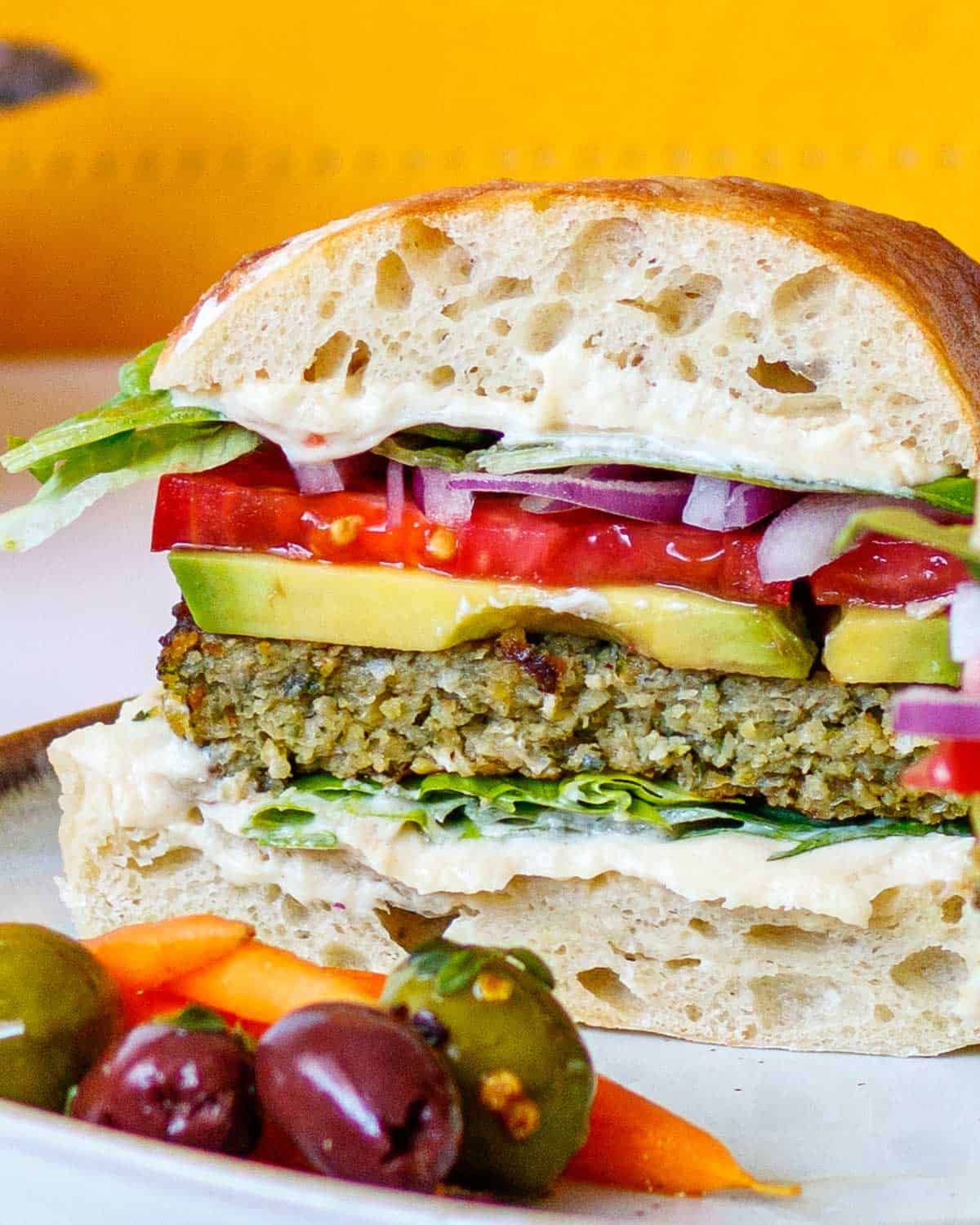 Are you ready to talk bread?
You might be surprised to know I think pita bread can detract from a falafel sandwich. Don't get me wrong. I love freshly baked Soft Homemade Pita Bread. It's divine.
I also know it's traditional with falafel. But for me, there is a mismatch between the shape of falafel nuggets and the typical pocket intended to hold them. Can you relate?
If you're greedy like me, you've had far too many pitas that tear open. It's impossible to stuff them with enough falafel balls by the time you've added sauce and veggies.
So, for a while, I baked baby pitas and used them as buns. I made falafel patties the same size as the baby pitas and built the sandwiches like you would a burger.
I even thought it was kind of cute to call them falafel sliders. However, there was still one problem. The smooth surface of the pitas made them a little too slidy.
🫓 Ditch the pita
I knew I wasn't going back to the pocket, but something had to remedy all the filling and sauce squishing out the sides of the bread! Thus, the perfect ciabatta sandwich roll for falafel was born.
Ciabatta bread is sturdy enough for a vegan burger stacked with juicy tomatoes, sliced onions, and avocado yet springy enough to get your mouth around it. Plus, the plentiful nooks and crannies will capture all your awesome homemade vegan falafel sauce.
Now don't worry if you want the best falafel sandwich and aren't up for baking bread the same day. Instead, you can purchase fresh ciabatta rolls from a bakery or fine market.
🥙 How to make a falafel sandwich
Now that you know what ingredients make the ultimate vegan falafel sandwich, here's a brief summary to help you put it all together.
Soak your chickpeas.
Prep your zucchini.
Make your falafel sauce.
Slice tomato, red onion, and avocado for the sandwich.
Grind the chickpeas with fresh herbs and spices.
Fry falafel patties.
Spread thick falafel sauce on both sides of a sandwich roll.
Layer your sandwich with the sliced veggies and a sizzling hot falafel burger.
There you have it! The BEST tasting, easy-eating, loaded vegan falafel sandwich.
You can adapt this recipe by frying tablespoonfuls of the chickpea mixture into 28 moist and crispy falafel balls.
Try a filling, healthy salad or this crowd-pleasing mezze platter.
Falafel salad - Top 4 leafy green salads with tomato, onion, and avocado. Add a few slices of cucumber and some Greek olives. Thin falafel sauce and add a touch more salt, garlic, or lemon juice to taste. Divide the crispy-fried falafel balls over the top of the salads and drizzle with tahini dressing.
Loaded mezze platter - Pull out a large platter and arrange crisp, chopped romaine and sliced cucumber around the edge. Next, add ½ cup portions of hummus, roasted peppers, baba ganoush, vegan cheese, and spicy marinated Greek olives to the platter. Leave room in the center to add your sizzling hot falafel balls. Serve the mezze with Soft Pita Bread and the thick falafel sauce from this recipe.
👩🏻‍🍳 Expert tips
Squeeze the zucchini firmly after salting to extract all of the juices.
Prep your sauce and slice your sandwich fixings before frying falafel.
Grind chickpeas by themselves to a meal the size of coarse cracked wheat before adding other ingredients.
Keep texture in the mixture, and it will fry up lighter. Don't grind it smooth.
Oil a measuring cup before scooping the mixture into it.
Pack the falafel tightly into the measuring cup.
Tap the cup with a firm hand over a parchment-lined cutting board to release the contents.
Shape patties sized to fit your ciabatta bread.
Fry patties in olive oil until the edges are golden.
Flip falafel burgers by using two spatulas, one on top and one below.
Fresh bread is essential for your sandwich.
💭 FAQ
Do I need to cook chickpeas before making falafel?
No. The beauty of falafel made from scratch is that soaked raw chickpeas perform much better than cooked ones. Traditional Lebanese, Palestinian and Egyptian falafel recipes use soaked chickpeas. Chickpeas that aren't cooked or canned give every advantage in taste and texture.
What's the difference between tahini, tahini sauce, and falafel sauce?
Tahini is pure sesame seed paste. Think of it as similar to nut butter, only made with sesame seeds. Traditionally, tahini sauce is made with tahini paste, lemon juice, garlic, and salt. Falafel sauce is typically made either with tahini or yogurt and different spices. Our family thinks the tangy, garlicky tahini sauce in this recipe is the best of both worlds. Vegan cream cheese is added to soften tahini's bitterness while adding the cool, creamy quality of yogurt.
🥪 More sandwich recipes
Enjoyed this post? Leave a comment, rate ⭐⭐⭐⭐⭐ it, and follow @poppyswildkitchen on Instagram. Aloha!
📖 Recipe
BEST Falafel Sandwich and Sauce
The BEST falafel sandwich starts with fresh ground chickpeas. Bright herbs, all the veggies, a special thick and tangy falafel sauce, and the perfect roll make this sandwich exceptional. Dairy-free and vegan.
Print
Pin
Rate
Ingredients
Thick and tangy falafel sauce
½

cup

tahini

¼

cup

lemon juice

½

cup

homemade vegan cream cheese

or store bought

1

TB

olive oil

½

tsp.

salt

1

tsp.

garlic

finely grated

1

tsp.

raw sugar
Falafel patties
1

cup

chickpeas

dry

2

cups

zucchini

grated

¼

tsp.

salt

for zucchini

½

cup

green onions

chopped

½

cup

parsley leaves

¼

cup

cilantro leaves

2

cloves

garlic

1

tsp.

salt

1

tsp.

coriander powder

½

tsp.

chili powder

or more to taste

1

TB

olive oil

olive oil for frying
Sandwich Fixings
5

homemade rolls or ciabatta-style bakery rolls

½

small

head romaine lettuce

2

large

ripe tomatoes

2

small

avocados

¼

small

red onion
Instructions
Soak chickpeas
Soak chickpeas overnight in at least

4

cups of water. You can soak for 12 hours or longer in the refrigerator. Rinse chickpeas and drain well.
Prepare zucchini
Grate zucchini on the large end of a box grater. Measure out

2

cups and place it in a bowl. Sprinkle with salt. Stir with a fork. Let sit for 15 minutes while making sauce and slicing veggies.
Make thick tahini sauce
Squeeze lemon juice and measure out

¼

cup. Peel and press garlic cloves.

Whisk together the ingredients for the falafel sauce. Taste, and adjust the consistency if needed. You can add a little more olive oil or water if it's too thick, but keep it spreadable.
Slice sandwich add-ins
Slice tomato, avocado, and red onion. Separate lettuce leaves and keep it all chilled while making falafel.
Squeeze water from zucchini
This step is important. Remove all the liquid from the zucchini. Scoop a handful at a time and squeeze hard to press dry. Hold squeezed zucchini aside to add at the end of grinding the falafel mix.
Grind Falafel Mix
Place soaked and drained chickpeas in a food processor. Grind to a medium-fine meal. It should be uniform but still have a texture like cracked bulgur wheat or ten-grain cereal.

Add green onions, parsley, cilantro, garlic, salt, coriander, chili powder, and olive oil. Pulse until uniformly flecked with green.

Add squeezed zucchini and pulse a few strokes to mix. Leave some texture to the zucchini.
Shape and fry falafel
See the recipe notes below for tips on shaping and frying.

Pack the falafel mixture firmly into a ½ cup measure. Tap the cup on a cutting board or parchment-lined work surface to release patties. Shape patties ½ inch thick and size them to fit sandwich rolls.

Heat one tablespoon of olive oil in a large cast iron or steel frying pan over medium heat. Add patties 2 or 3 at a time. Fry the first side until the edges are golden. Flip and flatten slightly. Finish cooking until both sides are browned and golden.
Assemble sandwiches
Spread rolls generously on both sides with falafel sauce. Layer lettuce, tomato, and onion on top. Add hot falafel patties and enjoy!
Notes
Recipe tips Prep your sauce and slice your sandwich fixings before frying falafel. Squeeze zucchini firmly to extract all the water after it is salted. Grind chickpeas by themselves to a coarse meal before adding other ingredients. Keep texture in the mixture, and it will fry up lighter. Don't grind it smooth. Oil a measuring cup before scooping the mixture into it. Pack the falafel tightly into the measuring cup. Tap the cup with a firm hand over a parchment-lined cutting board to release the contents. Shape into patties sized to fit your ciabatta bread. Fry falafel burgers in olive oil until the edges are golden. Flip falafel burgers by using two spatulas, one on top and one below. Fresh bread is essential for your sandwich.
Nutrition
Calories:
352
kcal
|
Carbohydrates:
32
g
|
Protein:
9
g
|
Fat:
24
g
|
Sodium:
824
mg
|
Potassium:
763
mg
|
Fiber:
11
g
|
Sugar:
5
g
|
Vitamin A:
1114
IU
|
Vitamin C:
29
mg
|
Calcium:
80
mg
|
Iron:
3
mg