This gorgeous eggless Mango Cake is baked upside down and needs no frosting. Instead, fresh summer mango slices adorn the top.
I love how tender and even crumbed the fragrant spice cake is. In addition, making it with coconut milk ensures it stays moist for several days.
Jump to:
Top Tip
Use mangoes that are still slightly firm for this recipe and cut in half-inch-thick slices. If they are too ripe, they will be hard to slice and the top of the cake will be soggy.
Ingredients
Along with pure coconut milk, this healthy mango cake has an ingredient list that doesn't include any refined sugar. Instead, it's sweetened with maple syrup and mineral-rich molasses.
The dry ingredient list is simple and straightforward. Organic all-purpose flour keeps the cake light and fluffy with a soft crumb.
You don't need a mixer to make the batter. As a result, I think you'll find it easy to make. The wet ingredients are simply stirred into the sifted dry ingredients with a wooden spoon or whisk.
The old days of our grandmothers donning aprons to whip egg whites and cream butter with white sugar to get a fluffy cake are gone. Not only are eggs missing, but all the other ingredients in the recipe are vegan.
Mango fruit topping
While mangoes are wonderful dried, preserved into chutneys, or frozen for smoothies, none of those options will do for this lovely tropical cake. Yes, this upside-down beauty relies on fresh raw mangoes at their peak.
It's incredible how sweet mangoes are on their own. That's why they work so well in the spicy salsa that tops Not Fish Tacos.
In the case of this pretty upside-down spice cake, spiraled slices of fresh mango make a perfect replacement for sugary frosting.
Because mango topping is so healthy, I wanted a cake underneath that was also made without sweetened condensed milk. So, I made dozens of cake variations before settling on the ideal match.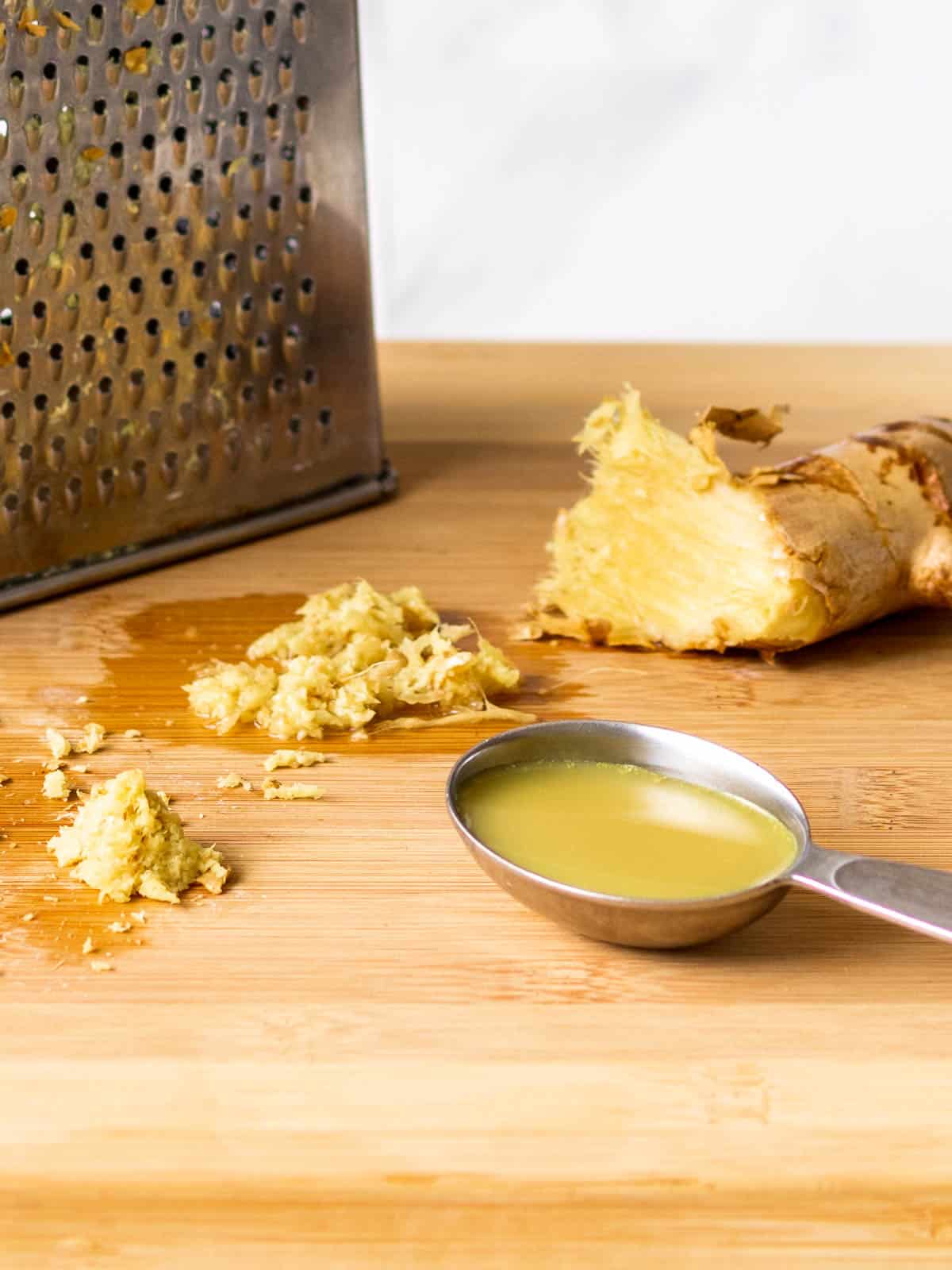 The winner is made with all plant-based ingredients with fresh-squeezed ginger juice in the batter. It's just the touch that enlivens the other warm spices and dark sweeteners in the gingerbread-flavored cake mix.
Wait until you see how this modernized recipe proves sweet and healthy go hand in hand. Then, call your most cherished friends. You're going to want to share this sunny Upside Down Mango Cake with them.
Serving
Eggless Mango Cake is ideal served slightly warm or at room temperature. If you store cake in the refrigerator, remove and allow slices to sit for thirty minutes to soften before serving.
Topping isn't required, but coconut whipped cream and coconut ice cream pair well if desired.
FAQ
What is the average size of a mango?
According to Specialty Produce, mangoes vary greatly in size. They can be as small as 4 ounces and up to an incredible 5 pounds. For this recipe, you'll need 3-4 mangoes about 10 ounces each or 4 inches in length. Since you will use only the even slices for the cake, you'll have trimmed mango leftover to use for other treats.
How do you tell if a mango is ripe or not?
Mangoes are ripe as soon as a gentle squeeze leaves an indentation. Some mango varieties are still green on the outside even though they are ripe.
How to cut a mango into slices?
Start by holding mango upright with the narrow end facing you. Then slice straight down from the top along the seed to shave off the two fat cheeks. Use a large spoon or thin-edged glass to scoop out the flesh from mango peel. Place scooped mango halves with the flat side on a cutting board. Slice into strips according to the recipe.
Will I need a mixer?
No. Not needing a mixer is one of the great advantages of an eggless cake.
How should I store fresh mango cake?
Once the cake is cooled, store any leftovers covered in the refrigerator. You can also wrap and freeze individual slices. Thaw in the refrigerator overnight or at room temperature for an hour before serving.
More vegan dessert recipes
I would be thrilled to know if you tried this recipe! Leave a comment, rate it, and don't forget to tag a photo #poppyswildkitchenrecipes on Instagram. Aloha!
📖 Recipe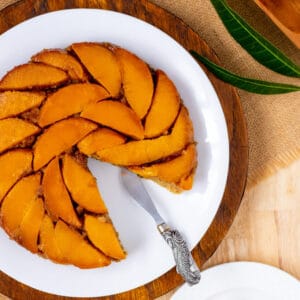 Upside Down Mango Cake Eggless
Sweetly spiced Upside Down Mango Cake has a tender crumb and makes a lovely centerpiece dessert with it's spiral topping. Eggless and dairy-free.
Print
Pin
Rate
Ingredients
Wet Ingredients
⅛

cup

coconut oil

¼

cup

light molasses

6

TB

maple syrup

½

cup

coconut milk

1

TB

fresh squeezed ginger juice

from 5 inch piece of ginger

1

tsp.

vanilla

1

tsp.

lemon juice
Dry Ingredients
1 ½

cups

all-purpose flour

1 ½

tsp.

tsp. baking powder

½

tsp.

tsp. baking soda

1

tsp.

tsp. ground cinnamon

¼

tsp.

ground allspice

½

tsp.

salt
Instructions
Preheat Oven
To 350°F (180°C) (165°C fan)
Prepare Baking Pan
Very lightly grease bottom and sides of an 8-inch cake pan with coconut oil.
Prepare Mango Slices
Start by holding mango upright with narrow end facing you. Slice straight down from top along center seed to shave off the two fat cheeks. Use a large spoon or thin edged glass to scoop out flesh from mango peel.

Peel remaining mango on seed and set aside to save for blended or frozen treats.

Place scooped mango halves with flat side on cutting board. Slice into ½ inch wide pieces.

Remove any small end pieces. Add them to the other odd pieces. You will have two piles of mango now, the pretty, even slices and the odd shapes to save for other recipes.
Remove Excess Juice From Mango Slices
Pat mango slices dry on both sides before arranging in cake pan. You can do this by laying slices on a smooth cotton tea towel to drain. Cover with a second towel and blot top of slices to soak up excess juice. You can also use paper towels.
Make Fresh Ginger juice
Grate unpeeled ginger on large end of a box grater. Squeeze wet pulp firmly to extract juice. Measure one tablespoon into a large mixing bowl.
Mix Wet Ingredients
Measure coconut oil and add to ginger juice. Use same measuring cup to measure molasses so it slides out easily

Add remaining wet ingredients and whisk everything together.
Sift Dry Ingredients
Place a fine meshed strainer or sifter over a bowl. Put dry ingredients in sifter. Sift mixture into bowl and repeat process. Flour should be fluffy after sifting twice.
Combine Wet and Dry ingredients
Add sifted dry ingredients to wet mixture. Use a wooden spoon or whisk and stir to make a smooth batter.
Bake Cake
Working from outer edge towards center, lay mango slices on their side in greased cake pan. Nestle slices together and tuck in to make a tight spiral.

Pour finished batter over top of mango slices in pan. Lightly even batter with a large spoon or spatula.

Bake cake on center rack of oven 35-40 minutes. A center tooth pick should come out dry and edges of cake should be slightly brown.
Cool and Serve Cake
Place baked cake on a rack to cool. Once it is room temperature, cover with a sheet of parchment paper followed by a flat tray. Invert cake so that tray sits at bottom. Carefully remove cake pan. Center serving plate over cake bottom. Flip cake to upright position. Remove tray and parchment liner gently to expose mango topping.

Slice as desired and serve at room temperature, with or without coconut whipped cream.
Notes
Mango Slices
Be sure to pat mango slices dry on both sides as per recipe instructions before arranging in cake pan.  This step is important to prevent your cake from being soggy.
Coconut Oil and Coconut Milk
Bring coconut oil and coconut milk to room temperature before mixing wet ingredients. Wet mixture should be uniform and smooth before combining with dry mixture.
Storing Cake
Store uneaten cake in refrigerator right away. Allow slices to warm to room temperature before serving again.  Cake can also be frozen whole or in slices and warmed to room temperature before serving.
Nutrition
Calories:
269
kcal
|
Carbohydrates:
50
g
|
Protein:
3
g
|
Fat:
7
g
|
Sodium:
310
mg
|
Potassium:
393
mg
|
Fiber:
2
g
|
Sugar:
29
g
|
Vitamin A:
923
IU
|
Vitamin C:
31
mg
|
Calcium:
115
mg
|
Iron:
2
mg