This island-style Poke Tower is a plant-based version of an unforgettable dish I polished off in sunny Lahaina town. The restaurant is long since gone, but the memory of that first scrumptious poke tower inspired this vegan remake.
Back then I appreciated how neatly the plate was stacked with rice, avocado, and tuna poke. Plus, I thought the spicy, creamy sauce was a brilliant accompaniment.
To be sure, every bell was rung with the crispy taro chips served on the side. All those dynamite flavors and textures remain, but the tuna has been replaced with tofu poke and I've kicked it up a notch with gorgeous dragon fruit.
Top tip
Poke is pronounced poh-KAY and the syllable emphasis is the same as in "okay".
Why it works
Vegan tofu poke
Tropical dragon fruit
Spicy aioli
Crispy taro chips
Can be made as a bowl or tower
Jump to:
Tofu poke
Residents in Hawaii love their poke! Walk into any everyday market and you're likely to see a deli counter with several varieties of poke available. Ahi tuna, octopus, and shellfish are typical, and local home kitchens all have their own favorite main ingredient.
So how can you make a poke tower vegan? No worries. Diced tofu absorbs the traditional marinade beautifully and makes seafood obsolete.
For real island-style poke, the marinade should always include soy sauce, toasted sesame oil, and seaweed.
Fortunately, the other ingredients in a poke tower like rice and avocado are naturally vegan. This version is even more nutritious with chewy black rice and dazzling pink pitaya slices.
You won't believe how sensational the juicy dragon fruit slices taste holding the tower together. Their tiny crunchy seeds mingle with the smooth avocado, black rice, and luscious spicy mayo.
Now it's not only healthier, and seriously delicious, but filling enough to be a main dish with shredded carrot, fresh Asian greens, and taro chips completing the poke tower.
Ingredients
Asian greens - Complement the island flavors
Dragon fruit - Can be white, pink, or purple
Black rice - Chewy short-grain brown rice can be used as well
Spicy mayo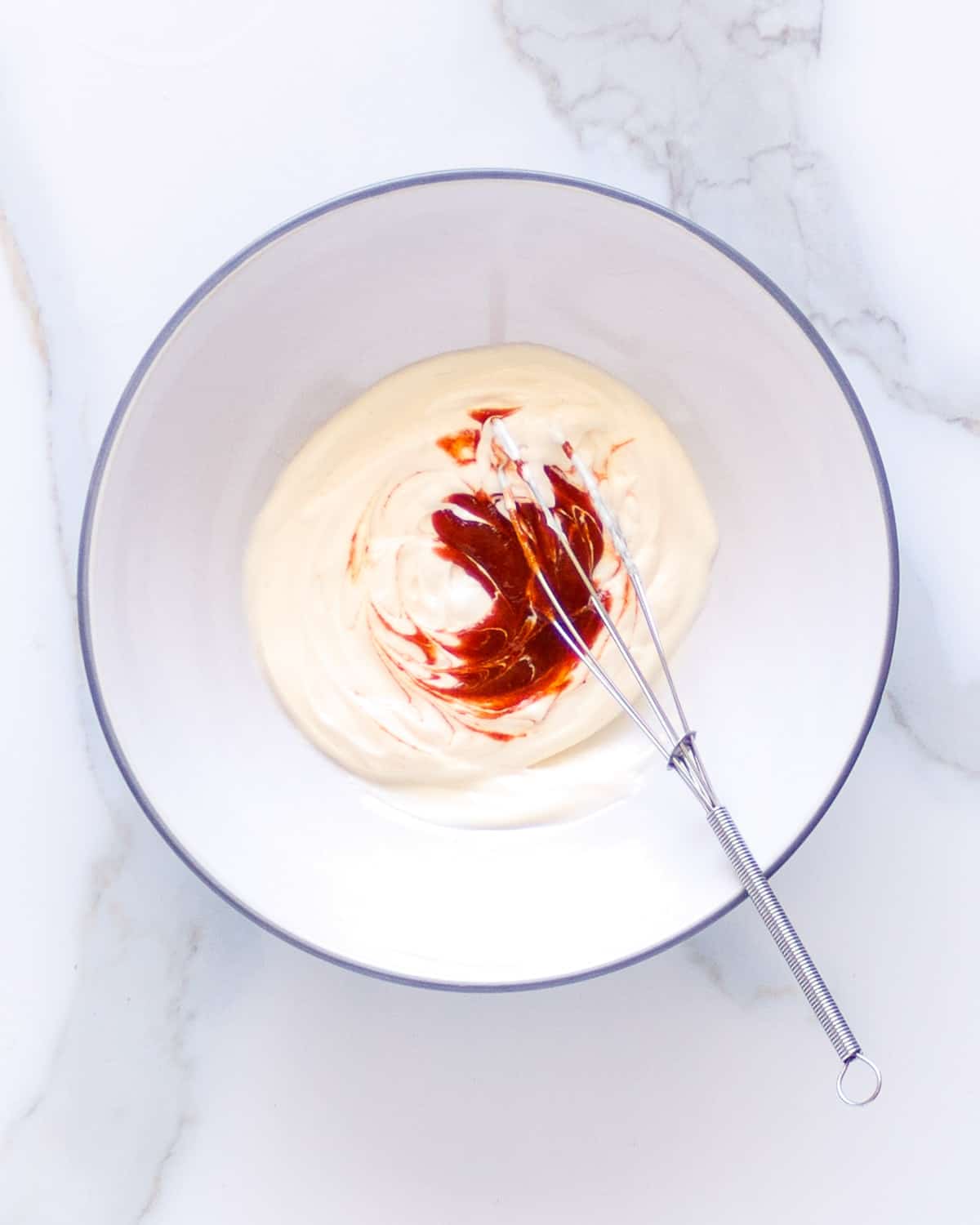 The sauce for this island plate is a simple combo of creamy vegan mayo and vegan red chili sauce. Sriracha is ideal. Choose a brand or homemade recipe that is garlicky, lightly sweet, and preferably fermented.
If you don't like things too spicy, go ahead and tone down the heat to your taste. Or kick it up if you want inferno heat, but whatever you do, don't skip the sauce.
Equipment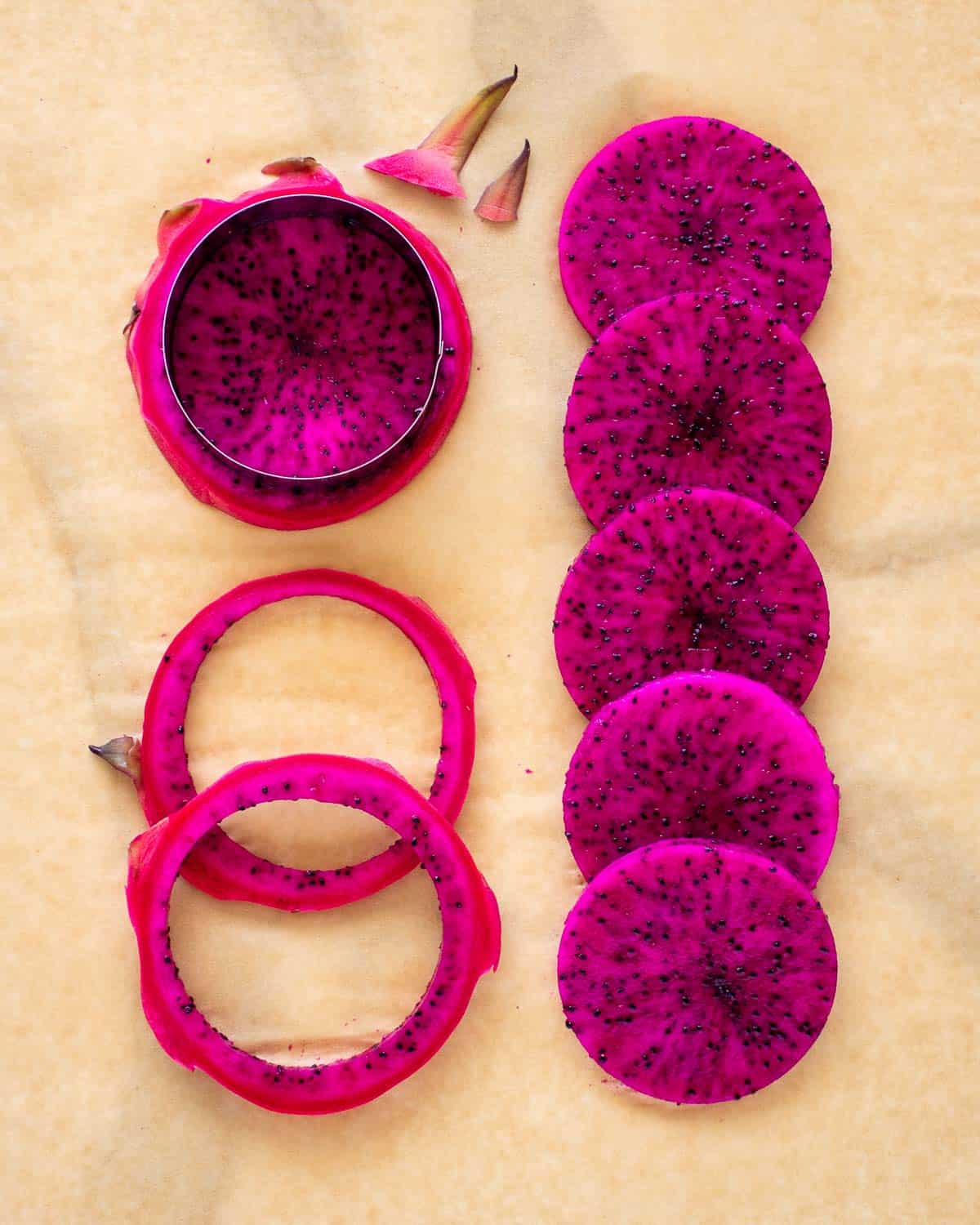 If you want your poke tower to line up in beautiful, meticulous layers, you need a bonafide food ring. They make stunning restaurant-style presentations at home a snap.
Because I spent years working in restaurants, it's only natural to find such an item in my kitchen drawer. Do you have one at home? If not, they aren't expensive to buy and make all the difference.
Webstaurant Store has professional chef's equipment and the perfect size mold for this recipe. This alternative model with a matching tamper is made from thinner material but the tamper is helpful when pressing down the tower layers.
Steps
It only takes a few minutes to make the fillings for this poke tower.
Soak hijiki, squeeze ginger juice, and dice tofu.
Mix tofu with poke marinade.
Dice avocado, slice green onions, and squeeze lemon juice.
Mix avocado filling.
Assemble poke tower
Mix spicy mayo.
Slice dragon fruit and shred carrot.
Fill the food ring with fillings.
Plate poke tower with greens and taro chips.
Make a bowl
If you don't have a food ring and are impatient you might be wondering if you can make this recipe into a tofu poke bowl. The answer is a resounding yes.
Double the black rice and fill bowls halfway. Top bowls with all the remaining ingredients saving the sauce and taro chips for last.
Now you've got a satisfying, healthy poke bowl that tastes every bit as good as the show-stopping plated tower.
Expert tips
Soak seaweed while dicing tofu and mixing fillings.
Drain excess marinade from the tofu before assembling the tower.
Use a food ring that is 3 inches wide and 2 inches tall.
Lightly grease your food ring and tamper.
Freshly cooked black rice at room temperature packs best.
Pack layers by pressing down gently but firmly with a fitted tamper or flat-bottom glass.
Transfer the filled food ring to a serving plate with a thin spatula.
Carefully lift the food ring off the tower once it's plated.
FAQ
What is poke?
Poke is a food that has origins going back to the time when Polynesians and Hawaiians used to salt raw fish and mix it with seaweed and roasted ground kukui nuts. However, the word poke, which means to slice or cut in chunks in Hawaiian, was not used to refer to the popular modern-day dish until the late 1970s. At that time chefs were introducing other ingredients and flavors from different cultures like shoyu and toasted sesame oil from Japan.
Is sriracha vegan?
Not all brands of sriracha are vegan. At first look, the standard ingredients of chilies, salt, sugar, garlic, and vinegar seem to be safe. However, some brands use sugar processed through animal bone char or may have additives like fish sauce. Bottles labeled organic or vegan and homemade sriracha are your best bet.
More island recipes
Enjoyed this post? Leave a comment, rate ⭐⭐⭐⭐⭐ it, and follow @poppyswildkitchen on Instagram. Aloha!
📖 Recipe
Hawaii Poke Tower
Dazzling pink dragon fruit slices hold together this seriously delicious tofu poke tower. Layered with nutritious black rice and smooth avocado. Spicy, creamy sriracha sauce and taro chips complete the dish. Vegan, gluten-free and dairy-free.
Print
Pin
Rate
Ingredients
½

tsp.

dry ogo or hijiki seaweed

2

TB

soy sauce

1

TB

toasted sesame oil

2

tsp.

tomato paste

1

tsp.

fresh ginger juice

squeezed from grated ginger

1/16

tsp.

gochugaru red chili powder

1

cup

firm tofu

diced

1

cup

avocado

diced

2

TB

green onion

chopped

1

tsp.

lemon juice

1

cup

cooked black rice

2

large

dragon fruit

1

medium

carrot

, grated or spiralized

2

cups

mizuna or Asian salad greens

4

TB

vegan mayonnaise

2

tsp.

sriracha or red chili paste with garlic

2

oz.

taro chips
Instructions
Soak seaweed
Cover

½ tsp. dry ogo or hijiki seaweed

with water and let soak.
Make spicy sauce
Mix

2 tsp. sriracha or red chili paste with garlic

and

4 TB vegan mayonnaise

together in a small bowl.
Make tofu poke marinade
Whisk

2 TB soy sauce

,

1 TB toasted sesame oil

,

2 tsp. tomato paste

,

1 tsp. fresh ginger juice

, and

1/16 tsp. gochugaru red chili powder

in a medium-sized bowl.
Prepare filling ingredients
Wrap tofu in a thin cloth or paper towels and press gently to remove as much water as possible.

Dice

1 cup firm tofu

in small ¼ inch squares and stir into marinade.

Squeeze water from soaked seaweed. Add to marinating tofu.

Dice

1 cup avocado

and mix with

2 TB green onion

and

1 tsp. lemon juice

in a small bowl.

Slice

2 large dragon fruit

into ¼ inch thick slices with the skin on. Then use a 3-inch cookie cutter to trim off the edges and make perfect rounds.

Peel and grate or spiralize

1 medium carrot

.
Assemble Poke Towers
Have ready

1 cup cooked black rice

. Lay a piece of dragonfruit on a flat cutting board. Place a food ring over the dragonfruit slice. The ring should be the same size as the slice or slightly smaller. If it's smaller, press the ring down over the dragon fruit slice and trim the excess from the outside.

Now, for each tower, add ¼ cup of black rice. Use a tamper or flat-bottomed glass to pack the rice evenly over the pitaya slice. Add ¼ cup marinated tofu. Press gently. Top tofu with ¼ cup of the avocado mixture and even top. Finally, add a second slice of dragon fruit to finish the layers.

Leaving the ring on the tower, slide a thin wide spatula under the bottom of the poke tower. Transfer the tower to a serving plate with the spatula. Gently lift off the mold. Repeat assembly for the remaining three poke towers.
Serving
Divide

2 cups mizuna or Asian salad greens

and

2 oz. taro chips

between plates and add the shredded carrot. Drizzle dragon fruit towers with sriracha mayo.

Serve poke tower right away or chill up to one day before serving.
Notes
Ingredients
Dried seaweed - Ogo is traditional, but hijiki is good too.
Soy sauce - Shoyu and gluten-free tamari are fine.
Toasted sesame oil - Be sure to include.
Taro chips -  Are available online and at most large markets.
Equipment
Use a food ring that is 3 inches wide and 2 inches tall.
Preparation
Soak seaweed while dicing tofu and mixing fillings.
Drain excess marinade from the tofu mix before assembling the tower.
Lightly grease your food ring.
Freshly cooked black rice at room temperature packs best.
Transfer the filled food ring to a serving plate with a thin spatula.
Carefully lift the food ring off the tower once it's plated.
Nutrition
Calories:
395
kcal
|
Carbohydrates:
32
g
|
Protein:
9
g
|
Fat:
25
g
|
Sodium:
832
mg
|
Potassium:
643
mg
|
Fiber:
6
g
|
Sugar:
7
g
|
Vitamin A:
3243
IU
|
Vitamin C:
23
mg
|
Calcium:
62
mg
|
Iron:
3
mg
|
Magnesium:
70
mg
|
Phosphorus:
175
mg