Taro root soup made with roasted beets is smooth, silky, and utterly delicious. If you are wondering about this unlikely combination, I get it. I know when I think of beets, I think of European cuisine and the cold climate. On the other hand, when I am dreaming up recipes for taro, I typically look to warm places like Hawaii and India for recipe inspiration.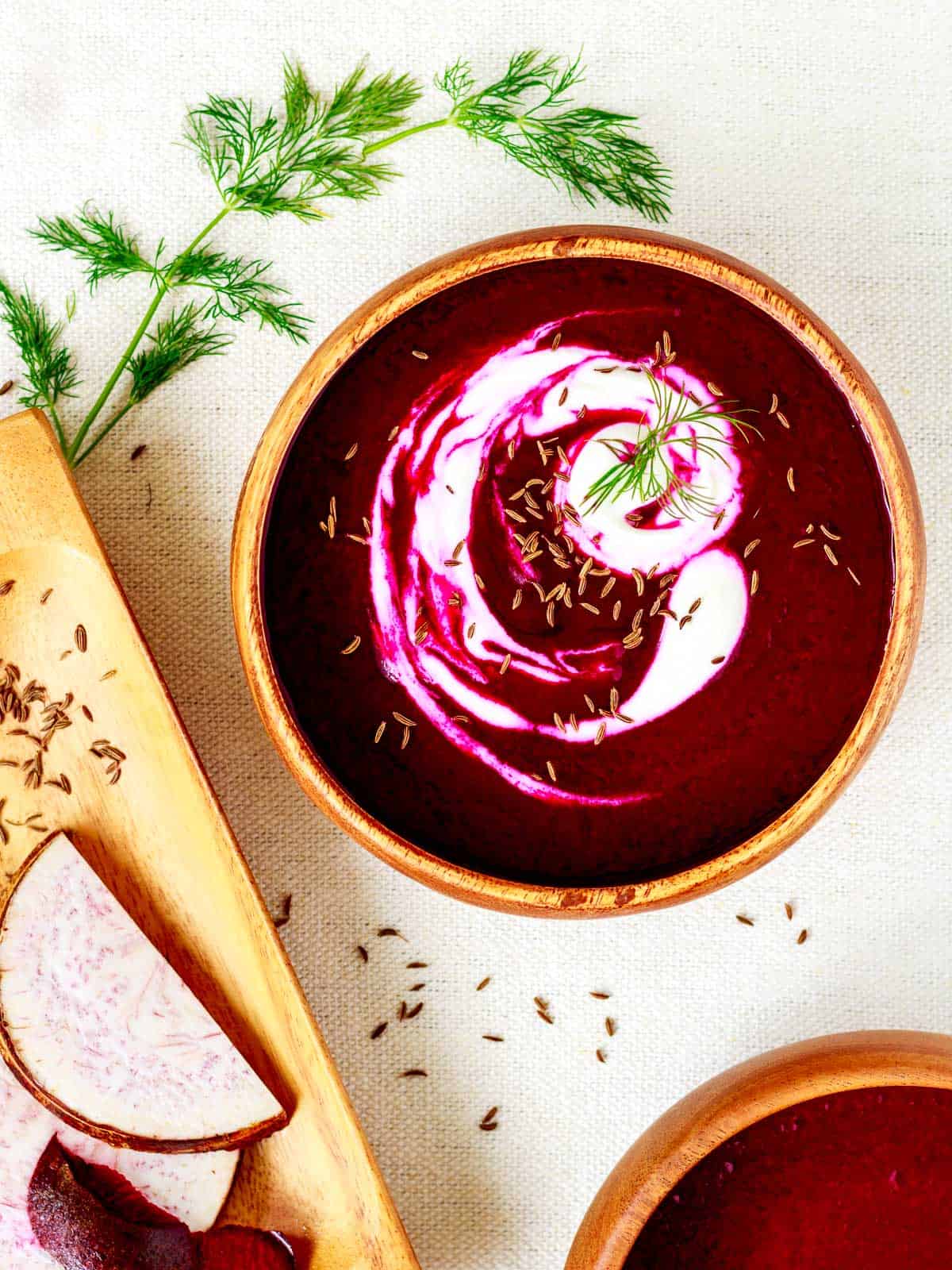 Here's the thing, though. Taro roots and beets blend together as if they were made for one another. You have to try this velvety, flavorful beet and taro soup topped with vegan sour cream, toasted caraway seed, and fresh dill to see for yourself.
Jump to:
⭐ Why this recipe works
Quick and easy
Tropical fusion
Smooth and silky blended taro
Sweet roasted beets
Toasty caraway seeds and tart sour cream
🥔 Cooking with taro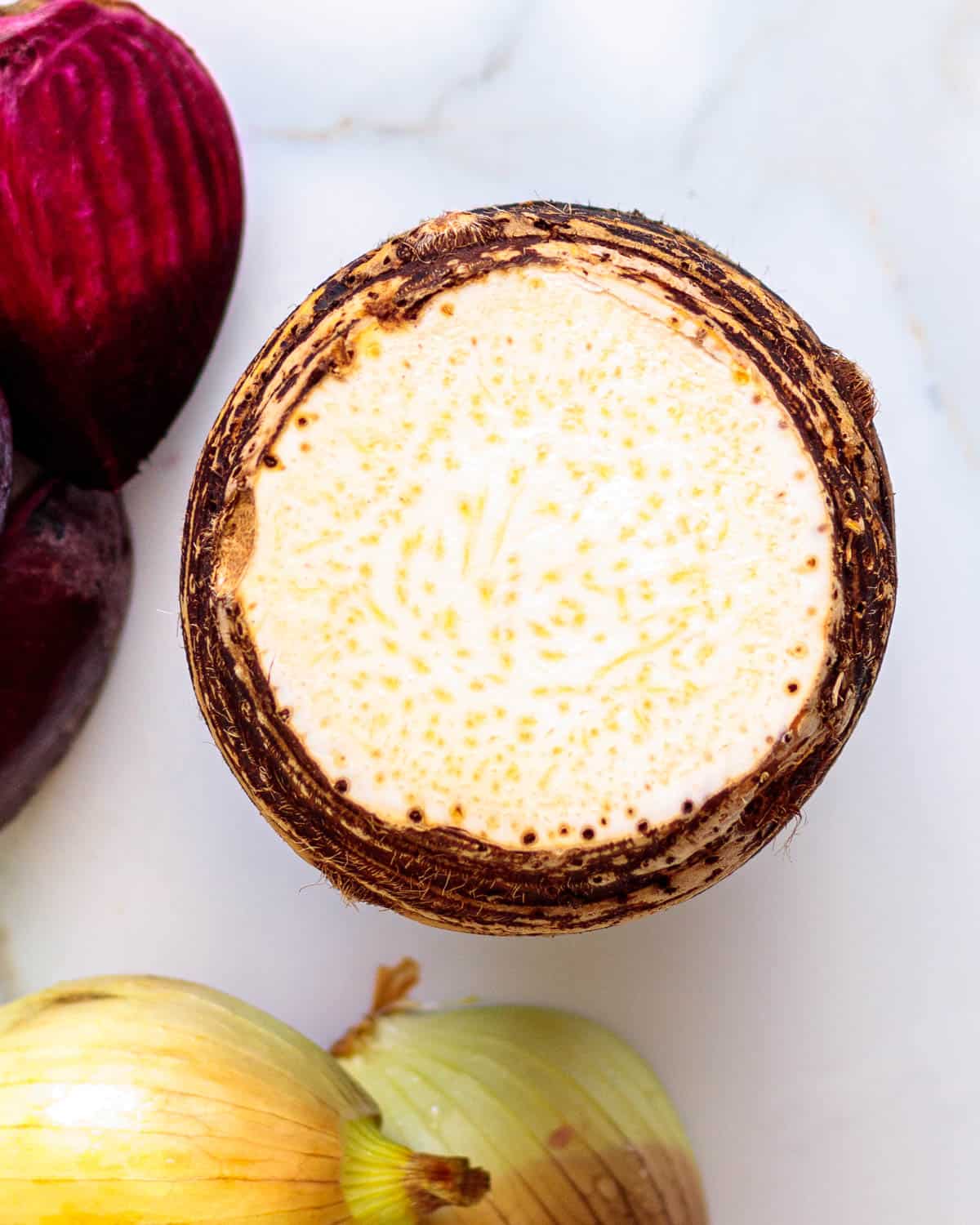 Initially, I made this recipe with potatoes, and it was European all the way with its signature toppings. But one day, I wanted to make this delicious soup and didn't have any potatoes.
What I did have was taro root corms harvested from my garden. I had used taro, called kalo on Maui and in Hawaii many times in place of potatoes. So, I thought, what the heck, let's give it a try.
Do you know what I discovered? Not only was it good with taro, but we preferred it over potatoes. The soup is silkier, less earthy tasting, and has a prettier color when it's made with taro root.
I find taro root extremely versatile because it has a pleasing, mild taste and lends itself to all sorts of dishes. Everything from spicy curries to crispy chips for tofu poke is fair game with taro.
🥘 Melting pot cuisine
I think making taro root soup with beets and fresh dill exemplifies one of the most rewarding things about living in Hawaii. People in the islands eat in such a way that it's been described as fusion cuisine or melting pot cooking.
The term melting pot is defined by Webster's dictionary as "a place where a variety of races, cultures, or individuals assimilate into a cohesive whole."
Indeed, I have friends at my tiny community garden that are Native Hawaiian, Sicilian, Indonesian, Filipino, Hispanic, Croatian, Japanese, and Indian. It's a great pleasure to share ideas on what to grow and how to cook it with each other.
It's also delightfully funny at times to see our differences. I was surprised when someone asked me about how to use rosemary, something I consider so ordinary.
They, in turn, had to explain to me how to make a salad from katuray flowers. I thought their typical dish was baffling and so exotic. We both got a good laugh.
📋 Ingredients
Beets - Roast them ahead with the instructions below or buy ready-made from the store.
Taro root - Fresh, smaller-sized corms are best. Old, large roots will be more fibrous. You can use purple or yellow variegated roots, dasheen, or other varieties.
Onion - Look for sweet cultivars like Vidalia, Walla Walla, and Maui onions.
Vegan sour cream - Choose a store brand with a flavor you adore or make homemade sour cream.
Caraway seed - Be sure to include this.
Fresh dill - My favorite garnish for taro root soup made with beets, but substitute fresh cilantro, chervil, tarragon, or parsley if you prefer.
🔪 Steps
Peel- roasted beets.
Boil - taro root, celery, and onion in water.
Blend - roasted beets with cooked taro mixture.
Finish - taro soup by garnishing with toasted caraway seeds, sour cream, and fresh dill.
♨️ How to roast beets without foil
I use this method for roasting beets all the time because it's so easy and convenient. You don't need to peel the beets or wrap them in foil before cooking. They turn out extra-rich and sweet.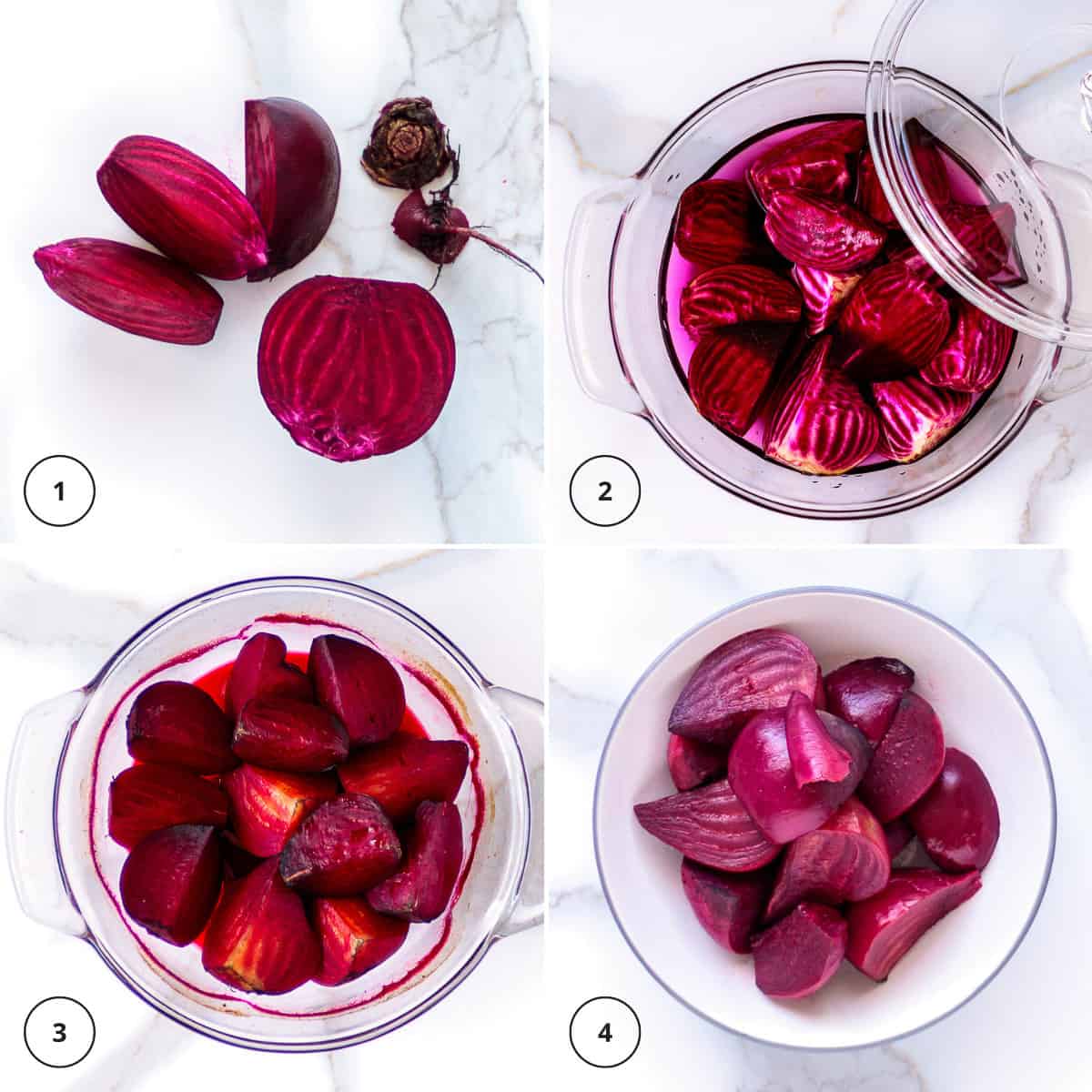 Cut - cleaned and scrubbed beets into wedges.
Place - in a baking dish with half an inch of water and cover with a lid.
Roast - in the oven at 375 degrees until fork tender and caramelized, about 45 minutes.
Peel - under running water. The skins will slip right off.
👩🏻‍🍳 Expert tips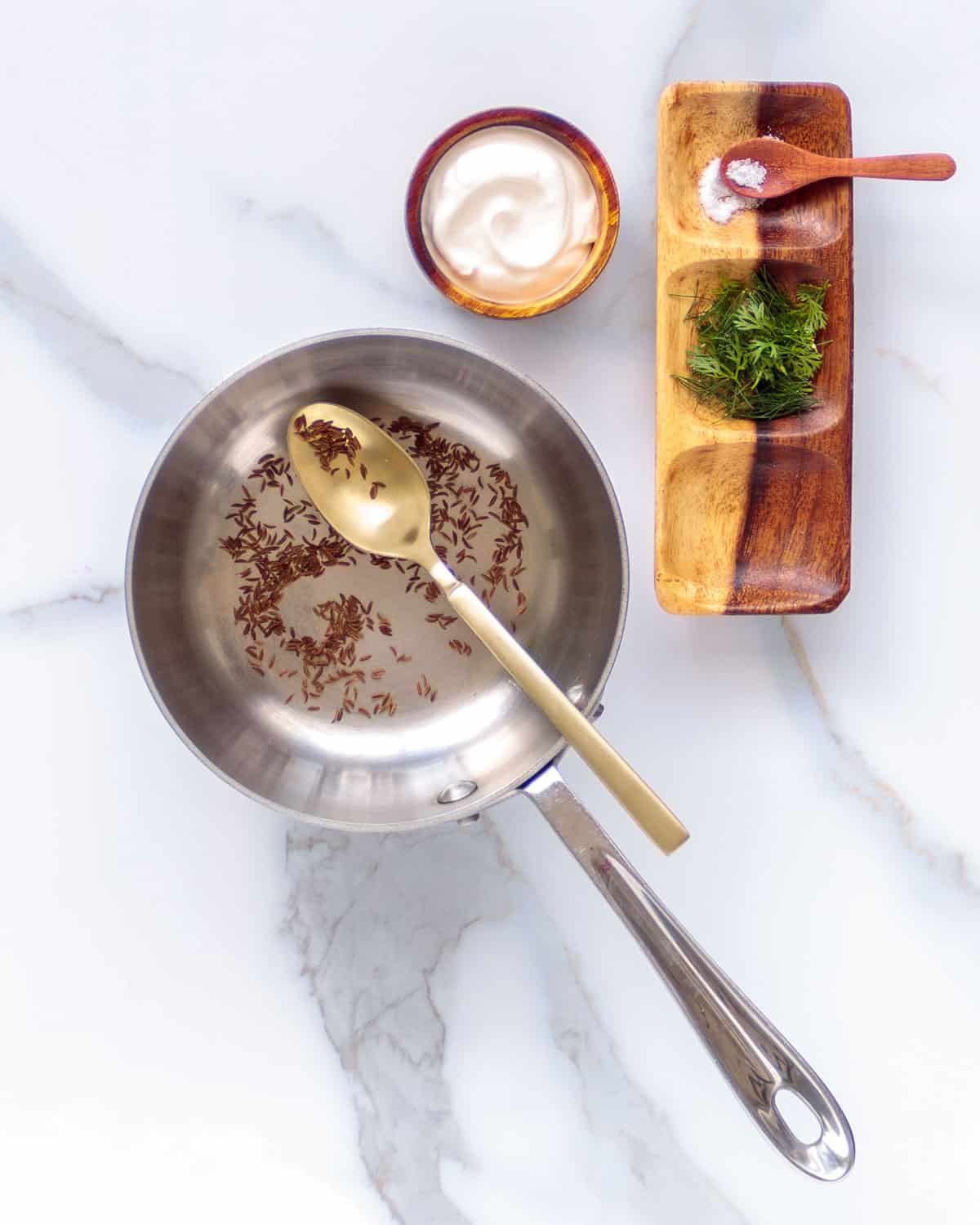 Itchy skin - Use gloves or oil your hands before peeling taro root if you have sensitive skin.
Taro roots - Taro root has a short shelf life. Look for corms that are unblemished and don't have any soft spots or evidence of mold.
Caraway seed - Stir caraway seeds frequently and watch carefully while toasting so that they don't burn.
Sour cream - Use vegan sour cream that has a taste you love.
💭 FAQ
What makes taro root itchy?
All parts of the taro plant contain calcium oxalate and are toxic when consumed raw. These crystals cause an itchy, sharp sensation on the skin and can cause pain and swelling in the mouth and throat. Cooking taro makes it safe to consume and removes the troublesome itch.
How do you peel taro?
Large taro roots can be peeled with a vegetable peeler. Smaller roots can be peeled with a sharp pairing knife. If your skin is sensitive to the calcium oxalates in taro roots, be sure to wear gloves or oil your hands before peeling them.
What does taro root taste like?
Taro root tastes lightly sweet and nutty when it's cooked. It's drier than sweet potatoes, and its mild flavor lends itself to a number of recipes that ordinarily include white potatoes. Just like potatoes, it can be steamed, boiled, shredded, mashed, roasted, and fried. Cooked taro that is pounded and made into poi by adding water is wet and sticky. Depending on how long the poi is fermented, it can be mildly sour or have a strong tangy flavor that is sought after by poi aficionados.
🍲 More fusion recipes
Enjoyed this post? Leave a comment, rate ⭐⭐⭐⭐⭐ it, and follow @poppyswildkitchen on Instagram. Aloha!
📖 Recipe
Quick Taro Root and Beet Soup
Taro root soup blended with roasted beets and garnished with dairy-free sour cream, fresh dill, and toasted caraway seed is a delicious Hawaiian fusion recipe. Quick and easy, vegan and whole food with an oil-free option.
Print
Pin
Rate
Ingredients
Taro and Beet Soup
2

cups

filtered water

½

cup

peeled diced taro

1

cup

diced celery

½

cup

diced sweet yellow onion

1 ½

cups

oven roasted beets, peeled and coarsely chopped

¾

tsp.

salt

2

tsp.

olive oil, optional but adds a nice flavor
Garnish
1

tsp.

toasted caraway seed

1

TB

sliced fresh dill

¼

cup

vegan sour cream
Instructions
Make Taro Soup
Slice fresh dill and measure sour cream. Hold both aside while preparing soup and toasting caraway seeds.

Roast beets according to the instructions in this post, or buy ready-made oven beets at the store.

Wash, peel and measure out the oven-roasted beets.

Peel and dice taro into one-inch chunks. Rinse diced taro in a colander and shake dry. Chop celery and onion in a coarse dice.

Place water, taro, celery and onion in a saucepan. Bring to a boil. Lower heat and cook until celery and taro are soft. Remove from heat.

Place roasted beets, salt and olive oil in a blender. Carefully pour in the taro, celery and onion mixture with it's cooking water. Cover securely and blend until very smooth.

Return blended soup to a saucepan and heat gently while toasting caraway seeds. Don't allow soup to boil.
Toast caraway seed
Pre-heat a dry skillet over medium heat. Toast caraway seed while stirring constantly until fragrant.
Serve
Pour beet and taro soup into individual cups or small bowls. Decorate each bowl with sour cream, fresh dill and toasted caraway seed.
Store
Taro root and beet soup can be stored in the refrigerator up to one week. Keep it in a covered container and don't add the sourcream, caraway seed or fresh dill until just before serving.
Notes
Recipe tips
Itchy skin - Use gloves or oil your hands before peeling taro root if you have sensitive skin.
Taro roots - Taro root has a short shelf life. Look for corms that are unblemished and don't have any soft spots or evidence of mold.
Caraway seed - Stir caraway seeds frequently and observe while toasting so that they don't burn.
Sour cream - Choose a brand of vegan sour cream you are in love with, or make my homemade vegan sour cream recipe in advance.
Nutrition
Calories:
148
kcal
|
Carbohydrates:
25
g
|
Protein:
2
g
|
Fat:
5
g
|
Sodium:
682
mg
|
Potassium:
315
mg
|
Fiber:
4
g
|
Sugar:
14
g
|
Vitamin A:
178
IU
|
Vitamin C:
5
mg
|
Calcium:
42
mg
|
Iron:
1
mg