Homemade vegan bouillon is an instant substitute for vegetarian bouillon cubes and vegetable broth. Ready in less than 5 minutes without a food processor, it's gluten-free and makes a delicious golden broth with a taste similar to chicken stock.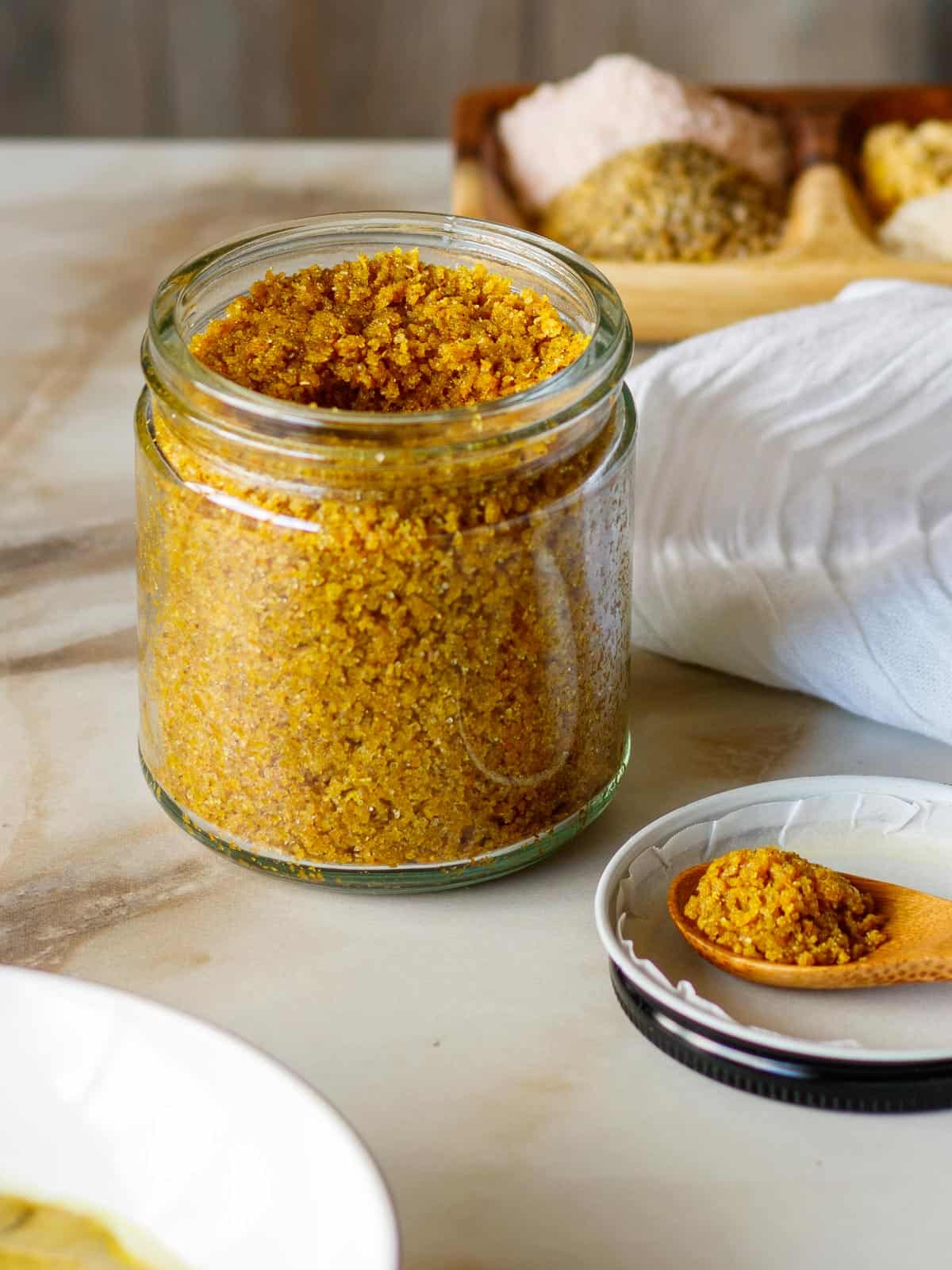 Fabulous in noodle soup like Tasty Turmeric Broth For Immunity, it also transforms vegan foods into amazing mock chicken dishes.
Jump to:
🏆 Top tip
Resist the temptation to add more liquid when mixing your recipe. At first, it will seem dry, but it comes together easily while stirring with a fork. The ideal finished consistency is like wet sand.
⭐ Why it works
No blender, food processor, or cooking is needed.
Concentrated bouillon mix.
Dissolves instantly into hot or cold liquids.
Easy measure ratio of one teaspoon for every cup of water.
Includes oil and vinegar for a rich mouthfeel and balanced flavor.
Base recipe with optional variations.
Stores for 3 months.
📋 Ingredients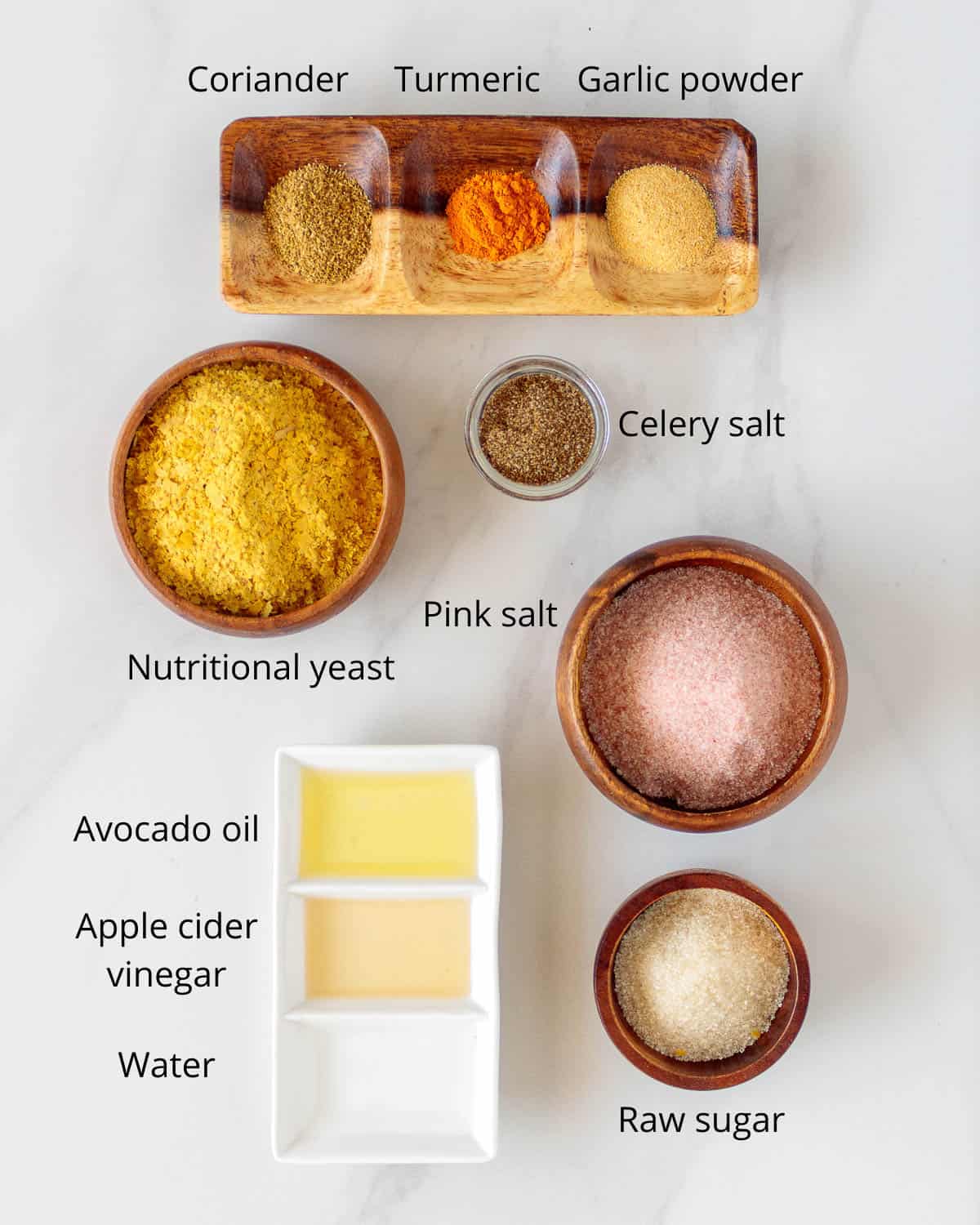 Celery salt - an essential ingredient that makes the recipe work. Be sure to include it.
Himalayan pink salt - or natural sea salt both provide valuable minerals.
Turmeric - adds natural color to make a golden broth.
Nutritional yeast flakes - add B vitamins and a robust flavor that mimics chicken stock.
Coriander powder - a warm spice that works synergistically with nutritional yeast to create a convincing chicken bouillon substitute.
Avocado oil - has a clean, neutral taste and adds important richness to bouillon.
Apple cider vinegar - Just a touch brings out all the other flavors. Like celery salt, be sure to include it.
🔪 Steps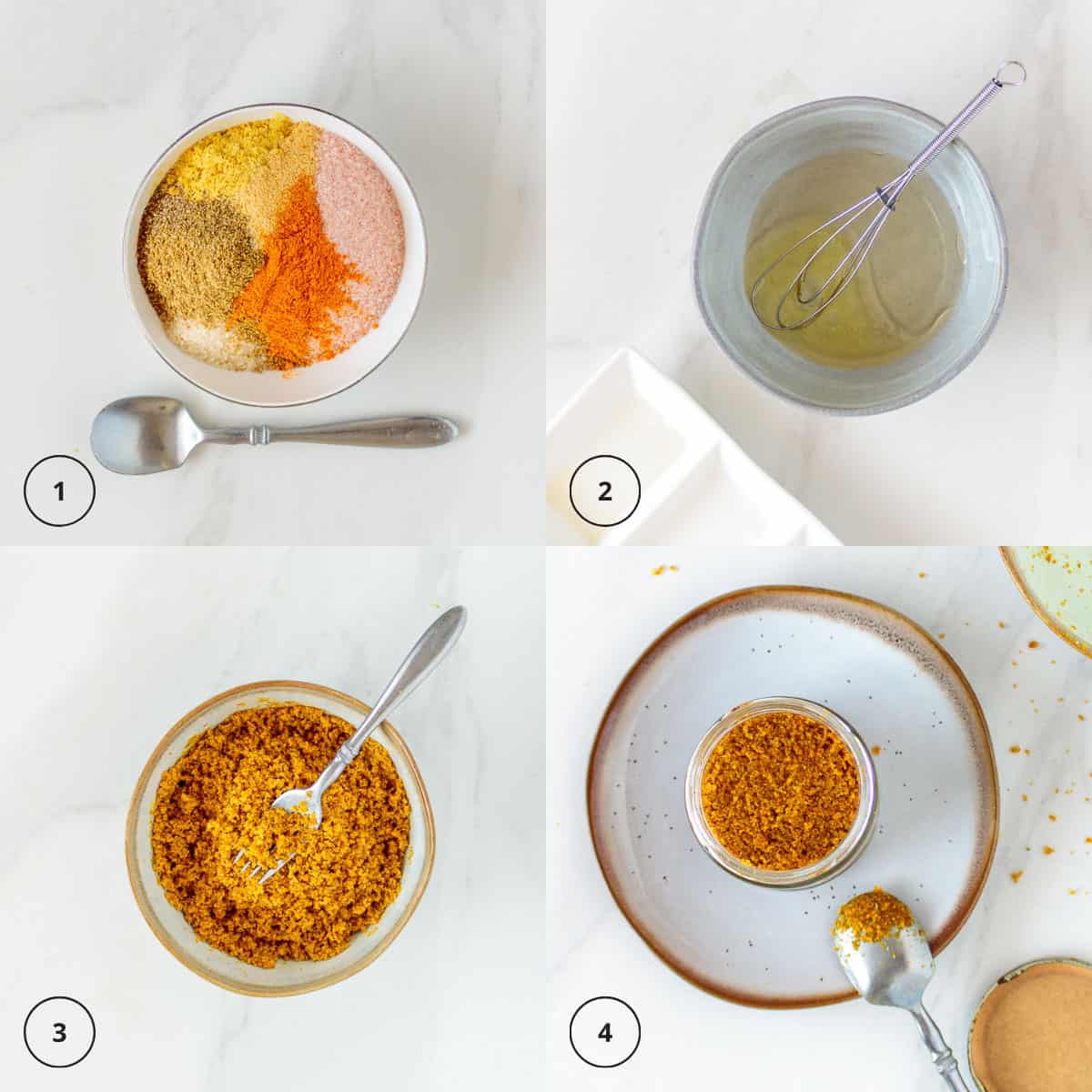 It couldn't be easier to mix this pantry staple together. It's so nice not to have to pull out a blender or food processor, and a simple fork blends the ingredients masterfully.
Combine dry ingredients.
Whisk wet ingredients.
Stir wet and dry ingredients together.
Pack lightly into a jar for storage.
🌿 All natural
It's great to know this healthy, gluten-free, vegetarian substitute for chicken broth has absolutely no artificial additives.
The recipe is a remake of Better Than Bouillon No Chicken Base and tastes just as good as the store-bought version.
However, unlike grocery brands, it doesn't contain maltodextrin, corn syrup, msg, yeast extract, or any other weird ingredients.
🍲 How to use vegan bouillon
What sort of recipes can you use it in? Just about anything that you would like to give a bold, savory flavor to.
It's truly remarkable how much it tastes like chicken broth stirred into a cup of boiling water. Thus, it's ideal for soups and sauces.
That's just the beginning, though. I have used it to enhance everything from Tofu Mock Chicken to salad dressings.
A few of our other favorites are:
📖 Variations
This concentrated vegan bouillon base is crazy delicious as is and works in any ethnic recipe.
However, it can easily be customized if you want to add your own twist for a particular flavor profile. Add any of the following to flavor the whole jar of vegan bouillon:
🍝 Italian Herb - Add ½ teaspoon each of dried oregano, basil, marjoram, thyme and crushed rosemary.
🌮 Mexican - Add ½ teaspoon each of cumin powder, coriander powder, and chili flakes with ¼ teaspoon of dried Mexican oregano.
🍋 Lemon Pepper - Add two teaspoons of minced fresh lemon zest, and one teaspoon of cracked black pepper.
🍛 Indian - Add ½ teaspoon turmeric powder and 1 ½ teaspoons masala powder.
I hope you'll take a few minutes to mix up a batch. I think you'll be amazed at how helpful it is to have on hand and how delicious it tastes.
💭 FAQ
Are nutritional yeast and brewers yeast the same?
No. You'll want to use nutritional yeast in this vegan recipe for its savory, nutty, rich taste. It's also a great source of vitamin B12, which is helpful for a vegan diet.

Although brewer's yeast also contains B vitamins, it has a bitter flavor, contains gluten, and is typically used for other applications like brewing beer.
Is nutritional yeast gluten-free?
Yes, nutritional yeast is entirely gluten-free, unlike many other forms. The National Celiac Association has a clear post that makes it easy to understand the differences.
Can I substitute powder for yeast flakes?

Yeast flakes work best in this recipe and are handy for crafting cheesy-tasting dairy-free recipes. Powdered yeast dissolves differently and will change the consistency of the recipe. If you would like to see a few preferred brands of gluten-free nutritional yeast flakes, The Celiac Diva has a helpful post.
Is Better Than Bouillon gluten-free?
No, Better Than Bouillon states on its website that its products are produced in a facility that stores wheat and that the individual and collective ingredients in Better Than Bouillon products are not tested for gluten. Thus, their products would not be certifiable gluten-free or safe for anyone avoiding gluten.
🧂 More vegan seasonings
Enjoyed this post? Leave a comment, rate ⭐⭐⭐⭐⭐ it, and follow @poppyswildkitchen on Instagram. Aloha!
📖 Recipe
Quick Vegan Bouillon - Gluten Free
Quick vegan bouillon mix is made from scratch and is an excellent substitute for better than bouillon mixes. All natural, gluten-free and non-GMO. Dissolves instantly. One teaspoon flavors one cup of hot water.
Print
Pin
Rate
Ingredients
Bouillon Mix
⅓

cup

Himalayan pink salt

1

TB

celery salt

½

teaspoon

turmeric powder

2 ½

TB

raw sugar

1

tsp.

garlic powder

1

tsp.

coriander powder

1

TB

avocado oil

2

tsp.

apple cider vinegar

1

TB

filtered water
Instructions
Bouillon Mix
Place dry ingredients in a bowl. Stir together.

Place wet ingredients in a smaller, separate bowl and whisk together.

Add wet mixture to dry ingredients and stir well with a fork until a wet sand texture is achieved. It will be dry at first but gradually moistens. Don't add any extra liquid. 
Store
Pack into a small jar and store in the refrigerator for up to 3 months. It can be frozen for up to 6 months.
Make broth for recipes
Stir one teaspoon of homemade vegan bouillon mix into one cup of water. Use just like vegetable broth or chicken stock in all your recipes.
Notes
Ingredients
All the ingredients in the recipe are available as non-gmo and gluten-free. If in doubt about your supplier, Eat! Gluten-Free provides a product guide.
Instructions
Resist the temptation to add more liquid when mixing your bouillon powder.  At first, it will seem dry, but it comes together easily while stirring with a fork. The ideal finished consistency is like wet sand.
Nutrition
Calories:
8
kcal
|
Carbohydrates:
1
g
|
Protein:
1
g
|
Fat:
1
g
|
Sodium:
931
mg
|
Potassium:
13
mg
|
Fiber:
1
g
|
Sugar:
1
g
|
Vitamin C:
1
mg
|
Calcium:
2
mg
|
Iron:
1
mg