Easy and quick, mellow pickled chayote makes a delicious herb and garlic-flavored appetizer that's an ideal substitute for artichoke hearts.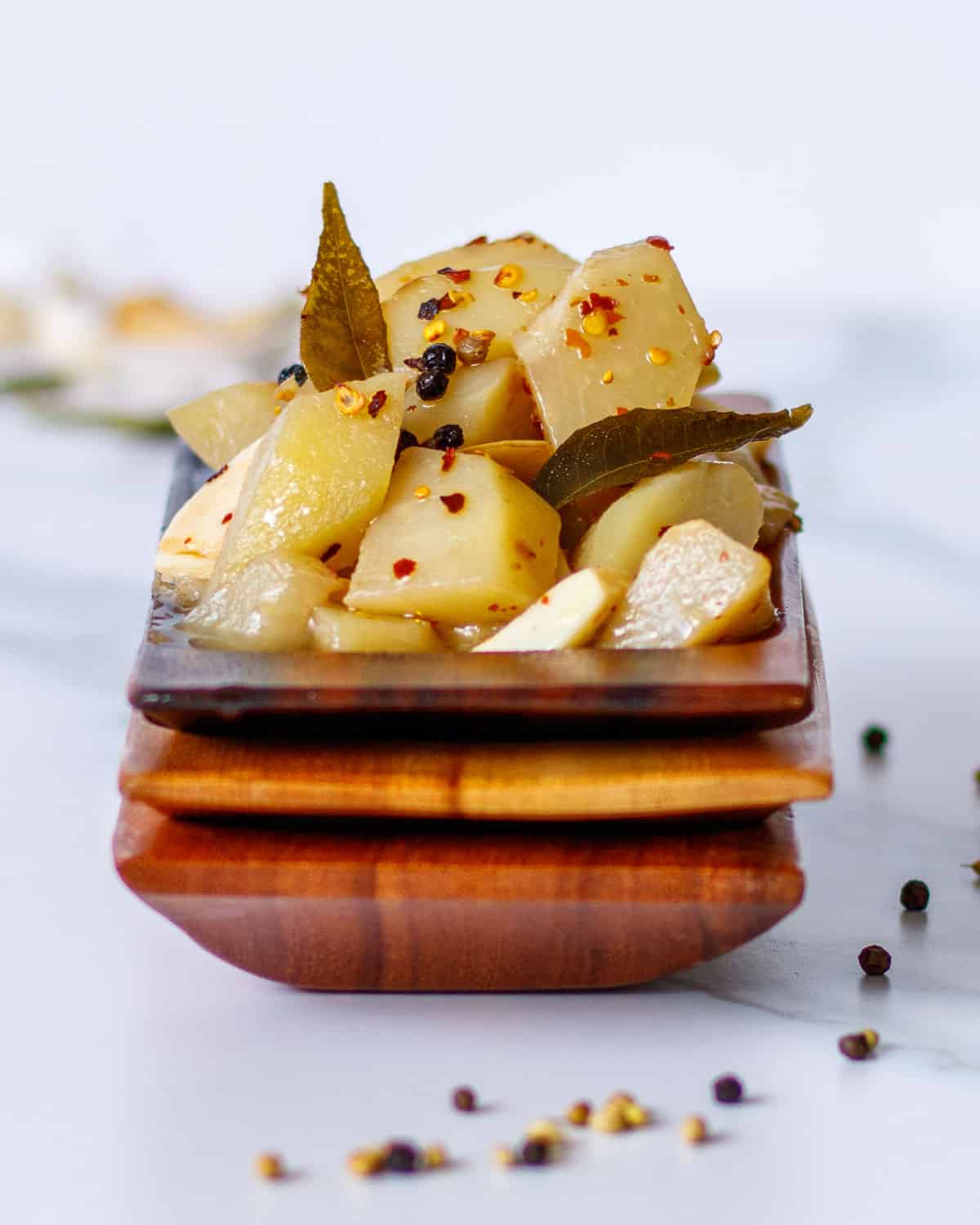 These tender-crisp nuggets are perfect for snacking as is and can be used in a variety of recipes.
They're amazing on an antipasto platter with cured olives, Smoked Gouda Cheese, roasted peppers, and Vegan Almond Pate.
Jump to:
Top tip
Add vinegar after the chayote has softened in seasoned cooking broth. Acidic ingredients react with raw chayote and prevent it from becoming tender.
⭐ Why it works
Nutty, slightly sweet flavor similar to artichoke hearts.
Savory seasonings with a pinch of optional red chili.
Great texture.
Less sour than vinegary pickles.
Affordable ingredients.
All-natural, with no preservatives or additives.
Vegan, gluten-free, and sugar-free.
🌱 What is chayote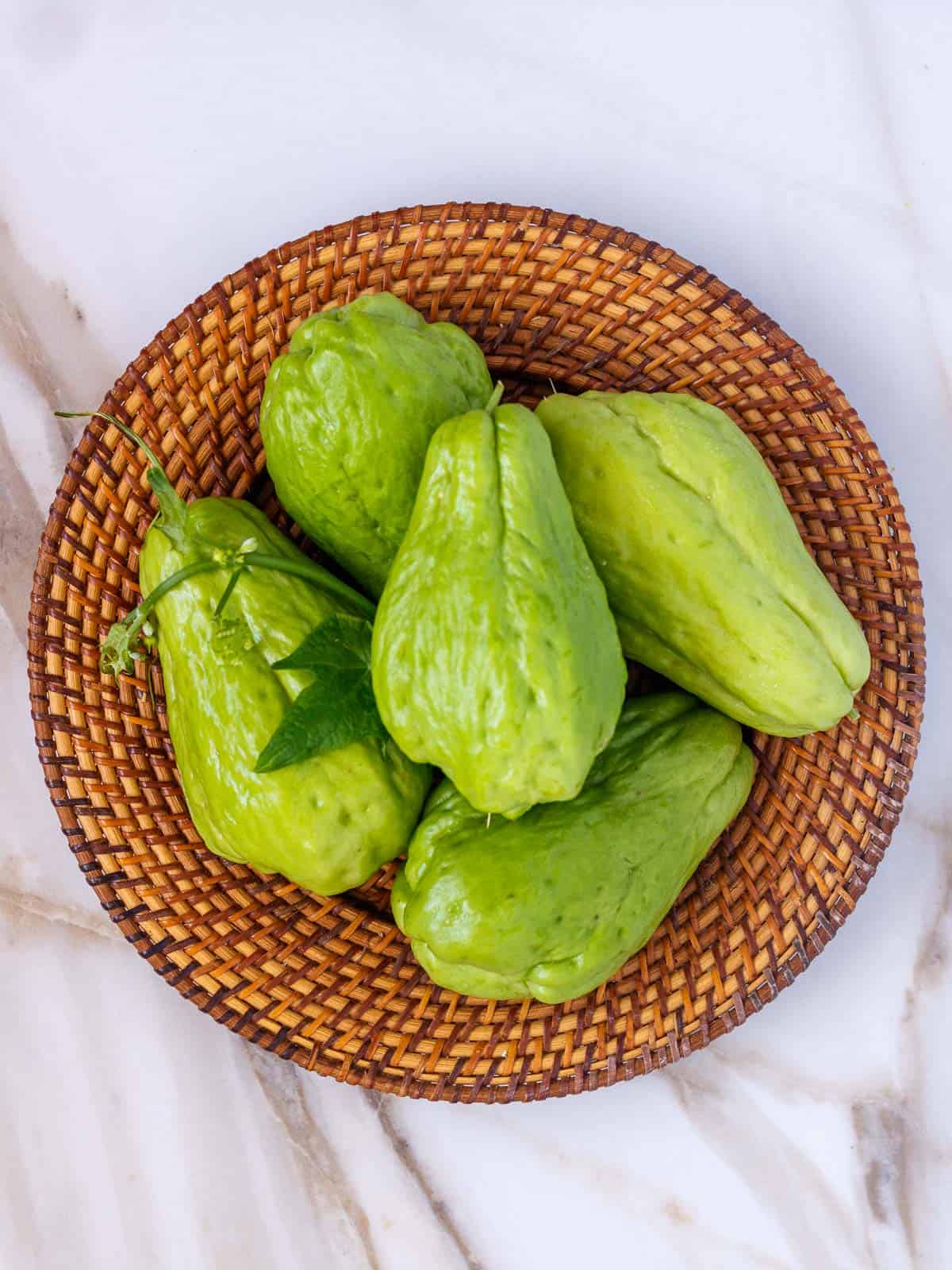 Chayote is a fruit native to Mexico and Central America. Like tomatoes and pumpkins, also technically fruits, it's most often eaten as a vegetable.
It has a very mild flavor and can be enjoyed both raw, cooked, and in between. It takes on seasonings readily. Thus, this lightly pickled tropical squash makes an easy substitute for artichoke hearts.
You can read all about this versatile member of the gourd family, whose scientific name is Sechium edule, right here on the blog.
🥑 Can you eat chayote seeds?
Yes, the seeds are safe to eat and are even considered a delicacy in some households. They have a nutty flavor and smooth, crunchy texture.
I like to include them whole in any recipe I am making but I have to admit more of them make their way into my mouth than the cooking pot!
🔪 How to peel chayote
Chayote can be peeled with a paring knife like an apple or potato, but there is one thing to keep in mind before cutting it. It releases a sticky substance that drys on hands and is hard to wash off.
You may not find it a bother if peeling a small quantity of fruit. However, there are three commonly used options to prevent the problem altogether.
Three options
Wear gloves
Oil hands and cutting board
Pinoy hack - In the Philippines, the technique is to slice the end off, rub it against the cut edge, and wait for the tacky substance to drip out.
My favorite method
You might be surprised to know I don't use any of the three common techniques for managing the sticky sap. That's because I have my own favorite method that I find less awkward or messy than the others.
I like to fill a large bowl with water and place it on my work surface. Then I wet my hands before slicing the chayote in half to remove the seed.
Once the seed is removed, I keep halved or quartered pieces of chayote in the bowl of water. You can take the pieces out one at a time to remove the peel with a small knife.
The water bath prevents sap from oozing out and sticking to the hands. You can cut the peeled sections into any chunks or slices you like, and cleaning up is easy peasy.
📋 Ingredients
I've purposely held back on the vinegar and kept this recipe balanced with just enough mouthwatering tang. A touch of silky olive oil keeps the recipe light and adds a sumptuous mouthfeel.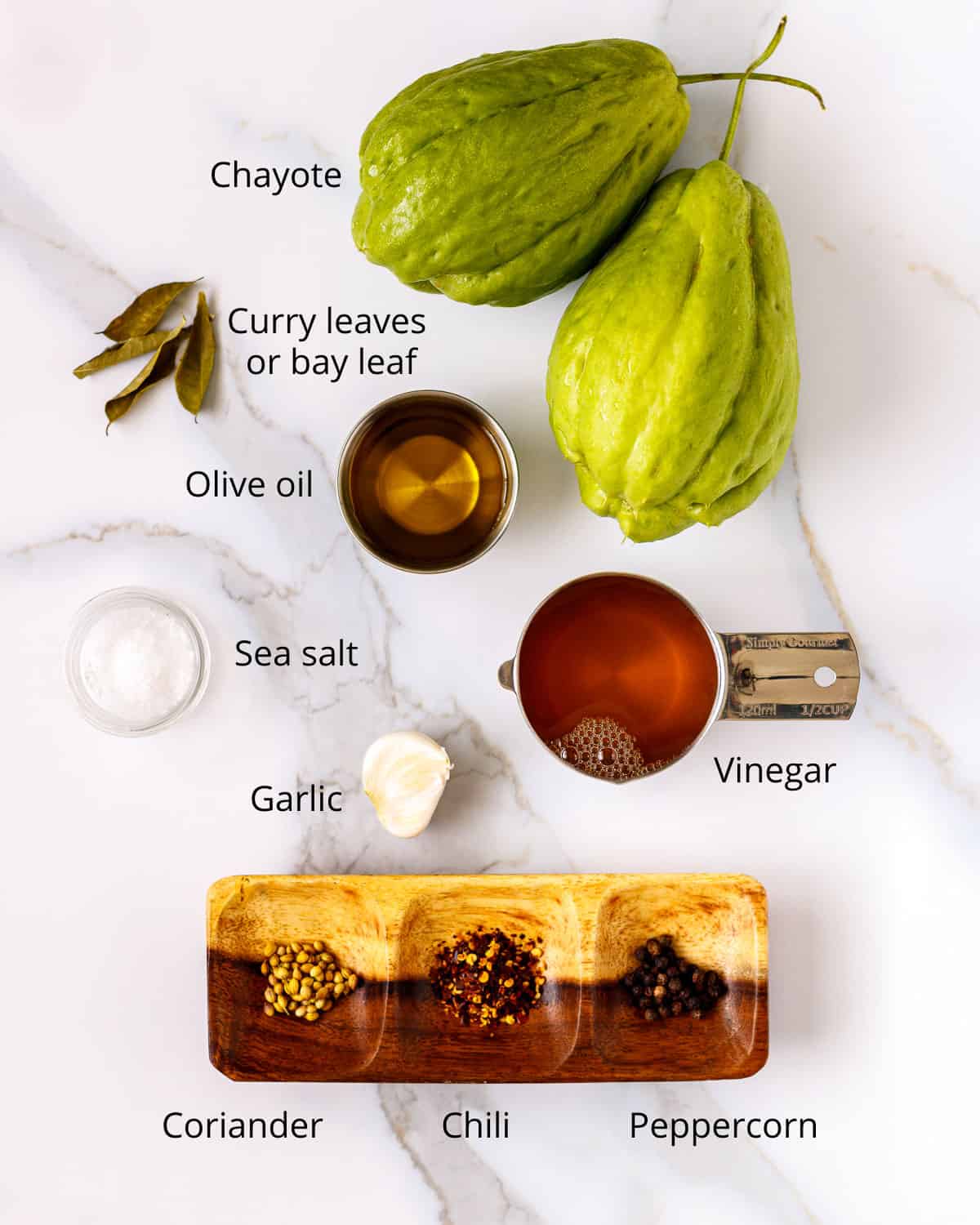 Chayote - Choose fresh green or white chayote with smooth skin soft enough to pierce.
Curry leaves - add fantastic flavor but feel free to substitute bay leaves if needed.
Olive oil - Extra virgin mild-flavored is best.
Garlic - Be sure to include.
Vinegar - Sukang iloco, (fermented sugar cane vinegar) is the first choice. The second choice is apple cider vinegar.
Spices - Use more or less red chili flakes to taste.
🔪 Steps
Peel, seed, and chop.
Boil briefly in water with seasonings.
Transfer to a jar and marinate for 2 hours.
Add vinegar to the jar and shake gently to mix.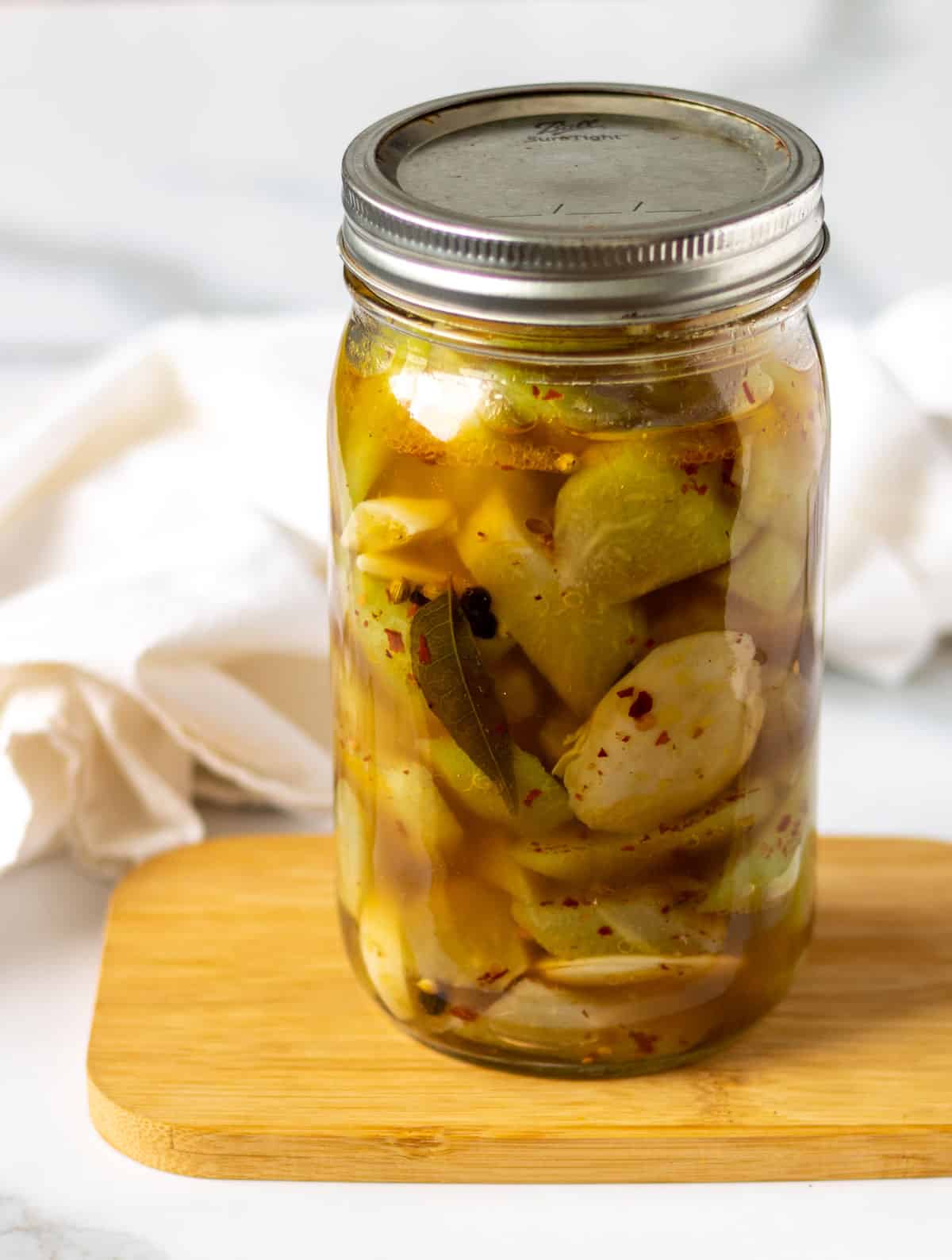 👩🏻‍🍳 Expert tips
Keep chunks of chayote in a water bath as you peel and slice.
Cut peeled squash into uniform chunks, one to one and one-half inches in size.
Boil chayote just long enough to become tender, and don't let it get mushy.
Don't add vinegar until the chayote has marinated in broth for 1-2 hours.
💭 FAQ
Does chayote have prickly skin?
Chayote, or sechium edule, has several varieties. They can be white, light yellow, or tan, and a range of green shades. Some have spikes, and others are entirely covered with prickles. Prickly types are too sharp to handle with bare hands but have an interior with a mild taste similar to other varieties.
Do you have to peel chayote?
When smooth-skinned fruit is very young, the peel is tender enough to eat. Thus, peeling is a matter of taste. However, unless you are stuffing and baking a chayote, most people find it desirable to peel it whether it's eaten raw or cooked.
🥗 More side dishes
📖 Recipe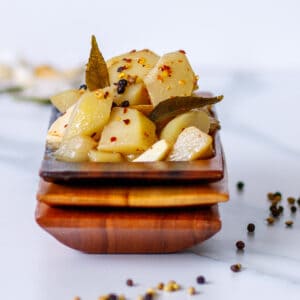 Best Substitute For Artichoke Hearts - Chayote
The best substitute for artichoke hearts. Chayote marinated with garlic, coriander, bay or curry leaves, and mellow fruity vinegar. Homemade and economical.
Print
Pin
Rate
Ingredients
4

cups

peeled, cubed chayote

1 ½

cups

water

3

TB

olive oil

3

cloves

garlic, sliced thin

1 ¼

tsp.

salt

4

whole

curry leaves or 2 bay leaves, torn

½

tsp.

black peppercorns

½

tsp.

coriander seed

¼

tsp.

red chili flakes

½

cup

fermented cane vinegar (sukang iloco) or apple cider vinegar
Instructions
Peel and chop chayote
Fill a large bowl with water and place it on the counter next to a cutting board.

Slice the chayote in half lengthwise. Tip: Place your knife blade parallel to the seam at the bottom of the chayote fruit to keep more of the seed intact.

Remove chayote seed with a small spoon and save to add to chopped flesh.

Cut chayote halves in half again to have quartered wedges. Place the wedges in the bowl of water as you go.

Once all the chayote are quartered, take one piece at a time out of the water bath and peel it. Discard the peelings.

Cut the peeled sections of chayote into one-inch chunks.
Marinate chayote
Place chayote, water, olive oil, garlic, salt, curry leaves, peppercorns, coriander seed, and chili flakes in a saucepan. Don't add the vinegar yet. Bring to a boil and cook over low heat for approximately 5 minutes or until the chayote is softened but still slightly crisp.

Pour chayote and seasoned broth into a quart jar. Cover with a lid, and let sit at room temperature for 1-2 hours. Shake occasionally.

After the mixture has marinated for 1-2 hours, add vinegar to the quart jar. Replace the lid and shake to mix. Refrigerate and chill before serving.
Serving
Serve chilled as a side dish, condiment, or on antipasto platters. Delicious on Mediterranean sandwiches and in pasta salad.
Storing
Keep in a covered container in the refrigerator for 7 days. Do not freeze.
Notes
Preparation tips
Keep chunks of chayote in a water bath as you peel and slice.
Cut peeled chayote in uniform chunks, one to one and one-half inches in size.
Boil chayote just long enough to become tender, and don't let it get mushy.
Don't add vinegar until the chayote has marinated in broth for 1-2 hours.
Nutrition
Calories:
51
kcal
|
Carbohydrates:
3
g
|
Protein:
1
g
|
Fat:
4
g
|
Sodium:
244
mg
|
Potassium:
84
mg
|
Fiber:
1
g
|
Sugar:
1
g
|
Vitamin A:
38
IU
|
Vitamin C:
4
mg
|
Calcium:
14
mg
|
Iron:
0.3
mg
|
Magnesium:
9
mg
|
Phosphorus:
12
mg