This amazing fluffy macadamia ricotta only takes 4 ingredients and less than ten minutes to process. The flavor is clean and light, made without tofu or nutritional yeast.
It's the perfect replacement for traditional ricotta in Italian lasagne recipes and quick pasta meals. That's because rich macadamia nuts have a mild taste, snow-white color, and grind to a texture very similar to regular ricotta.
Jump to:
⭐ Why it works
4 ingredients
10-minute easy process with pre-soaked nuts.
Macadamia nuts replace cashews for a more refined taste and better texture.
No tofu, nutritional yeast, miso, apple cider vinegar, or overwhelming flavors.
Oil-free
Freezer-friendly.
🏆 Top tip
Begin blending homemade macadamia ricotta cheese at medium-low speed. Once the nuts are a uniform texture about the size of lentils, turn the machine up and finish to a fine-grain texture.
📋 Ingredients
The ingredients for this recipe couldn't be simpler. The preparation technique transforms soaked raw macadamia nuts into a barely sweet, utterly delicious, fresh ricotta.
A pinch of nutmeg and quality sea salt flavor the cheese. The result is ricotta that would fool anyone into thinking it's made by an artisan Italian cheesemaker.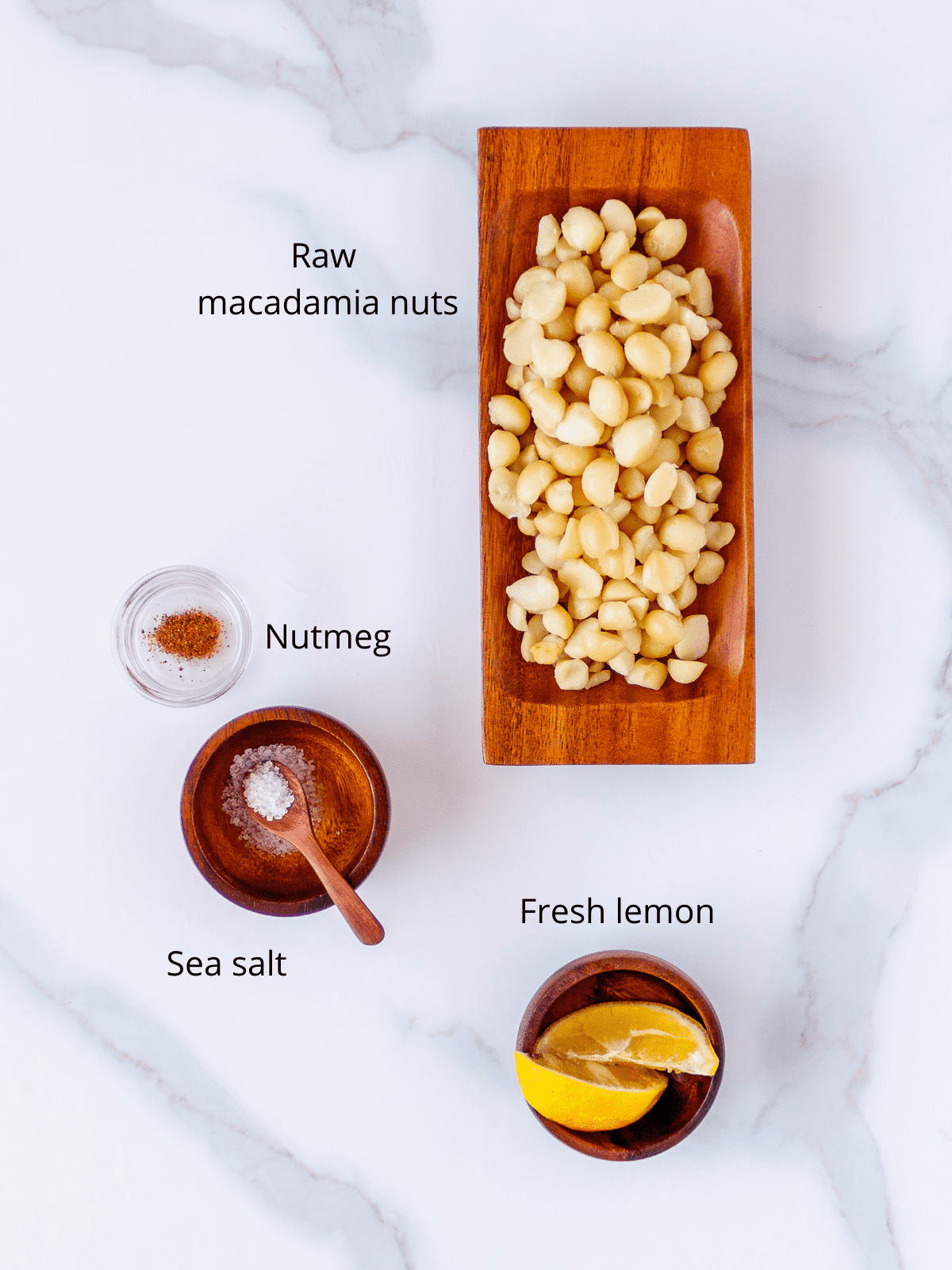 Raw macadamia nuts - are rich in healthy fats and can be ground to a fine-grained texture that mimics traditional fresh ricotta cheese.
Nutmeg - adds a subtle, unique taste that works beautifully in recipes like lasagne, cannelloni, and gnocchi, as well as cheesecakes and desserts.
Sea salt - a touch adds the savoriness desirable in cheese.
Lemon juice - keeps the tang mellow.
🔪 Steps
Soak untoasted, unseasoned macadamias overnight in plenty of water. Then you can make fluffy, snow-white macadamia ricotta cheese in minutes.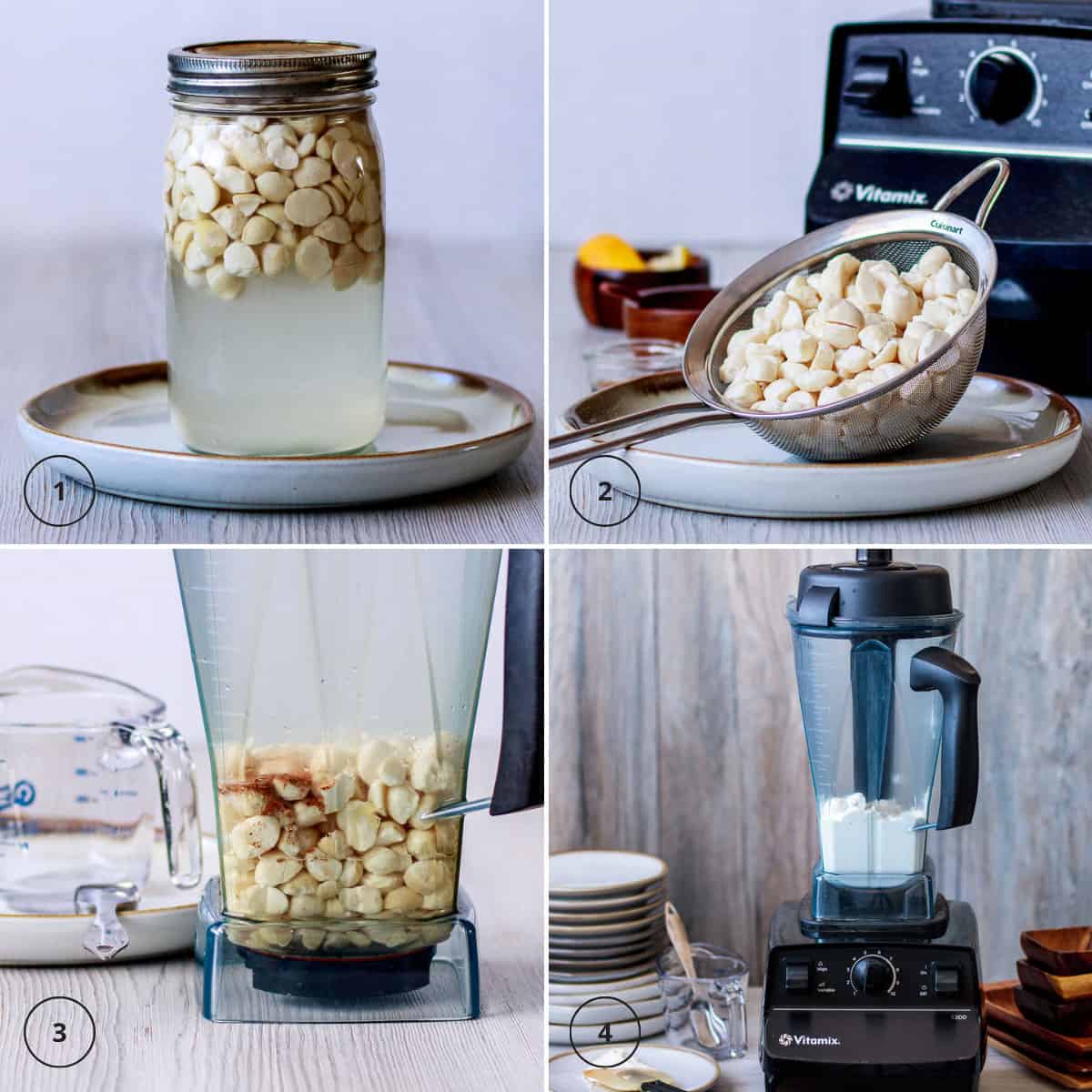 Soak raw macadamias overnight.
Rinse and drain well.
Combine with sea salt, nutmeg, lemon, and water.
Process in a Vitamix with a tamper.
🥣 Equipment
The real magic of this ricotta cheese substitute is the perfect mouthfeel of the finished recipe. The right equipment will help you achieve this ideal texture.
Vitamix - or an equivalent high-powdered blender with a tall canister work best.
Tamper - helpful to move mixture while blending.
🌳 Why macadamia nuts?
You might be wondering why cashews are used in place of cheese in many recipes. Just like macadamia nuts, they are a nutritious replacement with a neutral taste that conveniently takes on seasonings.
Cashews make marvelous, smooth, and silky vegan cheeses like my Cultured Cashew Cream Cheese or Healthy Smoky Gouda.
However, if you want the characteristic, superfine grain that is unique to ricotta, macadamia nuts will make all the difference.
Macadamia nuts are harder than other nuts, with two-thirds as much heart-healthy fat, which is a plus in this recipe without any added oil.
Additionally, blended cashews thicken when cooked, and macadamia nuts don't. Since ricotta is usually baked in recipes, it's helpful to have a vegan cheese that won't alter the recipe as it cooks.
We love having a nut for every recipe from Vitamix Almond Milk and Cream to Artisan Vegan Goat Cheese .
💭 FAQ
Can you freeze ricotta?
Yes! This vegan ricotta cheese made with macadamia nuts freezes and thaws very well. Give it a brief stir, and you can use it in all your cooked recipes, just like freshly made macadamia nut ricotta.
The color will alter slightly, and the cheese won't be quite as creamy. So, keep this in mind if you want to use it in delicate recipes that aren't cooked. We recommend a fresh batch for its subtle difference when basically eating cheese off a spoon.
Why doesn't ricotta made with dairy milk freeze well?
The curds and whey in cow's milk separate during freezing, and the water turns to ice. Unfortunately, it won't stir back to its original consistency after it's thawed. Some people won't mind this in baked foods. However, homemade vegan ricotta made from macadamia nuts freezes and thaws much better.
🥞 More macadamia recipes
Enjoyed this post? Leave a comment, rate ⭐⭐⭐⭐⭐ it, and follow @poppyswildkitchen on Instagram. Aloha!
📖 Recipe
10-Minute Macadamia Ricotta
Macadamia ricotta is creamy, fine-grained, fluffy, and fresh tasting. Use it in all your recipes in place of dairy-based ricotta. Vegan, oil-free.
Print
Pin
Rate
Servings:
16
Servings 2 TB each
Ingredients
1 ½

cups

raw macadamia nuts

¾

cup

water less one tablespoon

¼

tsp.

quality sea salt

¼

tsp.

nutmeg

1 ½

tsp.

fresh lemon juice
Instructions
Soak macadamia nuts
Place

1 ½ cups raw macadamia nuts

in a quart jar and fill it with water. Soak overnight for up to 24 hours in the refrigerator.
Make ricotta
Rinse and drain nuts well. Place in a Vitamix with

¾ cup water less one tablespoon

,

¼ tsp. quality sea salt

,

¼ tsp. nutmeg

, and

1 ½ tsp. fresh lemon juice

. Measure water carefully, and don't add too much.

Turn Vitamix on to medium-low speed and grind briefly until nuts are a uniform coarse meal.

Turn Vitamix up to the highest speed and use the tamper to assist with blending. Blend until the mixture is fluffy, creamy, and smooth but still has a bit of fine-grain like traditional ricotta cheese.

Likely the mixture will be slightly warm at this point. Don't blend past a lukewarm temperature, and keep a bit of fine grain in the cheese rather than blending perfectly smooth.

Your ricotta is ready to eat as is or use in any recipe you like.
Store
Store freshly made ricotta in the refrigerator for 3 days or freeze for up to three months.
Notes
Flavoring macadamia ricotta Savory dishes - The sea salt and pinch of nutmeg in this recipe are what make it taste so fantastic in savory dishes.  Sweet recipes -If you are planning to use the ricotta exclusively for desserts, you can leave out the salt and nutmeg and have good results. Then it can be flavored with vanilla, almond extract, or sweet spices as desired. 
Nutrition
Calories:
91
kcal
|
Carbohydrates:
2
g
|
Protein:
1
g
|
Fat:
10
g
|
Sodium:
31
mg
|
Potassium:
47
mg
|
Fiber:
1
g
|
Sugar:
1
g
|
Vitamin A:
1
IU
|
Vitamin C:
1
mg
|
Calcium:
11
mg
|
Iron:
1
mg