I know you have been waiting, and at last, it's here! Your rich and creamy Vegan Goat Cheese Recipe has arrived. It's entirely dairy-free and yet has a subtle, gamey, marvelously stinky component.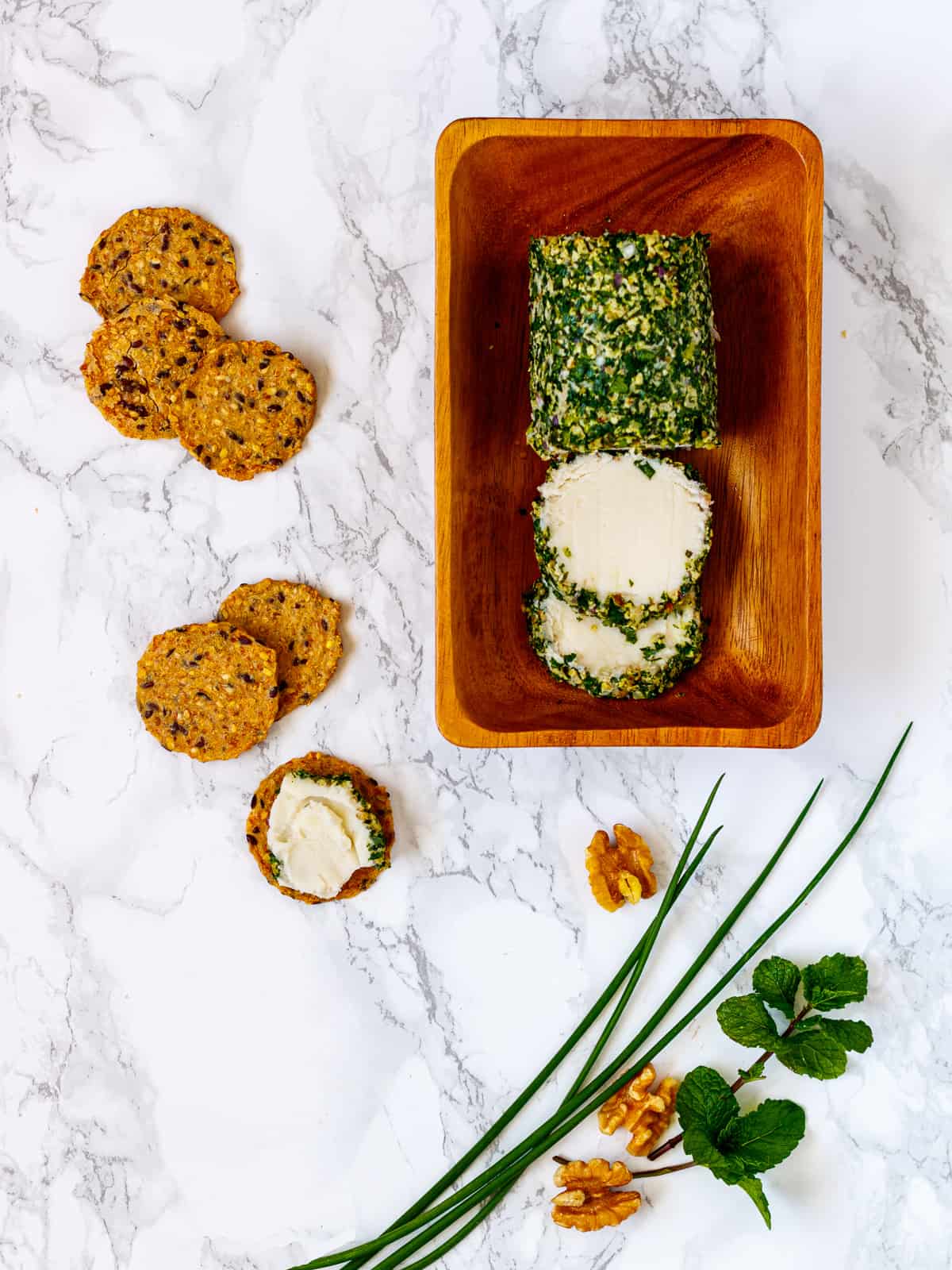 You'll never guess what revered plant has contributed to this essential aroma. It's Hawaiian noni fruit, otherwise known as morinda citrifolia. I am so thrilled to have a viable goat cheese substitute for recipes like Main Dish Rosemary Roast Potatoes.
Jump to:
⭐ Why it works
Clean, pure flavor with goat cheese nuance. No chalky tofu or interfering flavors from nutritional yeast, apple cider vinegar, or coconut oil.
Made without any thickening agents like agar powder or tapioca starch.
No cooking is required.
Cultured cheese flavor without the wait time.
Creamy, thick texture from naturally rich macadamia nuts. It can be spread, crumbled, or sliced.
Cheese can be frozen and thawed without compromising taste or texture, unlike other cheeses.
📋 Ingredients
The clean and simple list of ingredients is evident in the snowy color and pure, tangy taste of this whole food, plant-based indulgence.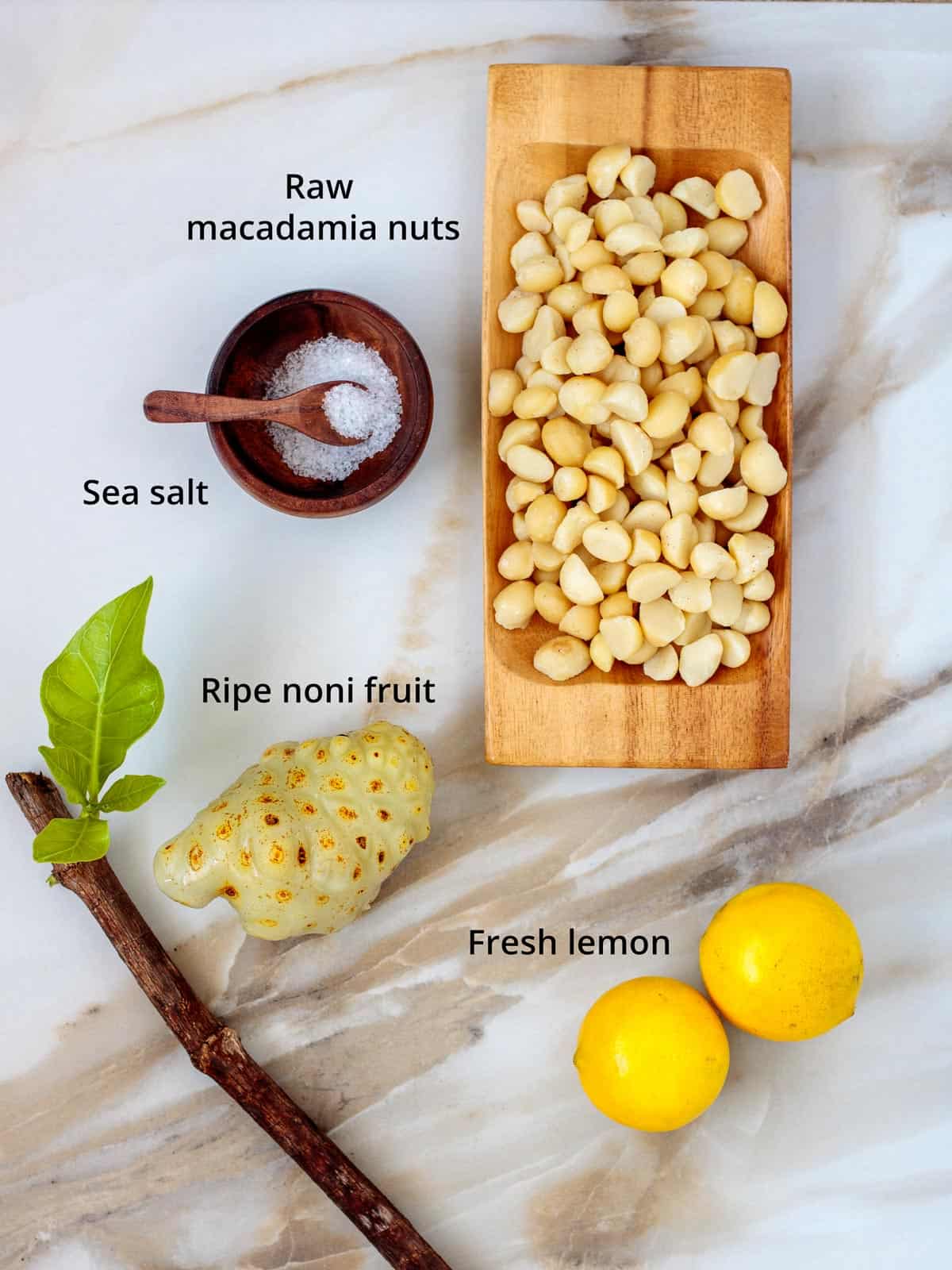 Macadamia nuts- High in heart-healthy fats for richness. Light color and buttery taste.
Sea salt- Extra minerals and the right balance of flavor for this predominantly tangy cheese.
Noni fruit- The secret ingredient that makes this raw goat cheese alternative possible.
Lemon- Meyer lemon is preferred, but others work for this recipe.
🌳 Key ingredient
Yes, fresh noni fruit is the magical ingredient that flavors this vegan marvel.
If you aren't already part of the club that knows why ripe noni fruit has earned the nickname "stinky cheese", you are going to love discovering it for yourself.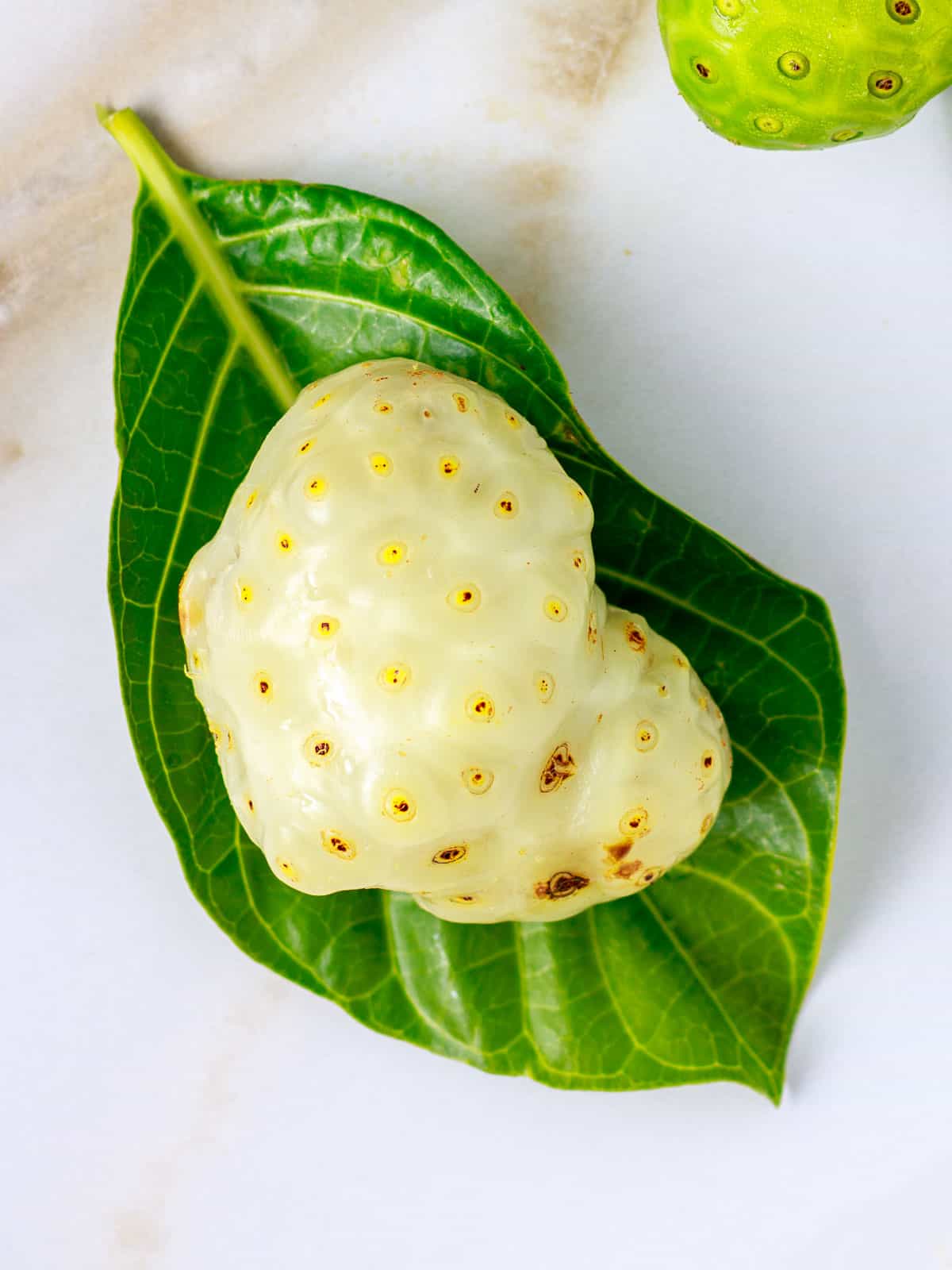 I believe the aroma and flavor of ripe noni is absolutely perfect for crafting a dairy-free goat cheese. You can dial in the level of pungency to your taste by using more or less noni juice.
Plus, you can further tailor your own artisan cheese by finishing this recipe with minced herbs, ground spices, crushed nuts, or flower petals.
🍈 Ripe noni fruit
You'll want fully ripened noni fruit. But perhaps you are wondering what ripe noni fruit looks like?
Extra ripe noni fruit is characterized by fragile skin, a very soft texture, and most importantly, a robust, blue cheese-like aroma.
The yielding consistency of mature noni makes it easy to make juice without an electric appliance or strainer.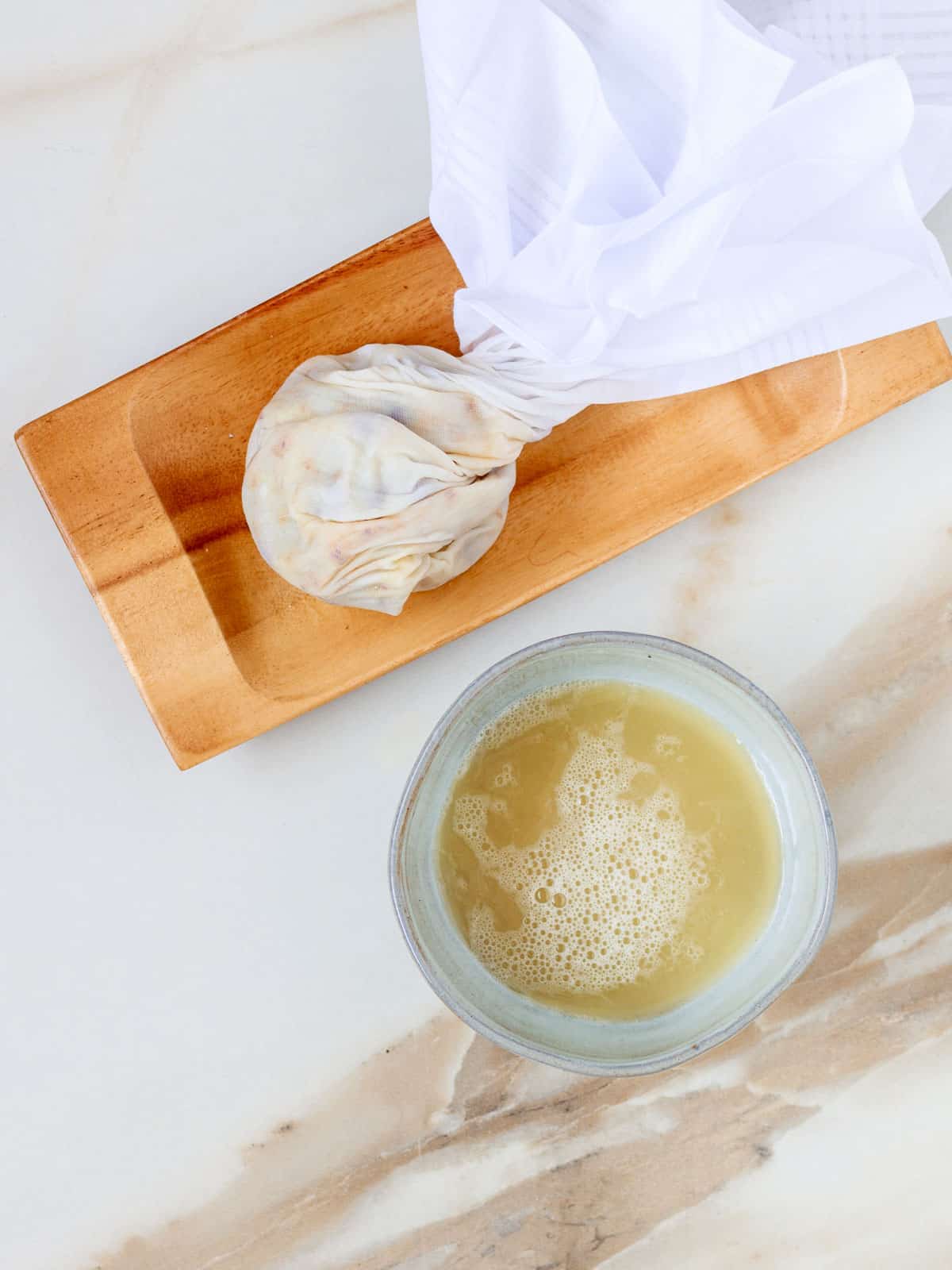 All you need to do to juice a ripe noni fruit is wrap your fruit in a cotton handkerchief, twist and squeeze. Thus, you can extract and strain your juice in one easy step.
You will need a few other basic items to process macadamia nuts with noni juice, sea salt, and lemon.
🥣 Equipment
Vitamix- What would I do without my Vitamix? I hope you have one, too as it's essential for blending macadamia nuts. Other appliances that may work for you are the Ninja CT810 or Cleanblend blender. All three machines have a tamper accessory that helps process the cheese.
Drinking glasses- Wide mouth 12-16 ounce glasses work well. You'll need two.
Rubber bands- To secure the fabric at the top edge of the glasses while the cheese drains.
🧀 How to make vegan cheese
You'll be happy to know this is a really easy recipe that doesn't require cooking or fermentation. Isn't that amazing?
Soak raw macadamia nuts overnight, rinse and drain well.
Make noni juice.
Place drained nuts, noni juice, sea salt, and lemon juice in a Vitamix and process until perfectly smooth.
4. Lay cloth over two glasses and top with divided cheese.
5. Gather cloth, twist, and secure at the top edge of each glass. Let the cheese drain until firm enough to stand on its own.
6. Your miraculous vegan goat cheese is ready! Eat as-is on crackers, top a pizza, stuff crisp veggies, add to a falafel mezze plate, or crumble into salads and baked recipes.
🔪 Slicing tip
For clean, neat slices, chill cheese logs rolled in minced herbs, crushed nuts, or flowers for thirty minutes to one hour in the freezer before cutting.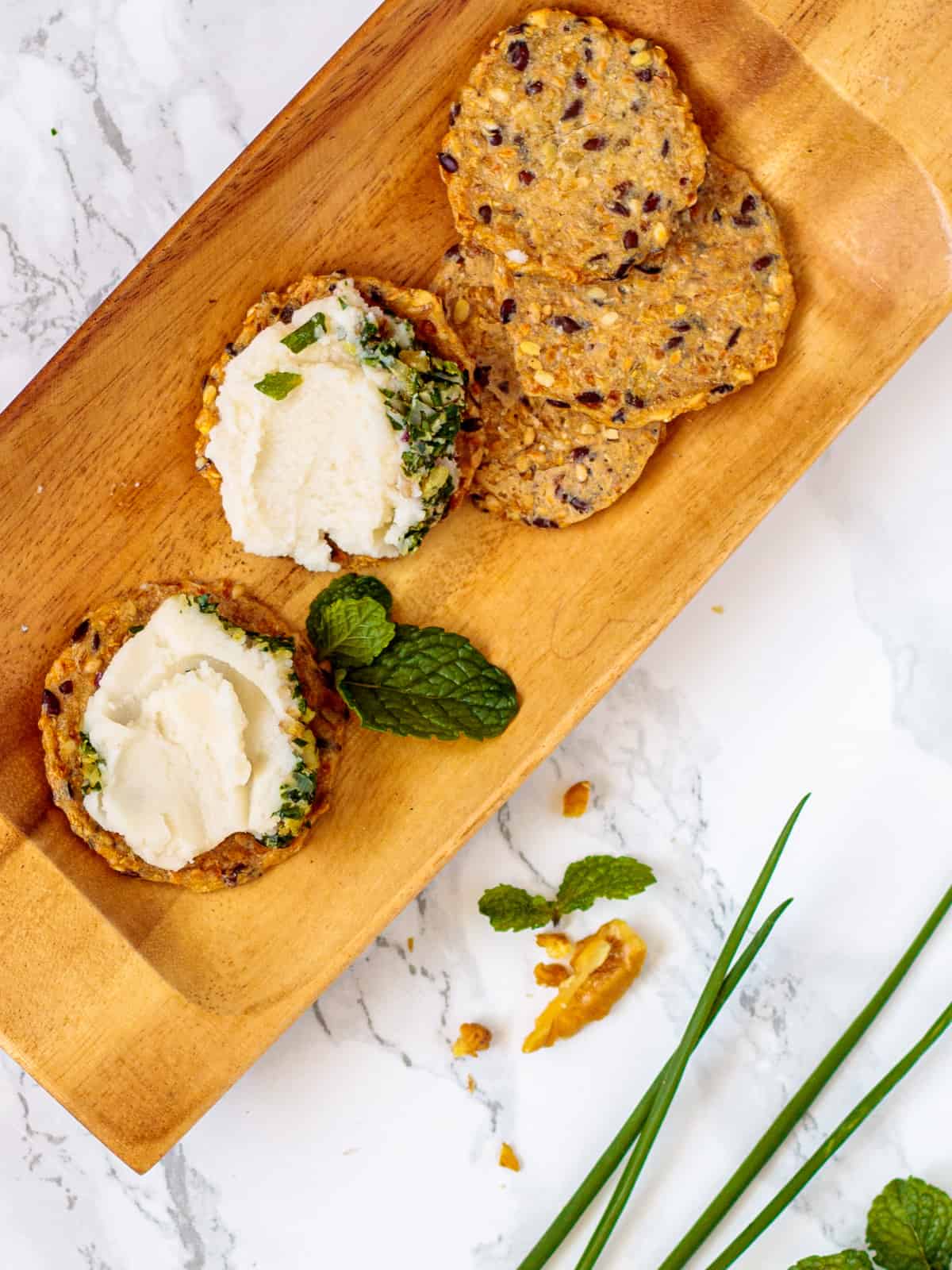 💭 FAQ
Why do I have to soak macadamia nuts?
Nuts that aren't soaked will turn to nut butter when processed instead of making cheese. Also, soaking facilitates a creamy smooth texture with less blending time.
Can I use roasted macadamia nuts?
No. It's essential to use raw, unseasoned macadamia nuts. If you don't have them locally, you can order them online from Sun Organic Farm.
Can I use bottled noni juice?
I'm glad you asked. Fresh noni juice is the other absolutely essential ingredient in this recipe. There isn't any substitute for the color, flavor, and aroma of fresh noni juice.
Where do I get fresh noni juice?
You squeeze it yourself from very ripe, fresh noni fruit. Collect pale yellow whole fruits and let sit 1-3 days until squishy and pungent before squeezing.
Can noni juice be frozen?
Yes. Freshly squeezed noni juice freezes well for up to six months. I like to keep it on hand frozen in two-ounce containers.
How much noni do I need for juice?
One eight-ounce noni fruit will yield four tablespoons of juice. This is more than enough for the recipe.
🧈 More vegan dairy
Enjoyed this post? Leave a comment, rate ⭐⭐⭐⭐⭐ it, and follow @poppyswildkitchen on Instagram. Aloha!
📖 Recipe
New! Vegan Goat Cheese Recipe
Smooth, tangy Vegan Goat Cheese Recipe has superfood fresh noni and mimics dairy goat cheese in aroma and flavor. Amazing! Dairy-free, oil-free and gluten-free.
Print
Pin
Rate
Ingredients
2

cups

raw macadamia nuts

1

ripe

noni fruit to yield 2 ½ tablespoons juice

1

tsp.

salt

3 ½

TB

lemon juice

2

TB

water, as needed
Instructions
Soak Macadamias Overnight
Place macadamias in a quart jar and cover with water. Soak overnight in the refrigerator.

Rinse and drain nuts well.
Make noni juice
Wrap ripe noni fruit in a cotton handkerchief, twist the top and squeeze to extract fresh juice.

Measure out 2 ½ tablespoons.
Process Cheese
Place soaked and drained macadamia nuts in a Vitamix or equivalent machine with noni juice, salt and lemon juice.

Using a tamper, process the mixture. This will take some time. Avoid adding water, and add no more than 2 tablespoons if needed.

Be patient and keep working the cheese with the tamper as it blends. Eventually, the mixture will loosen and give up its graininess.

Near the end of mixing, the cheese will become silky smooth. It will likely be warm to the touch, and that's fine.
Drain Cheese
Set two wide-mouth glasses on a counter and lay a square of cotton material over the top of each. Divide the processed cheese between the two glasses.

Twist the top of the cotton fabric to make tight bundles and secure them at the top of the glasses with rubber bands.

Make sure cheese bundles hang above the bottom of the glasses. Let cheese drip in the refrigerator for 1 hour.

After one hour, tighten the cloth bundles by wringing the tops. Secure again with rubber bands and let drip for another hour.

The cloth will absorb most of the liquid, and only a little will fall to the bottom of the glass.
Recipe Ready
Your Vegan Goat Cheese is ready to eat now and can be stored in any covered dish you like to use as a spread.
Optional: Shape Sliceable Cheese Log
If you wish to shape your goat cheese into logs for slicing, take a fresh dry cloth and scoop cheese onto it.

Roughly fashion a log with your hands. Then roll the log up in cloth and smooth it firmly into shape, twisting the ends of the cloth.

Secure ends with rubber bands. You can now store your cheese log wrapped in cloth in the refrigerator.
Roll Cheese Log in Herbs or Crushed Toppings
To make an herb-seasoned cheese log, roll in very finely minced herbs of your choice. You need about 1 cup of mixture for this recipe.

You can also use crushed nuts or flowers. One of my favorite combinations is walnuts, mint, and chives. 

Lay the coating mixture on a plate and place a fully-chilled cheese log on top. Coat the log with seasonings and pat firmly to cover.

Place herb-coated cheese log on a square of parchment paper or plastic wrap, roll it up, and twist the ends.

Tip: Chill in the freezer until firm, about 30 minutes to an hour before slicing.
Store
Fresh Vegan Goat Cheese lasts two weeks in the refrigerator and 3 months in the freezer.
Notes
Use raw, unseasoned, unroasted macadamia nuts.
Check photos in post to confirm your noni fruit is fully ripened.
Use a machine with a tamper and give enough time to blend a smooth cheese.
Twist tops of draining cloth tightly before securing to glass.
Freeze cheese logs 30 minutes to an hour before slicing.
Nutrition
Calories:
162
kcal
|
Carbohydrates:
3
g
|
Protein:
2
g
|
Fat:
17
g
|
Sodium:
160
mg
|
Potassium:
87
mg
|
Fiber:
2
g
|
Sugar:
1
g
|
Vitamin A:
1
IU
|
Vitamin C:
2
mg
|
Calcium:
19
mg
|
Iron:
1
mg