Today's recipe for Easy No-Knead Rolls is the ultimate fix if you want artisan quality sandwich bread with minimal effort. It almost seems like cheating.
Jump to:
Top Tip
Want a little tip on how to cover your rolls while they rise on a cookie sheet? You can put aside greased plastic wrap and finicky damp towels.
An even better way to protect these rolls from drying out while they rise is to use a second cookie sheet as a lid. Turn it upside down and position it over the first cookie sheet. The rolls will have just enough headroom to rise inside before baking.
Are these rolls crusty or soft?
Have you eaten ciabatta bread before? That's what these flour-dusted rolls remind me of. They come out of the oven crusty, golden, chewy, and full of air pockets.
When they cool, the thin crust softens. They slice easily and stay moist inside. Thus, you can have your rolls crisp and hot straight from the oven or allow them to cool under a towel and have them squeezable.
I love a sandwich roll that soaks up juicy fillings without getting soggy and is springy enough to squish when you grasp it with both hands. I mean, how else are you going load up your mega sandwich, like my Best Falafel Burger on a bun, and still get your mouth around it?
What makes this recipe easy?
It's worth mentioning this recipe is a true no-knead recipe from start to finish. You simply mix the dough with a spoon, plop it in a container and let it rest in the refrigerator for twelve hours.
Thus, you can play all day or sleep all night while this friendly dough does the work to develop its complex flavor and stretchy crumb. Once you pull it out of the refrigerator, it's ready to divide and bake.
How do you shape rolls?
Just plop your soft dough onto a counter well dusted with flour and it's ready to divide. As long as you dust your hands and counter liberally with flour, you can make no-knead sandwich rolls any size or shape you want.
I personally fancy that classic square ciabatta roll shape and have included simple recipe notes in case you want eight perfectly sized rolls at the end. I've done the math for you, so all you'll need is an old-school ruler.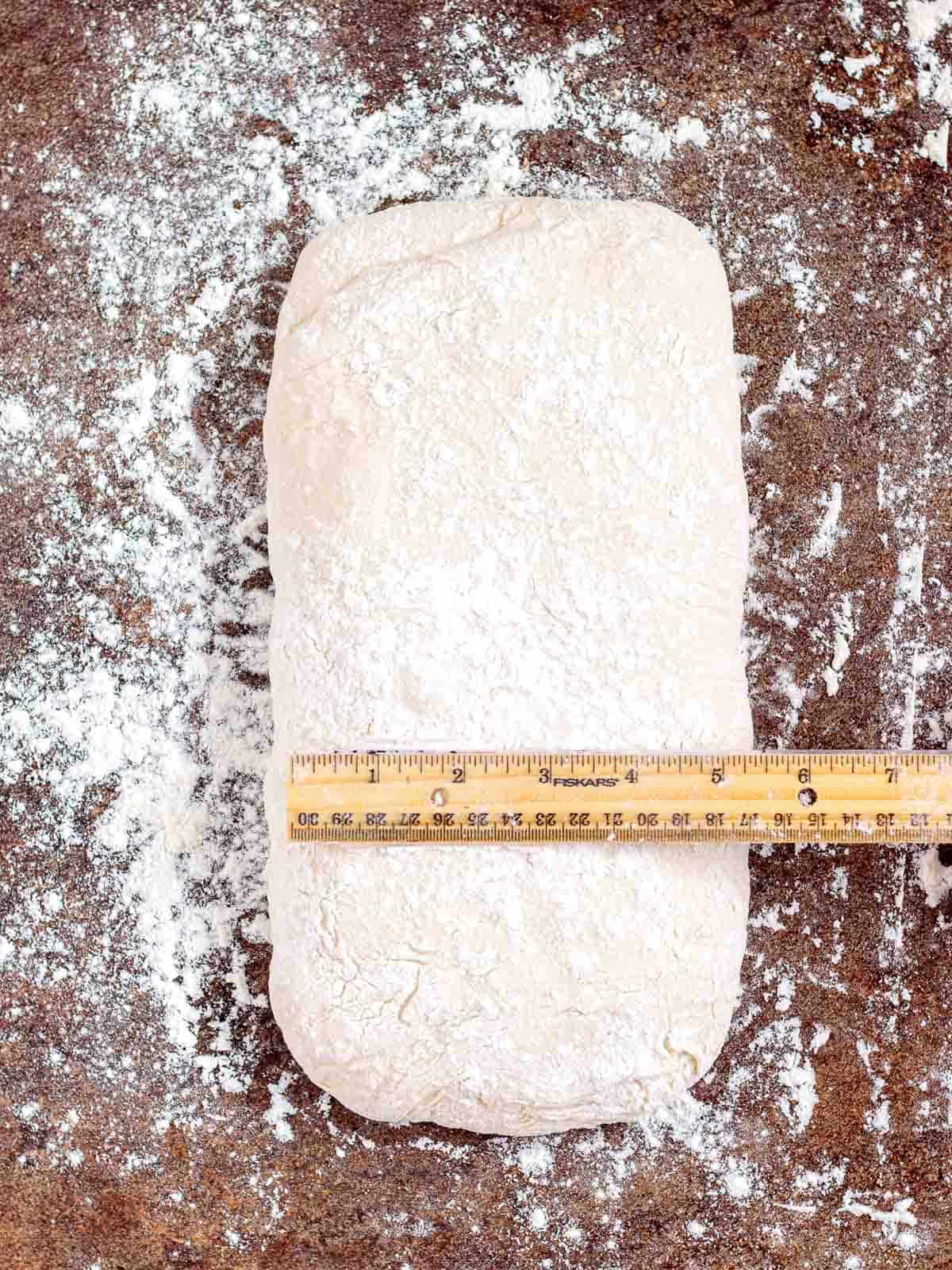 Don't hold back on the flour and your finished rolls will have that smudgy charm that only artisan bread has. Trust me, your friends and family will be impressed.
Serving suggestions
If you are lucky enough to have day-old rolls, pop them in a toaster and like magic, the thin crust turns crisp and crackly again.
That's when they are irresistible topped with the finest Homemade Plant-Based Butter and your favorite jam. Just look at all those nooks and crannies waiting to be filled.
FAQ
What Kind of Flour is Best for Easy No-Knead Rolls?
This recipe works beautifully with regular organic all-purpose flour. No need for any fancy flours.

You can use whole wheat flour, but it won't rise as high and your rolls won't be nearly as flexible. Try adding a little more water if using whole wheat flour.

How Should I Measure My Flour?
A tried and true method that many bakers use works here. Spoon flour into a measuring cup. Then draw a flat-edged knife across the top to remove excess flour.
Can I Use Active Dry or Instant Yeast?
Yes! Both ordinary grocery store active dry yeast and instant yeast are fine.
Does it matter what container I use to rise my dough?
You can use any smooth-sided container with a lid that allows for triple expansion. However, a see-through square-shaped rising bucket will give you important advantages. It will be easy to gauge how much your dough has risen.

Also, starting out with a square container minimizes manipulating the dough to shape square rolls. That's important if you want to keep all the air pockets you can in the dough and not pop them before baking.
How can I divide the dough? It's very sticky.
The easiest way to divide these rolls is to use a large, flat-edged knife or dough scraper. Rub the knife with flour and sprinkle a thin trail of flour along the cut line.

Press firmly and push one section of the dough away from the other before lifting the knife. A floured spatula is also helpful to transfer the rolls to a baking sheet.
More bread recipes
I would be thrilled to know if you tried this recipe! Leave me a ⭐ ⭐ ⭐ ⭐ ⭐ rating in the recipe card below and don't forget to tag a photo #poppyswildkitchenrecipes on Instagram @poppyswildkitchen Aloha!
📖 Recipe
Easy No-Knead Rolls Recipe
Artisan quality bread is a breeze with this easy recipe for No-Knead Rolls. Light, chewy, golden-crusted bread ideal for juicy burgers and sandwiches. Oil-free, sugar-free and dairy-free.
Print
Pin
Rate
Ingredients
2

cups

water

1

tsp.

active dry yeast

1 ¾

tsp.

sea salt

3 ¾

cups

organic all-purpose flour
Instructions
Mix Dough
Pour water into a large bowl. Sprinkle yeast over the top. Let yeast sit 5 minutes and whisk to dissolve.

Measure flour by spooning into a cup. Then draw a flat-edged knife across the top to remove excess flour.

Add measured flour and salt to yeast water. Mix with a heavy wooden spoon until dough is uniform. Dough will be very sticky and won't hold it's shape.

If desired, lightly grease rising container. Transfer dough to a container that allows for triple expansion. Cover tightly with a lid. A transparent square rising bucket is perfect.

Let dough rest covered at room temperature for 30 minutes. watch to make sure it doesn't sit longer than 30 minutes. You just want a little jump start for the yeast.
Rise In Refrigerator 12 Hours
Place dough with its covered container in refrigerator for 12 hours or until dough has tripled in height and shows obvious air pockets.
Divide Rolls
Generously flour a smooth work surface. Tip risen dough out of container with floured hands or spatula. Let it fall lightly and keep as many air bubbles in dough as possible while shaping.

Gently shape dough by coaxing sides into one long 5 x 10 inch rectangle. Use plenty of flour. Divide the rectangle in half lengthwise with a floured knife. You can separate the two sections with knife before lifting knife from the cut. Cut each strip in half crosswise and repeat. Voila! Eight beautiful square rolls are yours.
Preheat Oven
Preheat oven to 425 degrees and center baking rack. For extra rise and superior crust, place a large steel skillet or roasting pan at bottom of oven. Have ready ½ cup of water to add to hot pan and create steam when adding rolls to oven.
Rise Rolls 45-60 Minutes
Arrange rolls on a well floured 13 x 18 inch cookie sheet that has one-inch high sides. Sprinkle tops with flour. Cover with an identical sized cookie sheet to make a lid. Let rise at room temperature for 45 to 60 minutes until very puffy and sides of rolls are almost touching.
Bake Rolls
Place rolls in preheated oven. If using steam, put on an oven mitt. Carefully add water to roasting pan at bottom of oven and quickly close oven door.

Bake rolls 15-20 minutes or until golden brown and crusty. Let cool on a rack before slicing.
Notes
While this is an oil-free recipe, you may like the option of lightly greasing your rising container. It does make tipping dough out easier.
If you don't have a matching cookie sheet for a lid while rising dough, dust rolls with extra flour and cover with a large, thin, tight-weave tea towel or cloth. 
Nutrition
Calories:
215
kcal
|
Carbohydrates:
45
g
|
Protein:
6
g
|
Fat:
1
g
|
Sodium:
422
mg
|
Potassium:
69
mg
|
Fiber:
2
g
|
Sugar:
1
g
|
Vitamin A:
1
IU
|
Vitamin C:
1
mg
|
Calcium:
11
mg
|
Iron:
3
mg