Snow pea leaves stir-fried with ginger and garlic are a springtime treat for home gardeners. They cook in less than 2 minutes and have a crave-worthy, full sweet flavor similar to Chinese pea pods.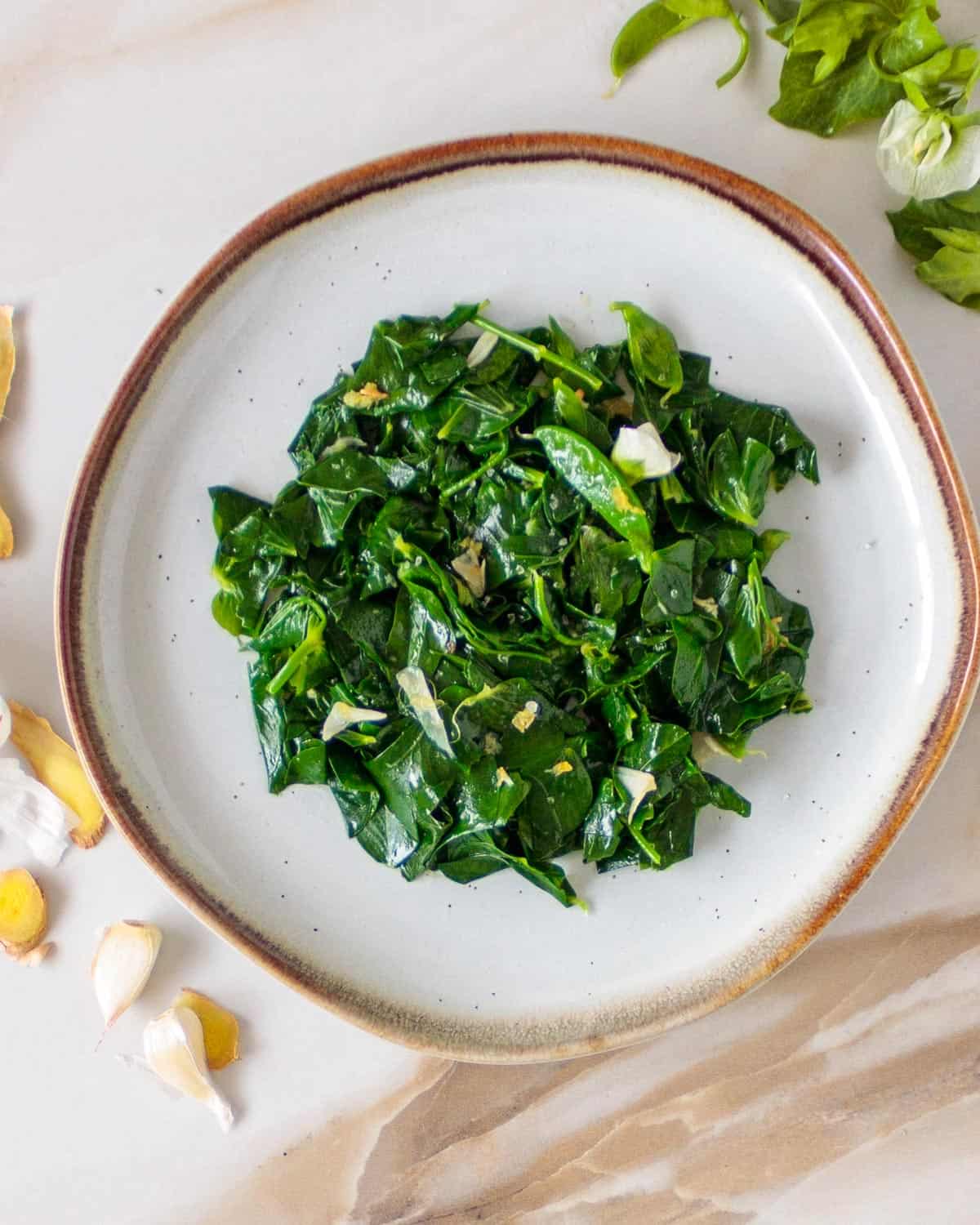 Asian markets, where they are called dou miao in Mandarin, make a point to stock the shoots year-round.
It's no wonder because a quick stir-fry of snow pea shoots makes a delicious side dish for meals begging for dark leafy greens.
They would be sensational with Huli Huli Seitan Skewers and Coconut Rice.
Jump to:
⭐ Why it works
Bright green from a one-minute flash in boiling water.
Light on oil - no greasy stir-fry here.
Ginger and garlic add impact without overwhelming the fresh flavor of tender greens.
Snow pea leaves - Fresh leaves from the shoots of young snow pea plants.
Garlic - A must-have to pair with ginger for this dish.
Ginger - Firm, crisp whole ginger root.
Sea salt - Brings out the sweet flavor of pea shoots.
Vegetable oil - Light, neutral-tasting oil that won't interfere with other flavors in the recipe.
🔪 Steps
The secret to this recipe's clean flavor and emerald green color is flash cooking in boiling water. Then the stir-fry step is more of a toss in hot oil than a cooking method.
Wait until you see what a difference it makes!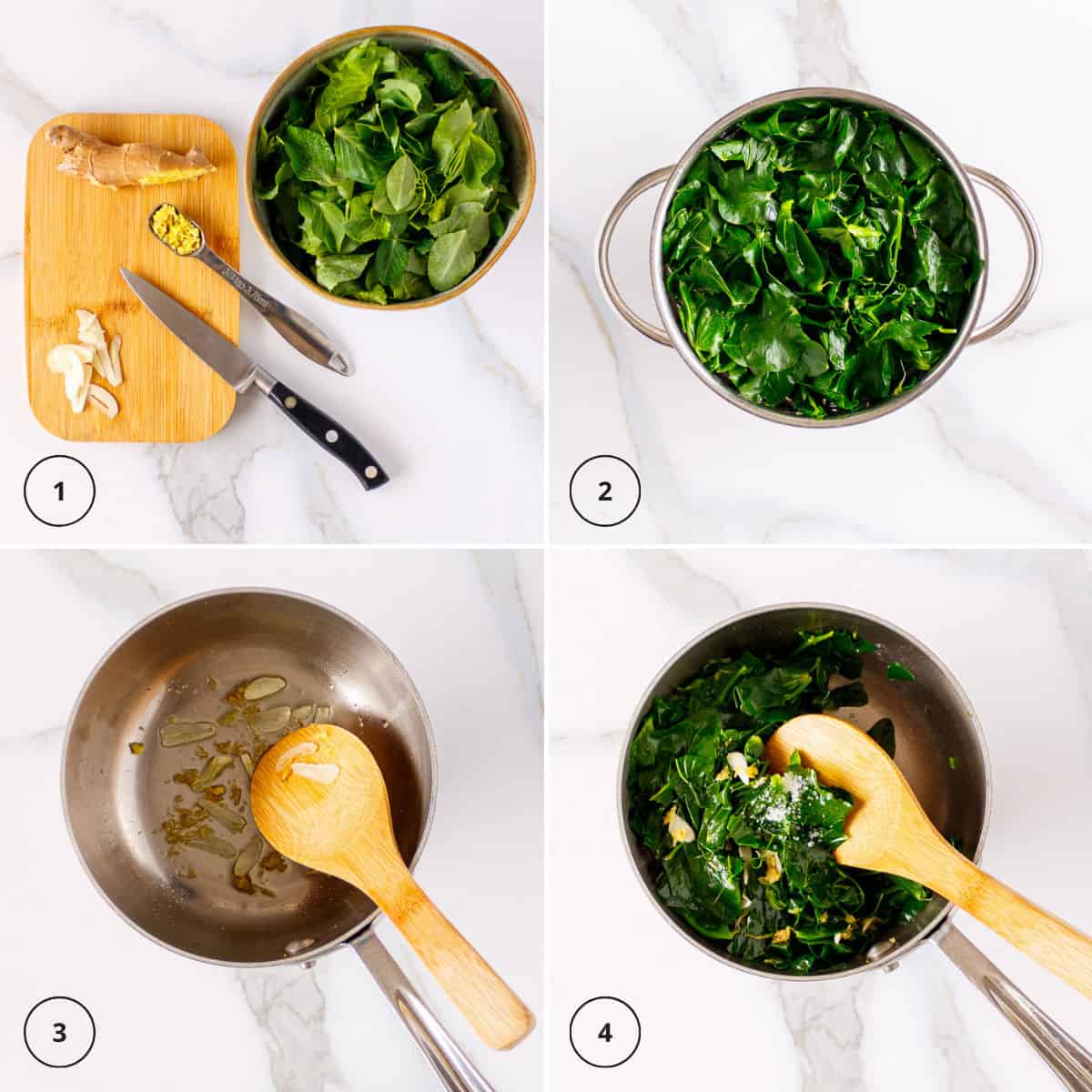 Wash and shake dry snow pea leaves, grate ginger, and slice the garlic.
Drop leaves in boiling water for one minute. Drain and rinse quickly in cool water.
Heat oil, add garlic and ginger, and cook until aroma is released.
Stir blanched leaves into the hot ginger-garlic oil. Add salt and blend until well mixed.
💦 How to clean
If you clip your own pea shoots from plants in your garden, you'll want to trim them before cooking.
The tendrils are less palatable than the leaves and only the stems near the very tips of plants are tender enough for the perfect dish of stir-fried snow pea leaves.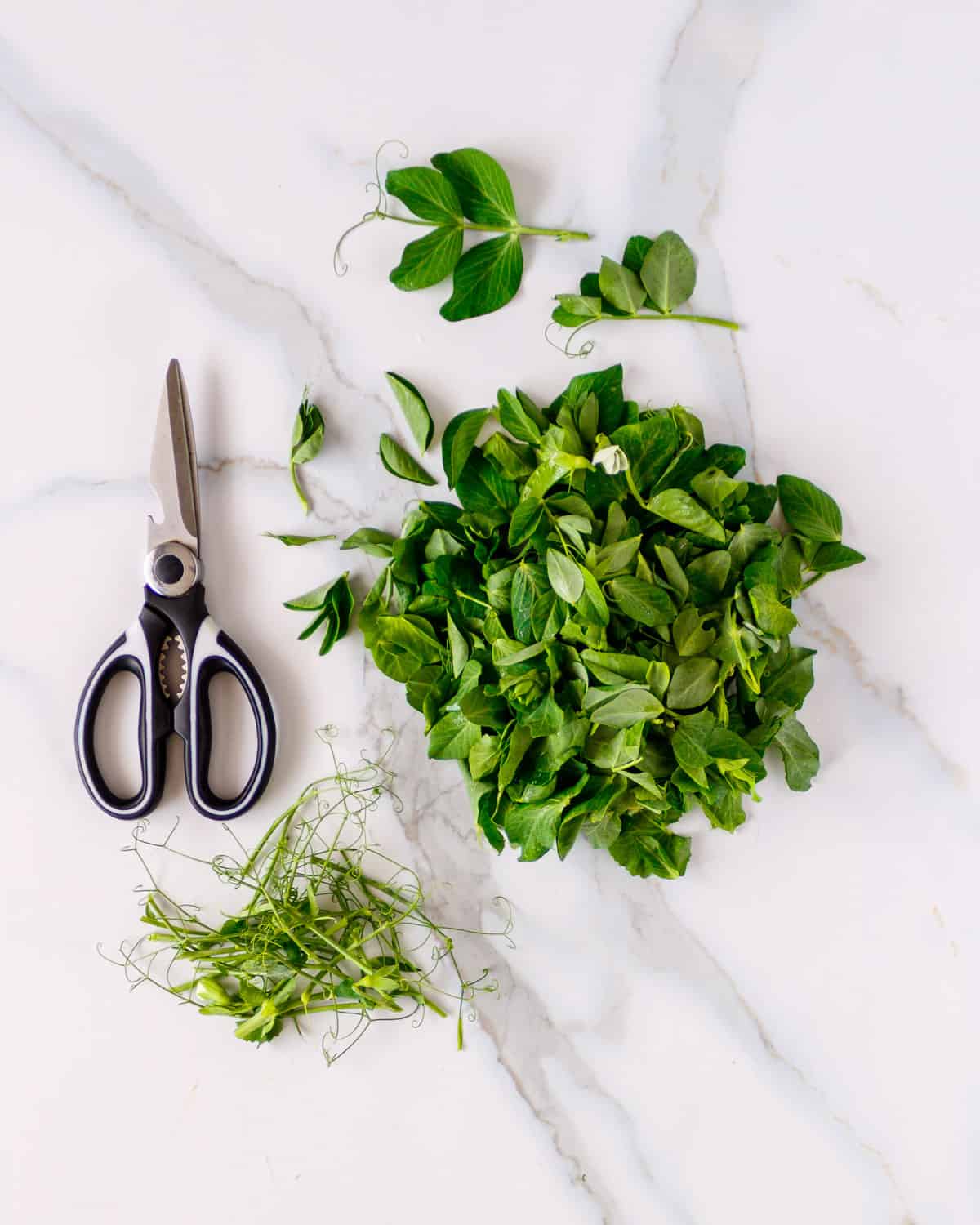 On the other hand, if you buy a bunch from an Asian market, you may find them more recipe ready.
Use your own judgment on how much to trim your snow pea sprouts. You can easily tell how tender the different parts are by sampling them raw.
Use a neutral-flavored oil like grapeseed, avocado, organic canola, or sunflower.
Drop snow pea leaves in boiling water for only one minute and rinse immediately in cool water.
Take care not to burn ginger and garlic in the skillet.
Serve cooked snow pea leaves in a pre-heated dish.
Serve with optional toasted sesame seeds, gomasio, chili paste, and soy sauce on the side.
💭 FAQ
Can you eat snow pea shoots raw?
Absolutely. They are healthy and delicious as salad greens. You can also use them in summer rolls or as a garnish for richer dishes.
Are pea sprouts and pea shoots the same thing?
Yes and no. The names are used interchangeably but can refer to different stages of growth that affect flavor and size.

Grocery stores sometimes sell young sprouts that haven't yet formed secondary leaves. These pea sprouts are closer to microgreens than shoots that have fully formed pea leaves.
Can you harvest leaves and pods from the same plant?
Yes, you can. Harvest snow pea shoots while the plant is young and has only made a few flowers. Then, let the plant mature further to form pods.

One expert tip if you want to harvest both is to plant separate patches for pea shoots and pea pods!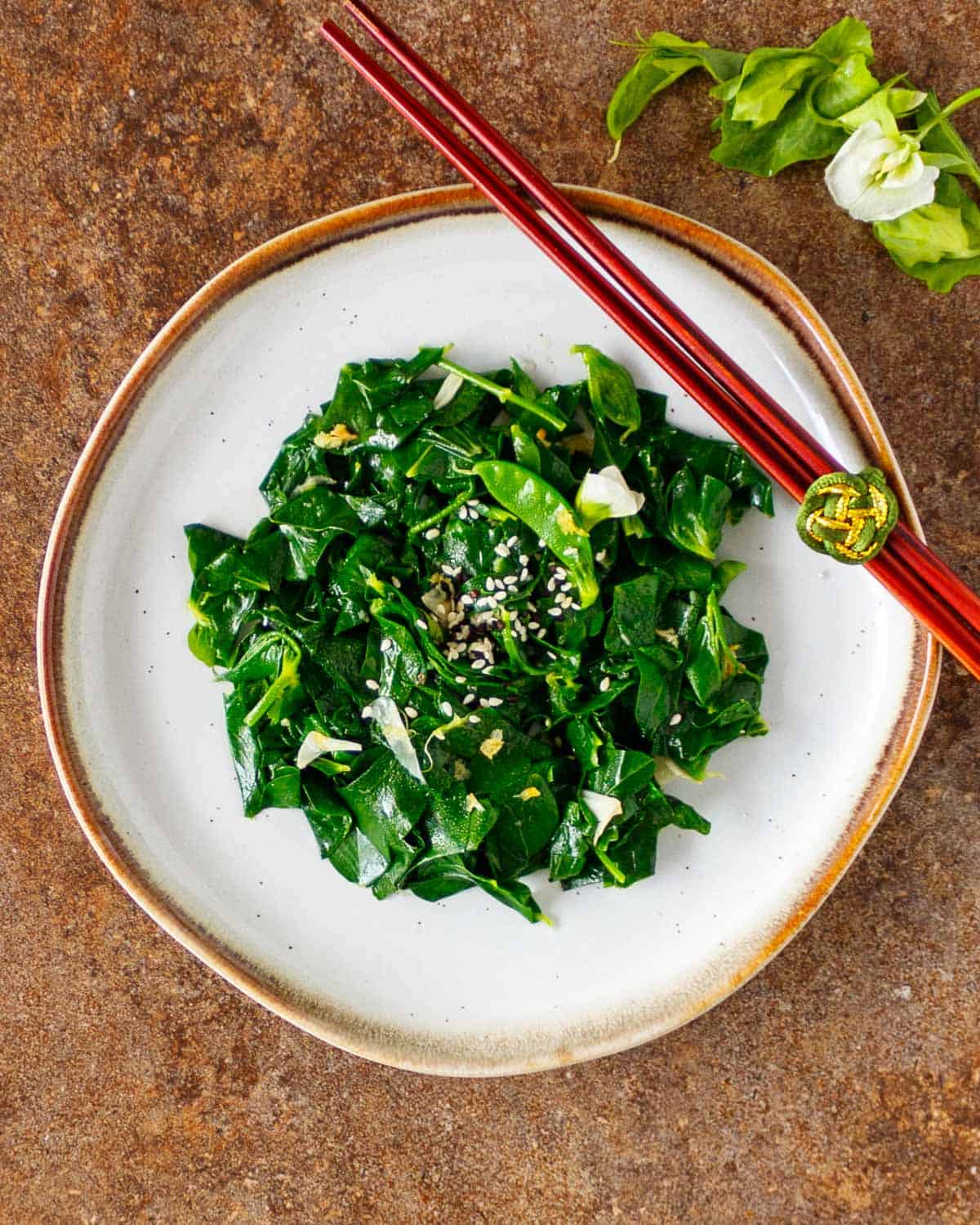 If you love this special dish as much as we do, you may want to grow your own greens at home. Here are a couple of resources:
🥬 More recipes with greens
Enjoyed this post? Leave a comment, rate ⭐⭐⭐⭐⭐ it, and follow @poppyswildkitchen on Instagram. Aloha!
📖 Recipe
Snow Pea Leaves- Ginger and Garlic
Snow pea leaves cooked with ginger and garlic are tender, full-flavored, and sweet. Fast vegan recipe cooked with minimal oil.
Print
Pin
Rate
Ingredients
18

ounces

snow pea shoots with leaves

2

teaspoons

vegetable oil

3

cloves

garlic

1

teaspoon

raw ginger
Instructions
Prep snow pea leaves
Wash snow pea shoots with leaves thoroughly and shake them dry. Trim and discard all the tendrils from the shoots as well as any tough stem material.

Bring a deep pot of water to a boil. Drop the snow pea shoots in and stir for one minute. Leaves should wilt and turn bright green.

Drain off boiling water and rinse immediately in cool water. Drain well.
Make stir fry
Peel and slice the garlic thin. Grate fresh ginger root and measure out

¾

teaspoon.

Heat oil in a large shallow skillet over medium-high heat. Add ginger and garlic and stir briefly until fragrant. Don't allow them to brown more than a light golden color on the edges.

Add snow pea shoots with leaves all at once. Add salt. Toss everything in the hot oil until well-mixed and hot. Serve right away.
Serve
Serve immediately in a heated bowl or platter. If desired, sprinkle with toasted sesame seeds or gomasio and provide chili paste and soy sauce at the table.
Notes
Ingredients
Choose perky greens with nice green color and obvious freshness.
Use a neutral-flavored oil like avocado, grapeseed, organic canola, sunflower, or untoasted sesame. 
Preparation
Trim tough tendrils and stem material from snow pea leaves before serving.
Drop snow pea leaves in boiling water for only one minute and rinse immediately in cool water.
Take care not to burn ginger and garlic.
Serving 
Serve ginger and garlic snow pea leaves in a heated bowl or on a warm platter.
Top with optional toasted sesame seeds or serve with gomasio, chili paste, and soy sauce at the table.
Nutrition
Calories:
75
kcal
|
Carbohydrates:
5
g
|
Protein:
2
g
|
Fat:
2
g
|
Sodium:
1
mg
|
Potassium:
11
mg
|
Fiber:
1
g
|
Sugar:
1
g
|
Vitamin A:
542
IU
|
Vitamin C:
31
mg
|
Calcium:
30
mg
|
Iron:
1
mg
|
Magnesium:
1
mg
|
Phosphorus:
4
mg