Palak chana dal is a saucy chickpea stew starring turmeric, freshly ground spices, and Lagos spinach. Ripe tomatoes and a touch of mouth-watering tamarind make it a sensational vegan supper.
Jump to:
🏆 Top tip
Reserve one cup of cooked chana dal and blend the rest to a smooth consistency.
I've tried different versions of cooked chana in this recipe. Ultimately, the combination of blended and whole chana dal is the official winner. That's because the creamy dal is heavenly with toothsome pearls of whole chana dal stirred into it.
When you add juicy tomatoes and silky Lagos spinach, wrap it all in warm masala spices, and serve it with soft whole wheat roti you have everything you need for a chilly Winter evening.
🌿 Lagos spinach aka celosia argentea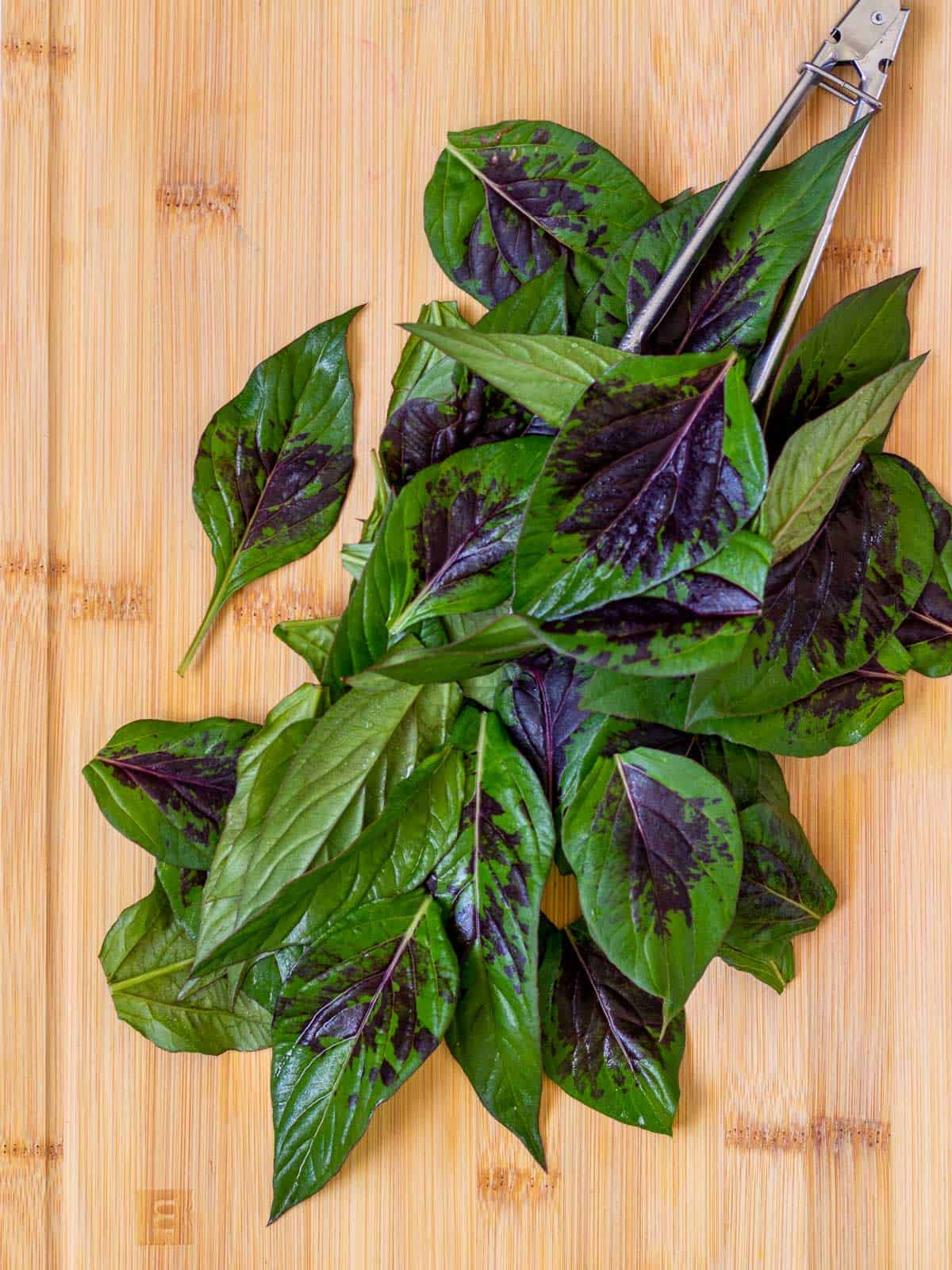 Wondering why I chose Lagos spinach for this palak chana dal? I confess I created this recipe to enjoy the Lagos spinach that reseeds itself prolifically in my garden year after year.
It's such a tasty, robust, and colorful plant that I want the world to know about it. I've come to prefer its greens hands down over regular cooked spinach.
To me, regular spinach has an earthier flavor. Plus, highly nutritious Lagos spinach doesn't have any trace of sliminess. Most importantly, it's fabulous cooked with dal.
If you would like to know a little more about Lagos spinach, check out my post on celosia argentea. That's the Latin name for this delicious, versatile green.
You can substitute regular spinach in this stew, but I hope you will be able to use Lagos spinach or another tender wild or cultivated green from the amaranth family. Depending on where you live, you might find callaloo, soko, phak khom, or bayam.
♨️ Cook chana dal first
The recipe starts by soaking chana dal. Then, mild nutty chana cooks quickly with turmeric powder and salt, flavoring the nuggets while they soften.
🧅 Vegetables and seasonings
Even though there are several ingredients in this Lagos spinach recipe, once the chana dal is cooked, it comes together quickly. Not surprisingly, it's a go-to dish in our house and could become a favorite of yours.
Cumin, garam masala, and coriander - freshly ground from whole dry spices.
Chili, garlic, and ginger - mince them fine. Adjust the amount of chili (optional) to taste.
Tamarind - smooth puree like Glory Bee organic works well, and a little goes a long way.
Lagos spinach - fast-cooking, mild and tender alternative to regular spinach.
Tomatoes - extra ripe will make the chana dal with spinach sweeter.
Vegan ghee - can be substituted with vegan butter.
Onion - onion varieties like Maui onion or Vidalia are good.
Onion, ginger, and garlic are browned with masala and other dry seasonings in plant-based butter or ghee. When the kitchen is filled with earthy perfume, ripe tomatoes are added and cooked until soft. Tart tamarind is added at the very end with your choice of quickly-wilting spinach.
The star of all seasonings in this incredible chana dal with spinach is the masala spice. You can buy a pre-made mix if necessary, but for best results, grind your own fresh masala from whole spices.
📖 Garam masala ingredients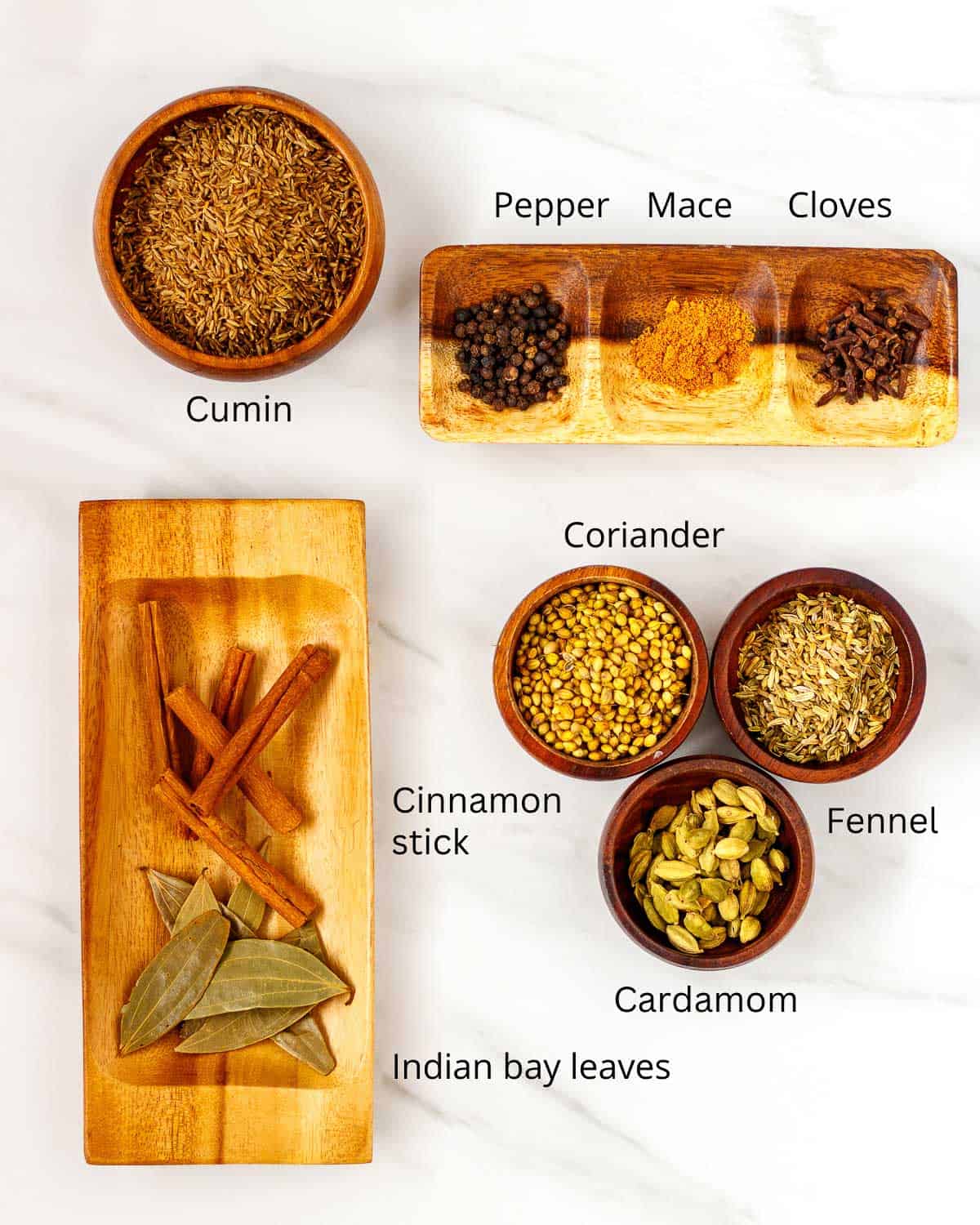 Cumin seed - Like all the spices in this mix except mace, start with the whole spice.
Black peppercorns - Use Tellicherry peppercorns if you can.
Mace - This is the one spice I recommend purchasing ground. But you won't have to compromise on freshness if you order from The Spice House. They have exceptional products you can count on.
Coriander - Adds a light citrus note. An essential spice in any Indian kitchen.
Fennel - Like cinnamon, fennel seeds add a sweeter note.
Cardamom - Make sure you use the green pods and not the smokey black cardamom pods.
Cinnamon - Vietnamese or Saigon cinnamon is extra bright and ideal for this masala.
Indian Bay Leaf - Wonder what the difference is? Boil 2 cups of water and steep an Indian bay leaf in one and a Turkish or California bay leaf in the other. You'll taste the contrast! Hint the Indian variety is less herbal.
🥣 Make masala spice powder
Because it makes such a difference, I hope you will consider making your own masala blend from scratch. It will make your palak chana dal fragrant and legitimately delicious.
It's easy to make masala spice mix. The recipe card below has instructions for powdering spices in a coffee grinder or spice mill and makes enough to share with a friend.
👩🏻‍🍳 Toasted masala vs. untoasted
Toasting spices before grinding is optional for this chana dal with spinach. It saves time to skip this step and still provides a deeply fragrant, weighty masala with nice citrus tones.
However, if you prefer toasting your spices or want to try it, go right ahead. The difference will be subtle in the finished dish, but the toasted masala should add a slightly more roasty and pronounced flavor.
Break cinnamon sticks into pieces and tear bay leaves. Toast the larger spices together first and add the smaller ones halfway through. Take care not to burn, or your masala will be bitter!
Cool toasted spices to room temperature before grinding and grind them in batches.
🫘 Difference between chickpeas and chana dal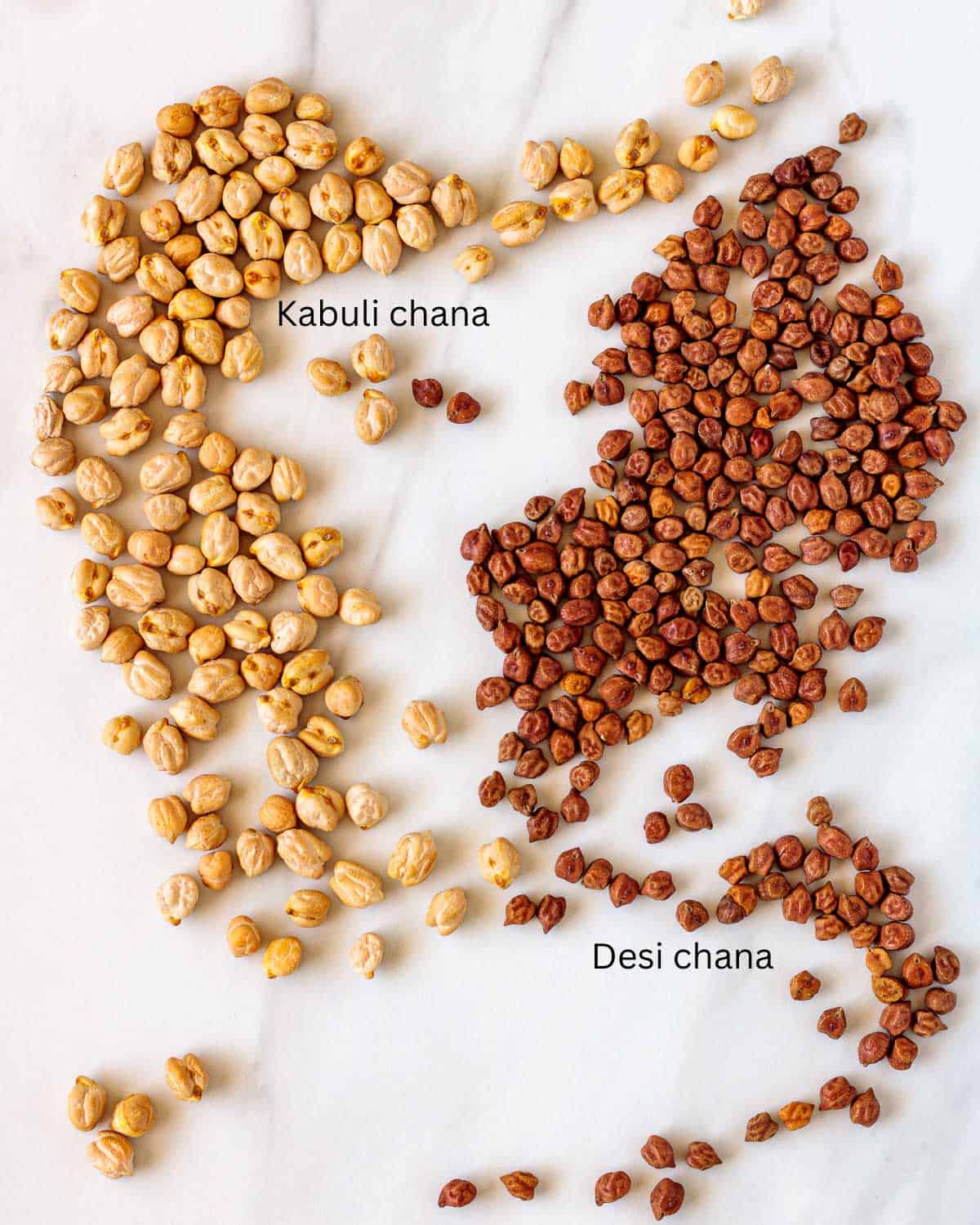 Chickpeas are a legume that comes in many types and colors. In India, where so many wonderful dishes are cooked with pulses, chickpeas are called chana and are divided into two main groups.
Kabuli chana is larger with a smooth round coat and is generally cooked whole. In Europe and the United States, it's known as Ceci bean and garbanzo.
Desi chana is smaller with a rougher shape and skin. It's also called brown or black chickpea and Bengal gram.
Since chana means chickpea in Hindi and dal means split, here's a really simple way to think of it:
HINDI- chana dal = ENGLISH- split chickpea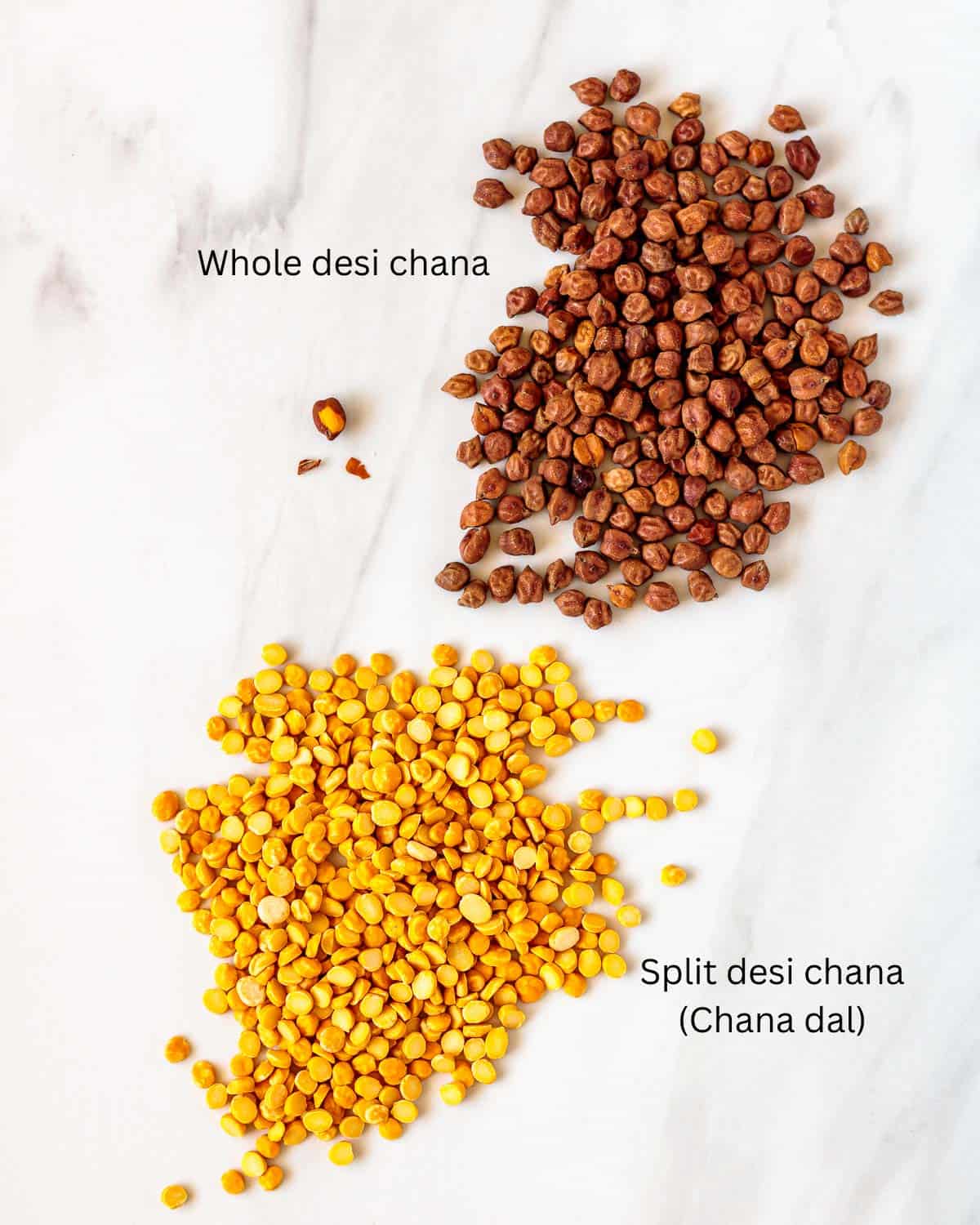 🔥 Is masala spicy?
Even though garam masala literally means hot spice blend, it's not what you might think. Here hot refers to the warming action described in Ayurvedic medicine. It's said to increase circulation for good health. Garam masala typically does not include hot chili peppers.
Thus, many garam masalas are mild to the palate. Even though my blend is not spicy hot, it's bold and fragrant. I love to have it on hand to cook for friends and family that don't eat hot spicy food so they can still enjoy Indian dishes.
Also, garam masalas typically don't have turmeric in the mix. Instead, they are often added at the end of recipes to complement the turmeric and chilies already included.
💭 Are masala and curry powder the same?
Curry is a word invented by the British during colonial times in India. While you can buy what's called curry powder in a market, those jars of seasoning don't have any useful standards or authentic Southeast Asian roots. Further, the turmeric-heavy blends may sit for years, growing stale on a shelf.
Masala, on the other hand, is a Hindi word steeped in tradition. True Indian masalas are meant to be made fresh and used in a short time. They reflect the history and culture of each distinct region and even individual households in India.
In the same way Italian grandmothers are known for their secret pasta sauce recipes, throughout Southeast Asia, families make signature dishes with aromatic masalas. Just don't call them curries!
🍲 More Indian recipes
Enjoyed this post? Leave a comment, rate ⭐⭐⭐⭐⭐ it, and follow @poppyswildkitchen on Instagram. Aloha!
📖 Recipe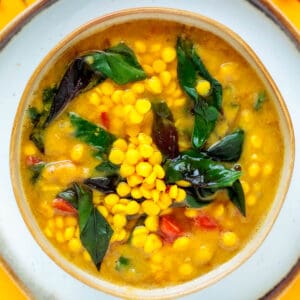 Palak Chana Dal With Lagos Spinach
Easy supper packed with flavor and nutrition. Lagos spinach makes it special but other types of fresh spinach can be substituted with great results. Dairy-free, gluten-free, and whole food.
Print
Pin
Rate
Ingredients
Chana Dal
1

cup

chana dal

soaked 2 hours or overnight

½

tsp.

turmeric powder

1

tsp.

salt

3

cups

water
Seasonings and vegetables
2

TB

vegan ghee

or plant-based butter

½

cup

onion

chopped

1

TB

ginger root

minced

2

tsp.

garlic

minced

1

small

red or green chili

minced, adjust to taste

½

tsp.

coriander powder

1

tsp.

garam masala

recipe included

1 ½

cups

tomato

seeded and chopped
Masala spicemix - makes extra
½

cup

whole cumin seed

¼

cup

whole coriander

⅛

cup

whole green cardamom pods

⅛

cup

whole fennel seeds

1

TB

whole cloves

1

TB

whole black peppercorns

6

small

Indian bay leaves

4

whole

cinnamon sticks broken

1

tsp.

ground mace, optional

½

tsp.

cumin powder
Instructions
Boil chana dal
Place soaked chana dal, salt, turmeric, and water in a deep pot. Bring to a boil. Lower heat and cook for 30-45 minutes or until soft.

Remove 1 cup of cooked chana dal to a bowl. Blend the remaining chana with its cooking water until smooth.

Return blended chana and whole chana to the original cooking pot and hold it aside over very low heat.
Make dry masala mix
While chana dal cooks, grind masala spices.

Break cinnamon sticks and tear bay leaves. Grind whole spices in two or three batches in a spice grinder or coffee mill.

Grind to a powder and sift in a fine strainer if the mix has larger pieces after grinding.
Cook seasonings and vegetables
While the chana dal is cooking and after the dry masala spices are ground, prepare seasonings and vegetables for the chana dal and spinach stew.

Heat ghee in a saucepan. Add onion and cook until onion begins to soften.

Add ginger and garlic to the onion. Cook for a few minutes. Add dry spices and cook until fragrant and slightly roasted.

Add fresh chili to taste and chopped tomato. Cook until the tomato breaks down and is very soft.
Finish chana with spinach and tamarind
Add tomato and spice mixture to pot with cooked chana dal. Stir in chopped spinach with tamarind. Cook 10 minutes or until spinach wilts and flavors meld. Taste chana and add more salt, tamarind, or chili if desired.
Serve
Chana dal is delicious accompanied by chapati, tortillas, or rice and raita.
Store
Chana dal with spinach lasts five days in the refrigerator and can be frozen for three months.
Notes
Ingredients
Spinach - Lagos spinach is the first choice if available but feel free to substitute other types of spinach or a mild-tasting and tender wild leafy green.
Tomato - Vine-ripened tomatoes make the dish sweeter and more flavorful.
Chana dal - Split desi chickpeas.
Masala - Homemade with the directions in this recipe, or substitute a fresh, high-quality dry masala mix. Indian and gourmet markets or online stores are your best source.
Preparation
Soak dal for 2 hours at room temperature or overnight in the refrigerator. Rinse and drain before cooking.
Reserve one cup of cooked chana dal and blend the rest to a smooth texture. The combination of blended and whole bits of chana dal is so good in this recipe.
Take care not to burn the garlic. Keep the heat moderate and lightly roast it with the dry spices.
Adjust seasonings when the chana dal with spinach is fully assembled and cooked. You may want a small touch more chili, tamarind, or salt.
Nutrition
Calories:
260
kcal
|
Carbohydrates:
37
g
|
Protein:
9
g
|
Fat:
10
g
|
Cholesterol:
19
mg
|
Sodium:
549
mg
|
Potassium:
345
mg
|
Fiber:
14
g
|
Sugar:
4
g
|
Vitamin A:
2584
IU
|
Vitamin C:
18
mg
|
Calcium:
135
mg
|
Iron:
3
mg
|
Magnesium:
35
mg
|
Phosphorus:
43
mg